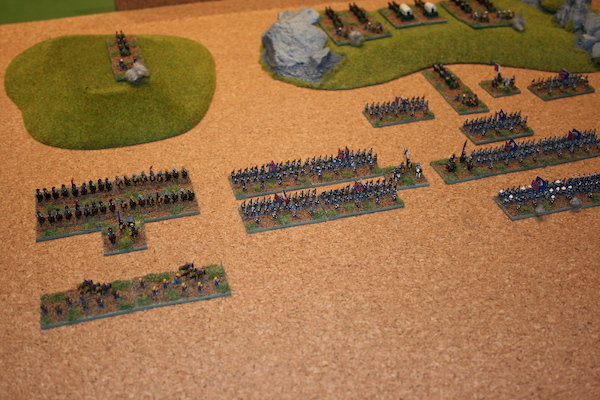 So, to sum up: I started wargaming in a rudimentary form on the floor with 54mm "rubber" soldiers (1). I then discovered the plastic AIRFIX whole range in 20mm -in fact 4 different boxes; Union Infantry (blue), Confederate Infantry (grey); Artillery (medium brown) for both sides; and finally US Cavalry (Blue) that you had to paint for the Rebs- and went for them boxes like the quest of the Grail! (2). One day at the Tradition of London shop I asked for them and was politely informed that they did not stocked "plastic rubbish" -my first visit to a shop that later on was a fix appointment when in London- Then, after hard reflexion on the meaning of "rubbish" I discovered metal MINIFIGS -then based at SOUTHAMPTON near the Eye Hospital if I remember well- (3); the Armies grew and Old Glory were added to them, even some Hinchcliffe I think found their way into the ranks, and of course some old 25mm Tradition of London (made in Sweden). That was it for decades. I was proud and happy.
Then the 25mm too big to play area crisis caught me and I sold them nearly all. Some of them -those Union painted by me- became property of my brother who had the Rebs and no crisis of confidence. We even exchanged some Napoleonic's for them… I kept the Napoleonic's longer than the rest… but they were sold too in the end!
Then FOUNDRY started an ACW range and I could not resist buying ACW UNION Cavalry under THE HORSE SOLDIERS influence, by then I was mixing riders and horses (Dixon) and making conversions -nearly military modeling- one thing lead to another and I got some Artillery… and then why not? some Infantry -you need some at Brandy Station I reasoned- of course I bought the Confederates too… That was my fourth effort! (4). Finally, crisis struck again and my faith in 25/28mm was shattered… sold them all.
With the funds obtained I started building Playmobil Armies for my first two grandsons… once organized I thought it was a way to confront brother against brother in a too realistic way and scratched out the project… Sold them all again. (5) And went "tricorne era" fictional Playmobil Armies much more clean in spirit!.
And where was I?… Reading Practical Wargamer… and there I found Baccus ACW Cavalry on the cover of one number!… nothing less than East Cavalry Field (again)… months of musing about it… I bought POLEMOS ACW rules and fell in l love with the color pics -Rules as it is I prefer my own as always- And then to make a long story short I went Baccus ACW 6mm for both sides (6).
Do not pity me!… I had tons of FUN in the whole process that lasted years and years…
So there you have it, I have build six times the period and have read a long list of books about it, by the way Paddy Griffith is very good at it!. There are two very good books to own by him: BATTLE IN THE CIVIL WAR Generalship and Tactics in America 1861-1865 with stunning artwork. And then BATTLE TACTICS OF THE CIVIL WAR. As per uniforms information the best to my knowledge apart from the Osprey's, old Blanford, and Troiani's and Kuntsler's and Rocco's paintings the best single volume is: La GUERRE de SECESSION Les armées de l'Union et de la Confederation- by HEIMDAL in France, and there is an edition with English text I guess.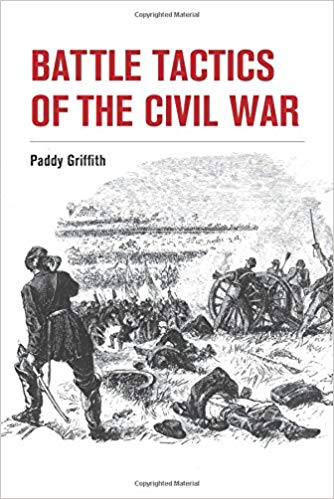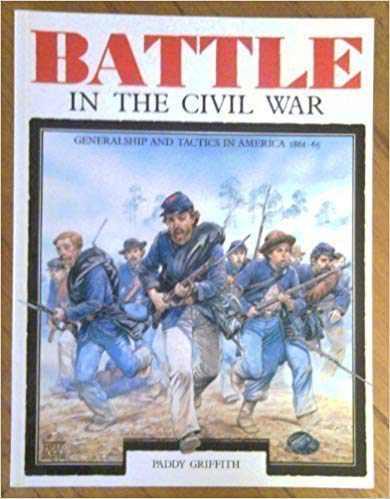 Now, as I have in my modest collection enough troops to have fun -megalomania is a pest to avoid- and all the references of Baccus catalogue! I am satisfied. I must confess the range is splendid and one of the best in Peter's production, have put a limit to it and only 24 Union Brigades and 18 Confederate Brigades of Infantry make the nucleus, + Artillery -with limbers- (those limbers are used also in colonial affairs mind) and mounted and dismounted Cavalry. I even have some Rapier Union Infantry to add a bit of variety and also Rapier Cavalry on both sides. I even mixed minis from other periods getting French with kepi from the Franco-Prussian Baccus range too… anything to add variety. Im my opinion one of the best packs is ACW7 because it has hat and kepi figures and some with rolled blankets across the chest -always a favorite of mine- so, if I started anew building Baccus ACW Armies I would surely get all the packs but ACW7 would have the lion's share of the purchase.
Enough for today. I provide old 6mm pics but will edit sometime this summer!