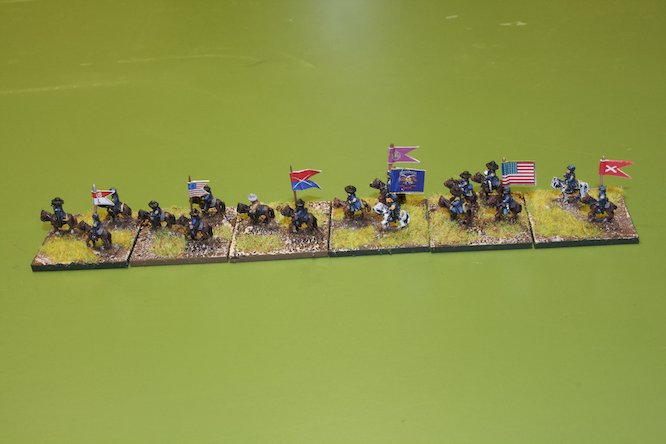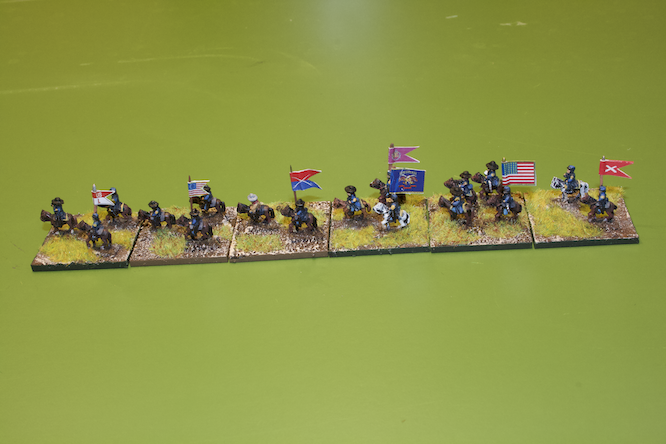 August is a very boring month… but after reflecting a bit it is also a time when new ideas creep into your mind and influence your projects.
I have done a Gettysburg bathtubing of my already painted ACW units with the result -predictable- that in fact I do not need much more at all to refight at a ratio one mini/100 man. Then I started considering the aesthetics of the thing, and some questions immediately become evident. Of course all come from reading about it (The ACW) say for example:
1) How do you represent the feat of the First Minnesota?, it was a single Regiment NOT a Brigade who charged by orders ALONE! into a Confederate Brigade who was superior in numbers and also outflanked them on both sides… HOW DO YOU DO IT?… Don Troiani's paintings as an inspiration… but not exclusively that. I am not shouting excuse the emphasis.
2) At the end of the ACW there were Rebel Brigades reduced so much that in fact had the strength of a Regiment…
Well, all of that has put me in gear to do some special stands, the theory is completed, once Baccus admits new orders and Paypal works again -my fault I admit- I am going to build new stands in the following manner:
Using the standard 60x30mm Baccus stand I will represent units understrength, meaning NOT the usual two ranks of 12 minis and 4 skirmishers in front. Got enough of those!
I will also represent isolated units with flanks unprotected -aka 1st Minnesota at Gettysburg- Using fewer minis in the center of the stand with no skirmishers and still two ranks.
In the same stand I will put side by side two units with their colours but much reduced -Confederates- to represent late war status.
Last but not least that induced other supporting ideas… why not push forward both lines and eliminate skirmishers from the picture making some minis in the rear rank a bit not aligned -that represents stragglers or tired soldiers trying to catch up- a new stand to give variety to the tabletop- and what about mounted officers of the Brigade?… THE MEN MUST SEE US TODAY!… just another variation… and so on… (still not shouting).
And in my final order I included Brigades with flank refused, as in Little Round Top extreme of the line.
I did the drawings and schemes and post them to Greg at MERSEY WARGAMES PAINTING SERVICE, those "new stands" will gave my own rules more scope for variety.
I am probably not the first to realize the flexibility of the system that enables a more liberal composition of the minis glued to the base -I am not claiming originality at all- but I guessed it would be a good idea to post my thoughts about them.
Greg is going to do some stands with Cavalry wading a river too! meaning a column and minis cut from the bases in front and rear and no legs for the horses in the middle of the unit… sky blue river stand!… ideal for raiding! -and for both sides of course- plenty of rivers to Ford (pun intended).