Hits: 41
My first love when I discovered metal soldiers was the Waterloo battle (see elsewhere in this same web page), then I was convinced that it was a British/French affair (lol)… much later I discovered the King's German Legion, The Hanoverians, The Dutch&Belgian, the Nassauers and of course the Prussians! (LOL). It was a long journey… and now at seventy I know that the main pleasure was in the "journey"… all those years buying books, reading about it, checking (and double-checking ) my Armies compositions etc etc etc.
It was a great hobby, and I was entertained for more or around thirty years by it!… I have no regrets. But I must comment that one of the things that put me out of it was when the "finish of the painting job" become Military Modeling like!… I have nothing against it mind… but in my mind the point was not there, the pic of today shows what can be achieved in that scale (and inferiors too) by extremely good painters. Transforming a wargames unit (I must admit I was more Toy Soldier focused) in a mini diorama. You need all sorts you know!… Suddenly my painfully researched and balanced Waterloo Armies looked as "past" as a British Two Seater if you know what I mean (my other hobby been cars). So I quitted.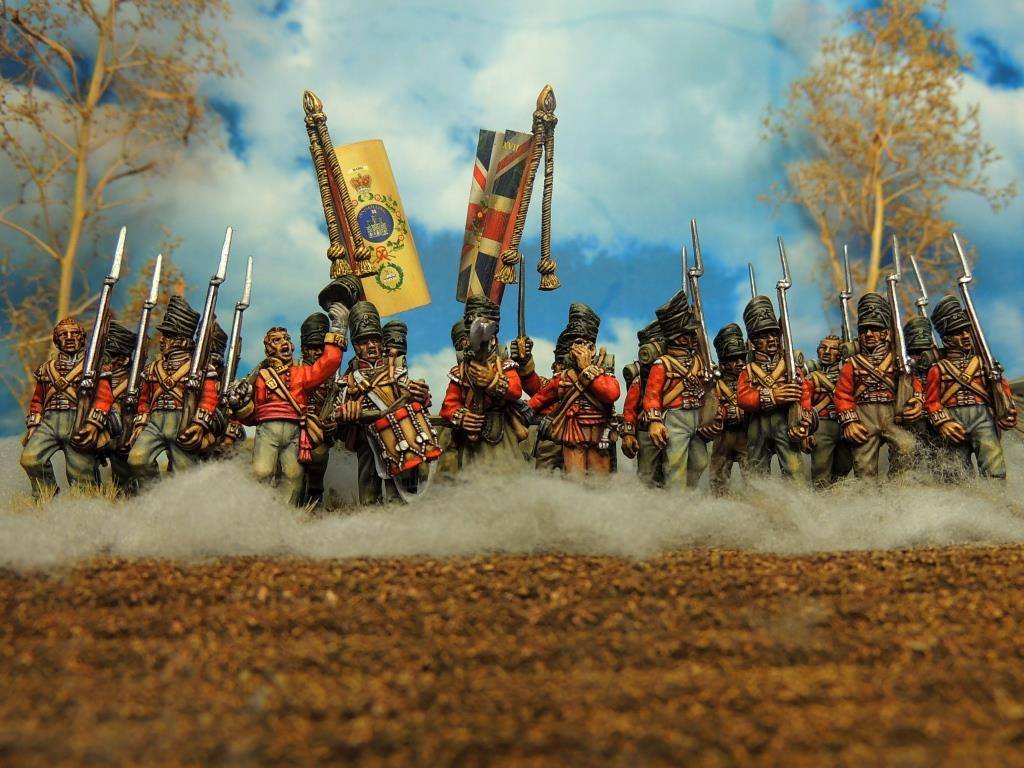 Not wargaming mind, I still have the thrills!, but you'll need a magnifying glass to see my 6mm ACW paintjobs! (lol again)… seriously even having a permanent quite big table (see elsewhere in the webpage) I love to have more "room to manoeuvre"… "no secure flanks"… and "lines of supply"… I understand perfectly the trend to downsize the minis and have more fun with the game itself. Now I simply collect in the traditional 54mm scale (as I have always done), display them on cabinets ad hoc… and wargame in 6mm.
Mind, I still love those units as the pic of today shows but my time for them has passed away, nor I have the room to field them, nor the funds or time to get them "right" (I have abstained to enter in the argument of "parade look" versus "campaign look" on purpose… I always preferred the former…).
So, without much more to say today… I will let you ponder on it. Enjoy.