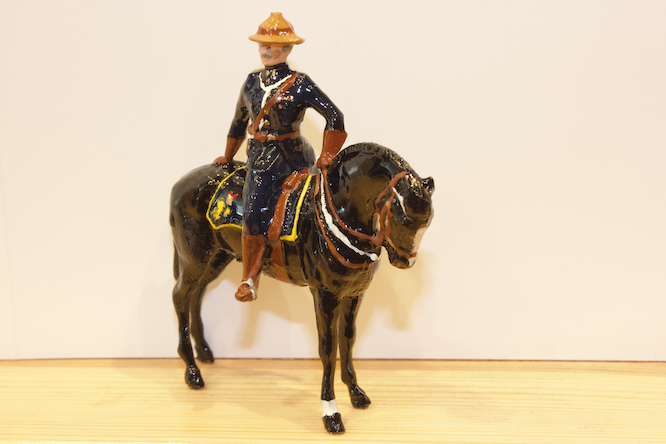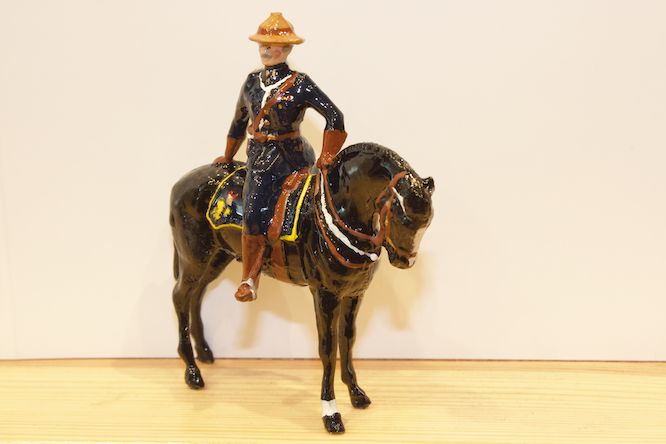 I decided to create a Blog – obviously and not originally named https://www.mytoysoldiersandme.com – as a mean to communicate with the rest of the wargaming/collecting world -and a posteriori with my grandchildren- and specially with my readers! You must forgive me because this is NOT an orthodox Blog, in fact it does not function at all as one, it is more a collection of Posts. I do actualize those Posts when I have an idea or change my opinion about something, but not in the usual chronological way someone would expect. What is more I order them at my whim thinking how I would like to read them myself, but nevertheless there is a rough guide by themes which permits direct access by interests.
I have been playing with Toy Soldiers since I was born, I collect them, have been involved in all kinds of approaches to the theme, including Wargaming (in different scales), Military Modeling, Conversions, Painting Myself or using Painting Services… You name it I have done it (excluding fantasy, Sci-fi and wargaming post 1900). By the way if you considered worthy or of help please share the link with your friends in the Toy Soldier community!… specially in those present times of compulsory confination… I am confined myself and my computer is not in this house so I can not do new pics or properly actualize it! Hope this ends well for all of us.
My idea or purpose is to continue giving advice -not asked for- on the subject of toy soldiers. Please note that in the term TOY SOLDIER I include everything related or remotely related to toy soldiers and wargaming. It is so for me. NOTE: at the bottom there are the 3 numerals of the pages existing nowadays… and also there are direct links by themes:
CATEGORIES
I even wrote a book about it once (available in English and Spanish languages) but the passing of time has made the text a bit incomplete… so here is the way to explain what happened next -after 2016- quite a lot of things in fact! The book explained my experiences in the fields of wargaming and collecting since the middle fifties up to 2016 and of course it is quite exhaustive about the golden period of wargaming -if it ever existed-. If you have any doubts or questions I can be contacted at adb@andorra.ad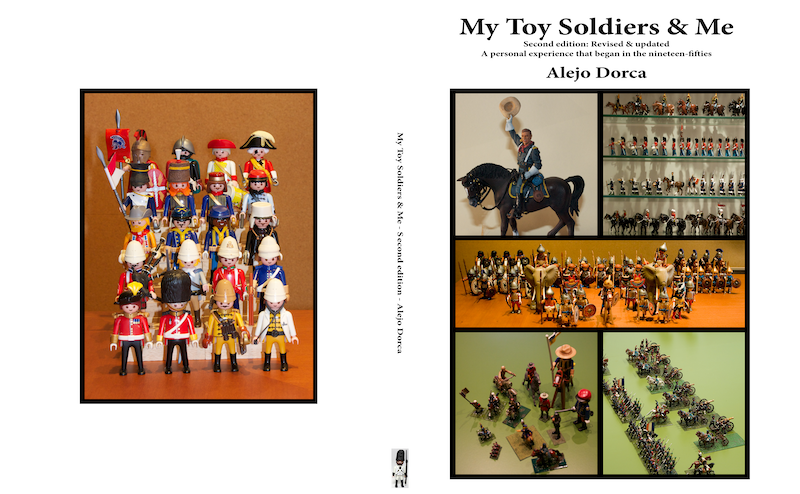 This book was what it started all. Well, to be exact -as it says in the caption- in fact this is the English second edition.
The "white book" was the second English edition three years after the "black book" fiasco. By now I am quite proud of it, it is quite self-contained and exhaustive about the Hobby. But from my perspective it is becoming slowly obsolete with no mention of the current trends and times… it does not mention LITTLE WARS TV for example (podcasts!), neither my current passion for the ACW in Baccus 6mm with Baccus and Leven scenery (renewed interest for a period). And some other collateral interests like the NWF, North of Africa Colonial French, LBH, Second Punic War -"counters" for a board game- Death Ride in the FPW etc. But this Blog hopefully makes up for it. In fact it complements the second edition in English nicely enough as an update.
As it is, I first wrote the book in Spanish (Second edition also still available in amazon) because I was born in Spain and that was my first language.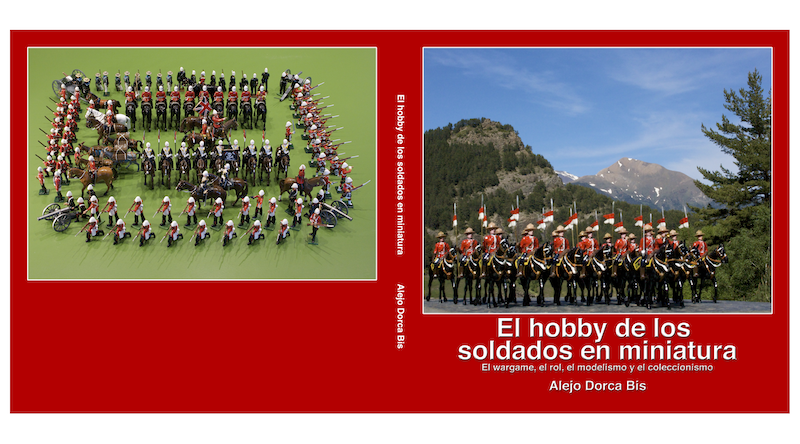 To make the tale short I decided to translate the opus to English myself because the Anglo-Saxon community (UK and USA and Internationally around…) is where the hardcore followers thrive. It was a mistake, I was wrong because sintaxis and language construction of the first English edition were not good enough, and that is a big euphemism. Hard or even mild critics on amazon mentioned that specifically, so I got a translator and corrector for the English second edition -that after three years reads as a different book!- and added more than a hundred pics in colour (as you know a picture is worth a thousand words).
I am not going to write MY TOY SOLDIERS & ME part II, never fear. It is much better to ramble here -I can even edit, add, reorder or delete!- and post the link to the blog in FB or twitter, so if someone is interested he or she gets the update for free.
I am enjoying myself – as only SOLO WARGAMERS do – doing it and keep you abreast of developments.I have sold it via amazon (of course). In fact it sells better in kindle form (cheaper and readers able to zoom the pics I guess). All started when I read an article on a newspaper saying how easy it was to auto-publish a book. I became interested. I learned about CreateSpace and the rest is history.
I am in FaceBook as Alejo Dorca Bis but not obsessed to have many "friends", there I follow groups akin to my interests or pet subjects on History, Toy Soldiers and Wargaming, and even comment from time to time, it is real fun sometimes but you also see a lot of "spam" unfortunately . It is a too much dispersed an effort to comment on facebook, or in different threads on the Forum in Baccus for that matter! The Baccus 6mm miniatures are very good quality and my current wargaming scale passion, but I considere the idea of a Forum in their web page a particularly great idea of Peter!