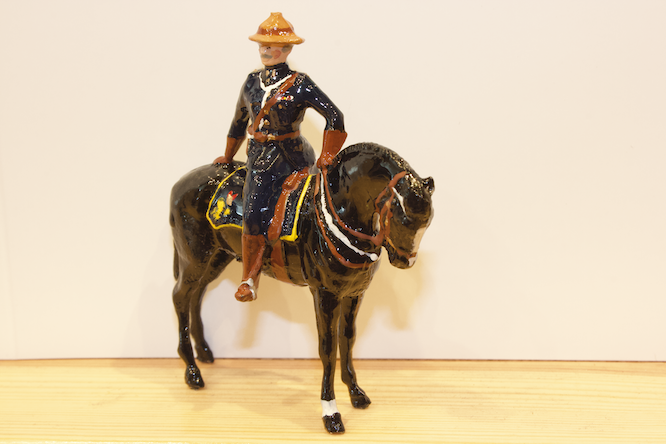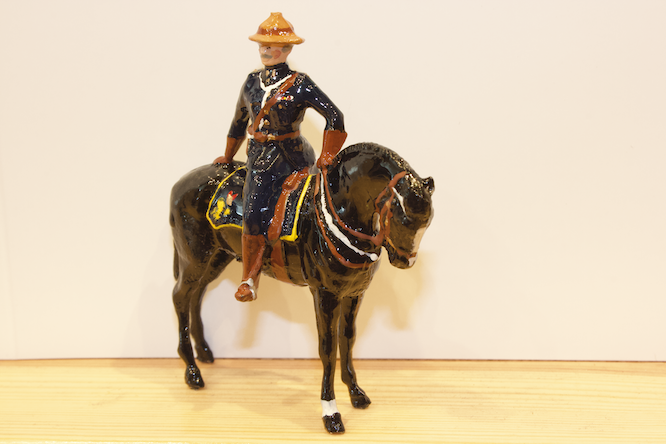 The games you play are equal to the games you make…
I could not resist it, saying farewell and knowing when to quit is very difficult. I am waiting for my last parcels from Mersey Wargames, Keep Wargaming and Reveille. In the meantime I have painted a "new old toy soldier"… a 54mm (ReplicaMetalSoldiers Andrew) a mounted Inspector General of the NWMP in a dark blue patrol jacket just because a childhood memory -they are the best (childhood memories not the NWMP)- I was very young when I got a box of mounties (I already had a lot of them) but in that one proudly in front of the lot there he was… a mountie with a dark blue tunic -and yellow gauntlets!- of course it was the commander of the unit!… I always had a crush for that figure (and of course never found one alike)… so in the end I decided to make my own and quite satisfied I am going full circle. Of course the original one was lost forever, but I have still 3 mounties over 65 years old see pic.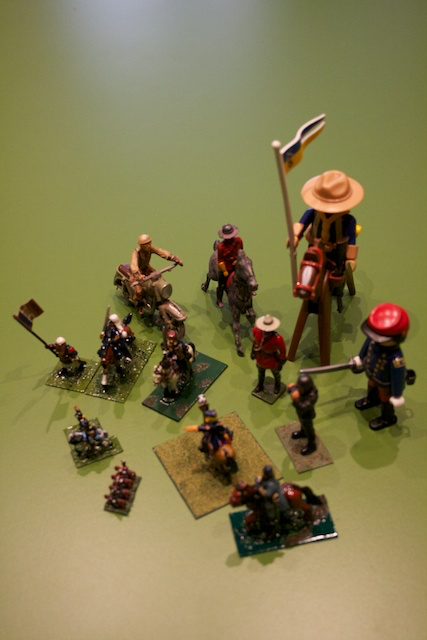 I am going to update this post with pics and slowly edit the rest, meaning that I think there is always room for improvement.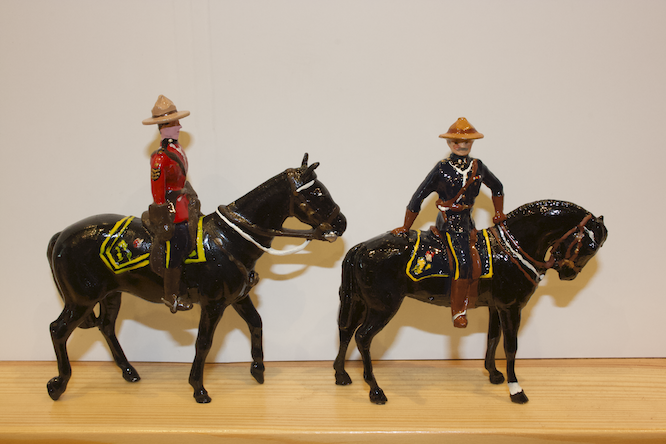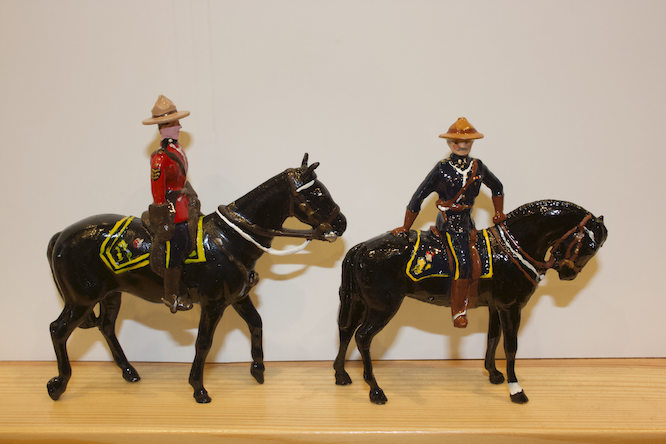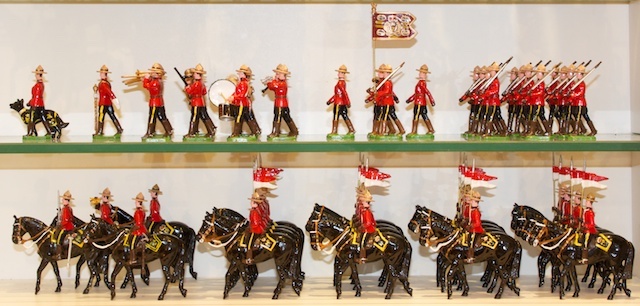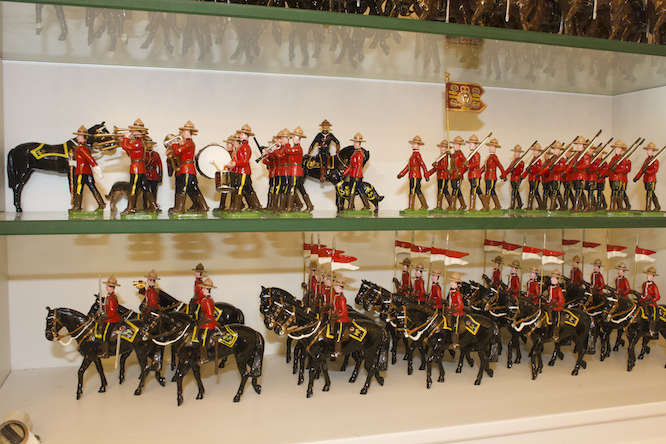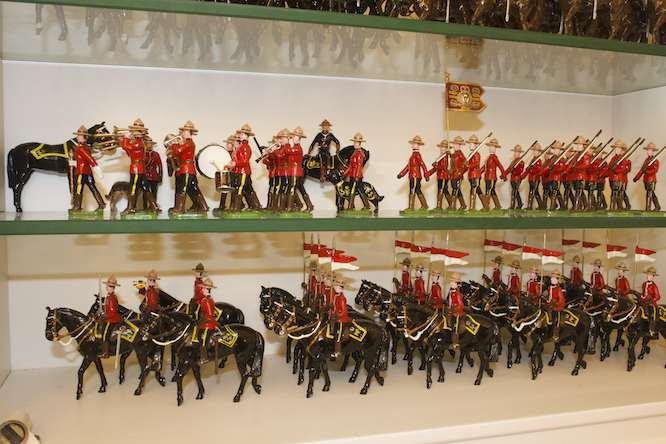 One last thing, I reviewed in amazon.co.uk the book "The History of Toy Soldiers" not that it matters a lot, but what a lavish book!… I did found info in subjects that does not interest me at all but were a pleasure to know. I will leave you with it. Oh! in fact four stars was the final qualification for the "holes" in it, its a book that starts thoroughly and than has a rushed end… I would not have collected or bought more than 50% of what it is showed in it… paper soldiers?… flats?… nutcrackers? No Playmobil or Lego and no mention of Baccus minis either which is a heavy mistake!… No silver soldiers as per Regimental mess pieces as in Mappin&Webb, and no china (porcelain) big soldiers (I have one)… and still recommended somehow… to learn from where we are coming from. I absolutely recommend, as James Opie works, Stuart Asquith and the rest which in my opinion are more concrete and well structured if a bit "insular". A missed opportunity in more than a certain way, but worth having.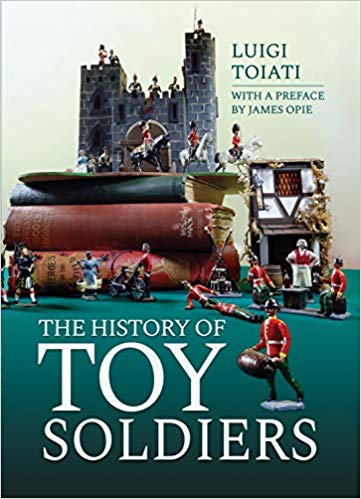 It was a pleasure comparting posts here… and sure I will post more pics!… and edit existing posts but that's all. To elaborate would be just copy paste of what I said in my book "My Toy Soldiers and Me" so just peruse sometimes to see editions to come (of the posts of the blog not my book!).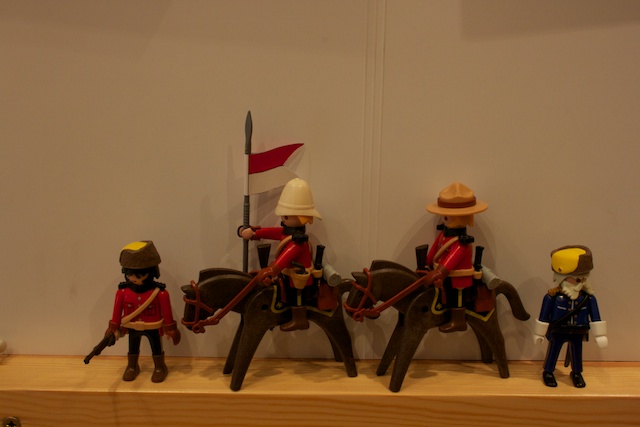 I was actually a bit nonplussed by the book The History of Toy Soldiers, an excellent coffee table book and lavish edition to be sure… but with so many blatant omissions in my opinion… the concept of "Toy Soldier" is for me much more ample and inclusive!… and I really disagree with the author about the Terra cotta Chinese Army dig out from the Big Wallah back garden!… they are simply 1/1 scale and that's that.
Editing this blog would be much more interesting that writing new entries, just yesterday I got one half of my last REVEILLE Leven buildings (Daniel Hodgson is the chap you need for your scenery!), vaguely colonial they would be pressed into service at the battle of Maiwand, NWF and North of Africa indistinctly.
Renaming and ordering the Posts of the Blog by subjects and categories nowadays.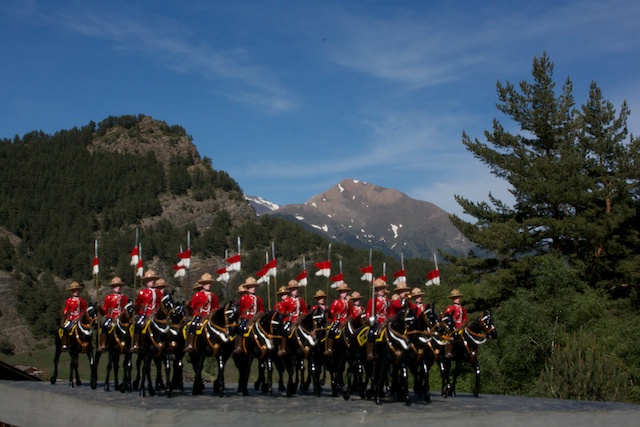 Summing up, my interests on "toy soldiers" are wide and large. I do not restrict my activities to a single field or even scale, neither period. No original at all, as you can imagine there is nothing more conservative than the Household Division to collect in 54mm, and the rest of my 54's are in three main themes: French Foreign Legion (with some Chasseurs d'Afrique); Tel el Kebir/Rorke's Drift aka Brits colonials before khaki; and last but not least NWMP/RCMP. As you can see in Collecting I the minis collected in 54mm have been subject to buy/sell, Scot Grey's cometh and goeth, same with US Cavalry in gala uniform, Denmark Royal Guard, Mossos d'Esquadra (Catalan Police) and other mat finish Spanish miniatures which included US Marines USMC but also British Rotal Marines and Spain's Division Azul, as I said before only two of the eleven shelves were kept… that is Collecting for me, something alive but with periods of lethargy. Not Original at all I am afraid but a rewarding pastime.
I dedicated a chapter of my book to Collecting (my own experience mind) but the book you need is the one by James Opie: Collecting Toy Soldiers. He has written many excellent books about Britain's but THIS ONE is the best of all his production IMHO.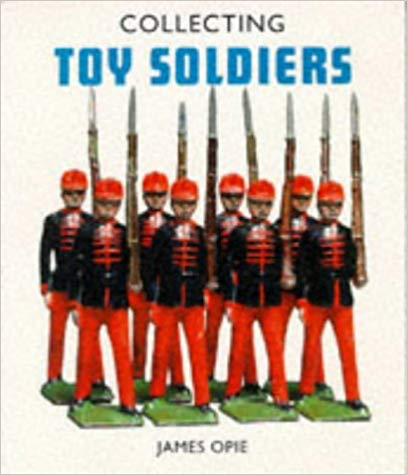 Cheers.
adb@andorra.ad