Hits: 1181
31 Mar 2022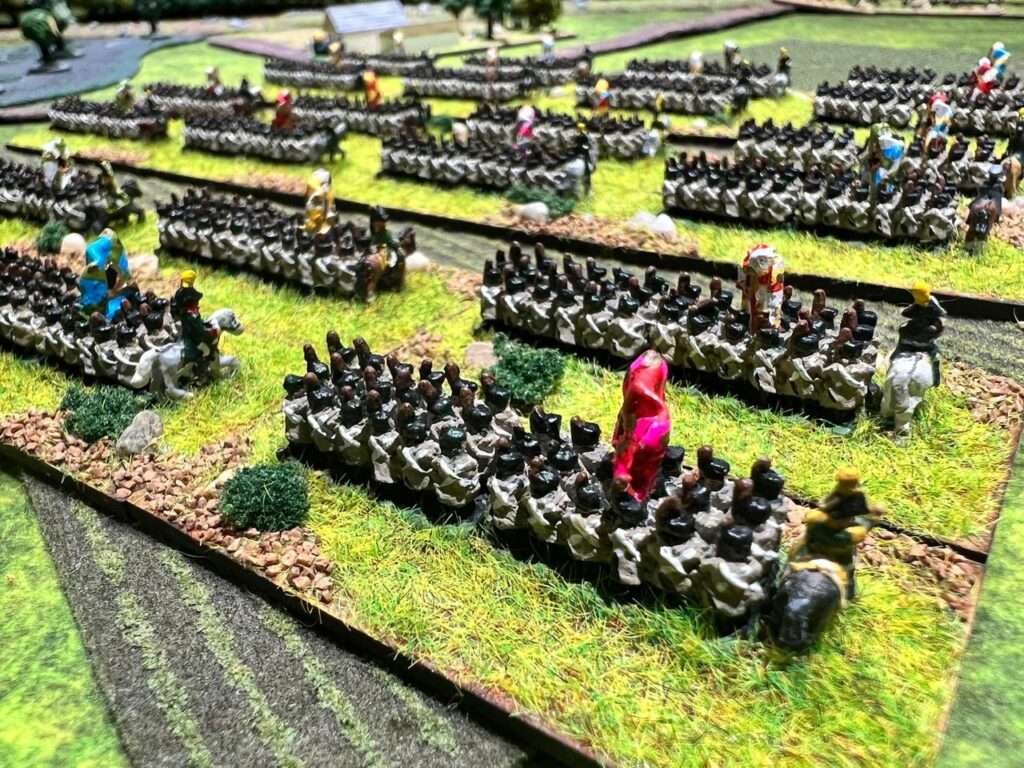 6mm again…
30 Mar 2022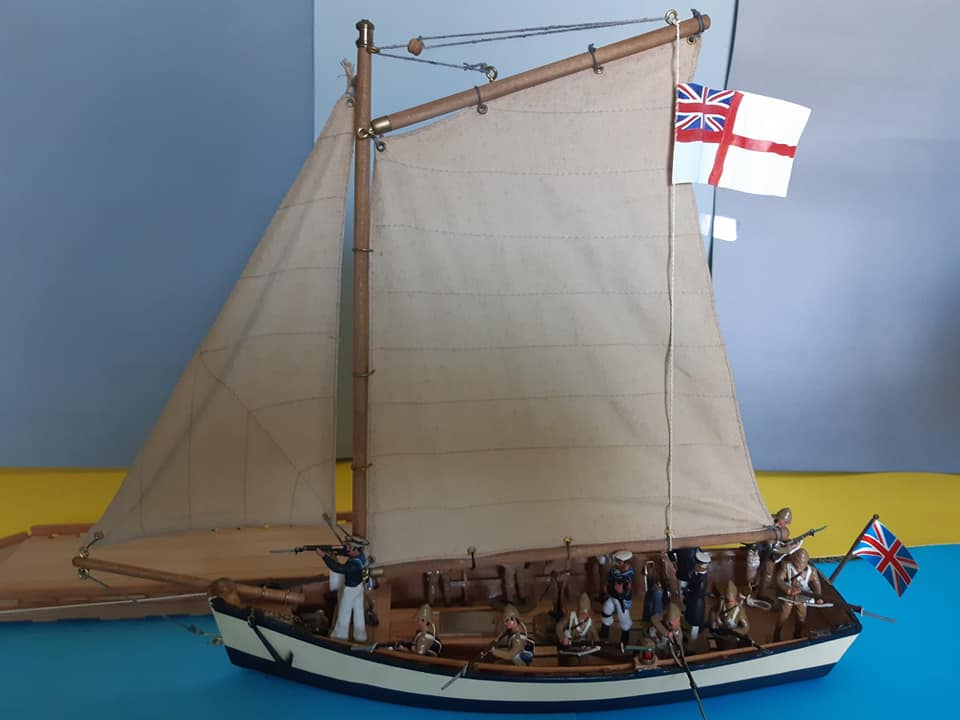 Congratulations on a worthy effort!
29 Mar 2022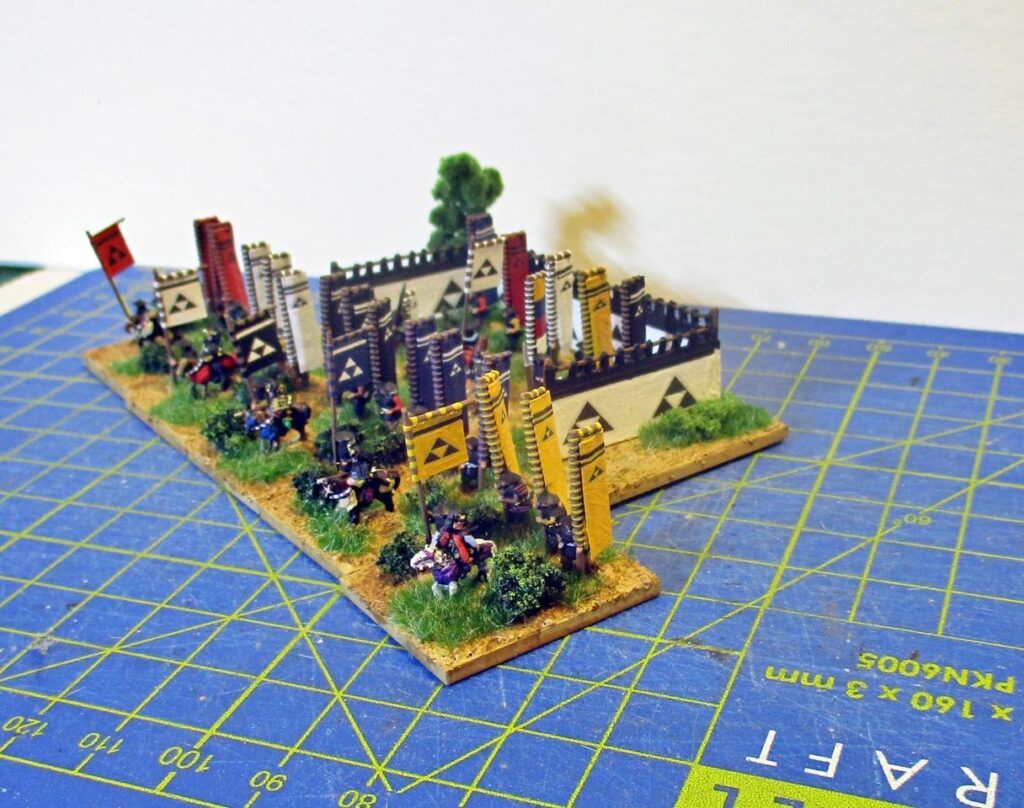 There are no limits to craftsmanship…
28 Mar 2022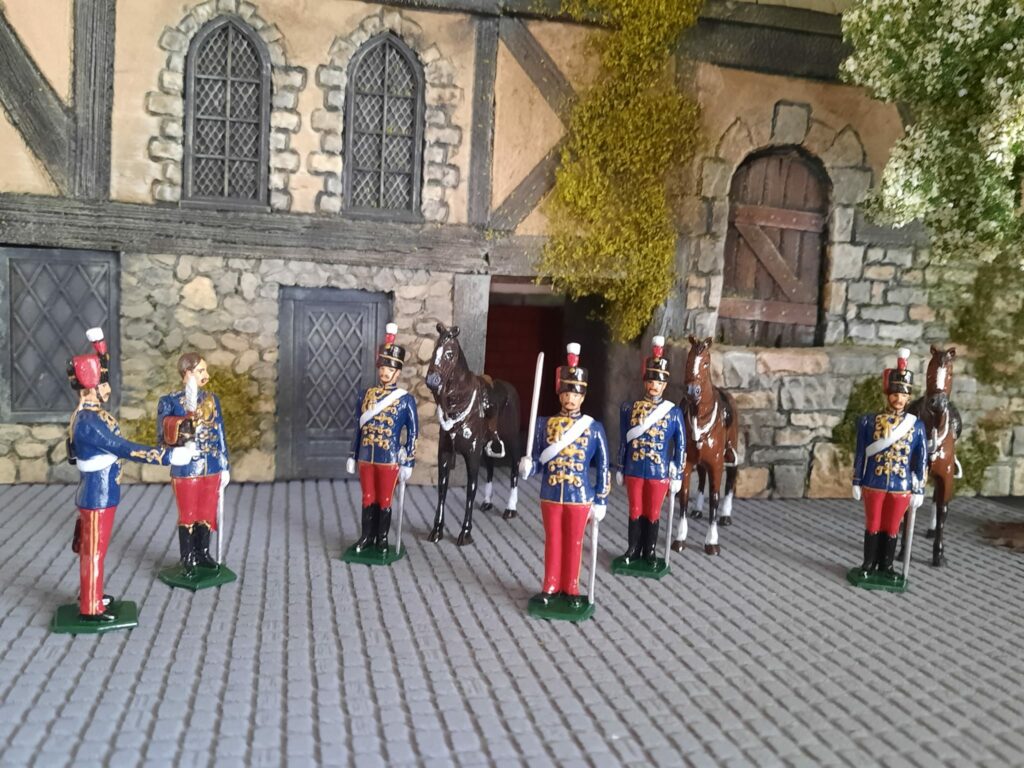 Tradition of London
27 Mar 2022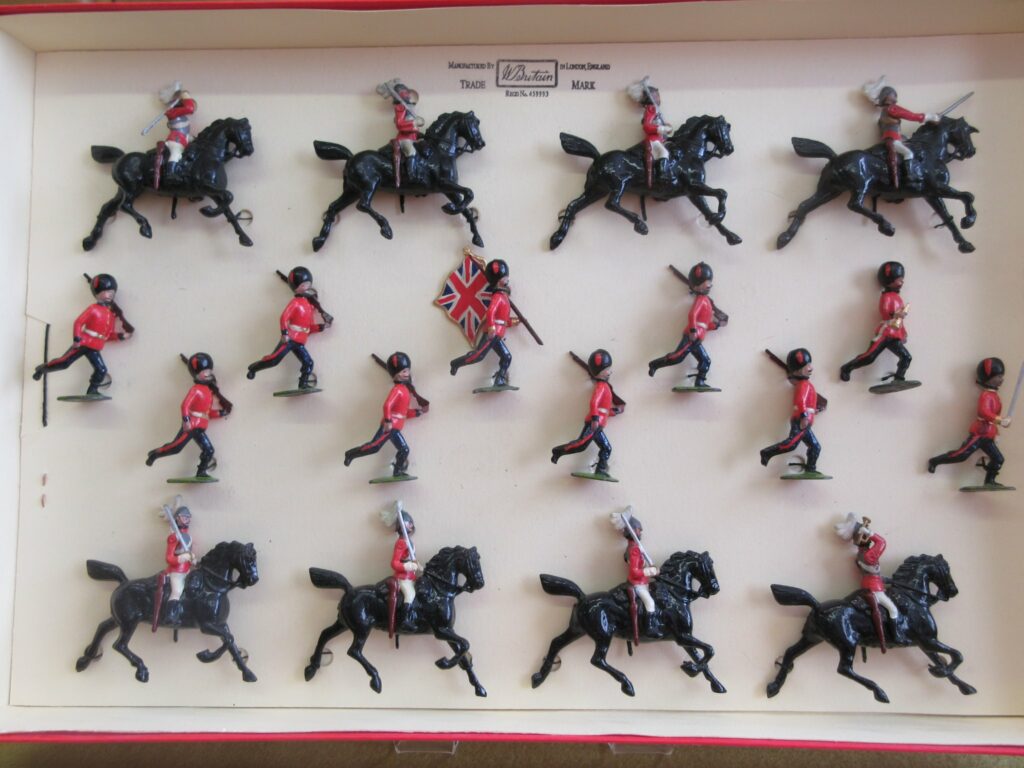 Just another pic today…
26 Mar 2022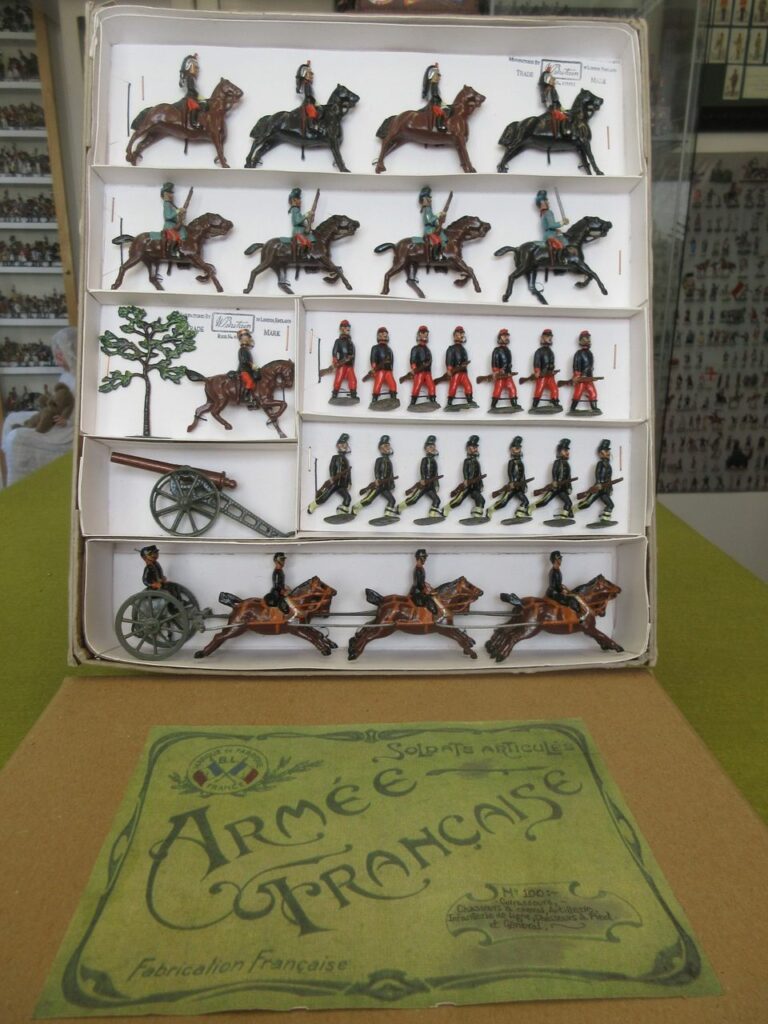 Another interesting box of goods…
25 mar 2022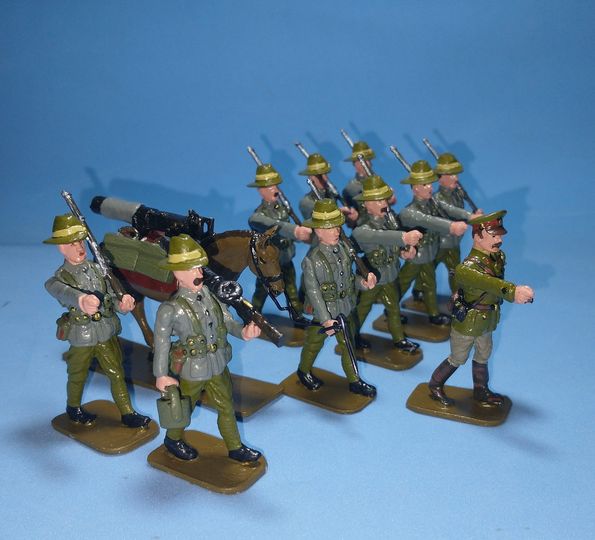 24 Mar 2022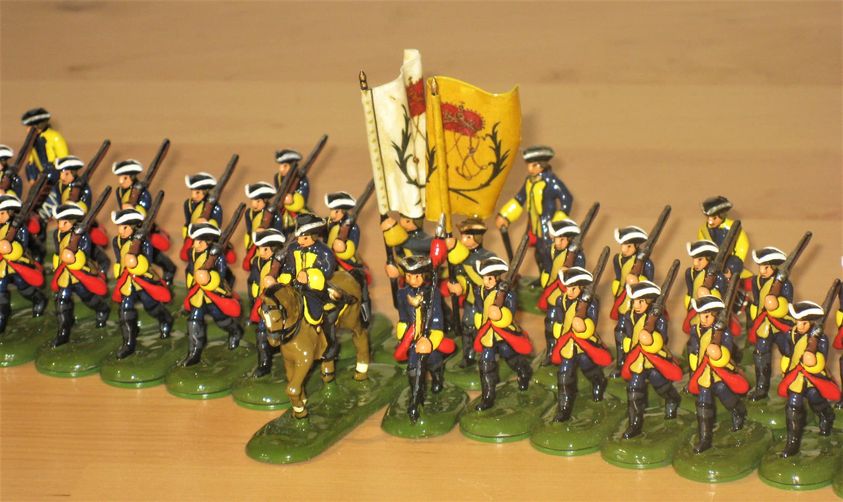 Just a pic in a hurry…
23 Mar 2022
Just in case…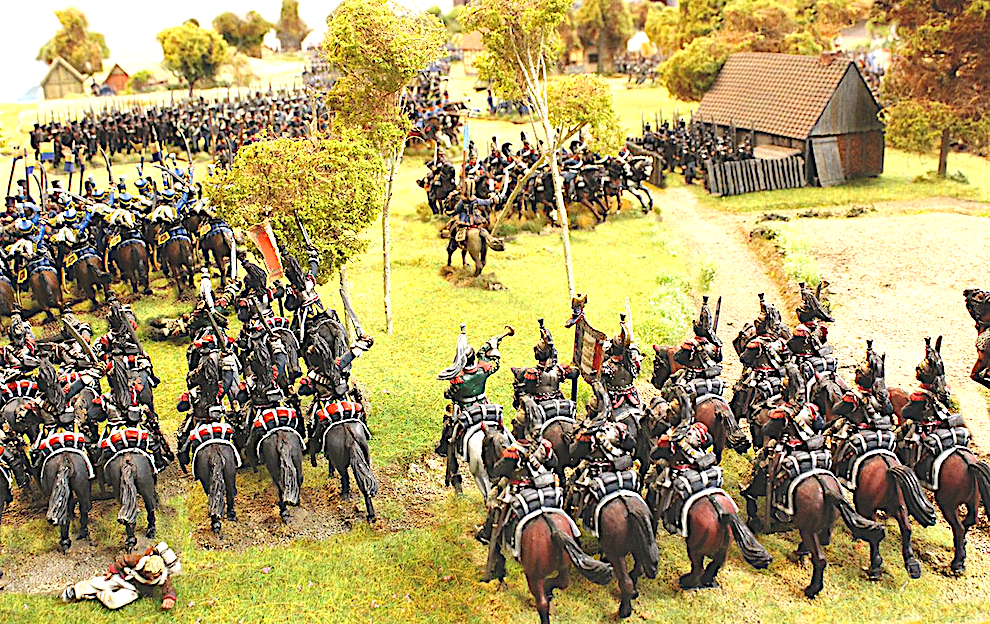 Such level of Military Modeling nowadays in wargames…
22 Mar 2022
Yes, you have guessed alright… I am in a hurry and decided to advance my calendar three days… so to speak… you get the pics and I am off to another things…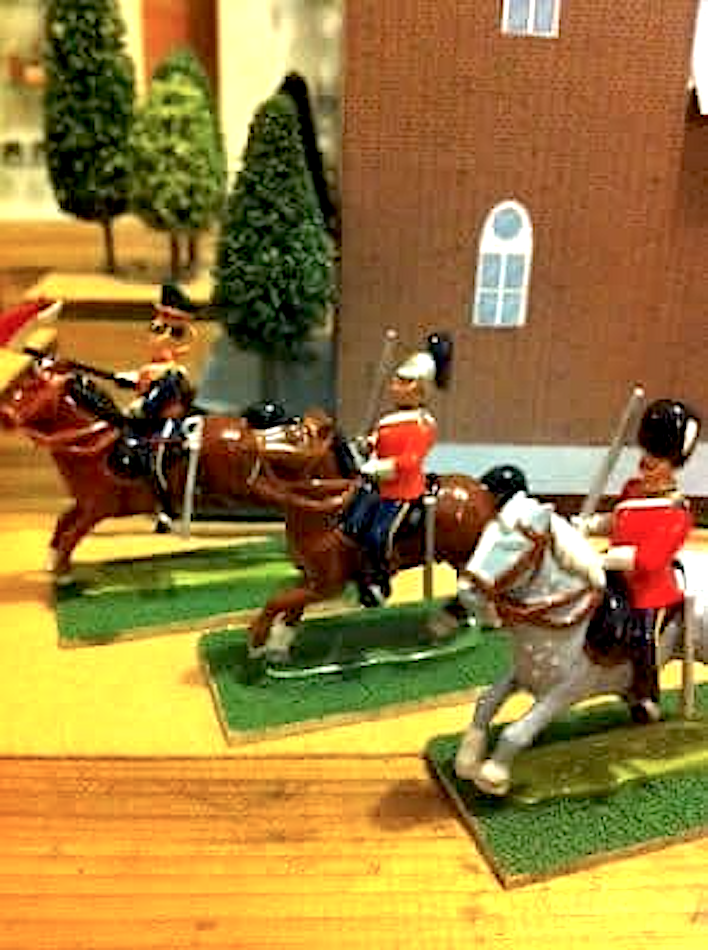 Maybe 40mm… but you can guess yourself… excellent painting though…
21 Mar 2022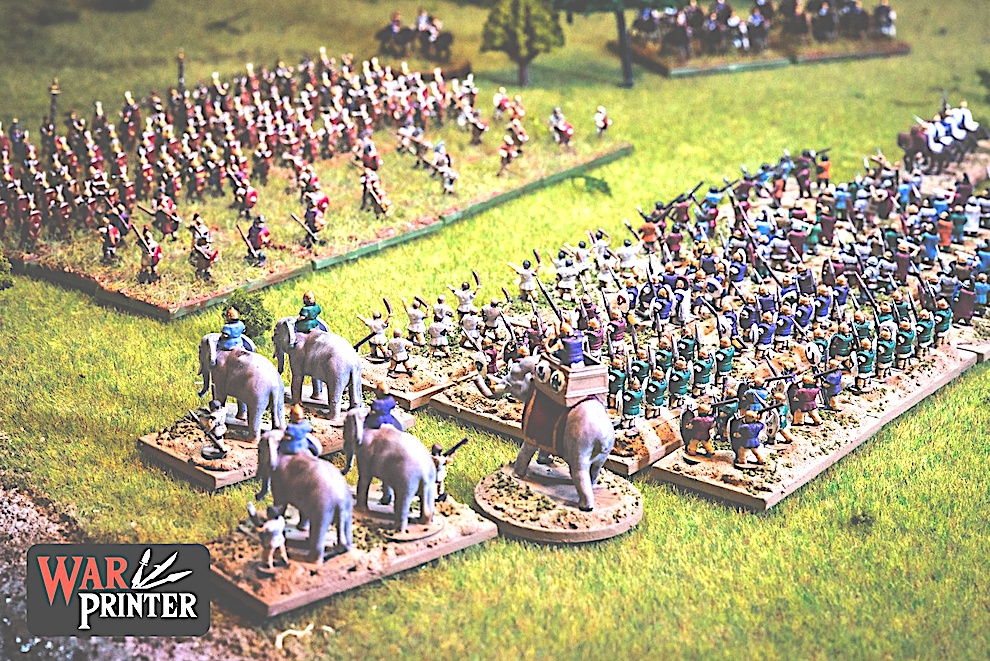 Just another day with a pic for you…
20 Mar 2022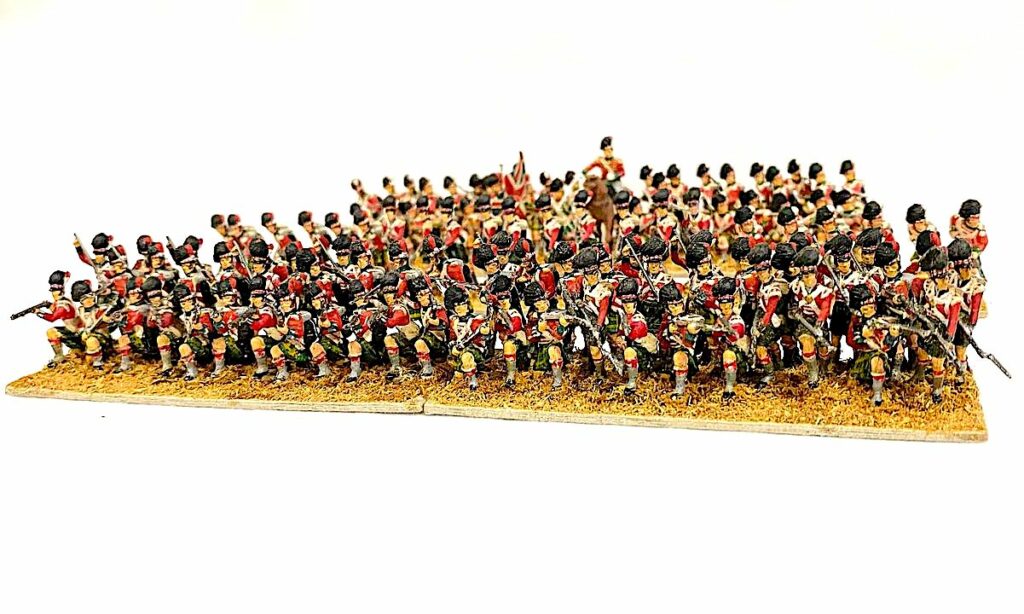 Just this pic today!
19 Mar 2022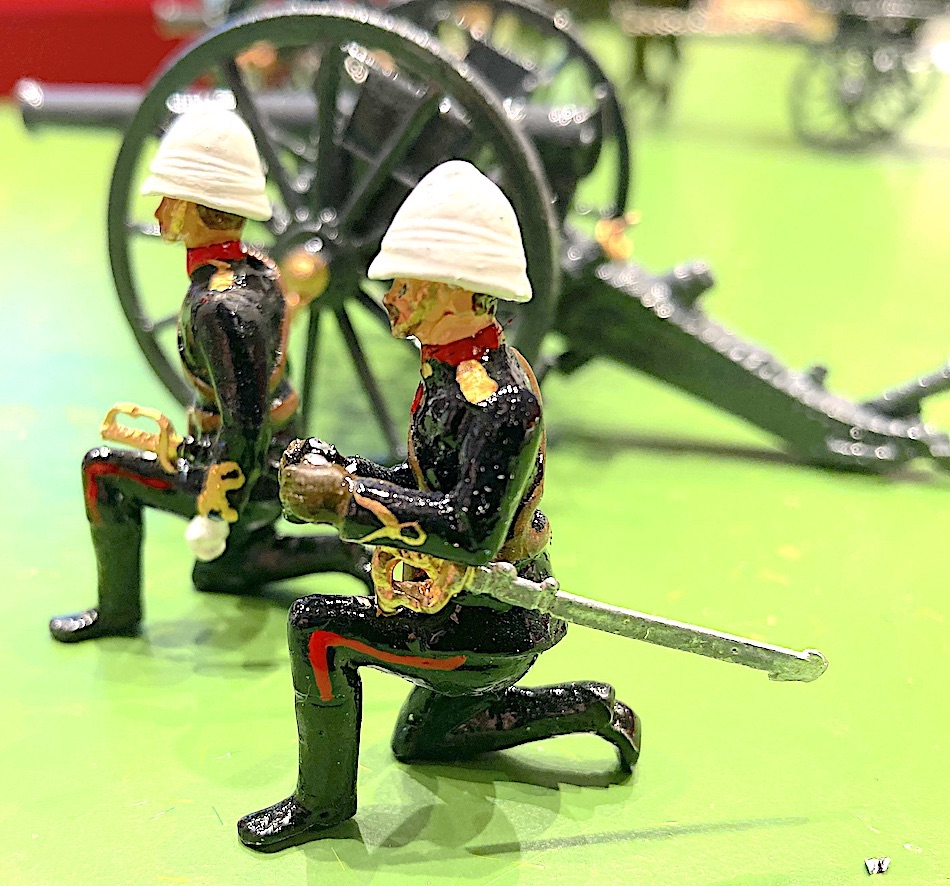 Also I can show you the view of the other side of the ramrod gunners…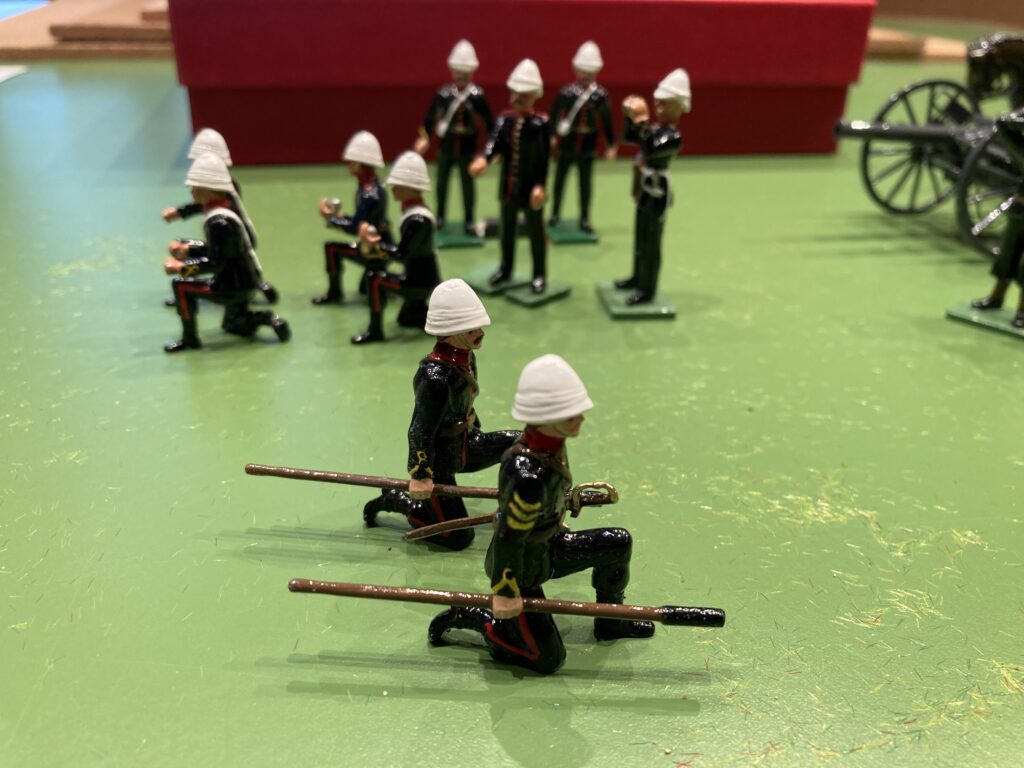 Now the work is completed in 54mm.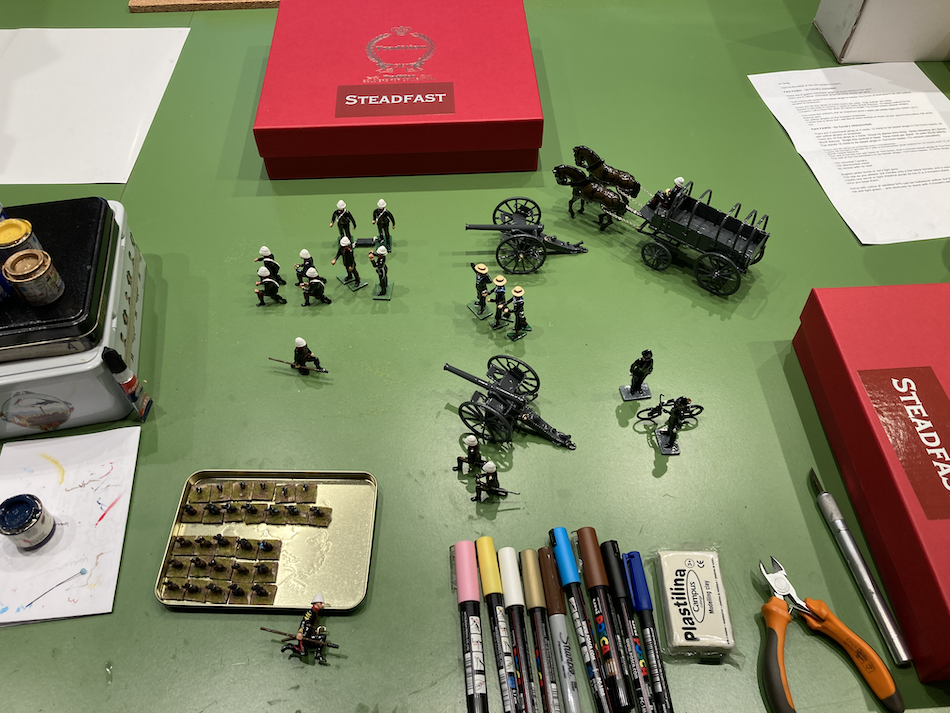 Finally got to work on Miss Olivia Dandridge conversion… pic out of focus I am afraid… better one's soon.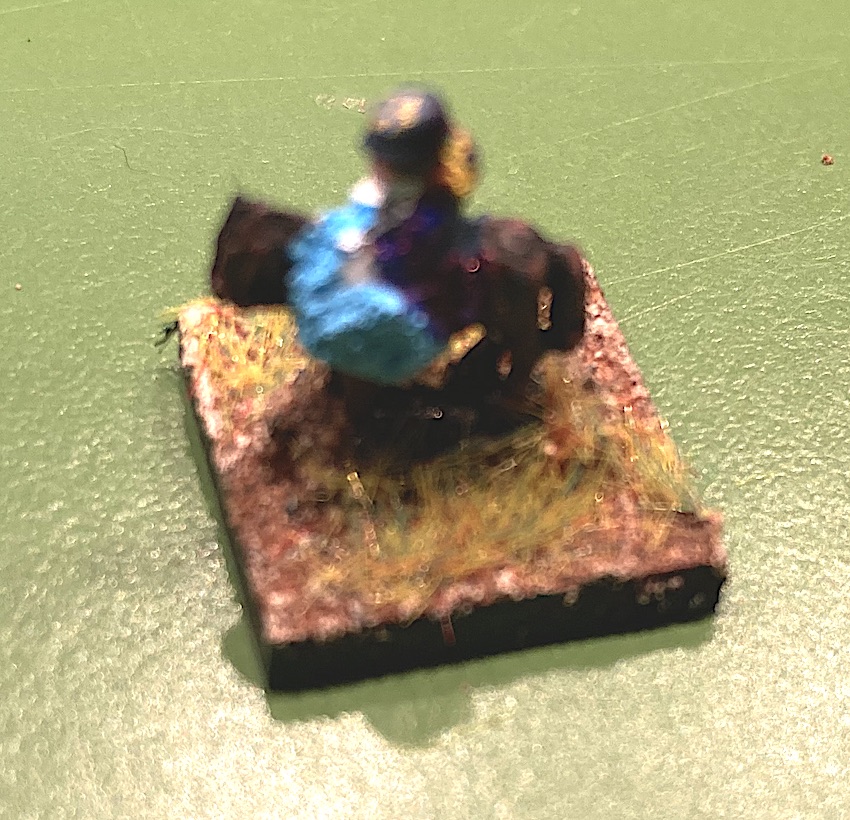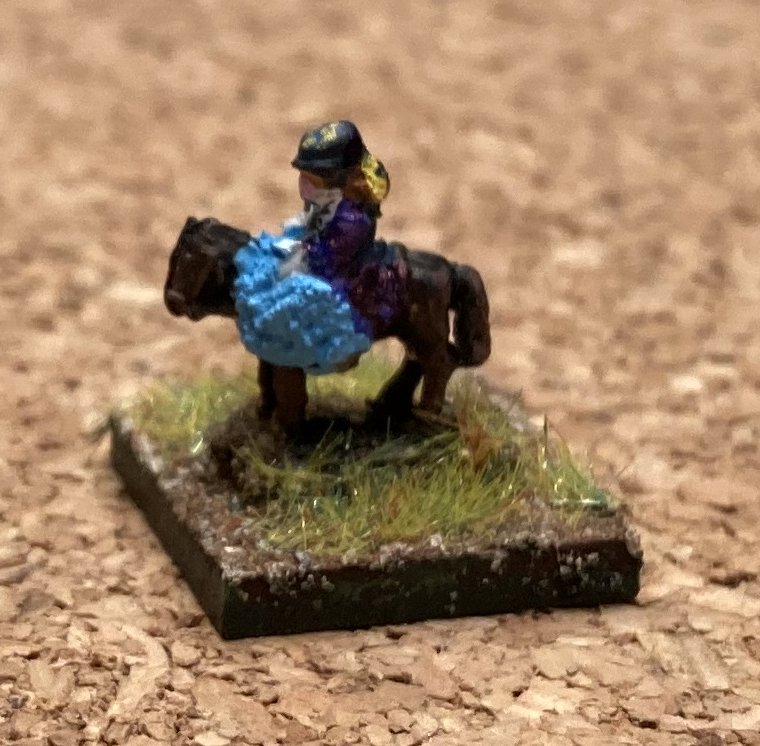 Baccus has an excellent range I patronized long time ago "PONY WARS" it is called and there is a ruleset etc… I bought the minis to play John Ford's Cavalry Trilogy… as I usually say… you need all sorts!
18 Mar 2022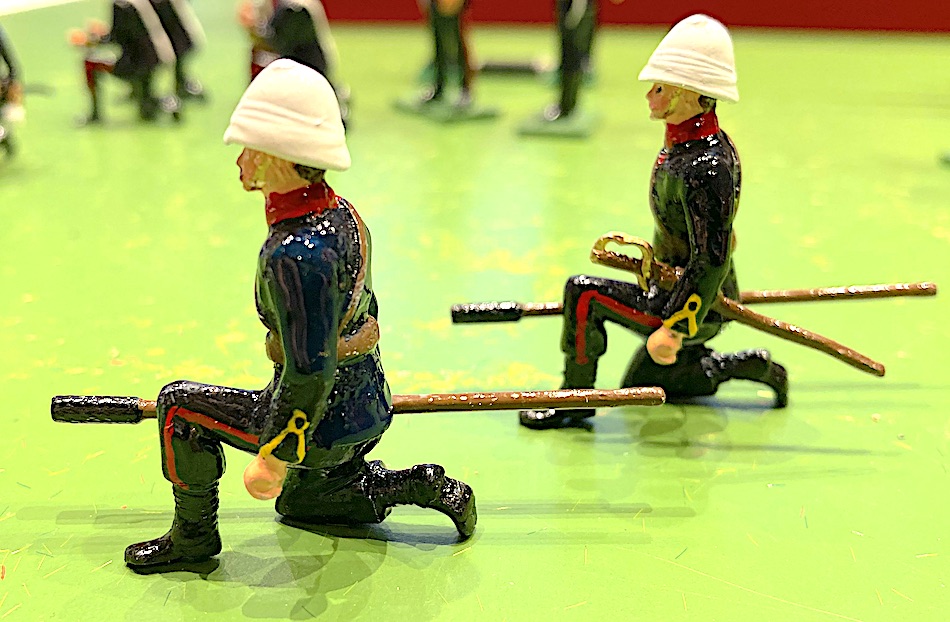 It is fun to convert (small things in fact) in 54mm after doing so much stuff in 6mm!… Olivia Dandridge is in process of been "created"… LOL
17 Mar 2022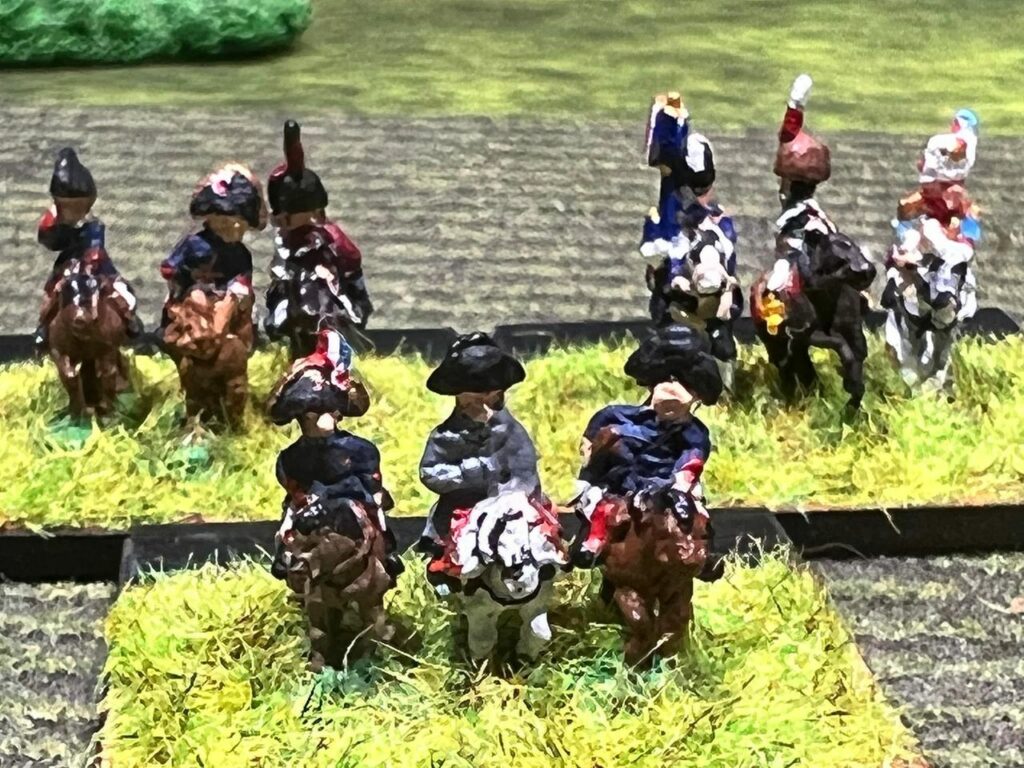 You know you can not see this detail in the tabletop… but it is reassuring it is there if you know what I mean… in fact the minis are smaller than the pic itself (LOL).
16 Mar 2022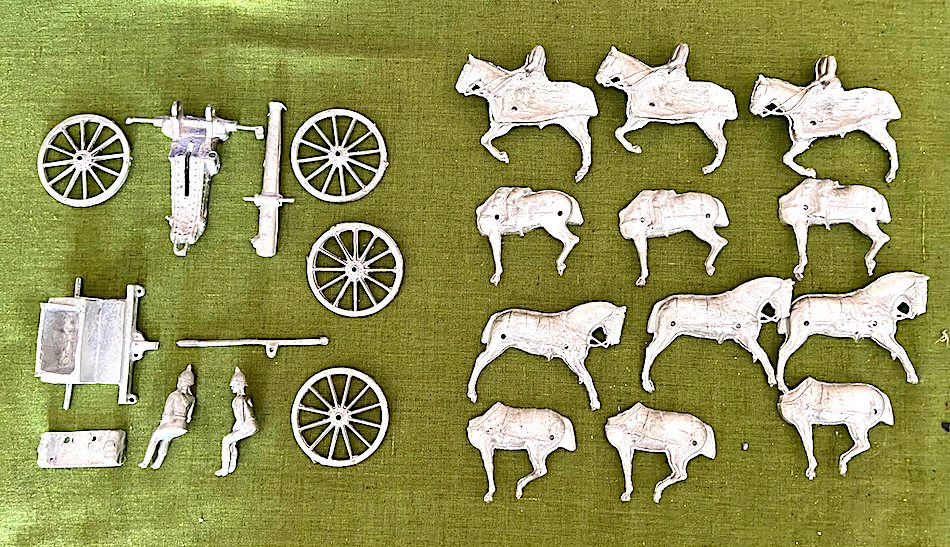 You can not go wrong with Andrew Stevens casts… to say nothing about his painted items!… it seems he would be "back in the saddle again" quite soon… Congratulations.
15 Mar 2022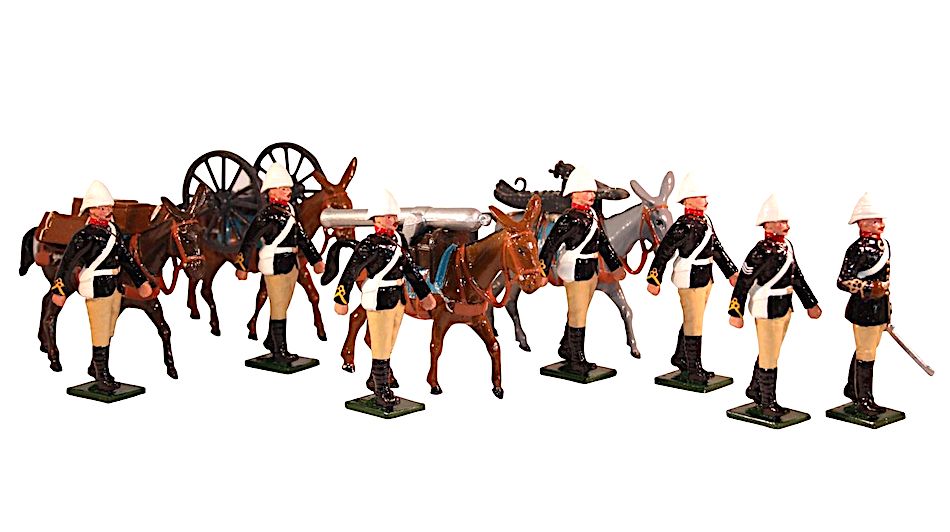 It is funny because I have two sets but the gunners are all clad with blue trousers (in my case) but the officer who is exactly like the one portrayed in the pic. Excellent models… and yes you can "mount" the pieces for action… easy to assemble and dissemble.
14 Mar 2022
Just a pic from Tradition of London today…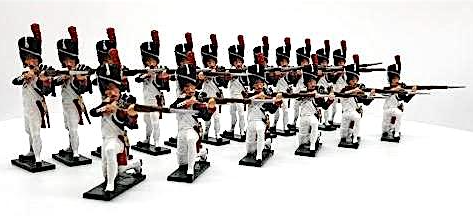 13 Mar 2022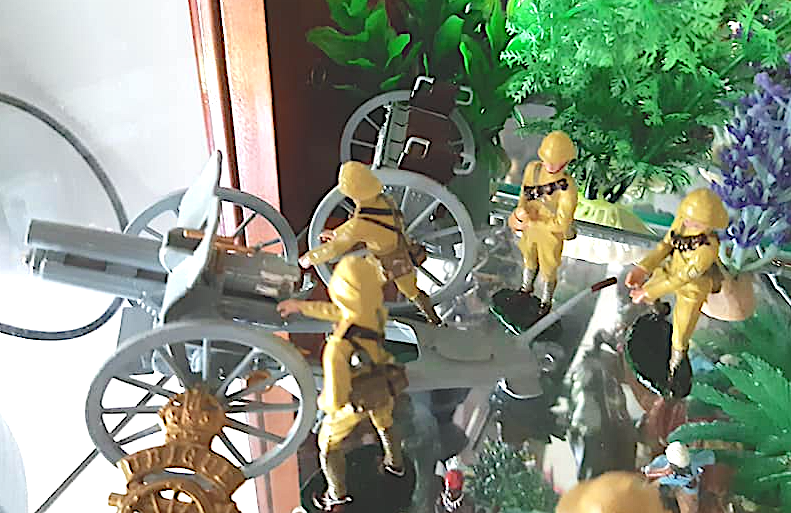 You are never the only one doing a thing in this hobby… and I am glad of the company!
12 Mar 2022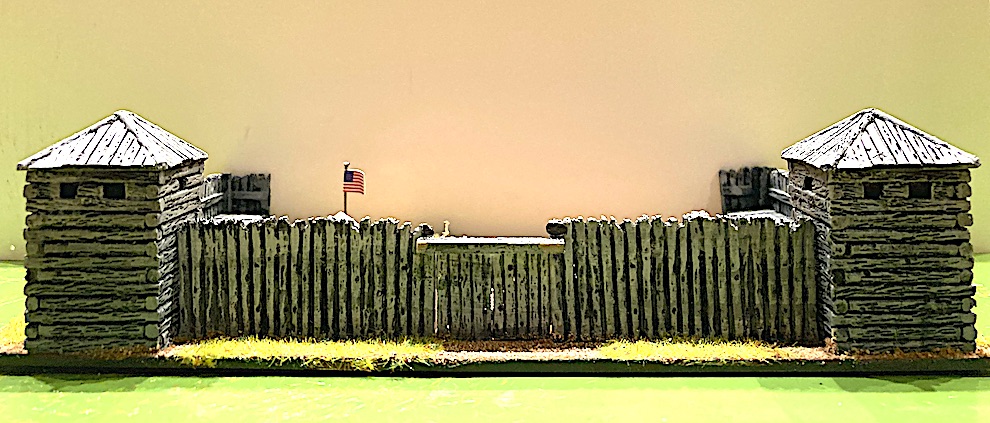 Finally it arrived GREY!… I asked for Dark Brown but I was wrong… and Greg was right!. Hope you like it as I do. For once it is mine!
11 Mar 2022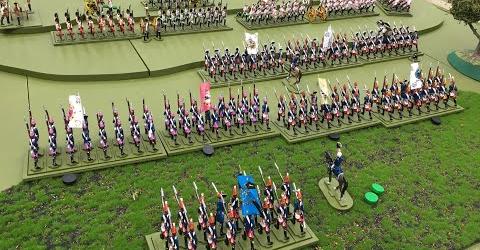 Not my passion at all, but you can achieve perfection in most approaches to the Hobby. Very nice display.
10 Mar 2022

Mine are DUCAL, but you can not get wrong with Steadfast! (after all DUCAL or FORT DUCAL closed shop a long time ago).
9 Mar 2022
I will give you the pics provided by Jon of my "new" Toy Soldiers (going to be put on the Catalogue of Steadfast as a result!… deeply touched!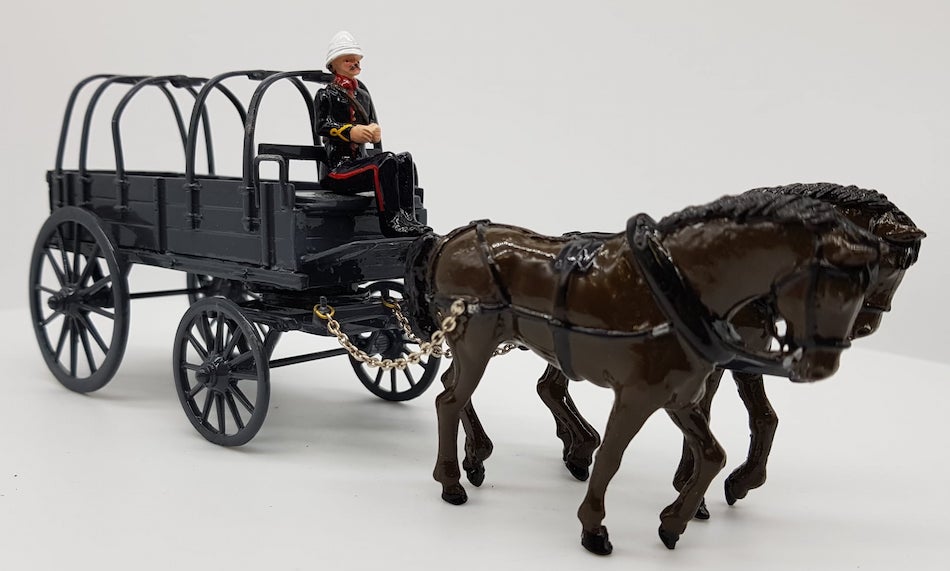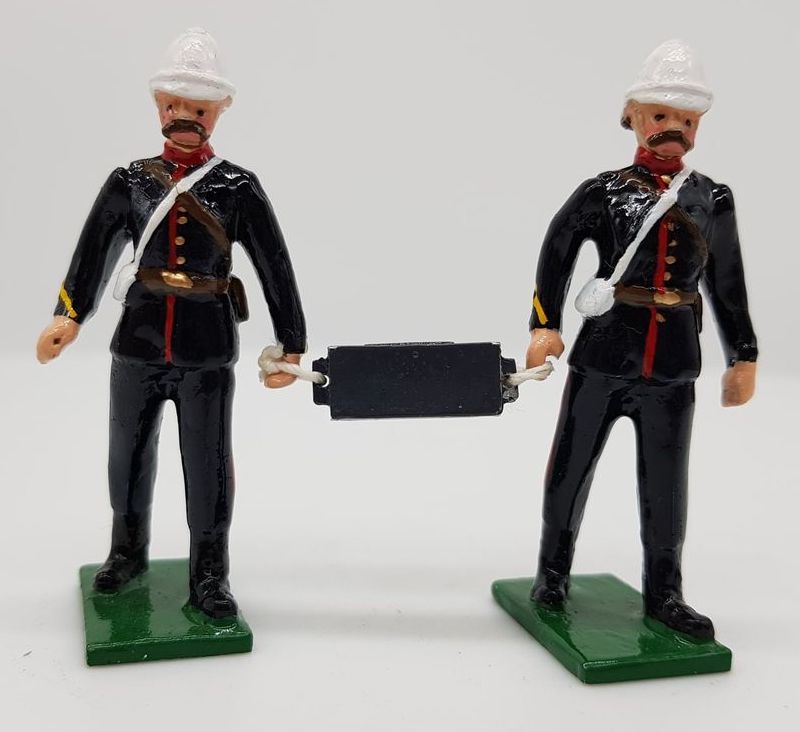 I imagine that by now they are in the post…
8 Mar 2022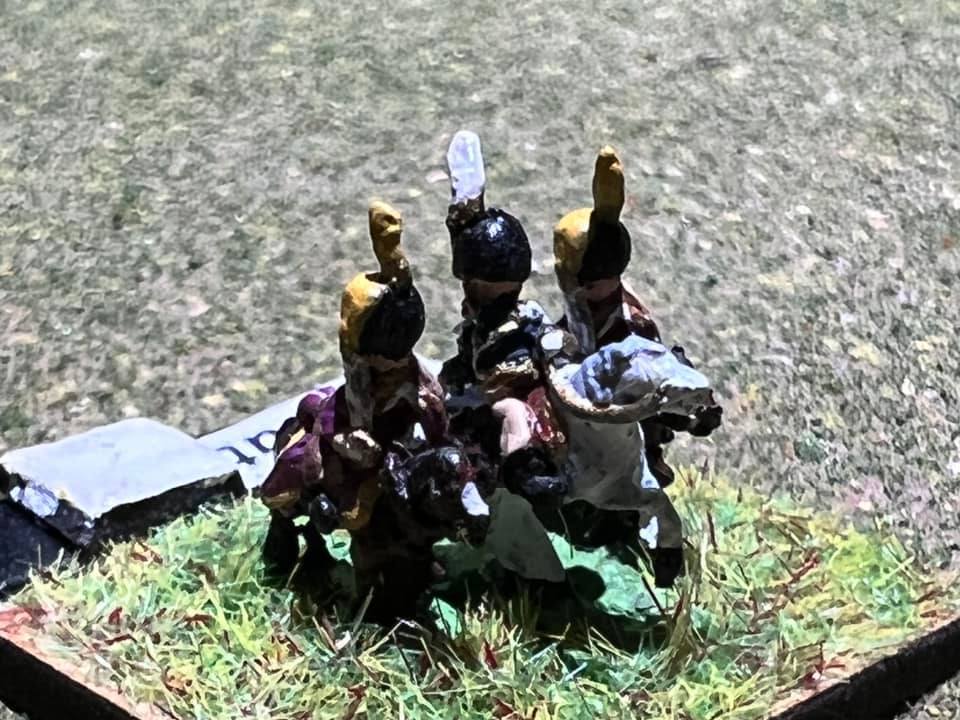 Just this pic today!
7 Mar 2022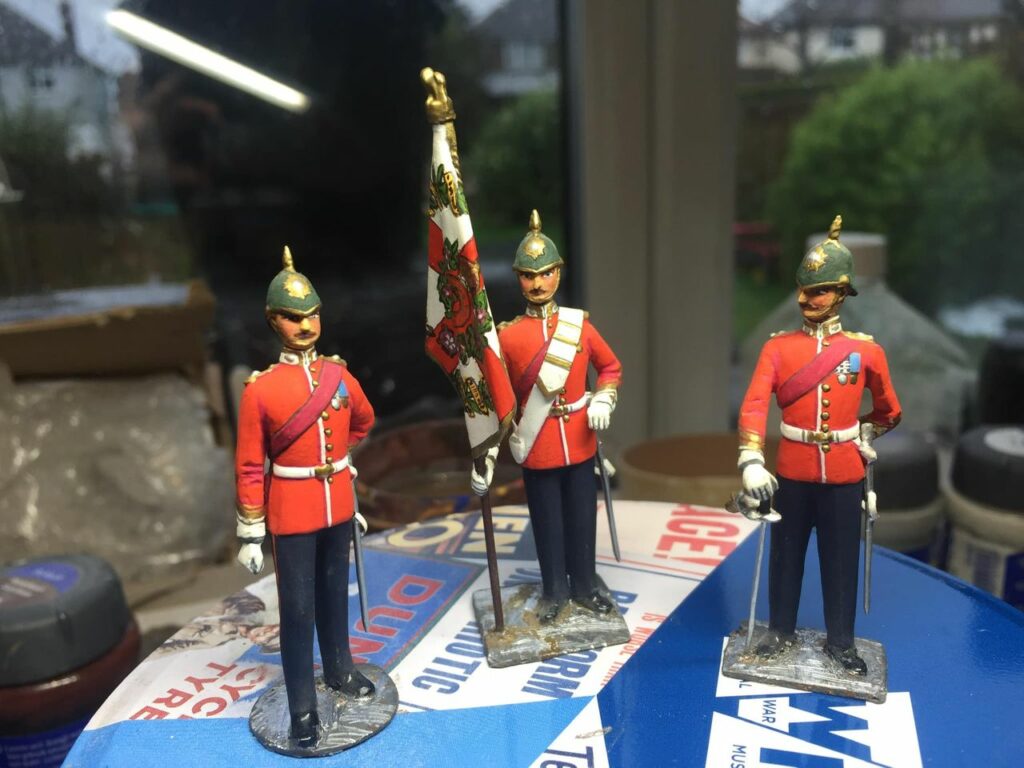 Just a (late) pic today… in fact it is already the 8th of March… running late…
6 Mar 2022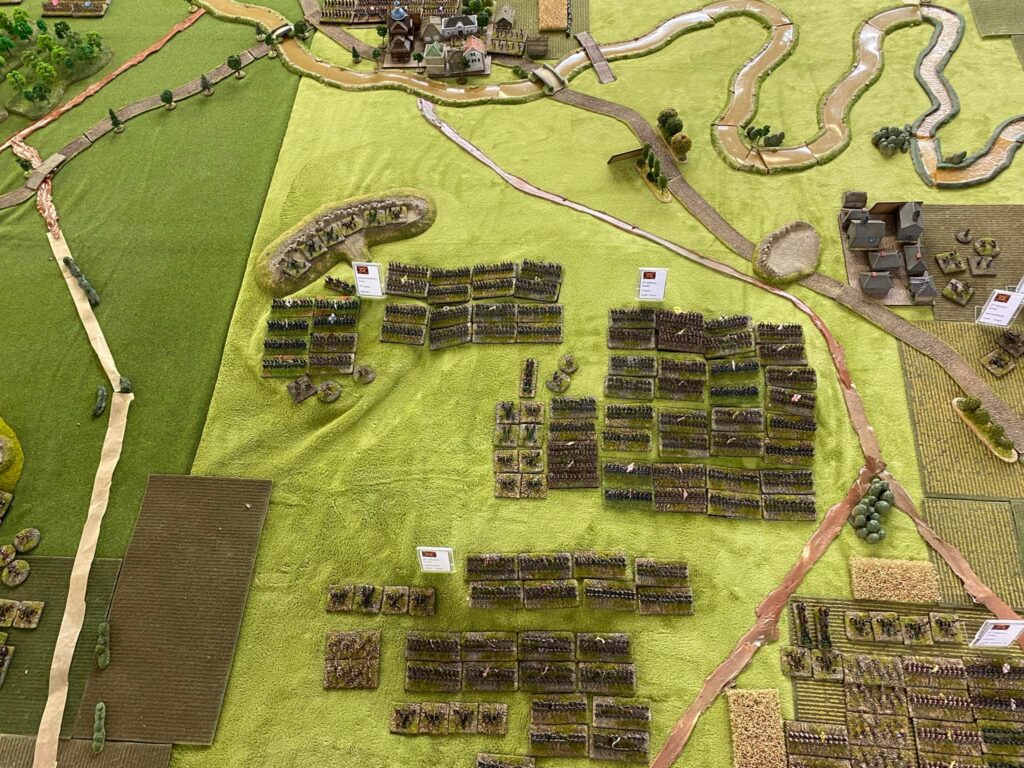 Yesterday I was able to open my last 6mm order… the Pony Wars Fort was there… and it was grey colour as per Baccus catalogue… I had asked the painter to did it in dark brown but to no avail… well… it looks nice enough… not going to repaint even if able to.
5 Mar 2022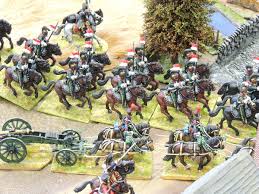 Somehow a thing of my past… I still love the epic of it… but for a solo wargamer even in 6mm the scope is too wide. You need all sorts.
4 Mar 2022
Yesterday the parcel from Liverpool arrived!… thank you Greg. Not lucky enough to open it yet… maybe next week… I am not in Andorra la Vella… confined in Pal again… Will show some pics in due time.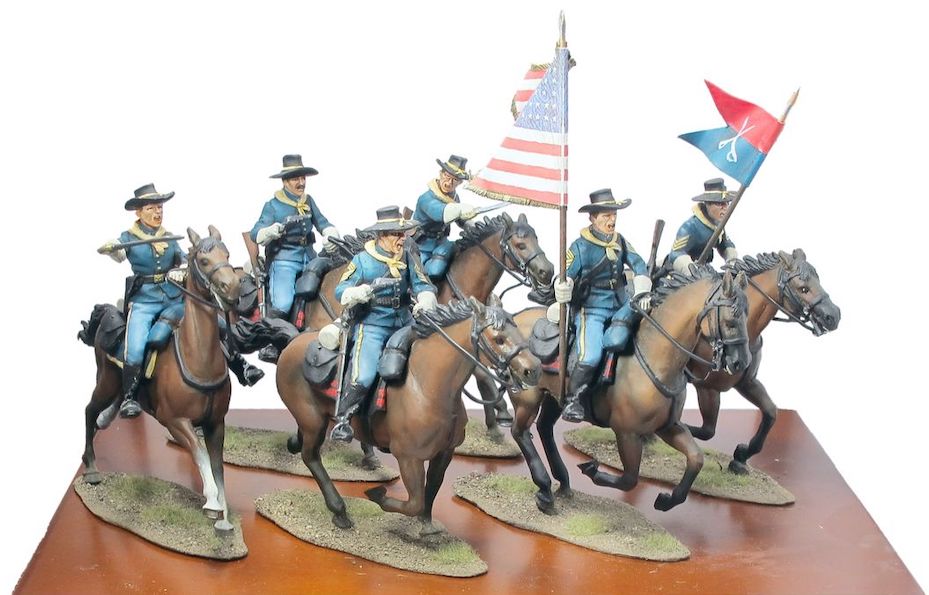 3 Mar 2022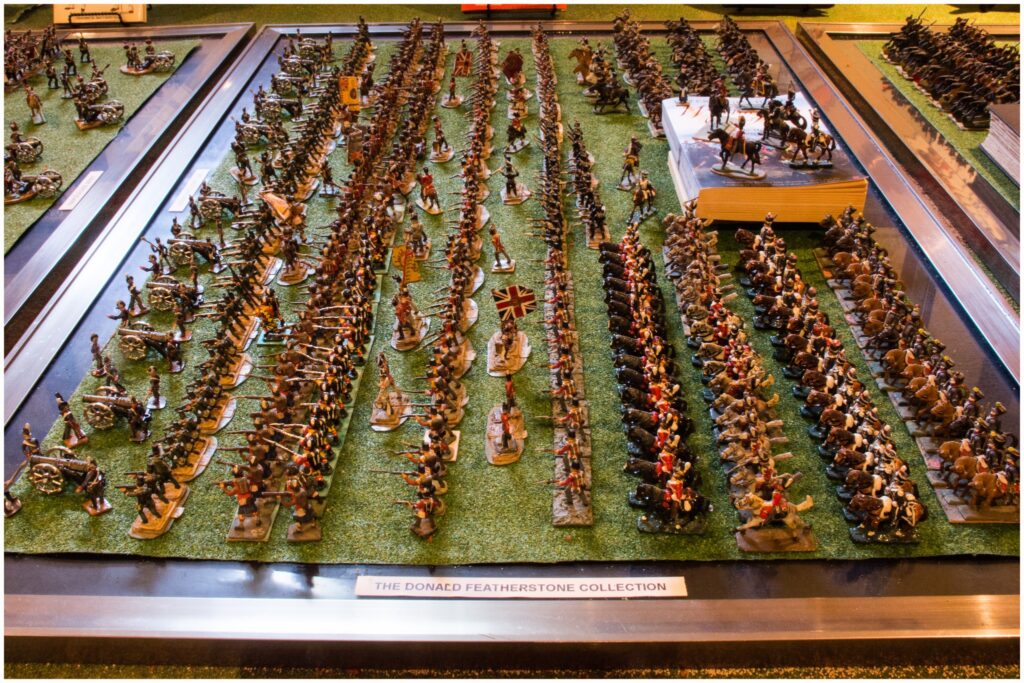 Don Featherstone was one of the fathers of modern wargaming, his books a source of inspiration for generations of wargamers and for me it is a real pleasure to know that his figures are well preserved and put on show like this! Thank you Danny!
2 Mar 2022
Just a wargame pic today (and what a Borodino wargame!)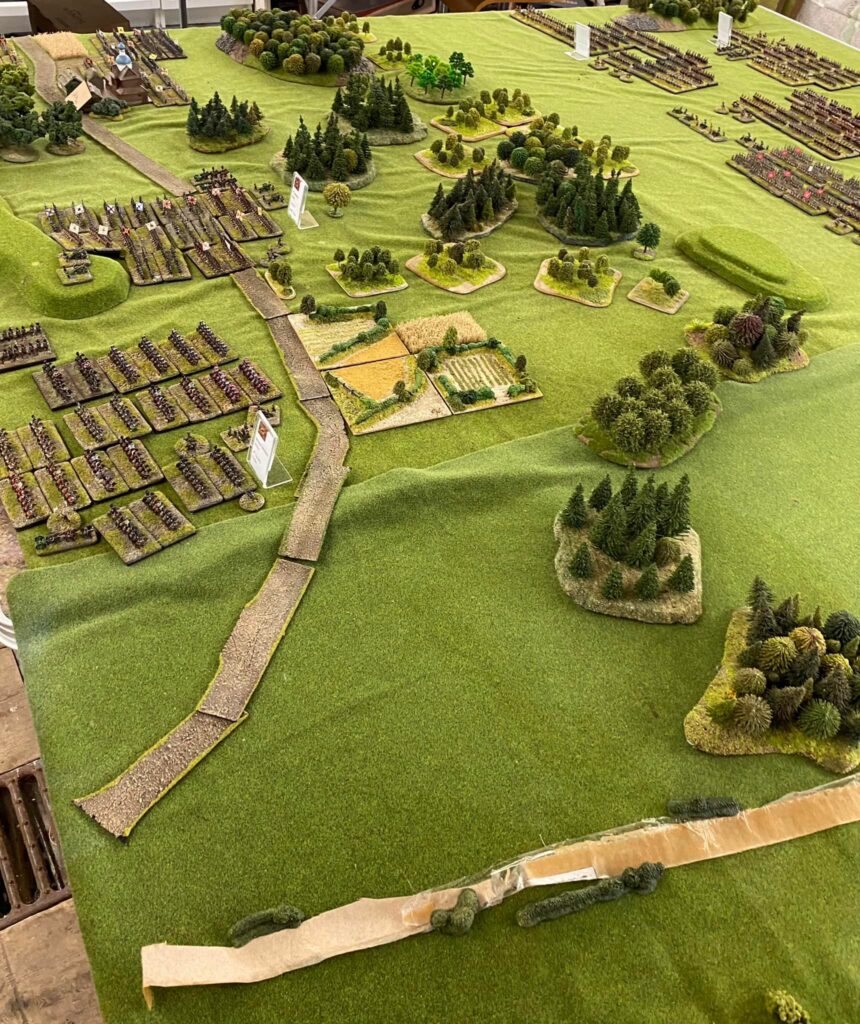 1 Mar 2022
About a mont ago there was a minor earthquake nearby (meaning Andorra and concretely Pal), several days ago I checked the Toy Soldier collection and thought that just three figures had tumbled down… just put them straight and feel relieved. Curiously enough, yesterday I found that one of the Guides Cavalry has also tumbled down unnoticed an the head of the trooper had become unglued from the body… I did not notice! (first time)… so a bit of repair was done with superglue and Poska markers and the ANDREW REPLICA figure is OK again. Nasty thing earthquakes.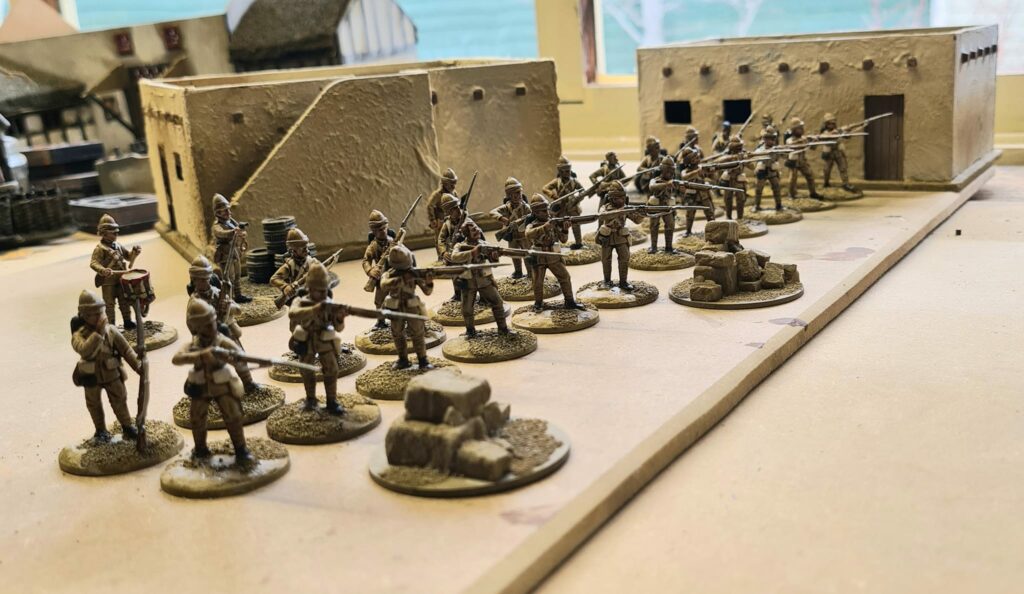 28 Feb 2022
Another month is gone… yesterday I did make place for the guns and artillerymen (gunners) coming from rprati… finally dismounted the guns and put them on the mules of the Tradition of London set as per original buy. It is tricky to manipulate the figures when cabinets are overcrowded. One mini crashed to the floor and had to glue back an arm (painting chipped a bit and will have to retouch next time I get to my POSKA markers).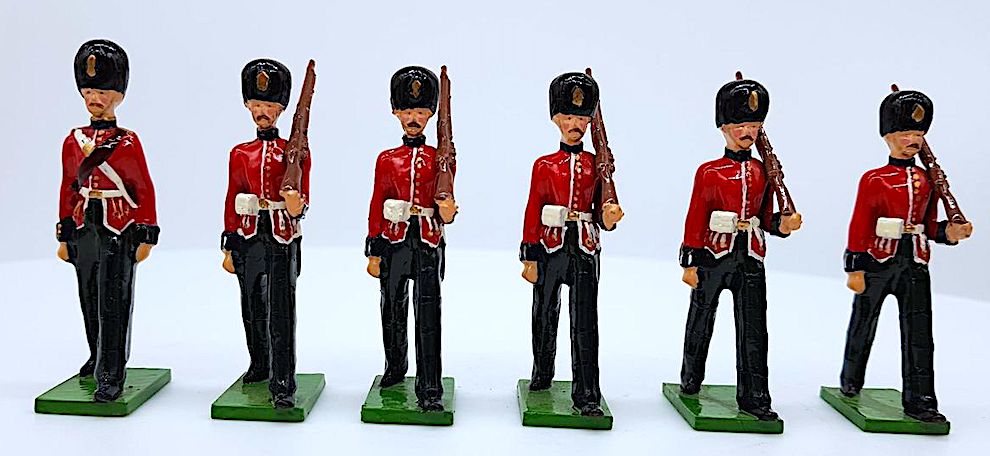 27 Feb 2022
Email from Jon at RPratiWorldModels saying my order will probably ship end of next week!… wonderful news!

Seen in Facebook… truly awesome…
26 Feb 2022
Yesterday Greg posted my last Baccus parcel from the UK. If DHL avoids the worst of the Carnival it would probably arrive here in Andorra about the end of next week.
No news from RPratiWorldModels about my last order, but I guess they are furiously painting it (meaning fast not inaccurately!)…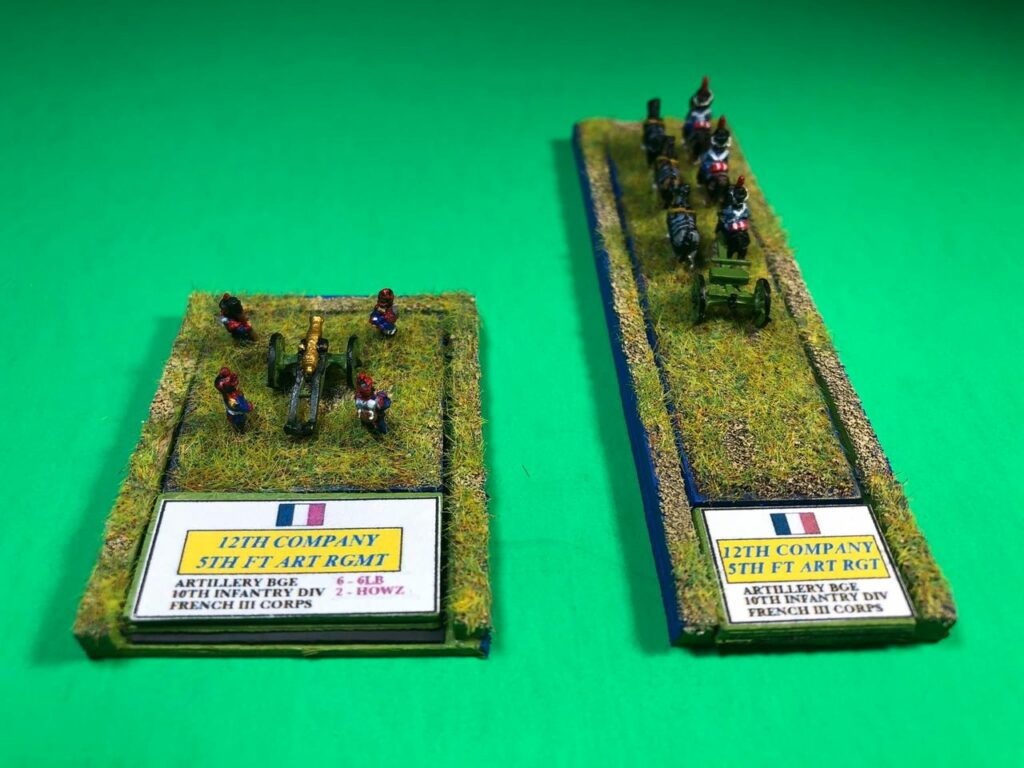 25 Feb 2022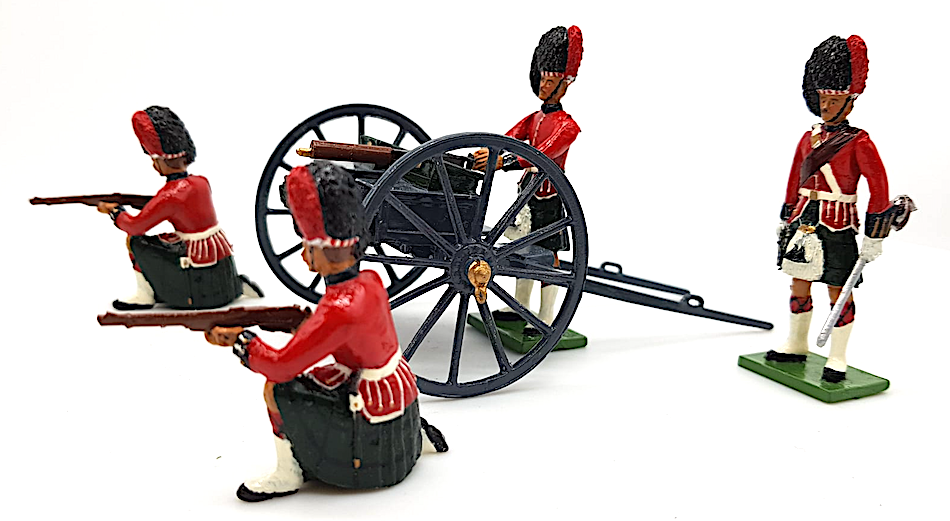 They are doing it better and better…
24 Feb 2022
I have been asked so many times in Facebook about those helmets and where to get them that finally I think it deserved a post in the blog.
The artist is Javier Jimenez, and you can contact him (still I guess…) via email javier.jim@telefonica.net or on facebook.com/playmalone or his late eBay shop stores.ebay.co.uk/Playmalone?_rdc=1
Wish you luck!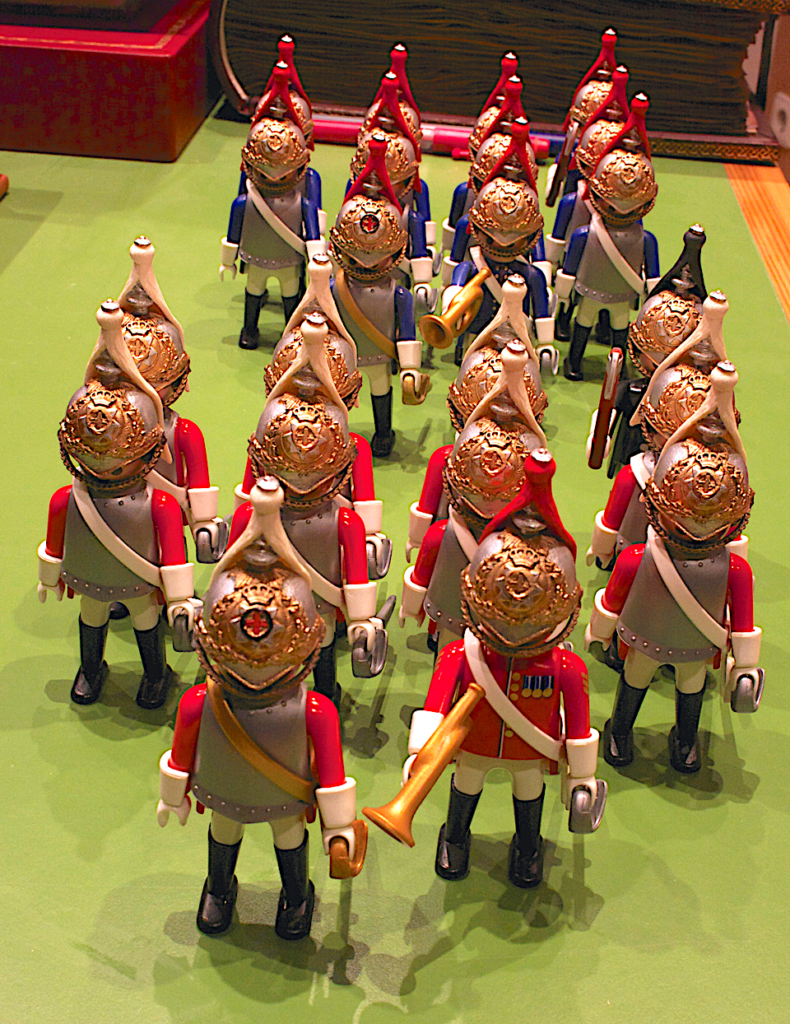 Of course I have posted this also in Facebook.
23 Feb 2022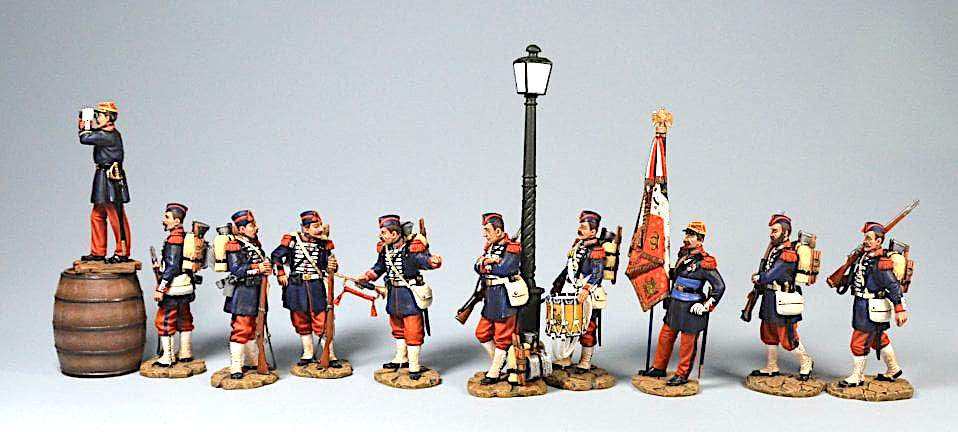 Just a pic today!
22 – 2 – 22 (I couldn't resist it!)
I always thought Russians in the Crimea favoured Columns but nevertheless the units are very fine so here they are…

21 Feb 2022 Monday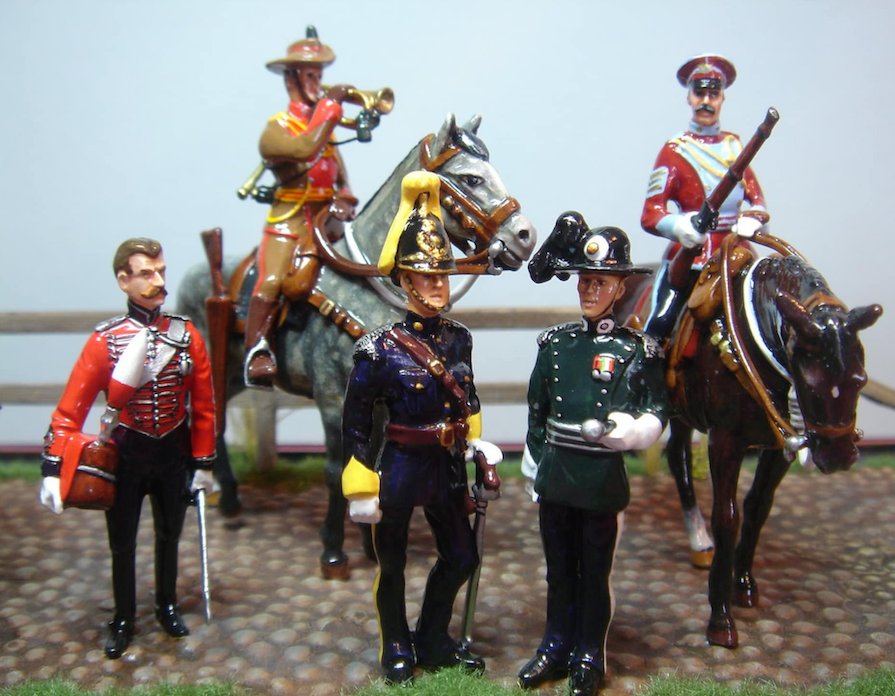 Wonderful conversions in 54mm scale… as seen on Facebook in www.mytoysoldiersandme.com
Enjoy the craftsmanship.
20 Feb 2022
Just a pic of Mr Opie's items (not from his personal collection) at auction… good enough way to end the week!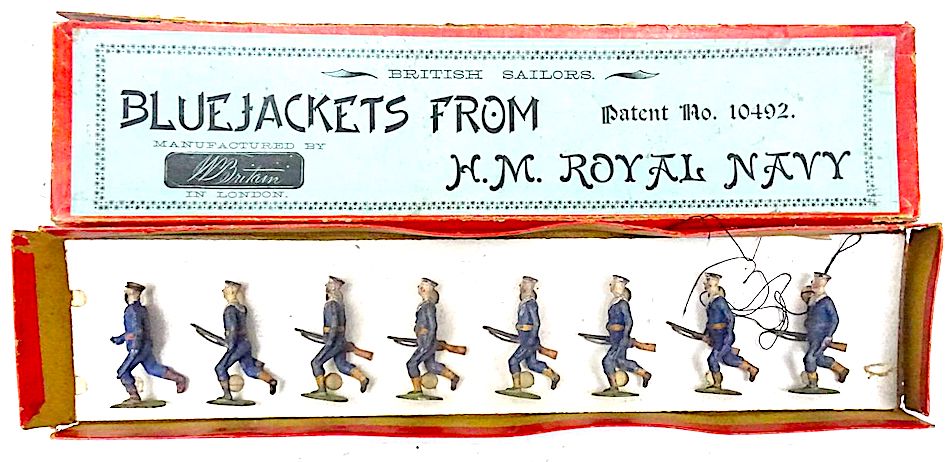 19 Feb 2022
Today I will show you some pics from a new friend in Australia (Melbourne), he has been the first person to contact me at my email address adb@andorra.ad concerning this Blog!… mind it is a Blog that does not per se admit comments to avoid spam (orders of my eldest son Ph d in Computer Science and creator of it!) I found his painting extremely well done in what I call the Toy Soldier "classic style"… the units are quite appropriate for playing with the Howard Whitehouse AGW (A Gentleman's War) rules.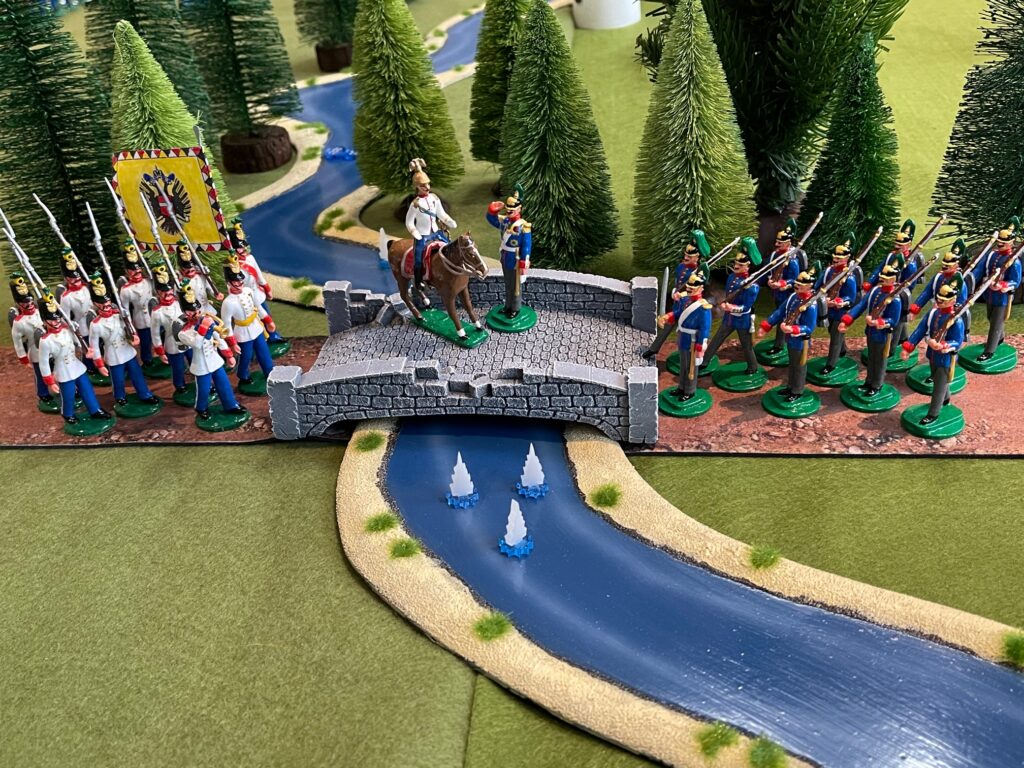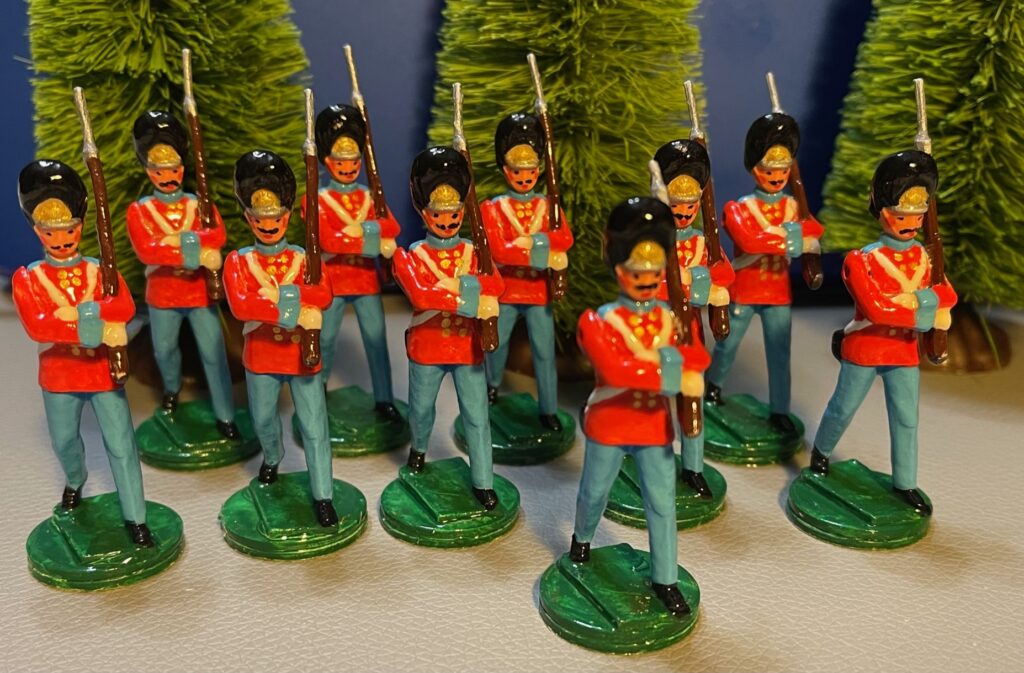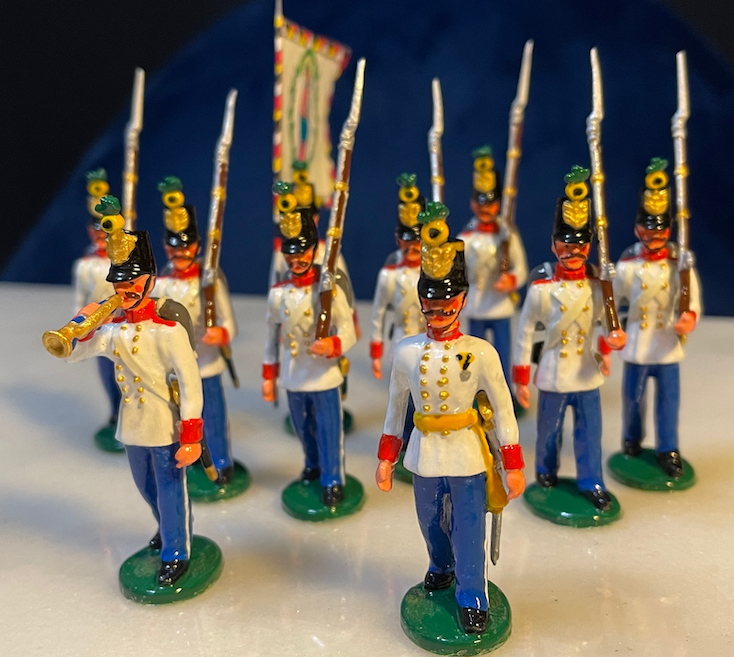 If you want your work posted here just send to me.
Cheers
By the way, I topped 70.000 Visitors today on this web page… you are all welcome!
18 Feb 2022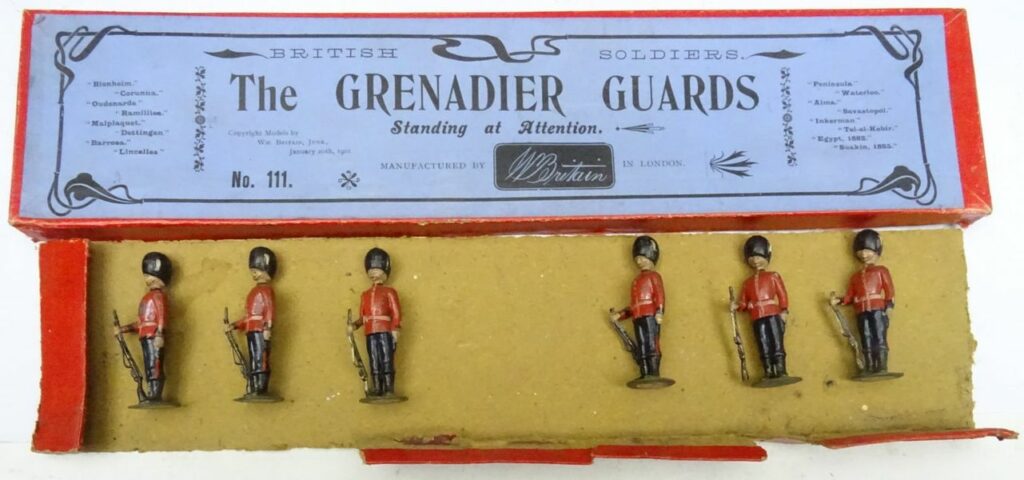 Guess it would have been fantastic to get those toy soldiers boxes in their day! I was congratulated for my birthday by a person in Melbourne!… really pleased with that I have always thought many people connected by mistake by the lack of feedback!
17 Feb 2022
I am 70 years old today! A good day to close the web page and forget about it altogether … must think seriously about it!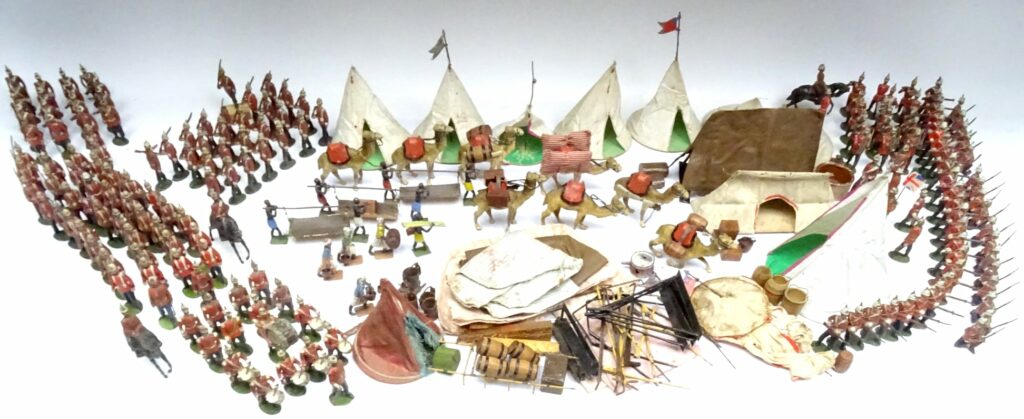 16 Feb 2022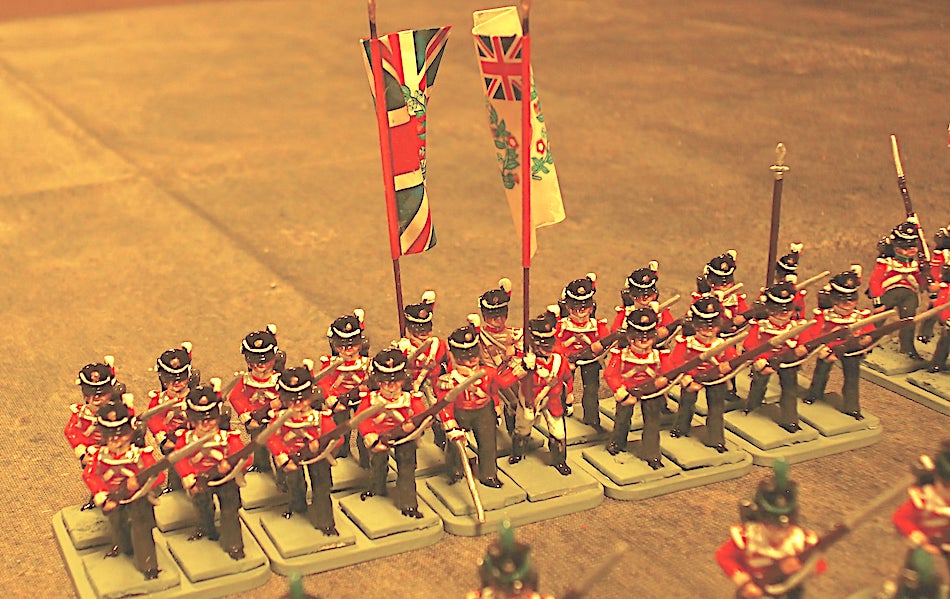 30 years of my wargaming life were dedicated to 25mm MINIFIGS… I was a bit nostalgic when I saw this pic on Facebook… so… here you have it!
15 Feb 2022
Todays pics are from the late Roy Dillon Collection, the absolute master of the thin red line (in more than two ways) between Toy Soldiers and Military Modeling. Wish I could buy soldiers of that level of craftsmanship… my own collection (Even if I am proud of it) pales in comparison. Judge from yourselves…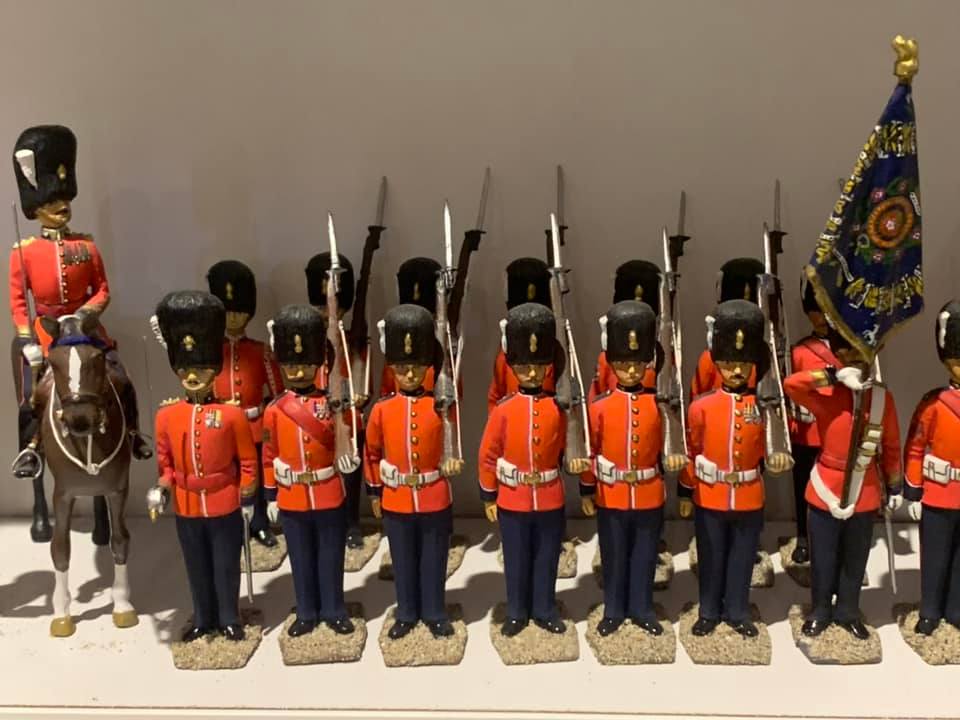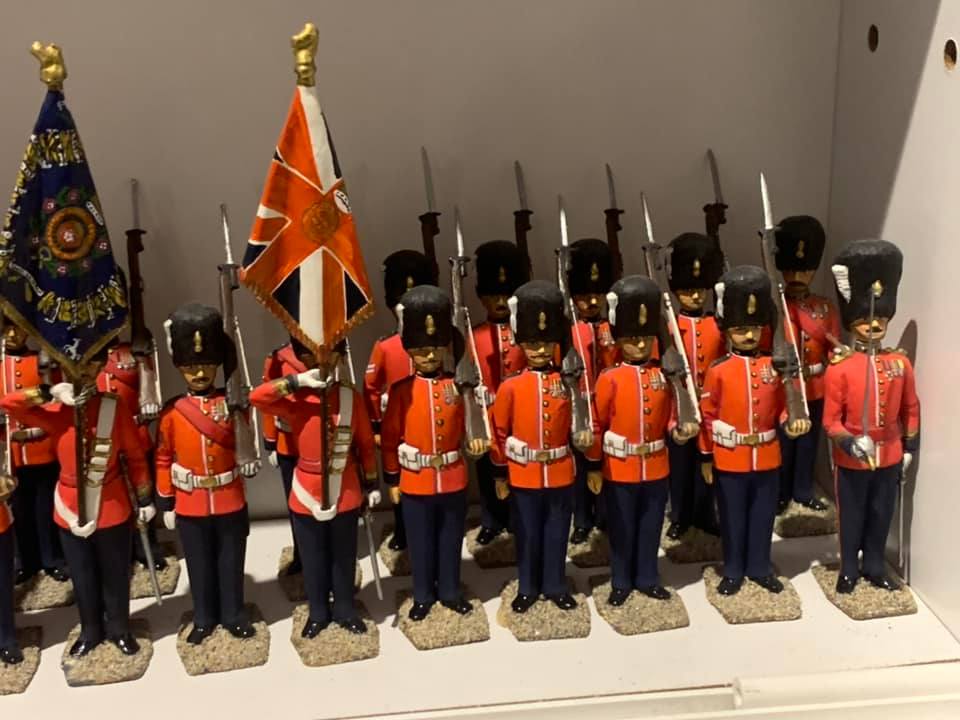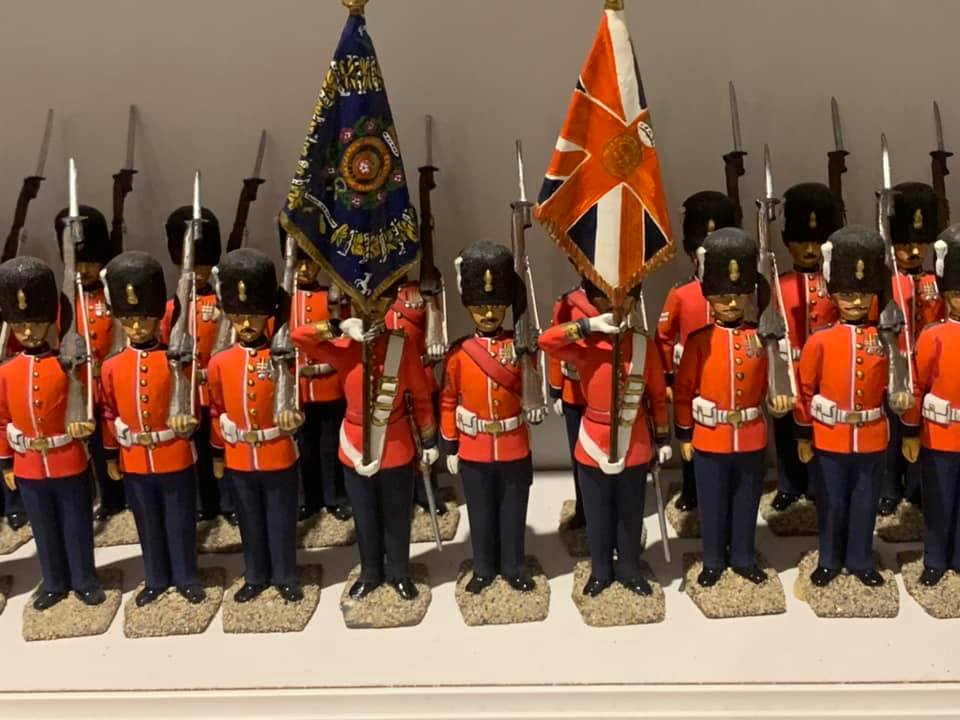 14 Feb 2022
Conversions by John Firth… very good job!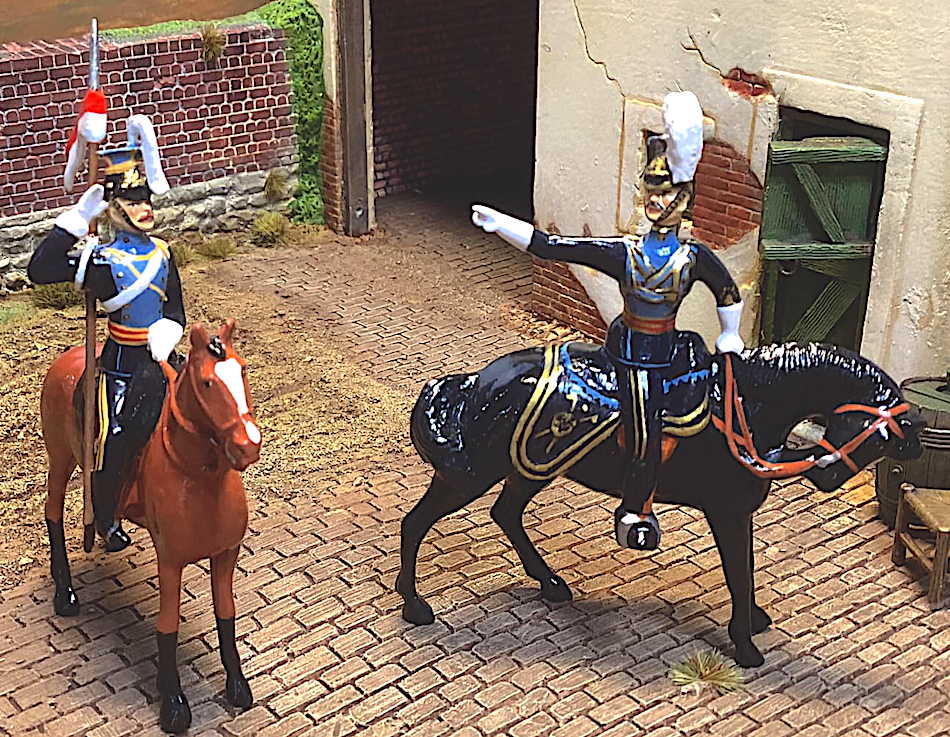 This Blog is about a inoffensive hobby, but nowadays I can not take out of my mind the folly of the real world… I am glad I stopped my wanderings at 1900… I hate the wars of the XXth and hope I will not need to hate those in the XXIst too… I always enjoyed playing with toy soldiers, loved the gaudy uniforms of the XIXth Century but I am a realist War in the XIXth had no glamour at all because real war is a nasty thing… Thursday (if I ever live that long) is my birthday… 70 years old… somehow it would be fitting to stop this webpage then… probably… never got any feedback even if I published my email address several times (adb@andorra.ad)… but the Facebook group has nearly 250 members so… I guess we all know each other in this small interest trend.
Cheers.
13 Feb 2022
Some more pics from the Dilley's… just love their work!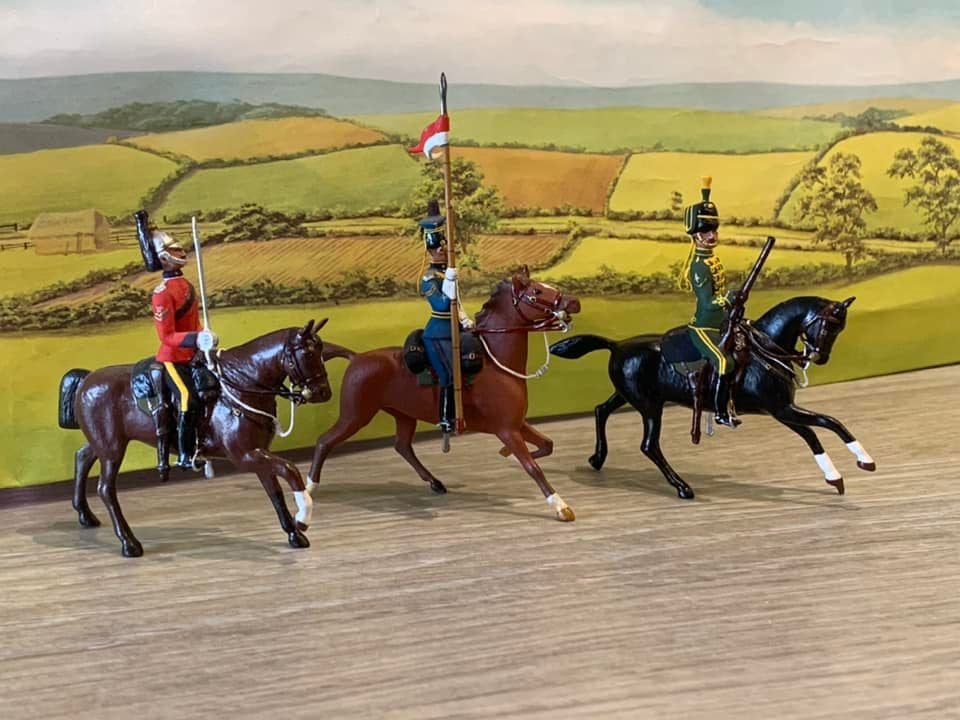 12 Feb 2022
A real treat today!… French Sailors with sheepskin sleeveless jackets… seen in Facebook… hobby seems to be alive a lot!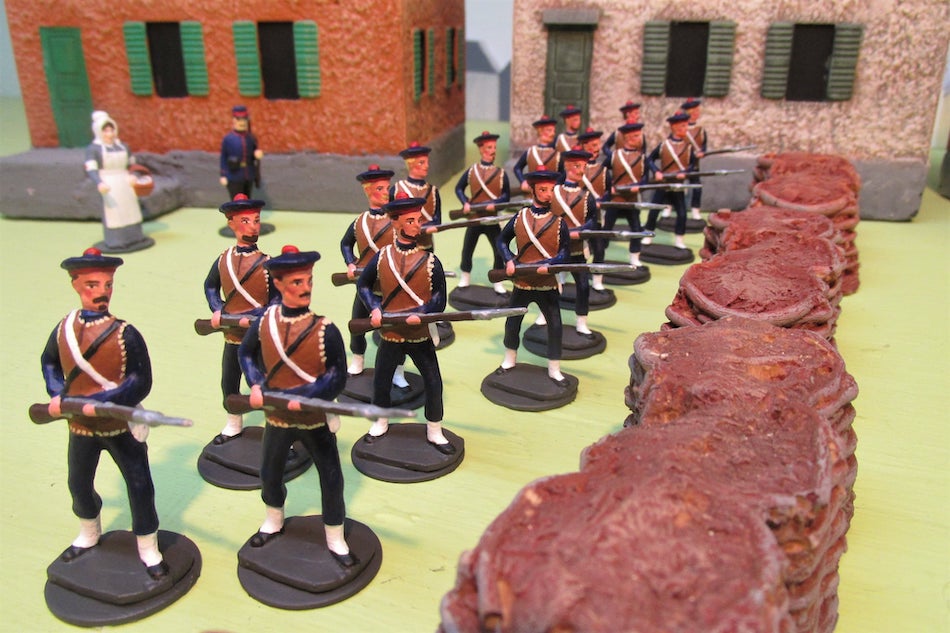 Note the background models too.
11 Feb 2022
Another pic today (Guess they are Bavarians… but were labelled Prussians as a generality in Facebook))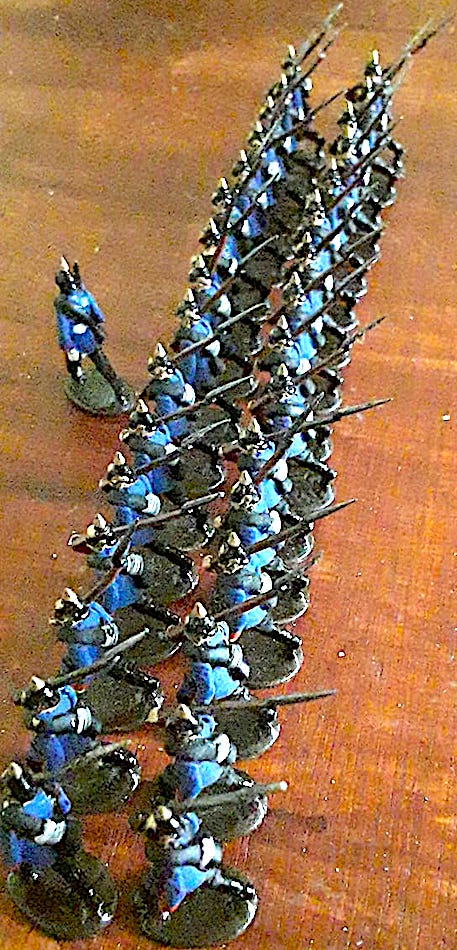 10 Feb 2022
Well, it is not "My" Soldiers and "Me" anymore I guess… there are a lot of pics on this Blog that shows "Your" Soldiers and "You"… it is in fact quite natural, as I see other collectors items that i found interesting I post them here… this is not a monopoly at all. So there you have it, I will continue to post my collection "items" but not exclusively. Have a pic today from Claude Bailey's Collection…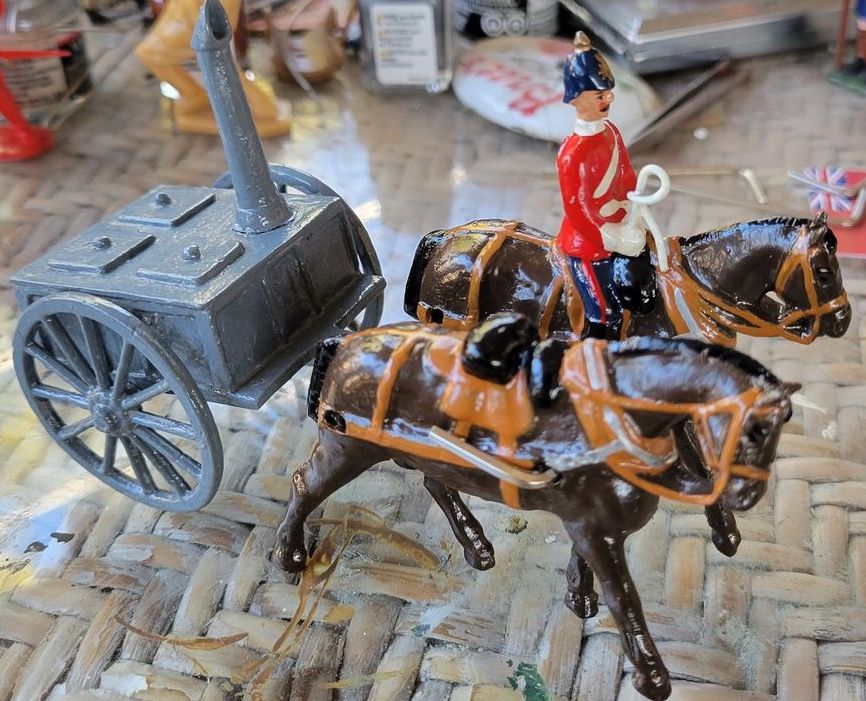 9 Feb 2022
A series a emails to make precisions(for once not prompted by me):
Hi Alejo,Working on your order now. For the driver of the service wagon we, noticed that the policeman you want has a long coat on. Lewis has made up an alternative if you want that instead.Also the sf47 you want in blue, do you want them with all the backpacks on and 2 bags on the front? Lewis is working on 2 figures more suitable if you would like those instead? Cheers, Jon.
Hi Alejo,For the wagon driver we can still use the policeman arms with the whip or have the new arms both holding the reigns?Cheers, Jon.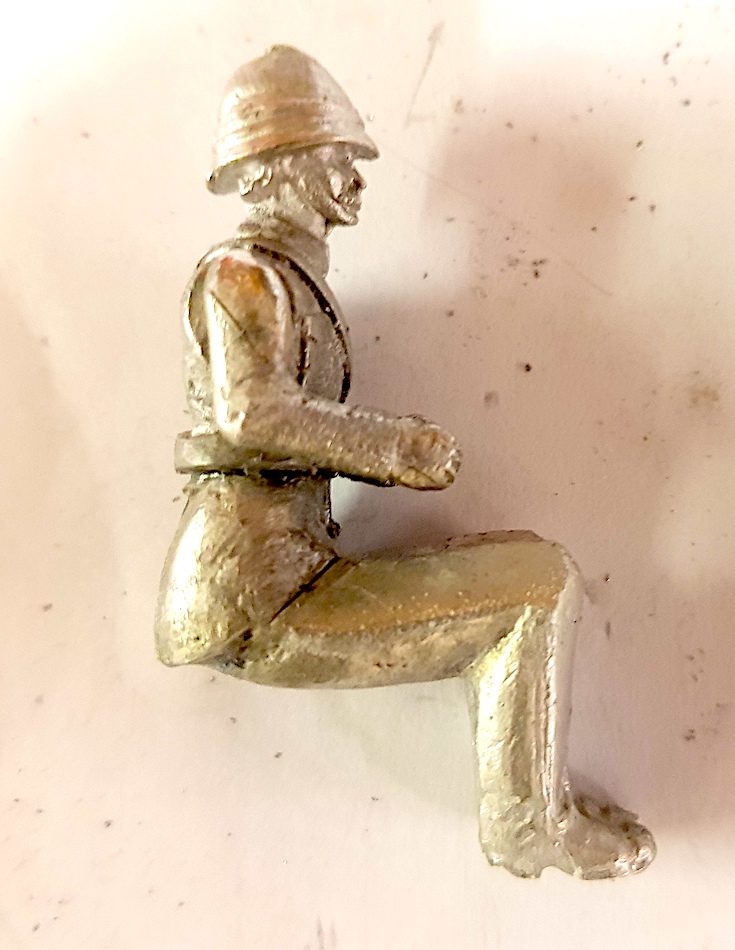 Hi Jon,
Excellent alternatives!… Lewis can take out also the rifles from their hands too… no backpacks… no bags on front… black "crossbelts" (for the lack of a better word)Excellent Driver (Paint in dark blue as requested and white pith helmet)
Absolutely delighted by an excellent communications and service!Cheers
Alejo
Hi Alejo,Just had a thought, would you like the base of the Hanson cab driver green or grey?Cheers, Jon.
HI Jon,
green as all my models. please. (good thought!)CHEERS
Alejo
8 Feb 2022
Just a pic today… and quite an excellent one…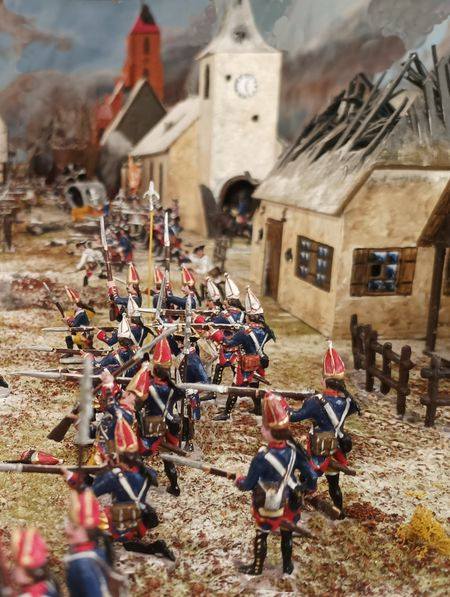 7 Feb 2022
Another pic of toy soldiers able to wargame AGW (A Gentleman's War) rules a la Wells (more or less).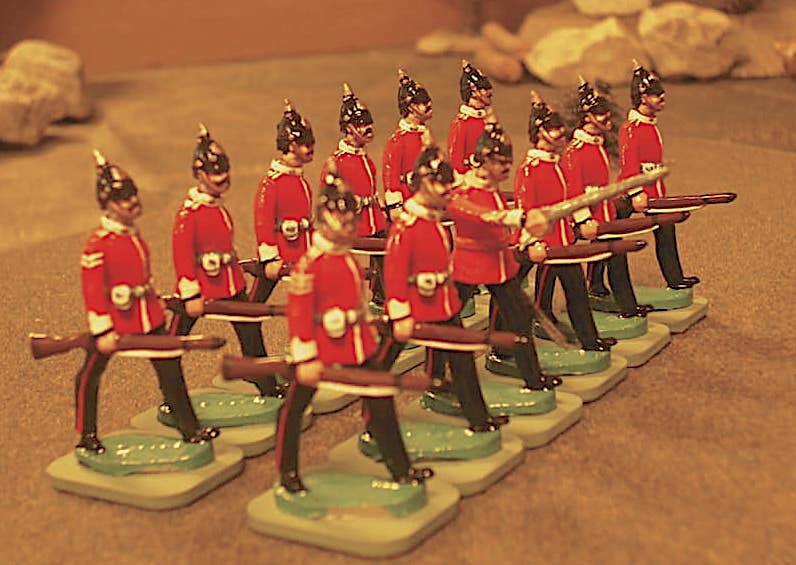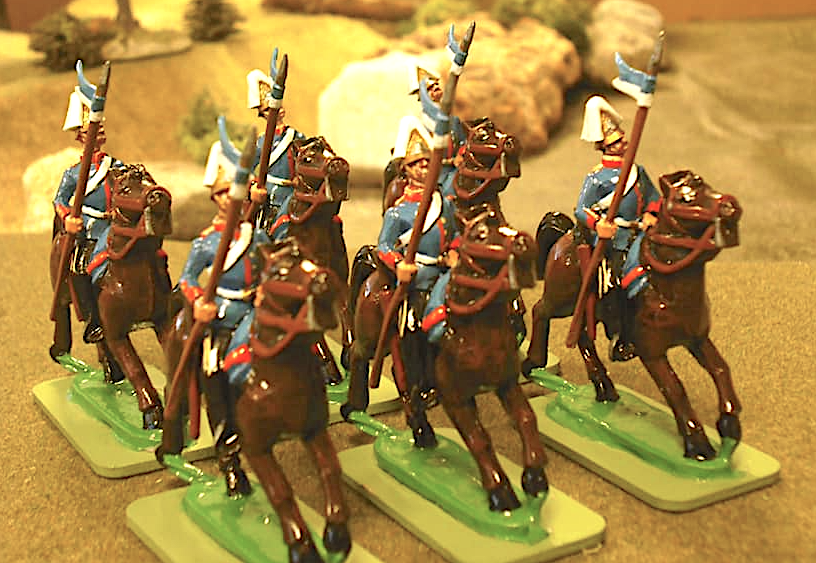 6 Feb 2022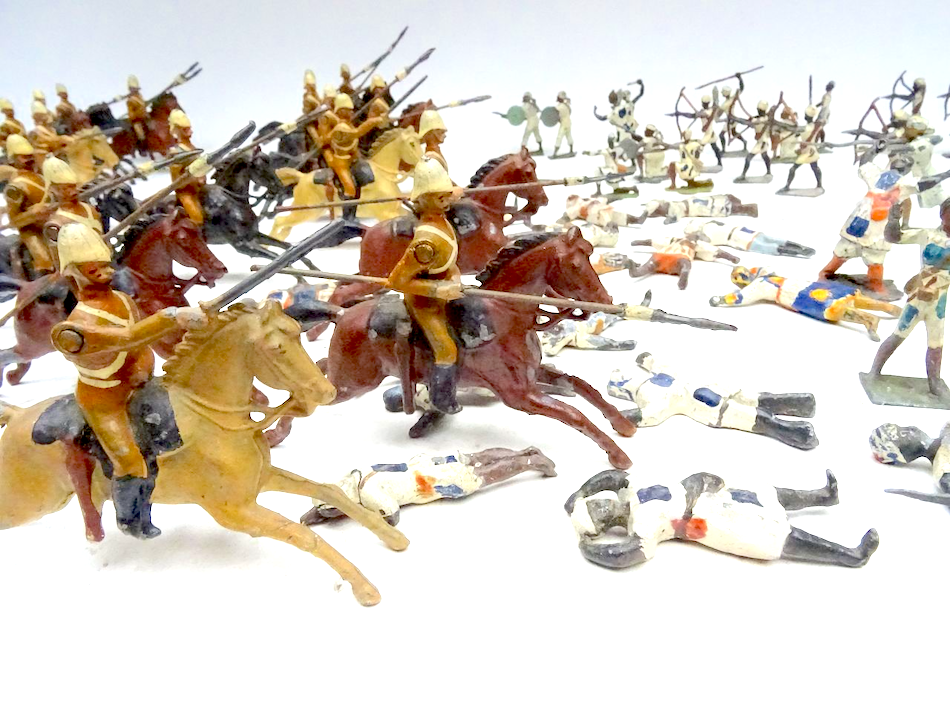 Here yo have a pic of "Antiquarian" or "Antiques" Toy Soldiers … the real vintage thing seen on Mr James Opie's Facebook web page.
Gladly enough I never was inclined to collect vintage Toy Soldiers, one thing is the old toy Soldiers of my childhood… and even those I am particularly choosy with. Yes, you need all sorts!
5 Feb 2022
Here you have it, a typical transaction about buying Toy Soldiers (and civilians), Robert Prati (STEADFAST TOY SOLDIERS).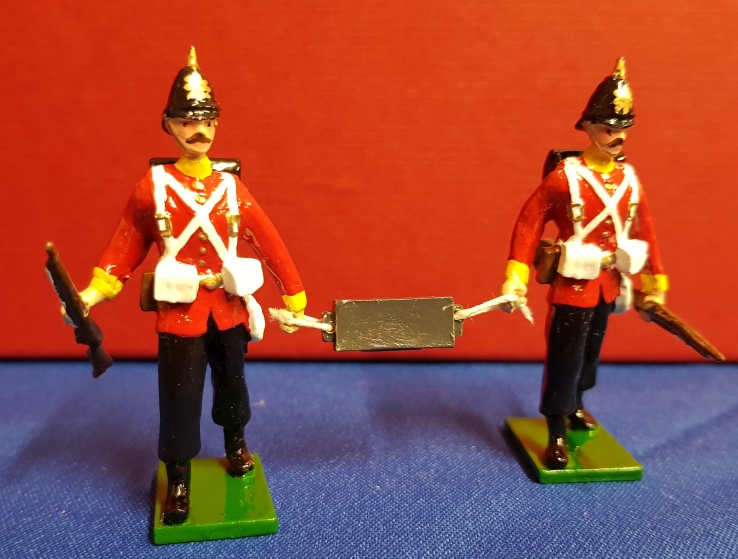 Hi Jon,
At last very good news!
I proceed to detail the order below (use the pics included in previous emails to clarify things or if any doubt come back to me) as final info:
1.- 1 Toy Soldier Officer Royal Artillery kneeling with Binoculars as per set F47 IMAB Indian Mountain Battery etc. BLUE UNIFORM as in pic. White pith helmet. Better if binoculars in hands over chest (not in front of the face).
2.- 2 Gunners Royal Artillery as per set SF47-48 Mountain Battery Screw Gun and crew. Both soldiers identical (THE ONE WITH RAMROAD IN HAND)… to make them different one can have a moustache! BLUE UNIFORM NOT KAKHI THIS IS IMPORTANT! they are to complete a set.
3.- 1 set British General Service Wagon with the driver from the SF122 Victorian Police Van. Soldier to be painted with dark blue uniform black boots and white pith helmet. Wagon to be painted GREY as Artillery.
4:_ If the driver of point number three is not glued to the wagon (I can not see why at all) I would like a couple of alternative drivers: Same figure as in point three but uniform Royal West Kent (as per Tradition of London set). More difficult but I ask for it nevertheless can I have a driver as per Royal Canadian Mounted Police? if YES please add. (For once I do not mid if head is superglued as log it has a Stetson like the Tradition of London mini).
5.- SF46to be painted as Royal Artillery (minus spike on helmet) white colonial pith helmet and blue uniform as the others described. (1 set of two figures with box).
6.- SF123 as it is on the catalogue. (1 Set)
7.- From SF 76/77 one sailor handling gun (the one with the base in two parts – nothing in his hands) idem as per Catalogue. (1 Toy Soldier)
8.- SF201- Hansom cab as per Catalogue. (1 Unit)
Can you please send an estimate before the PayPal Invoice?
Guess all is clear. A single package using your locsl courier service/DHL in Andorra PERFECT!
Please answer ASAP. I guess it will not be here for my birthday but never mind… an estimate of time of execution also appreciated.
Cheers
Alejo
A posteriori I deleted point 4 as redundant.
Hi Alejo,
Sorry for the delay, We are starting to get on top of things now.Below is your order:
4 x figures @ £11 each = £44
1 x SF95 Wagon @ £105
1 x SF46 @ £25
1 x SF123 @ £28
1 x SF201 @ £95
Shipping @ £30
Total = £327.00
Payment via paypal to: RPWorldModels@gmail.com
Cheers,Jon.
4 Feb 2022

Maybe tomorrow I will post my order to Robert Prati (Steadfast) and answer from them… transaction concluded.
3 Feb 2022

Now, who will make Guards Pioneers compatible with my Fort Ducal figures?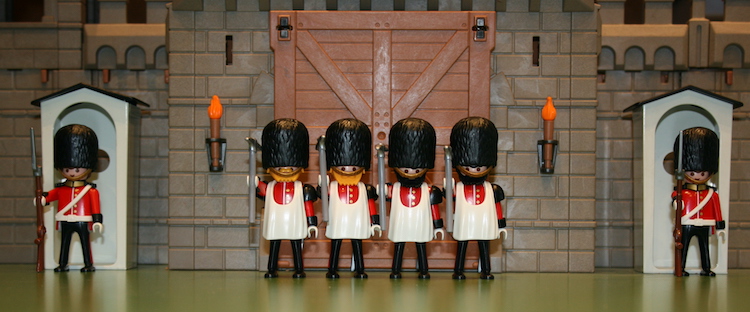 2 Feb 2022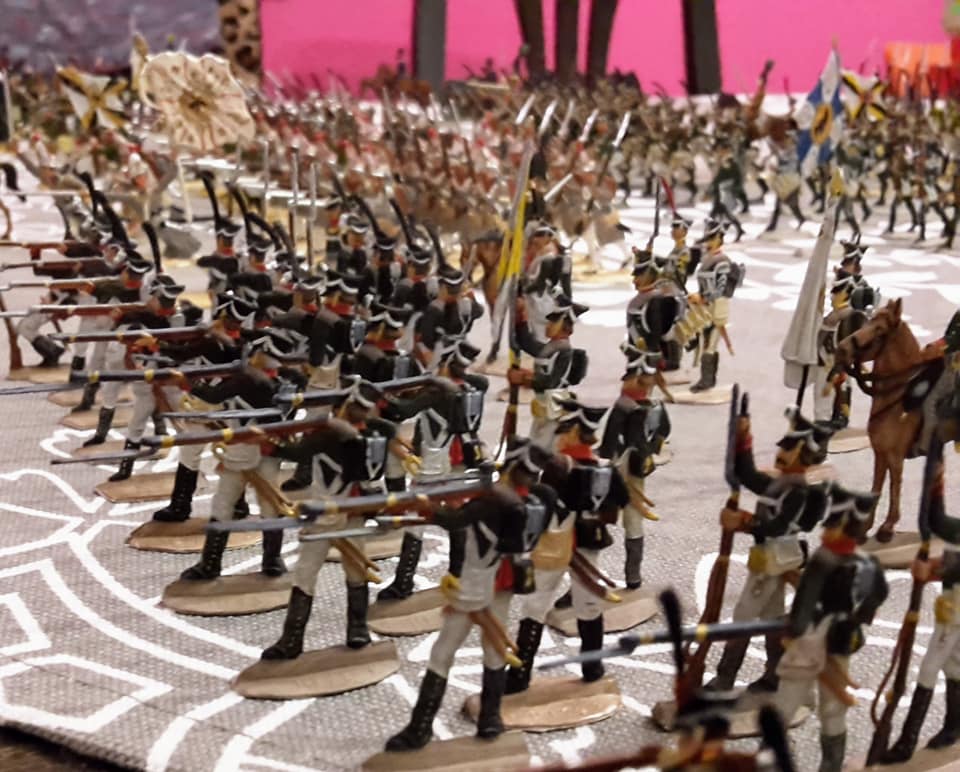 Just another excellent pic.
1 Feb 2022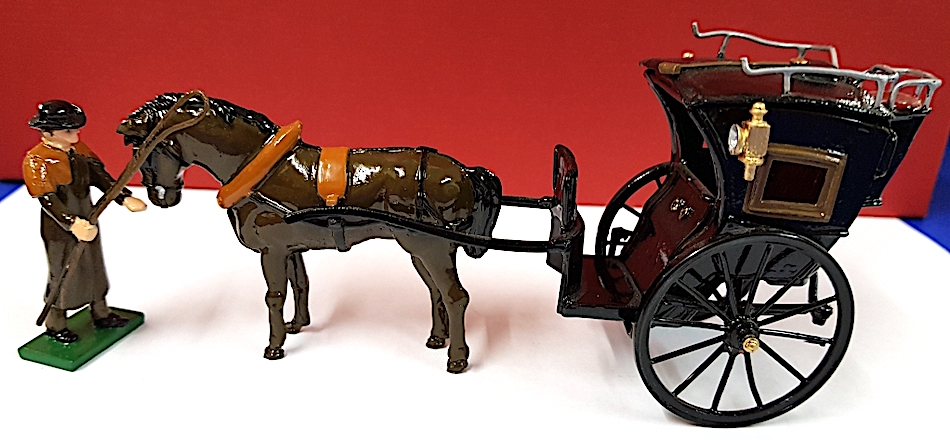 Part of my current order.
I post this in advance because other things in the offing would prevent me posting for a couple of days.
31 Jan 2022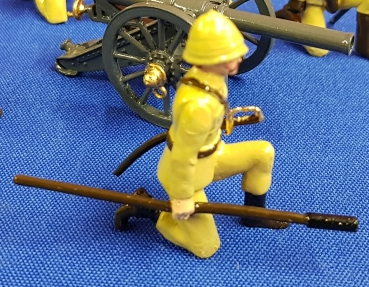 Part of my current order…
30 Jan 2022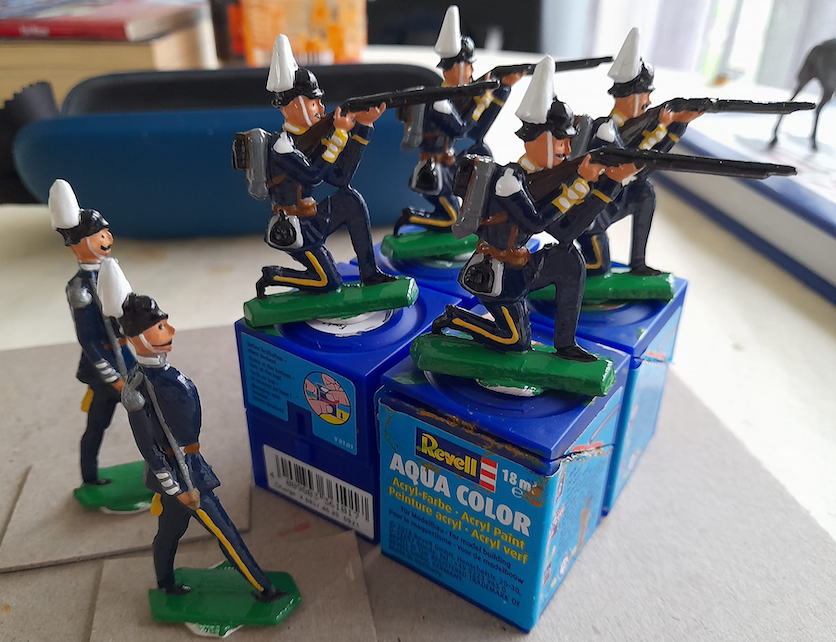 Just a pic today.
29 Jan 2022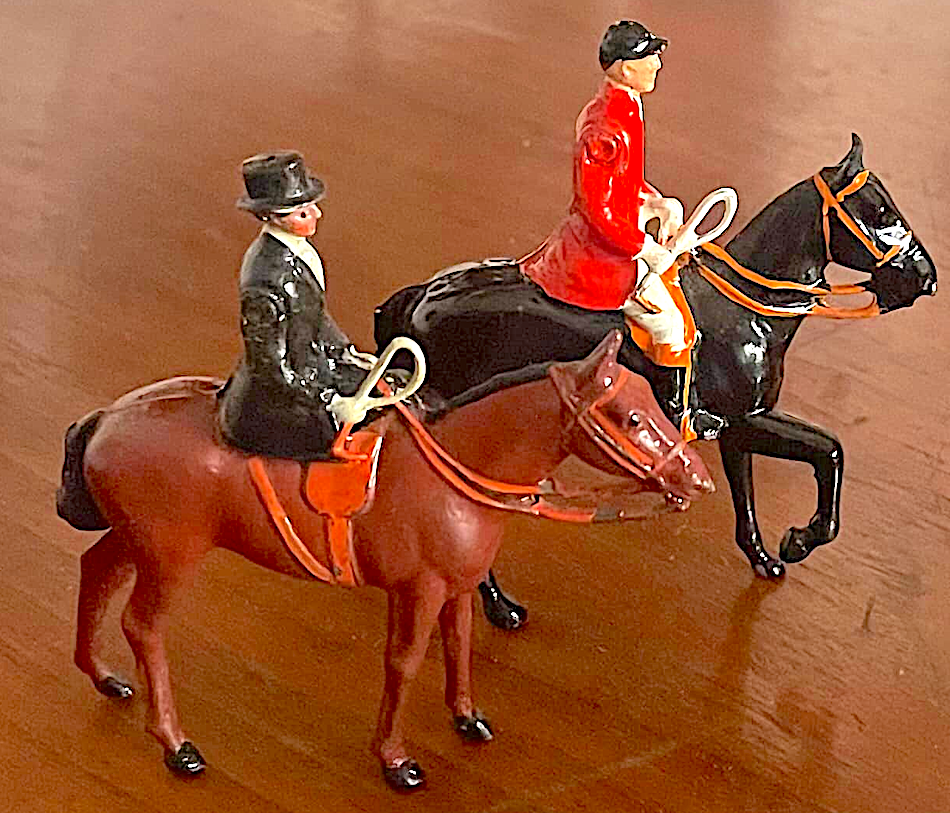 Nice figures found in Facebook.
28 Jan 2022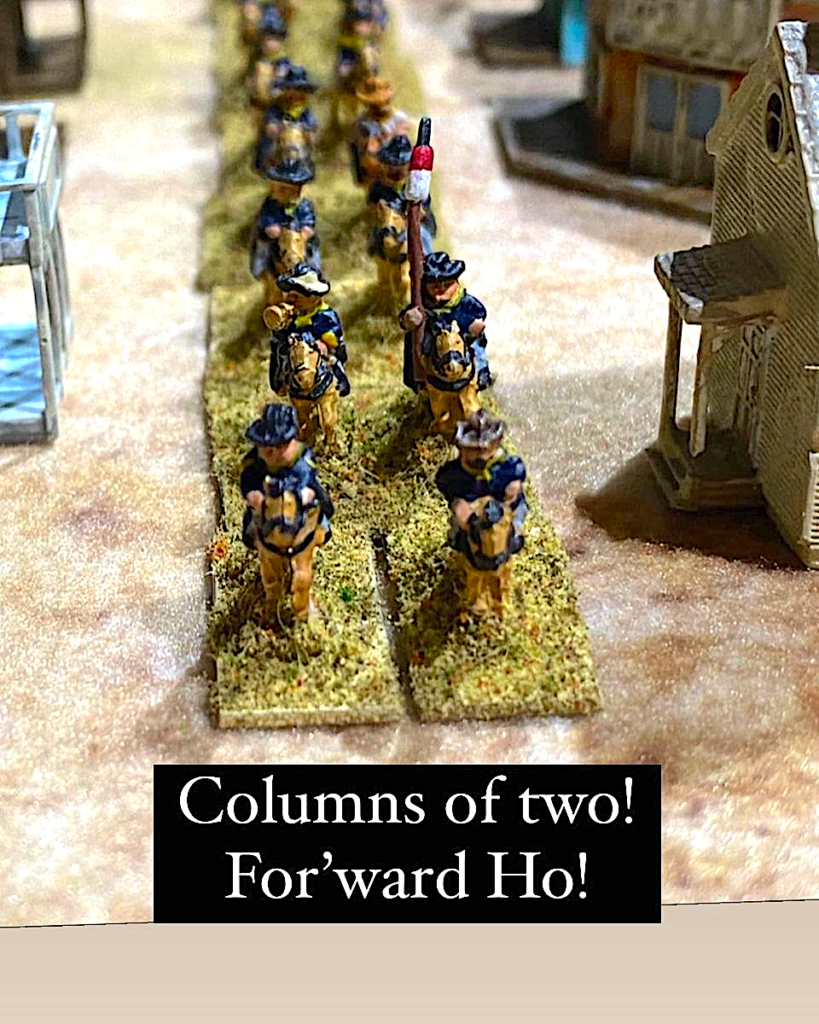 Baccus are my favourite 6mm because they are friendly.
27 Jan 2022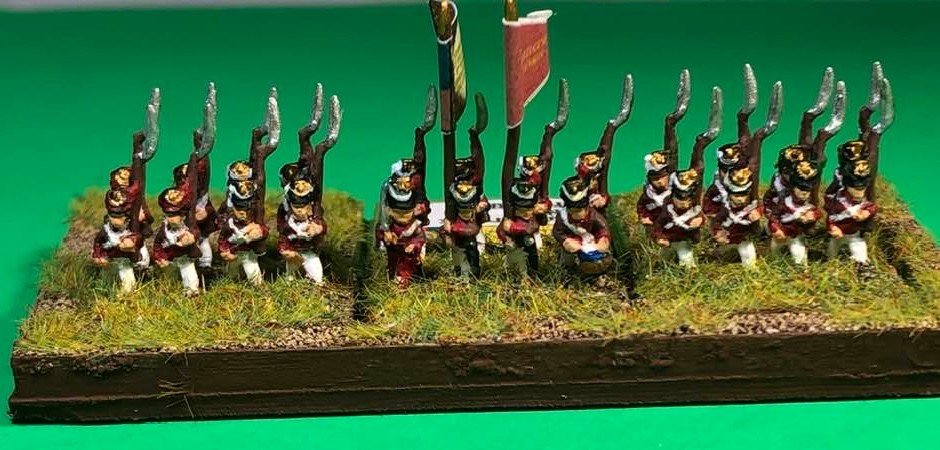 At least "my" wargaming… I can not think on bigger scales anymore for "serious wargaming" (if serious wargaming exists). I can play with mu 54mm toy soldiers but those are simple fun games.
Currently reading the end of TOO FEW FOR DRUMS, a NEIL THOMAS ruleset, rereading SEVEN MEN OF GASCONY and FORGOTTEN VICTORIAN GENERALS.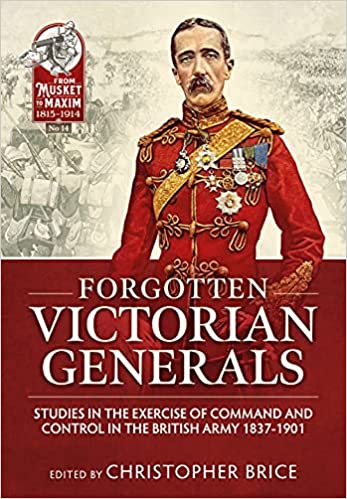 26 Jan 2022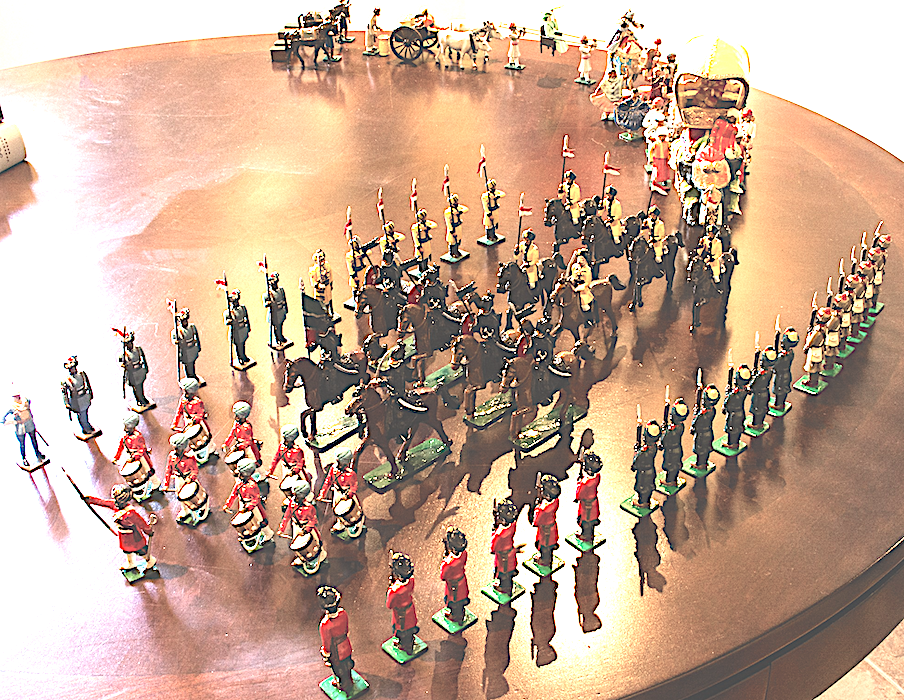 Delderfield wrote great books about the Napoleonic wars long before Bernard Cornwell got Sharpe's idea… check SEVEN MEN FROM GASCONY or else TOO FEW FOR DRUMS… well worth a read.
25 Jan 2022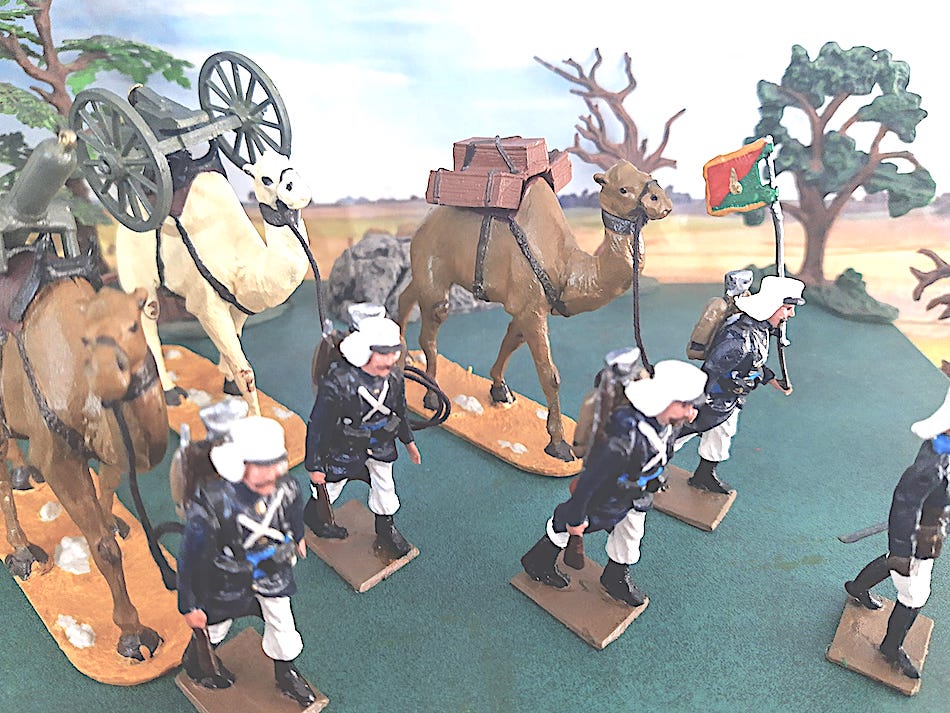 Just a pic today.
24 Jan 2022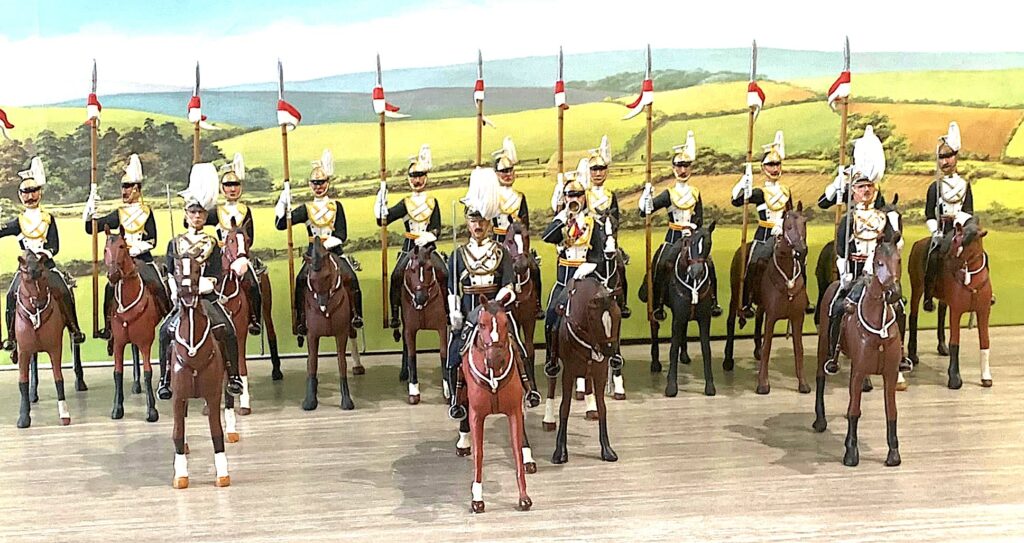 Have to post later on the 23rd because the 24th would be a busy morning I guess, so for once I am in advance of the clock (quite meaningless in view of the different times zones of the visitors).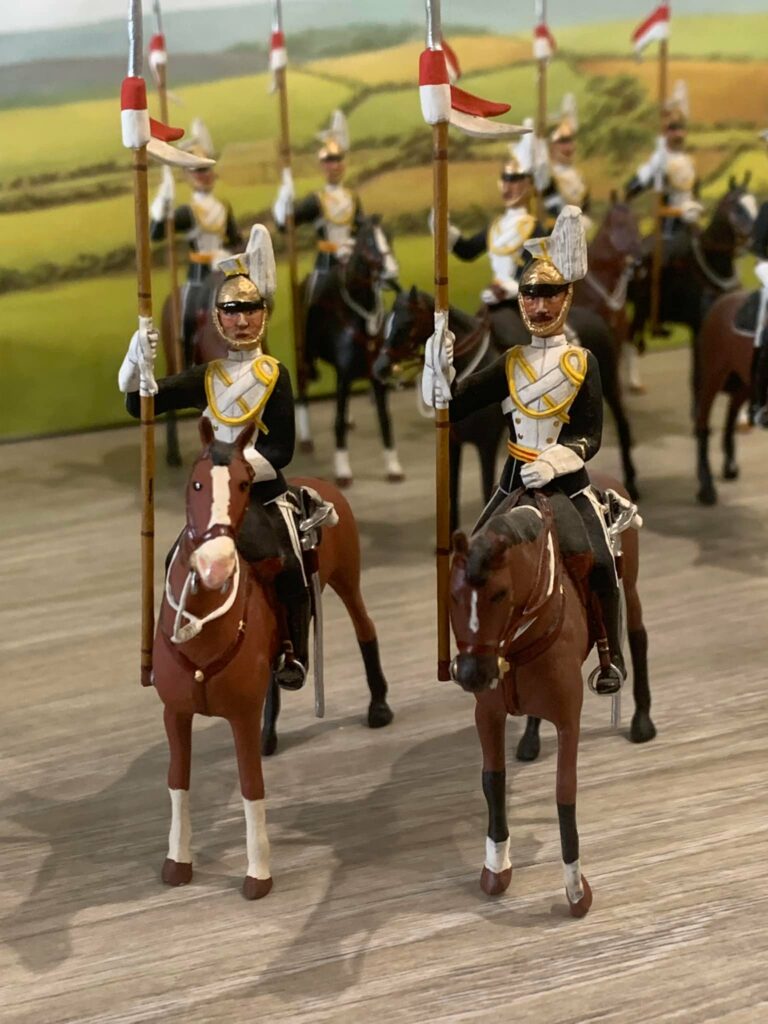 23 Jan 2022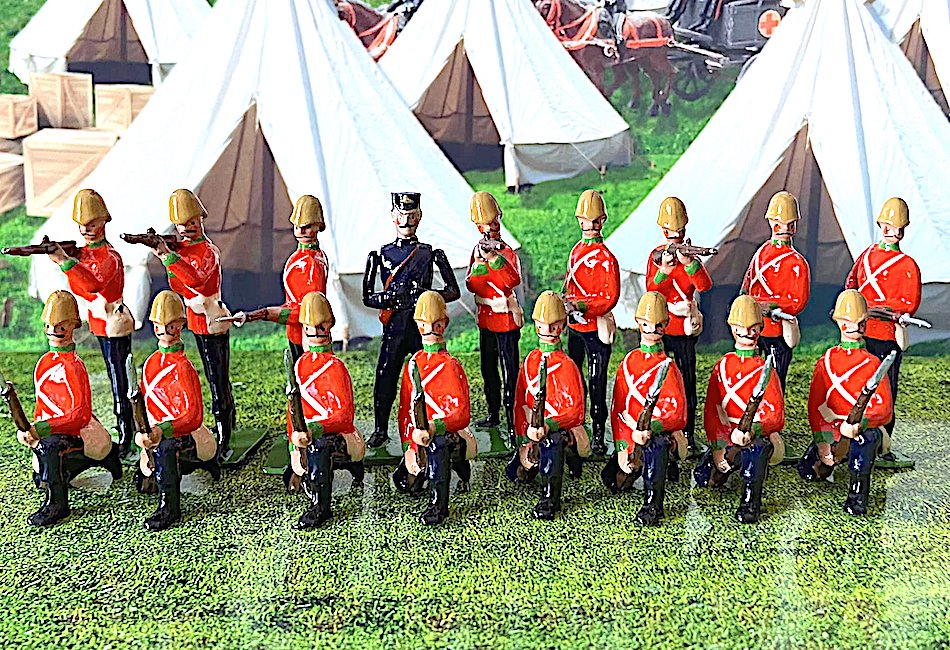 Just a pic today (again).
22 Jan 2022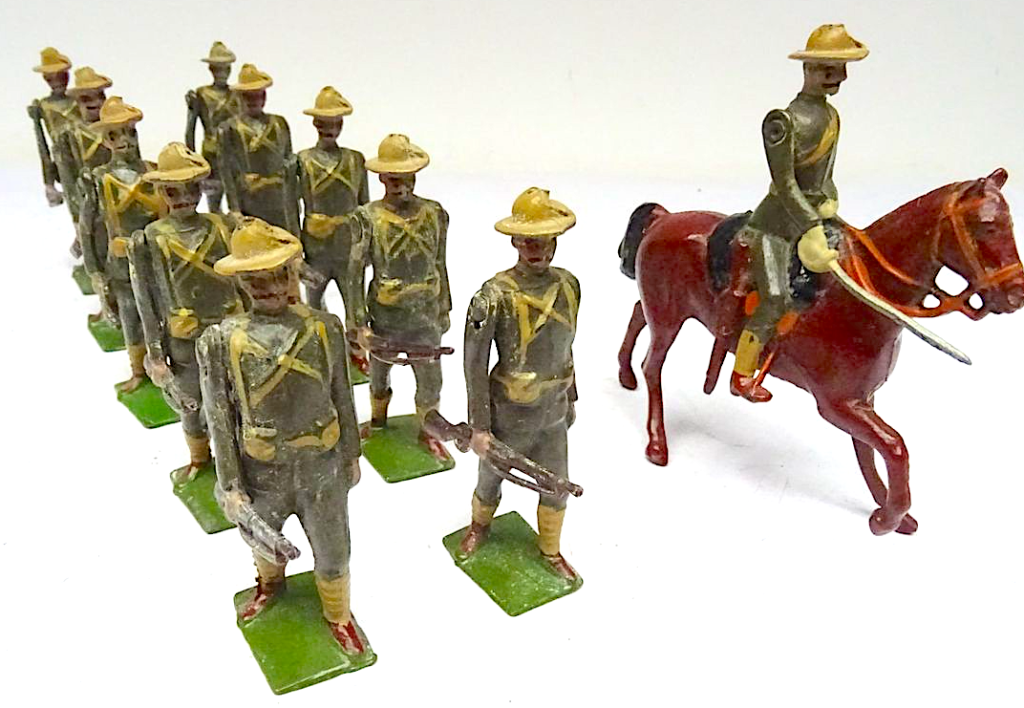 Just a pic today.
21 Jan 2022

Nowadays Toy Soldiers seem to be "displayed" instead of being "played with" (I do myself I guess)… My playing is limited to wargaming in 6mm if you know what I mean.
20 Jan 2022
Well, seems to be that things are sorted out with my order to Robert Prati (emails from Jon OK). Will give you an inspiring pic today…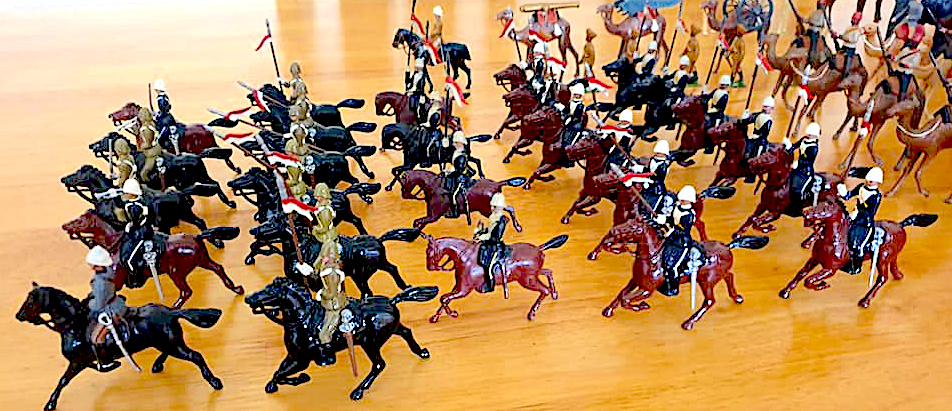 In fact visitors of this present web should check in FaceBook the group www.mytoysoldiersandme.com it has dedicated members (more than 200) and posts are quality itself.
19 Jan 2022
No news from Robert Prati. (They must be submerged in orders?) Really puzzled by lack of communications.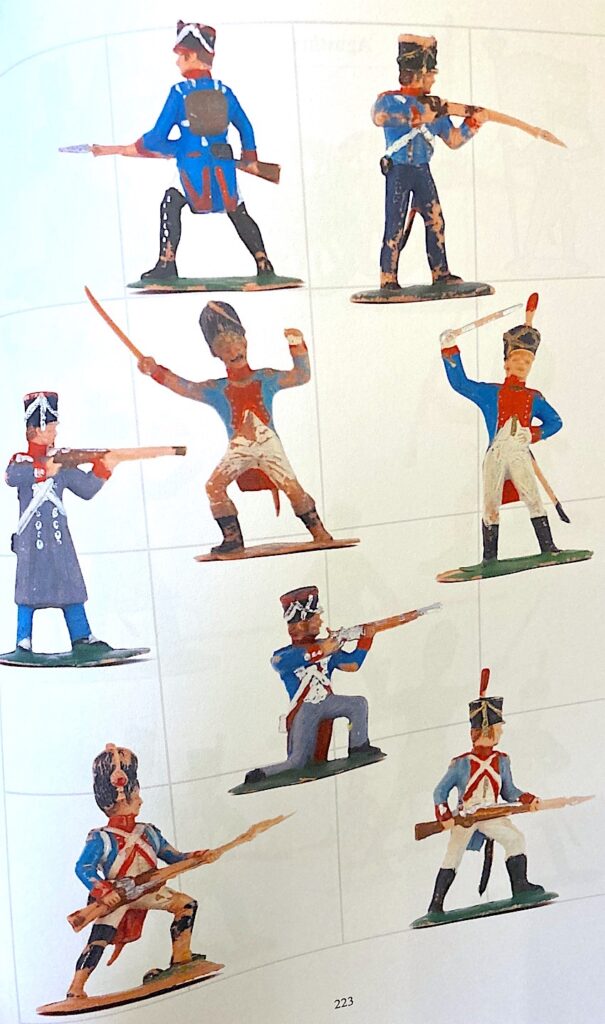 18 Jan 2022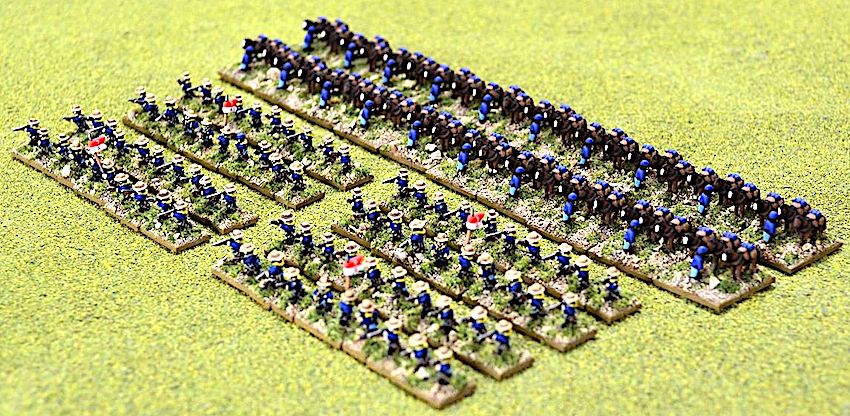 Was going to post a James Opie pic but I will leave that for tomorrow or later. Yesterday this web page passed the bar of 65.000 visitors (In a bit more of two years) mostly there are assiduous visitors… but not all. The numbe of "visits" is much more higher but irrelevant (more than 225.000) because some are "robots" (as my computer expert son says). Maybe when (and if) I reach 100.000 I will stop. I have the feeling that it is a kind of therapeutic help for me and other people to get rid of boring times (times inside the same day).
17 Jan 2022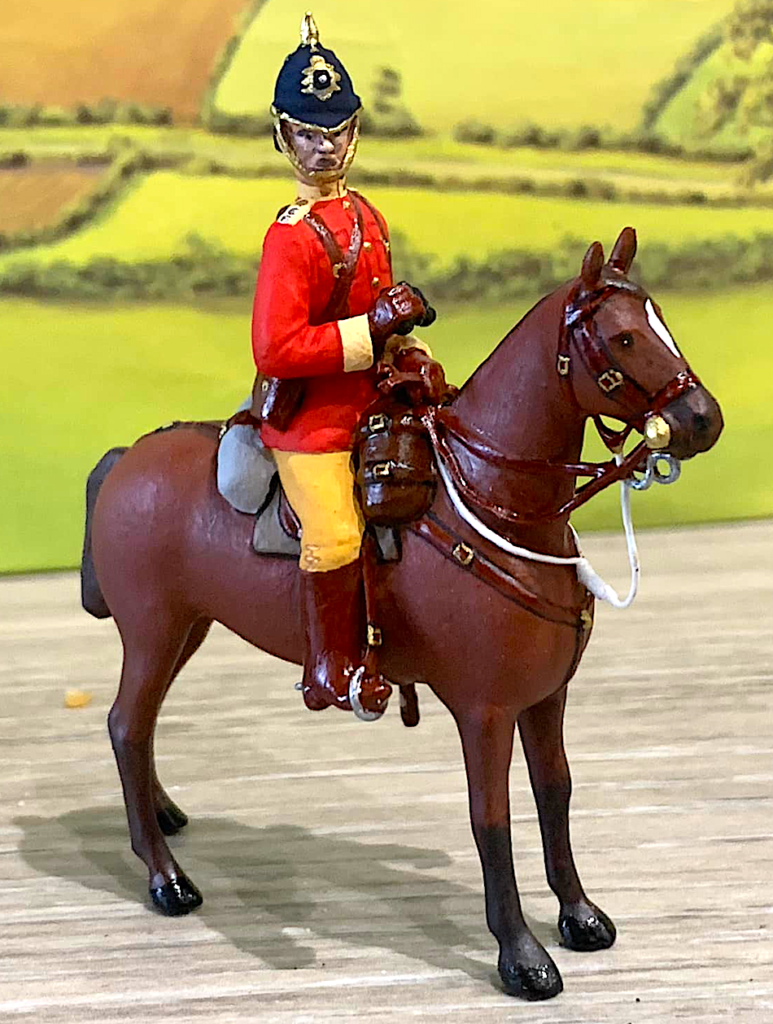 There are very good Modelers around believe me….
On a more personal note this week I will confirm the order to Steadfast. No more nostalgic posts from the moment (lol).
16 Jan 2022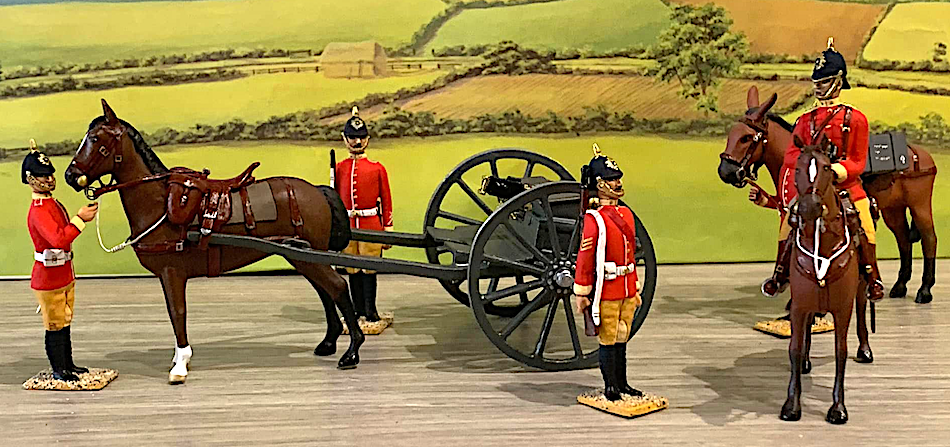 Just a pic today.
15 Jan 2022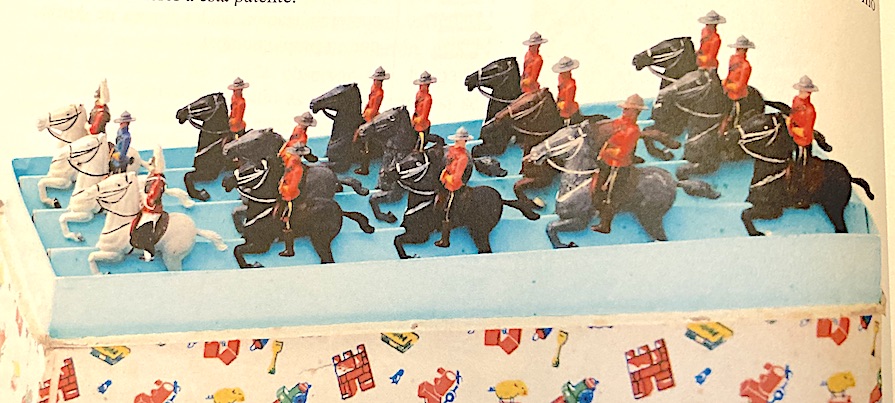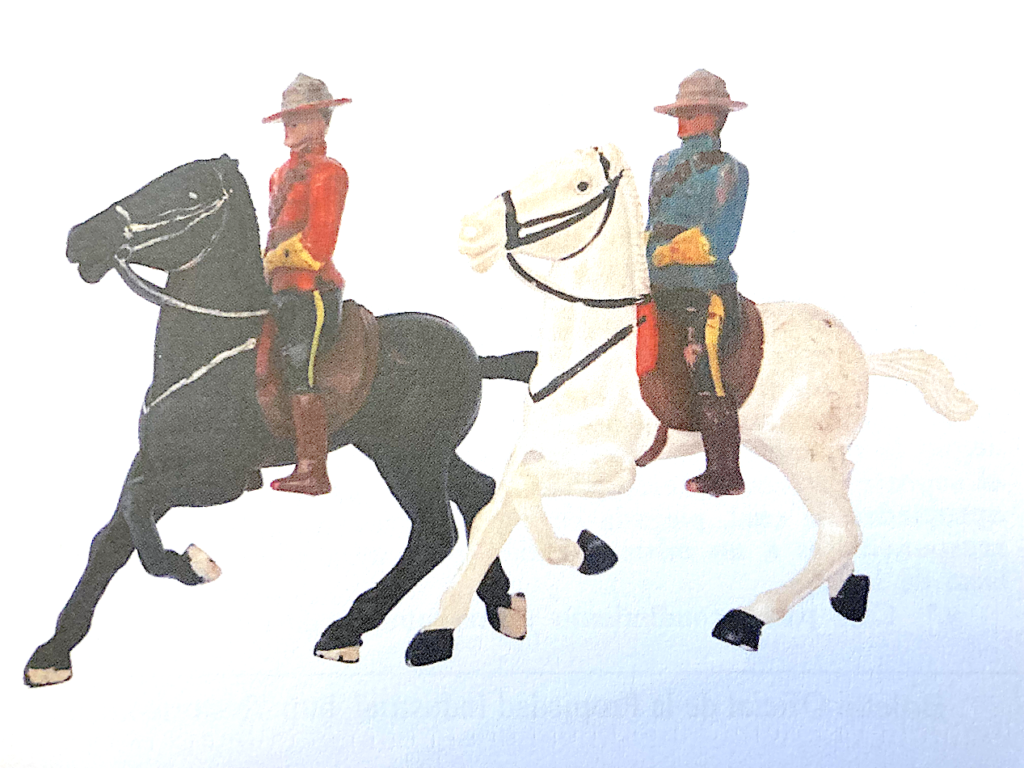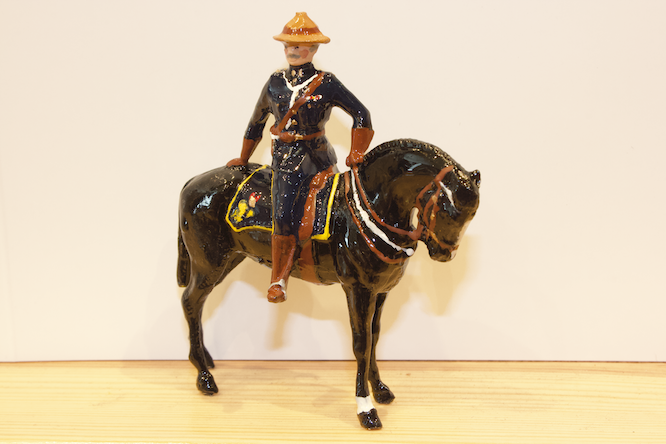 So incidentally what was a child nice impression has been embedded in my hobby all my life… and that's that. Curious uh?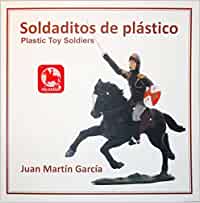 14 Jan 2022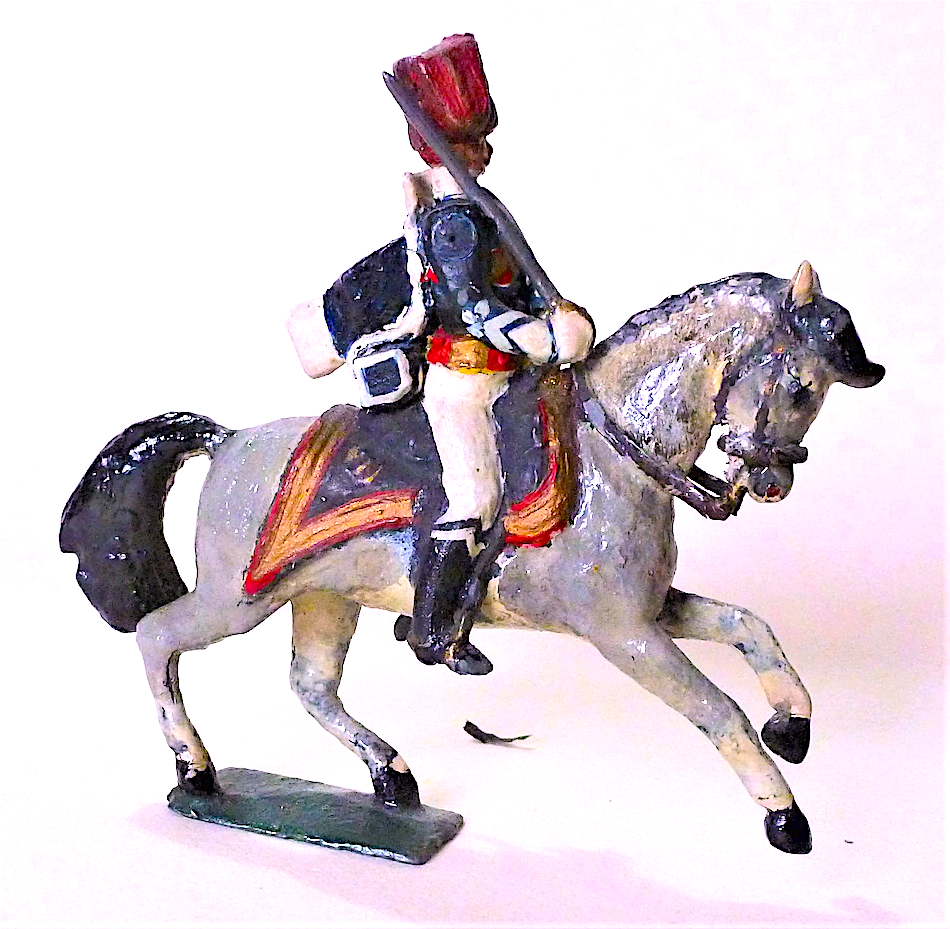 Order is on the offing for some badly needed "complements" to my 54mm Toy Soldier Collection. STEADFAST they will be (robert prati) and you will be duly informed.
13 Jan 2022

Just a pic today.
12 Jan 2022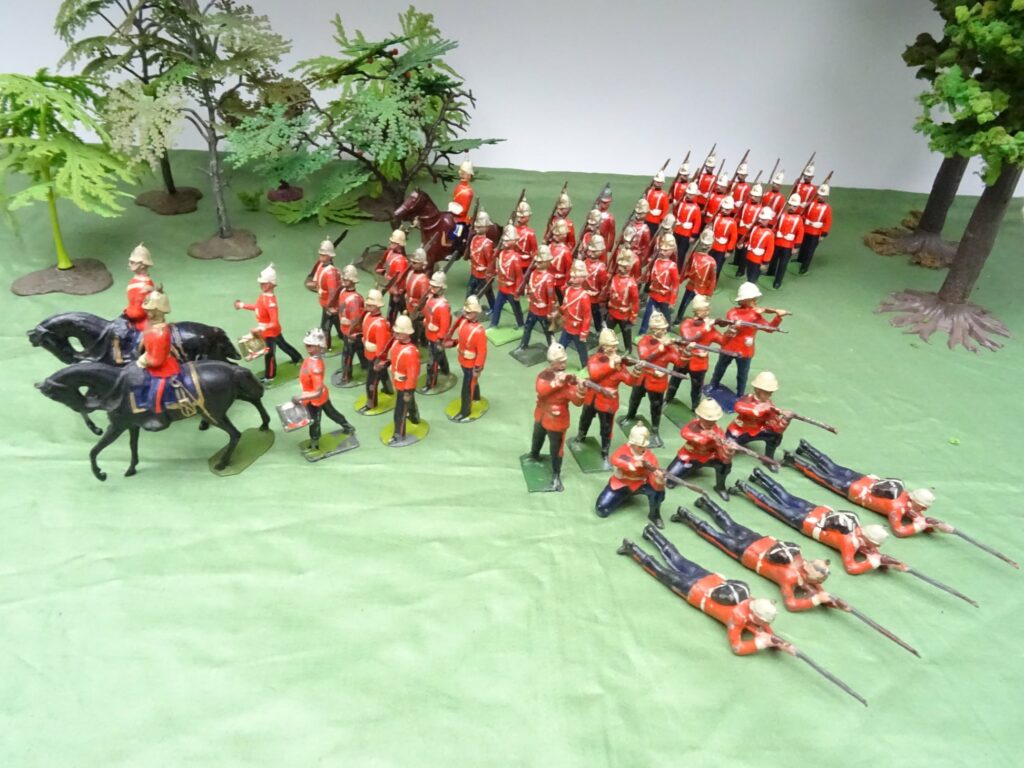 You must know the works (books) of James Opie about mainly Britains production, but also about the fascinating subject of collecting Toy Soldiers or just "Soldiers". If not inform yourself. His personal collection nearly got 70.000 soldiers (Yes SEVEN THOUSAND is not a typo). Reduced by selling and concentring interests nowadays to around 16.000 minis (about nearly ten times my own and I am labelled quite crazy by the family you know… LOL). Seriously some of his books are imprescindible, first and foremost: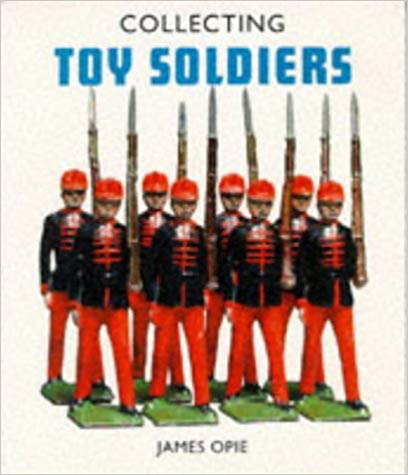 11 jan 2022
I'll show you the work of Mr. John Bertolini, he does his own figures!… always dreamed of that… maybe they are not to your taste… but considere the joy of it!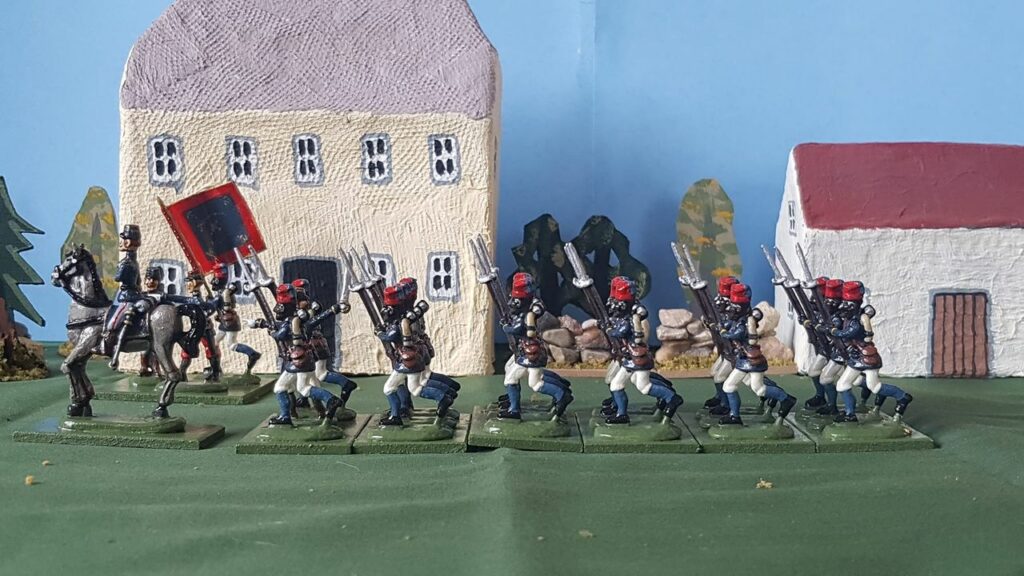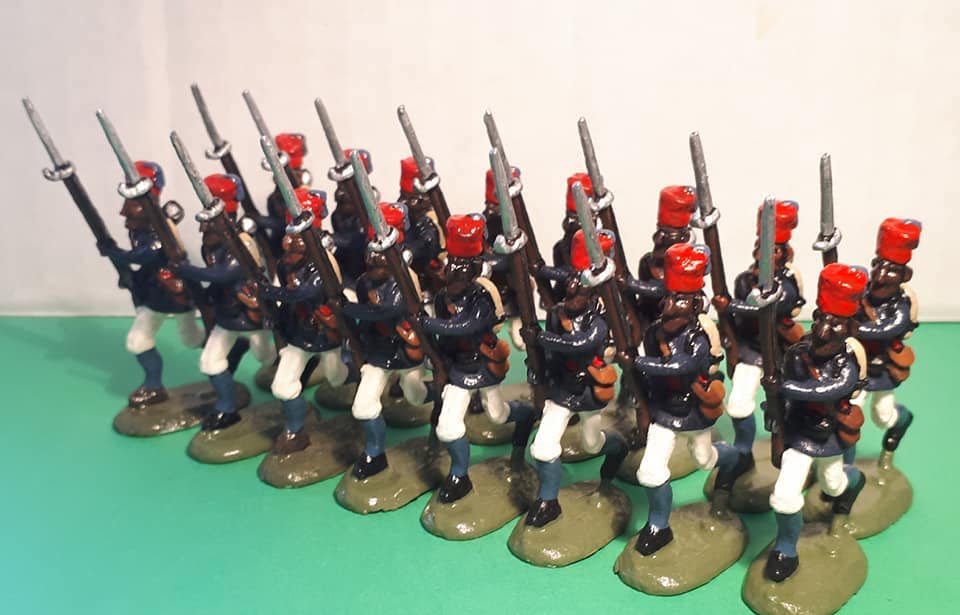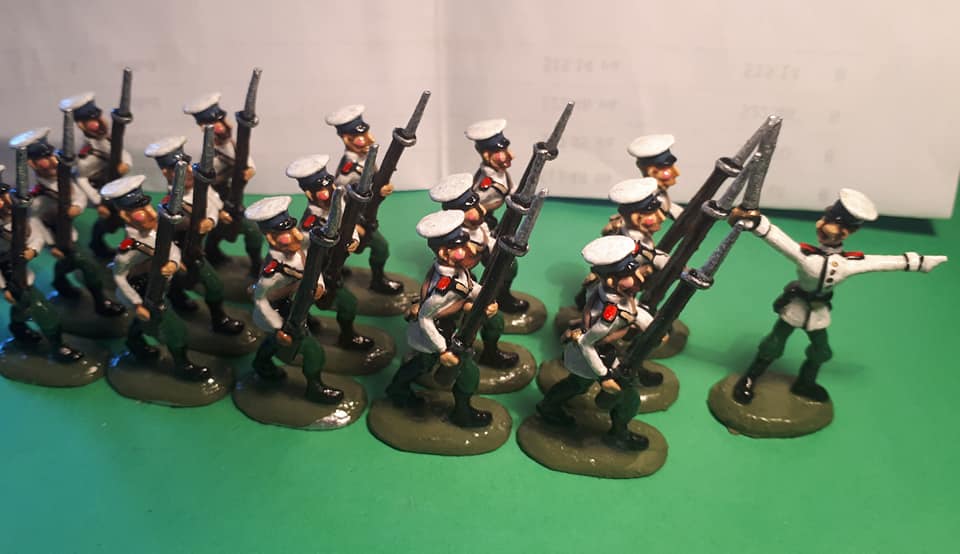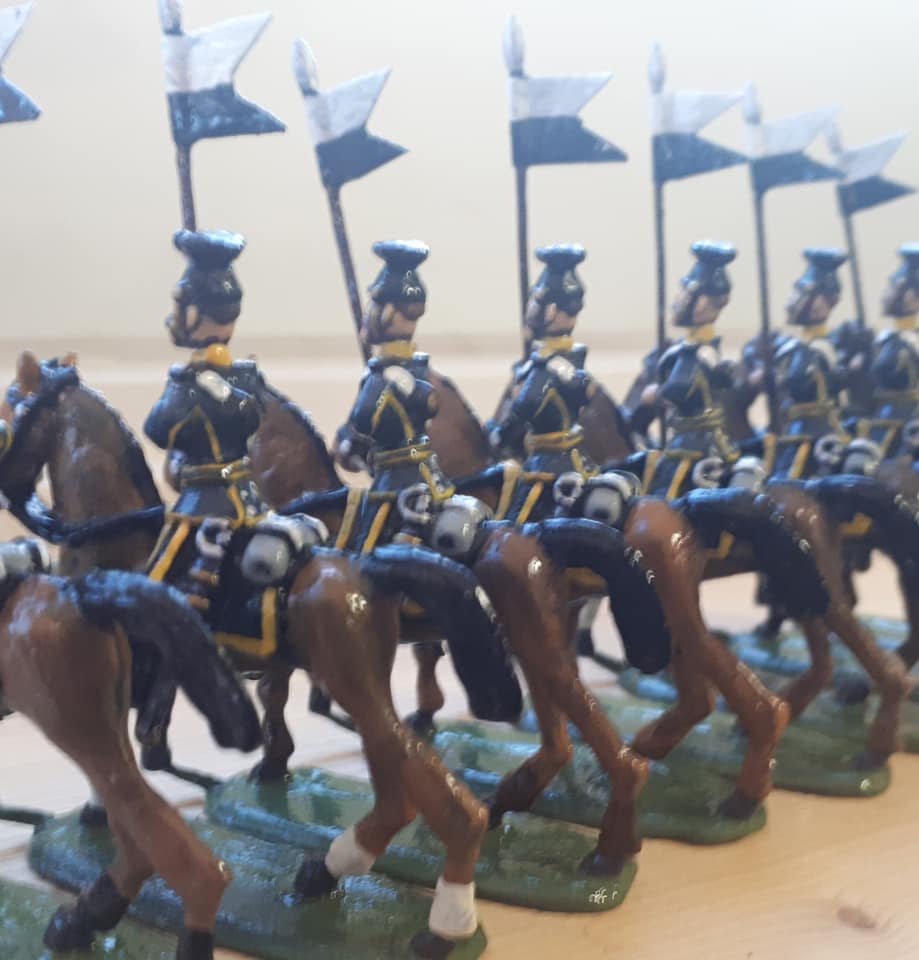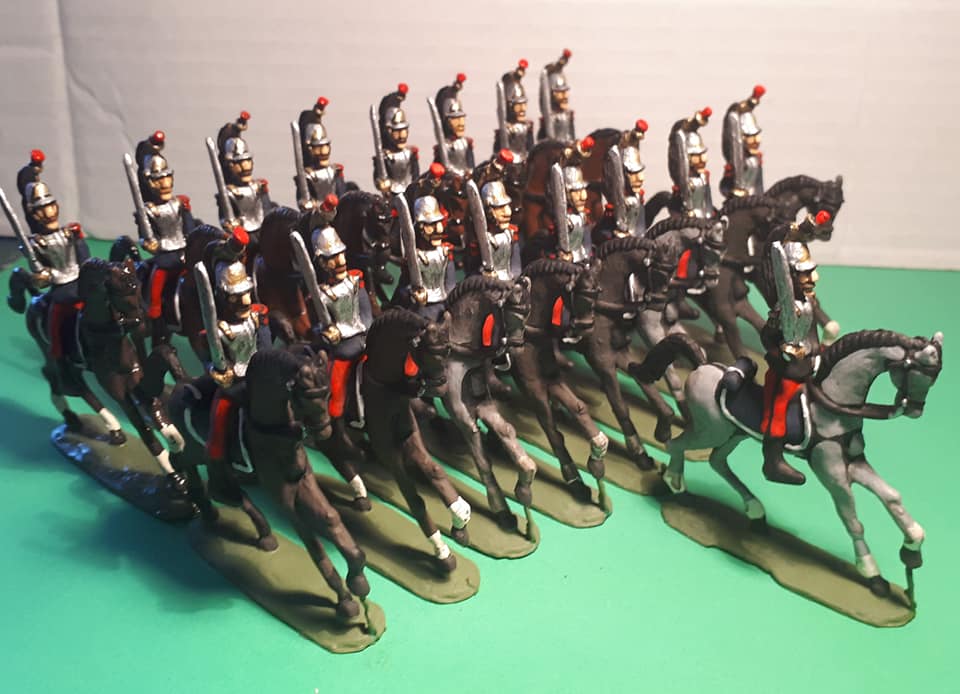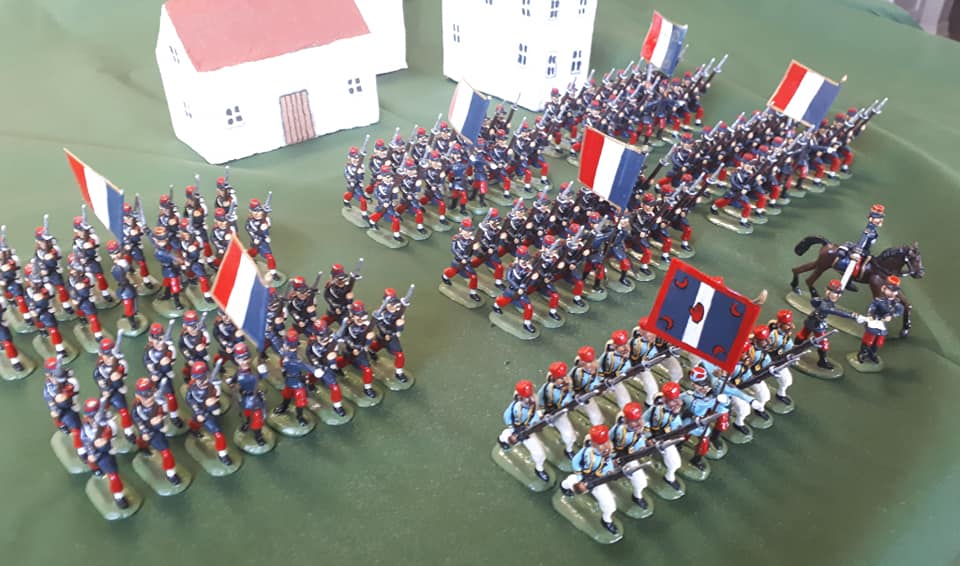 10 Jan 2022
I will give you two pics as an example of what can be achieved in 6mm (they are not my minis neither my work) both found in FaceBook. Will include the much seen pic of my Crimean Light Brigade to show you "the difference" lol.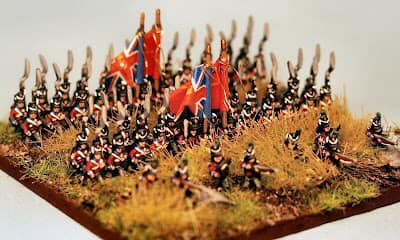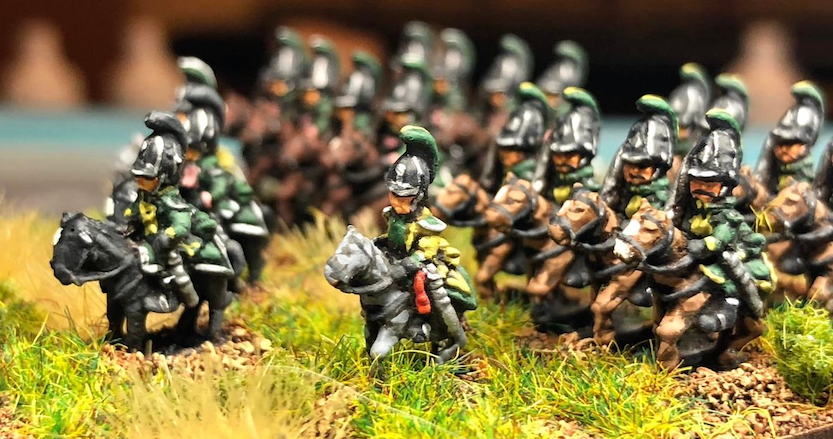 9 Jan 2022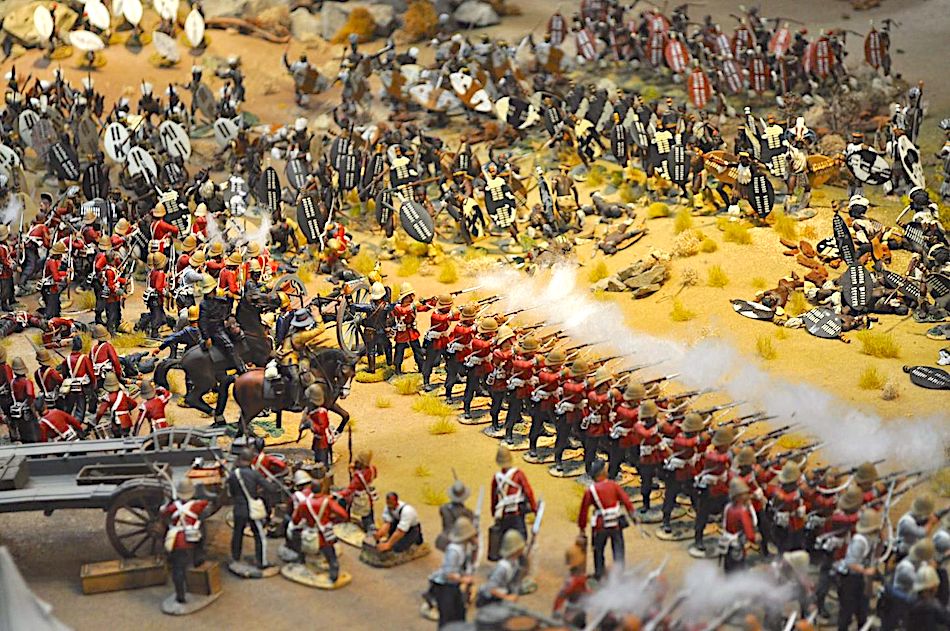 The pic of today is awfully inspiring… simply awesome. My own efforts were not up to par with this at all. I then was painting the minis myself as you can see on the pics below… nearly all MINIFIGS 25mm.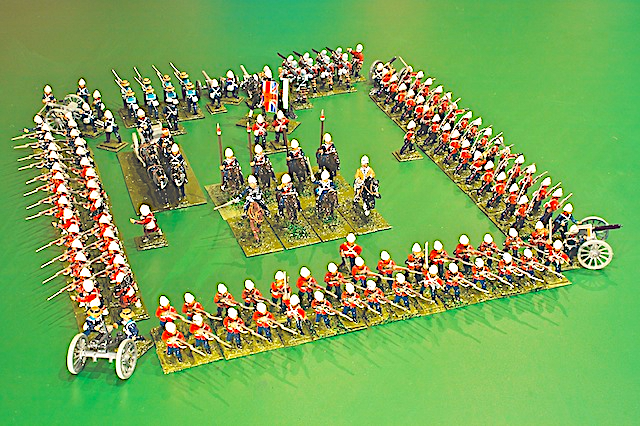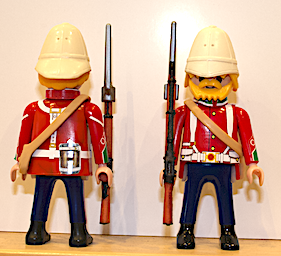 8 Jan 2022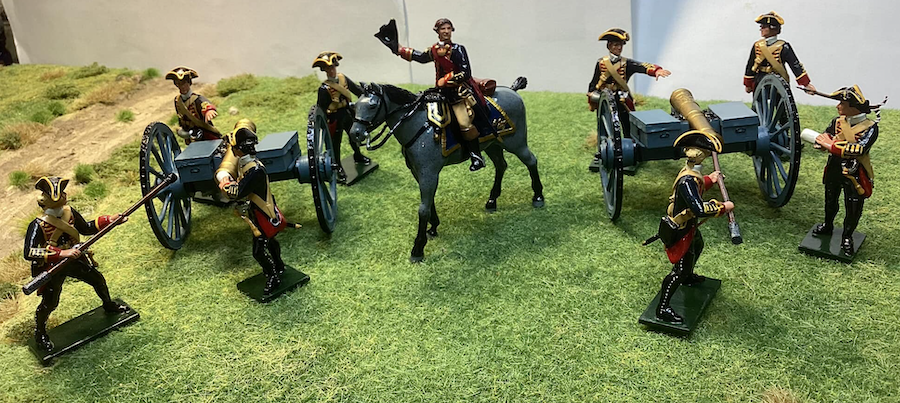 Just a pic today… already 8 days into a new year… how times fly by…
7 Jan 2022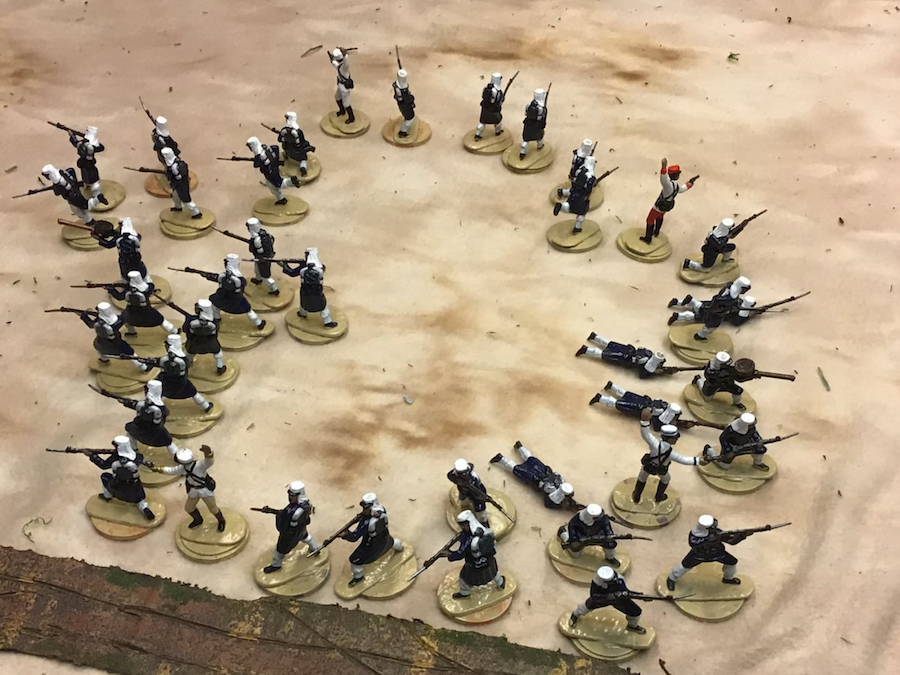 Somehow it is a blessing that others indulge in the same pastime and with the same mental fixations… so I give you a book recommendation too today…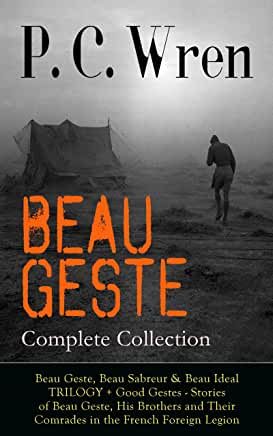 6 Jan 2022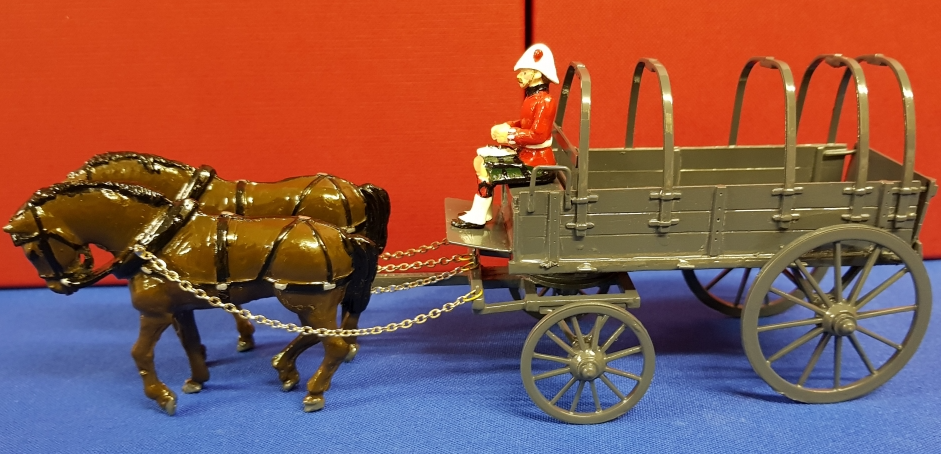 Curiously there seems no way to stop adding items to my collection…
5 jan 2022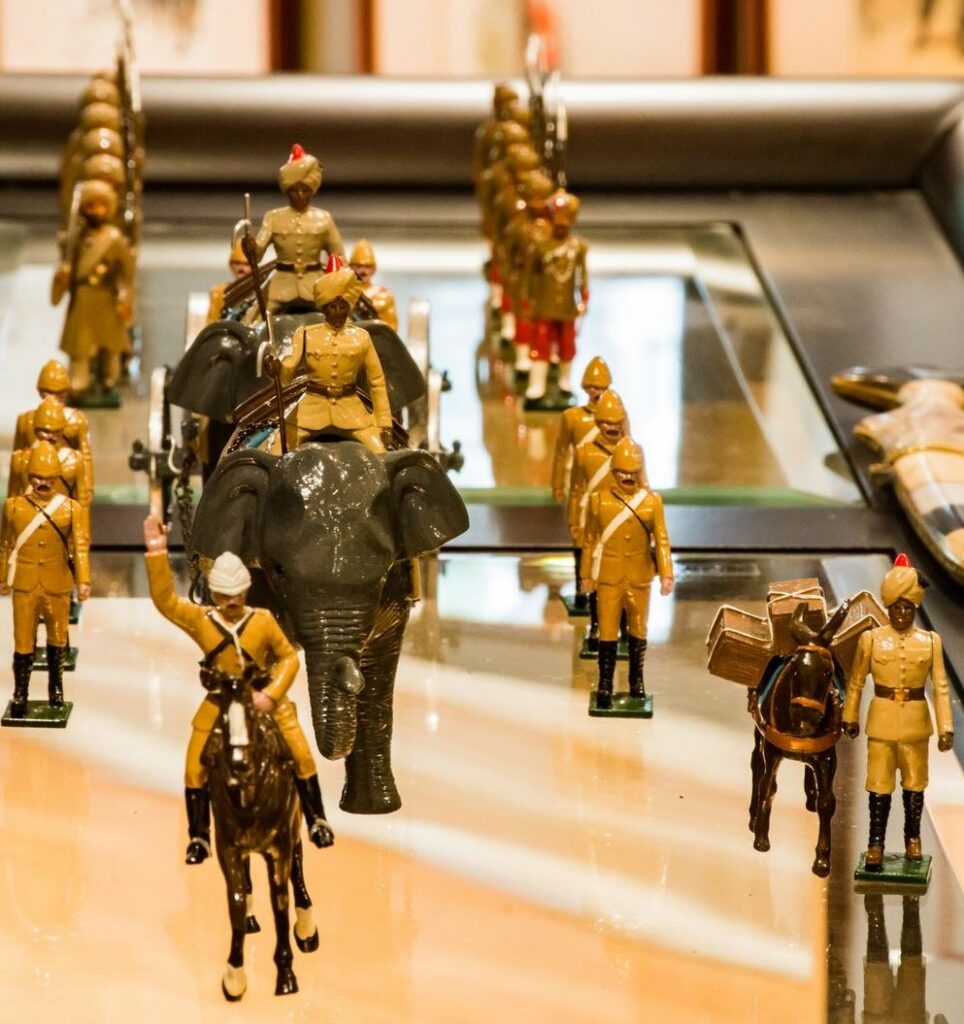 It is interesting how collectors ( myself included) mix and match different manufacturers and even themes. An original designed set by a Trade Mark can be displayed with the original soldiers or those been substituted by others at the whim or fancy of the collector (sometimes even at the moment of placing the order they can suit your taste).
The last day of the year past I placed an order (a dormant commission you would say) to rpworldmodels for three Royal Artillery Gunners… no feedback yet! (Steadfast models).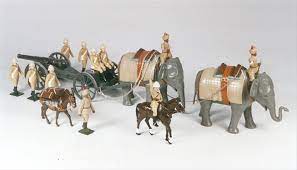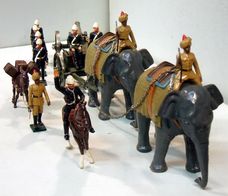 4 Jan 2022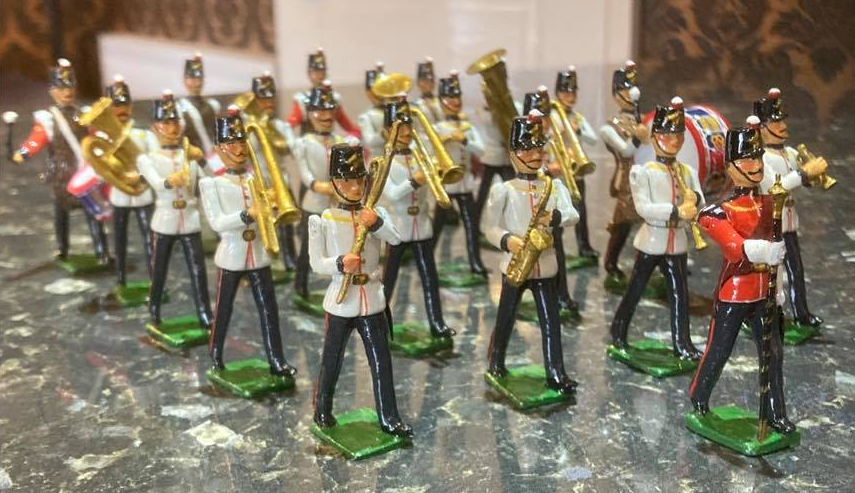 Just a pic today…
3 Jan 2022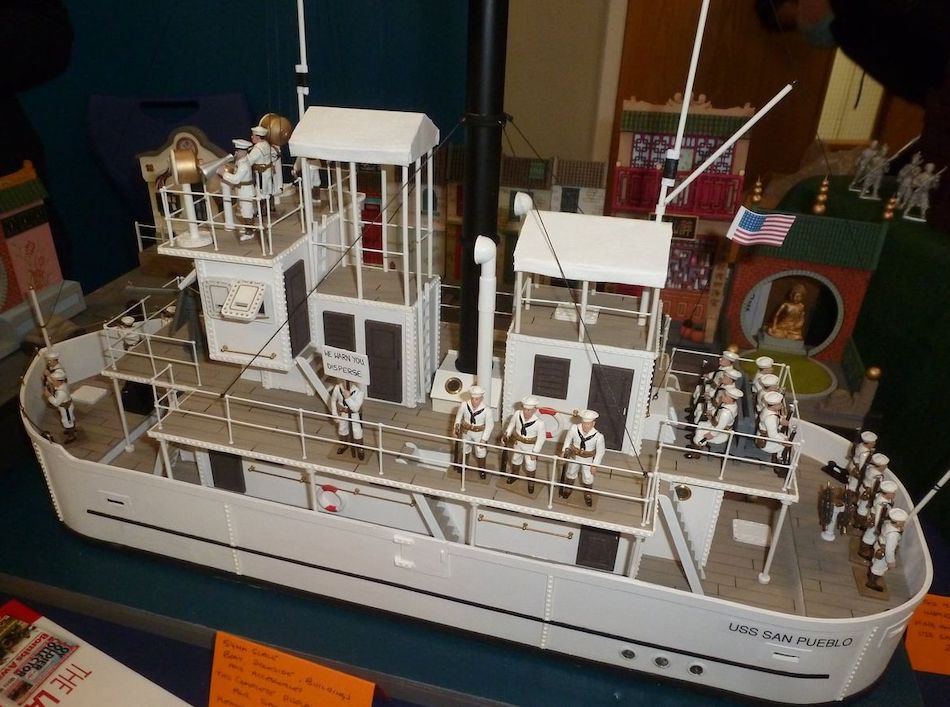 There are more like it in the manufacturers catalogue, Nile gunboats etc. An extravaganza in 54mm… but desirable if you have the place!
BRITISHTOYSOLDIERCOMPANY.CO.UKThe British Toy Soldier Company
2 Jan 2022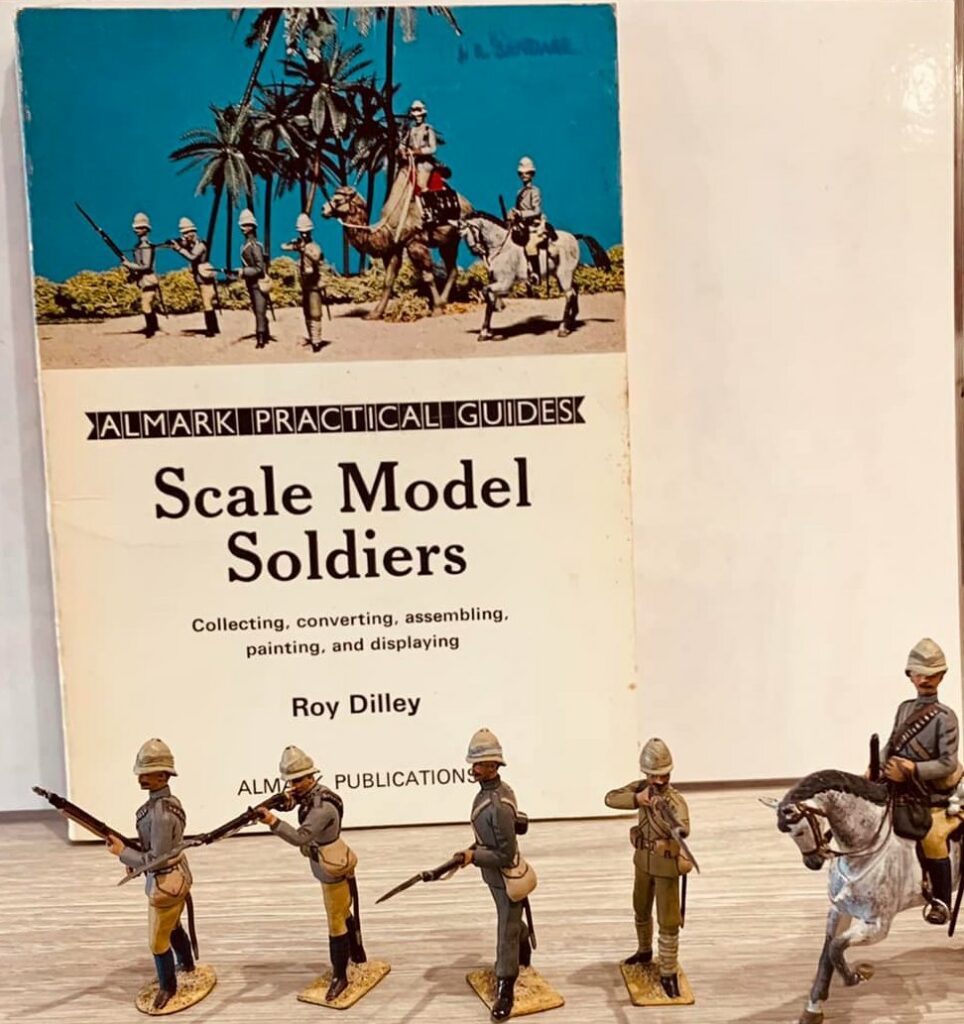 A classic that Idid not know of… well that's been righted. Probably much more Military Modeling oriented than "Toy Soldier"… but divisory lines get blurred sometimes you know…
1 Jan 2022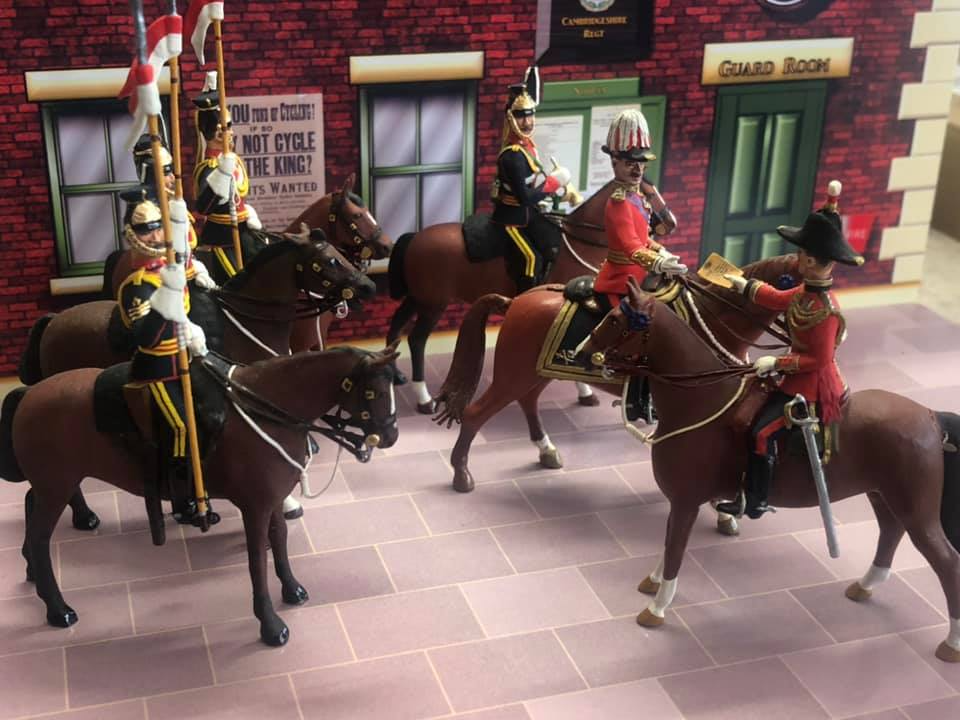 Happy New Year 2022 to everyone!
31 Dec 2021
To say goodbye to "the vaccines year"… a pic found in FaceBook… I like it but still think Napoleonics are better suited to a big club.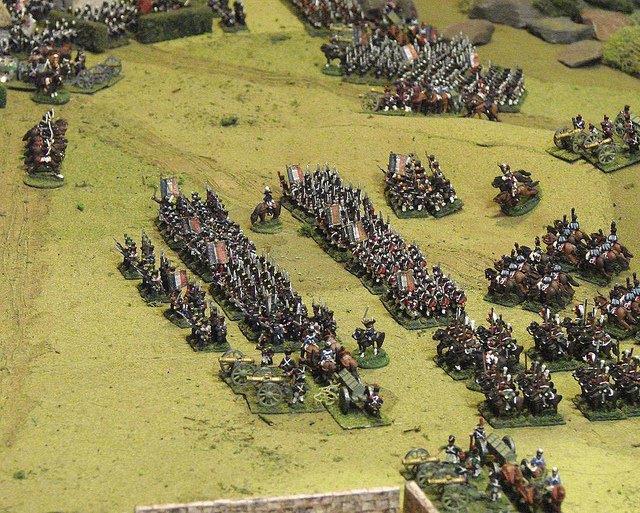 30 Dec 2021
I was feeling "personal" yesterday… today I will give you some Confederates in a small scale … maybe 15mm but not sure… (not mine at all) but I do have lots of them too in 6mm from Baccus!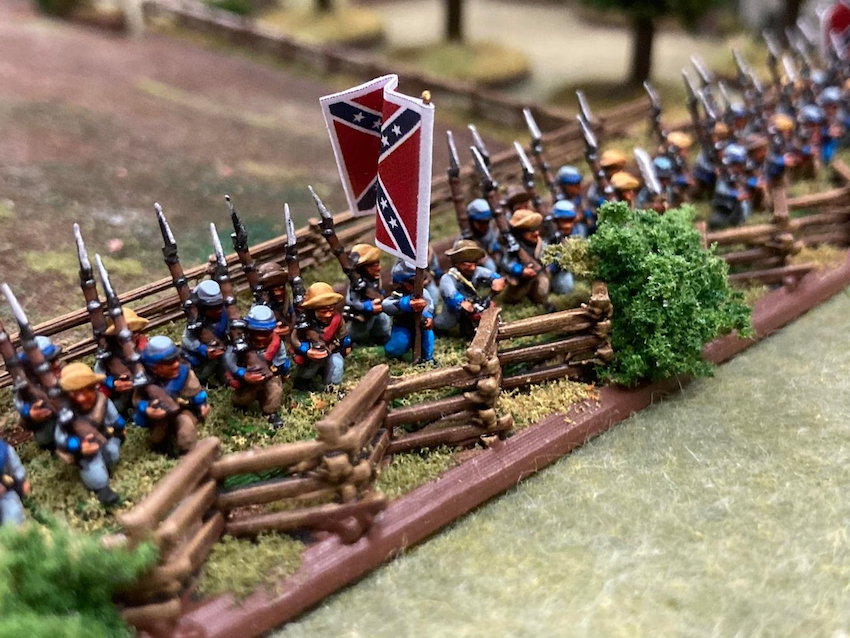 29 Dec 2021
So… I collect Toy Soldiers… and what if I do?… today I will show you a pic that contains the earliest memories of my hobby… Spanish Toy Soldiers from the early Fifties (and among other things some soldiers done by my sons).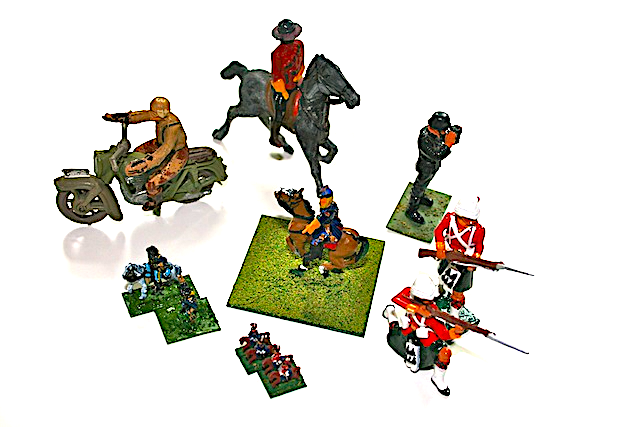 28 Dec 2021
I did promise… so here it is: the most predictable part of my 54mm collection. It all started with my parents gift of a very big double tray box of Britains when I was very young (Coldstream Guards). Ask James Opie for the number of the set I have forgotten and do not care at all.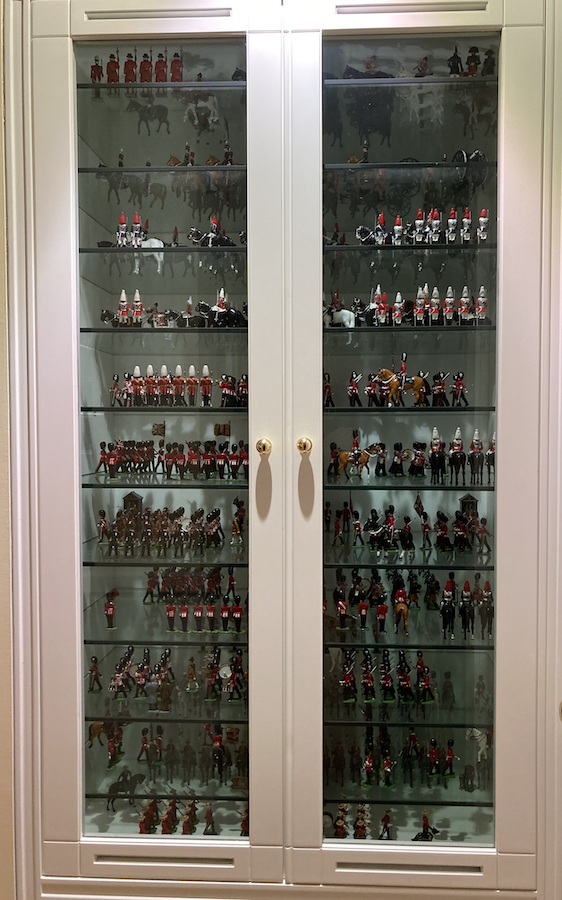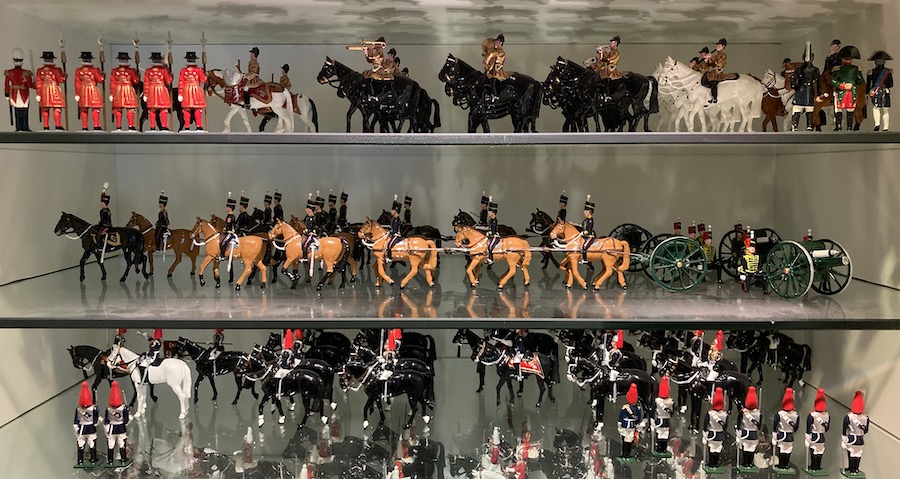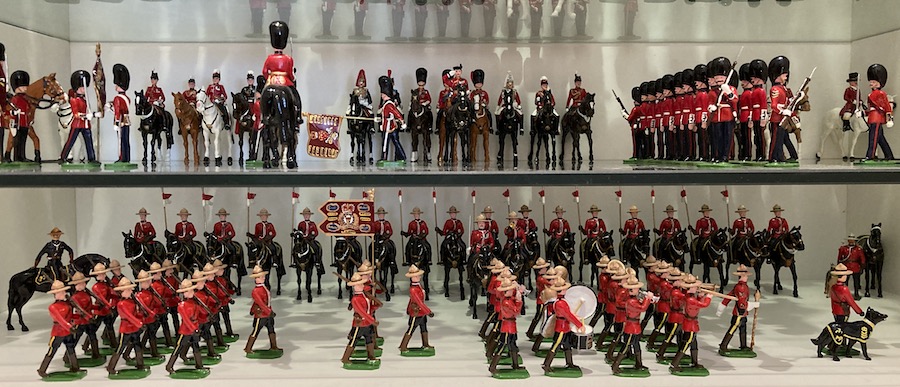 As you all know those are (like the Grenadiers of Napoleon's Imperial Guard) the most produced Toy Soldiers around the world.
Mainly DUCAL (or Fort Ducal) with some splashes of Tradition of London and other brands (Marlborough and others).
27 Dec 2021
Today I will give you my small cabinet (the colonial one)… colonialism was not "right" seen with perspective… but as usual adventure and conquest has a mighty appeal on the moment… how crazy is History… well, never mind… it gave us brilliant moments and nasty defeats (also as usual). The cabinet was designed with 25mm in mind… it has contained 15mm too… and was finally recycled into the classic scale of the wonderful 54mm Toy Soldier (You will also notice some Military Modelling stuff on the top of it). Here we go: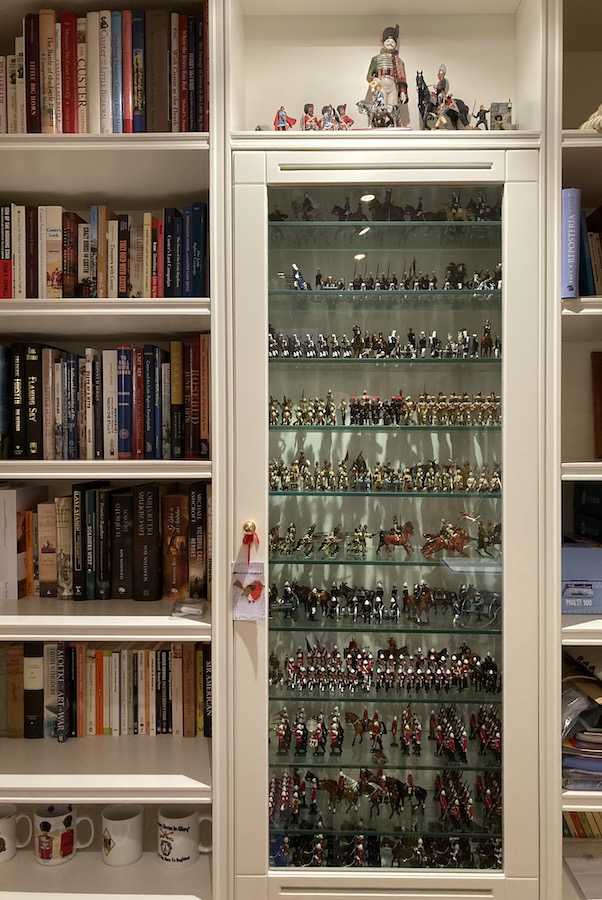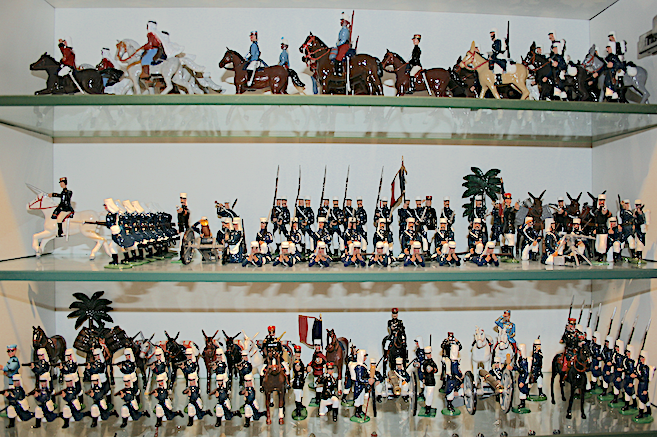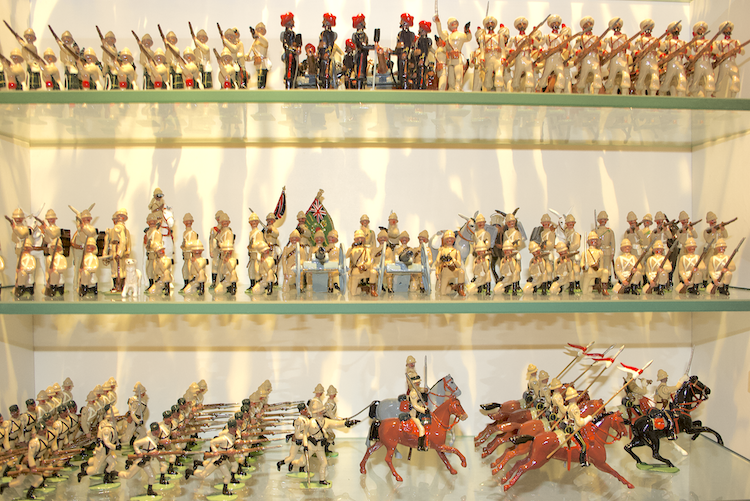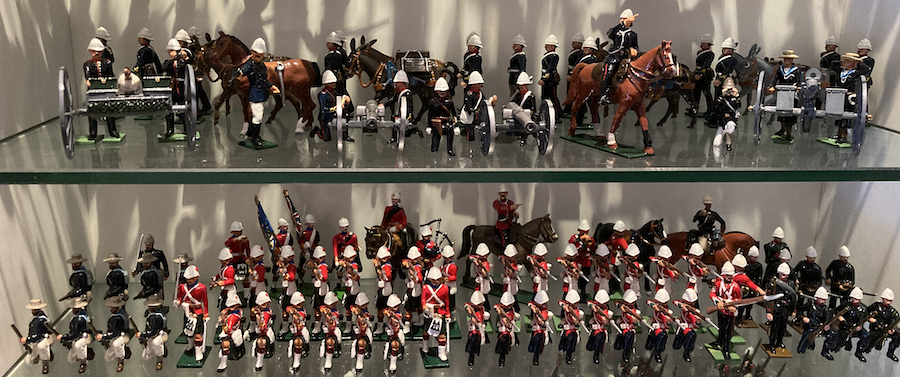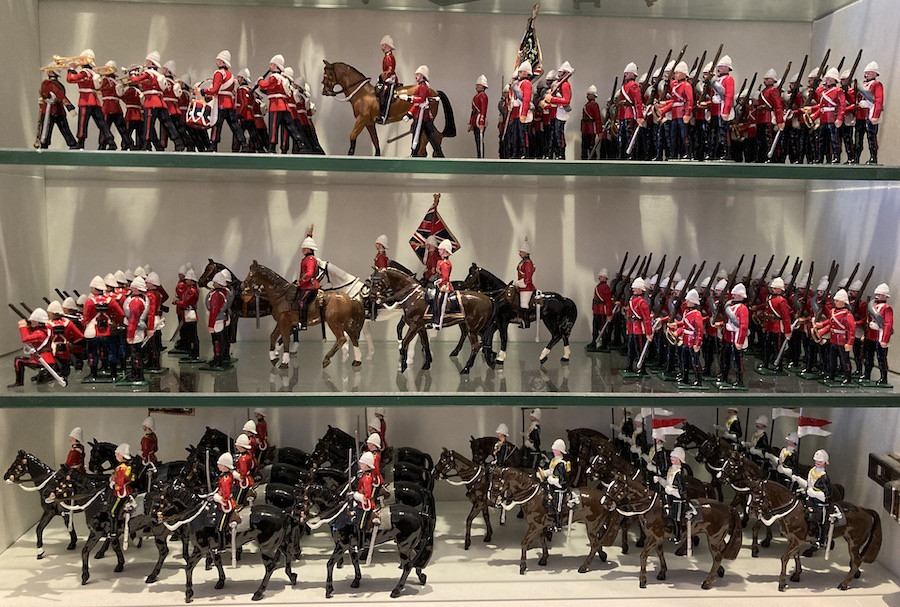 So, in a nutshell a very eclectic collection built along so many years it is not worth detailing too much. FFL is mainly DORSET SOLDIERS with some REPLICA. Kakhi is all REPLICA, the rest Tradition of London, DUCAL and RPWORLD models… and yes there are some specials and conversions too.
Hopefully tomorrow the even more classical part of my collection on the "big" cabinet (under the stairs).
26 Dec 2021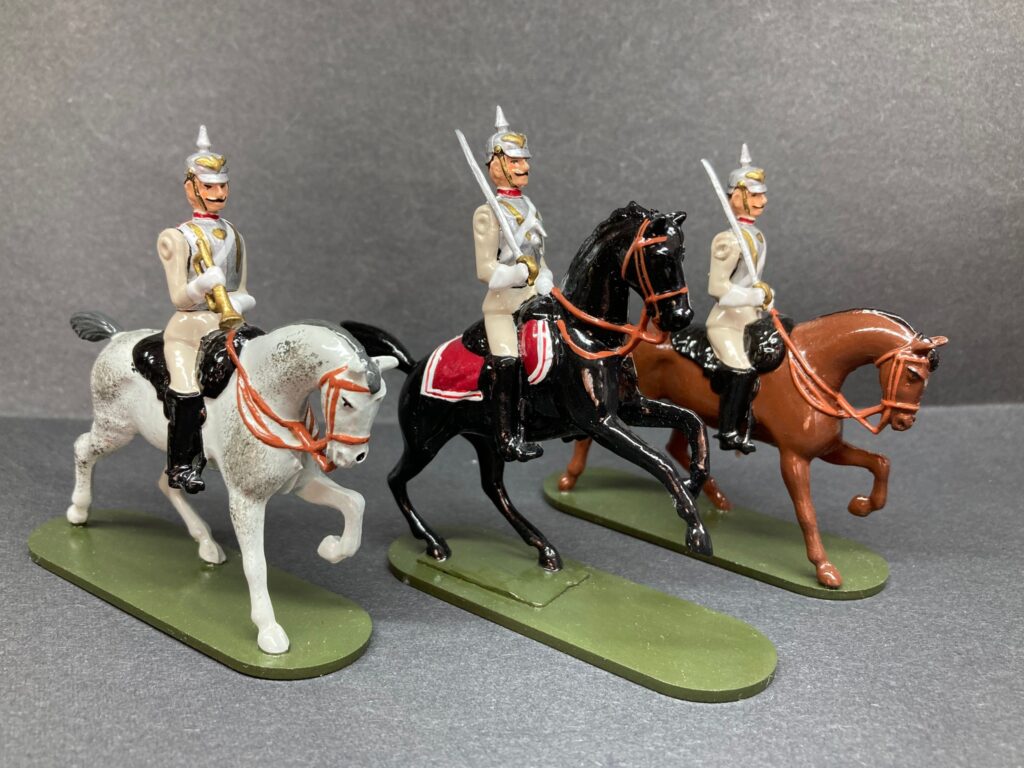 Just that.
25 Dec 2021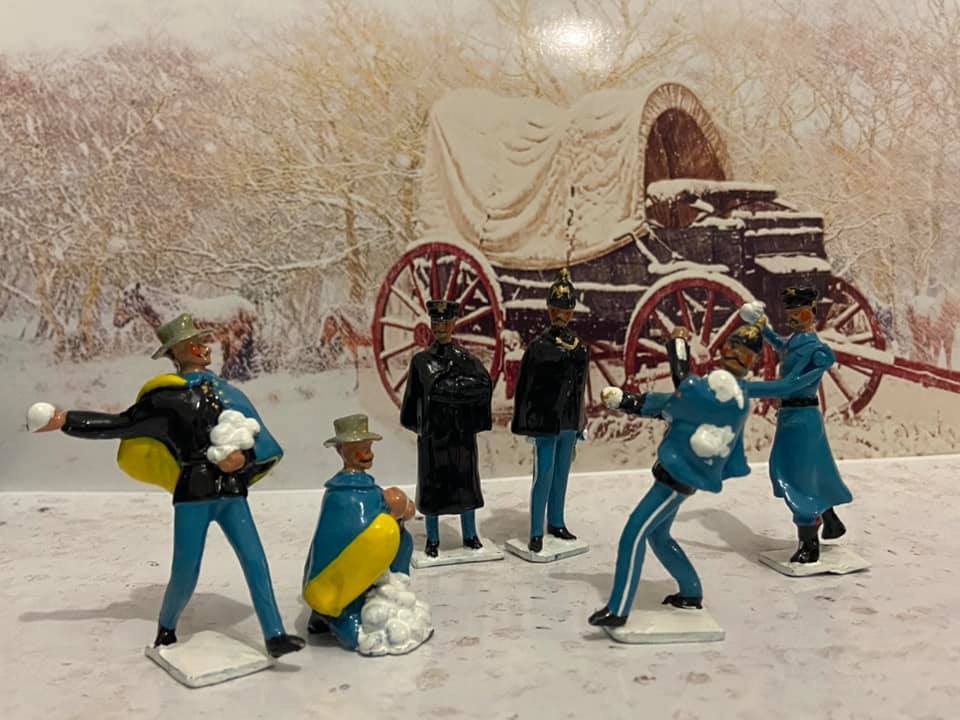 I wish everybody a Merry X'mas and a Happy New Year 2022. The luckiest of you will get toy soldier as presents… the rest do a list and go on.
24 Dec 2021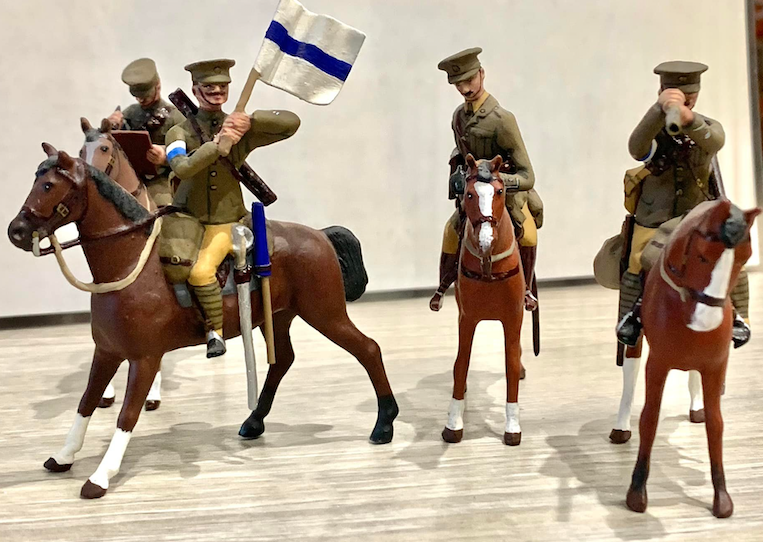 Signals Corps, Heliograph (yesterday pic) are very original subjects and incredibly well done by Tony Dilley. Enjoy.
23 Dec 2021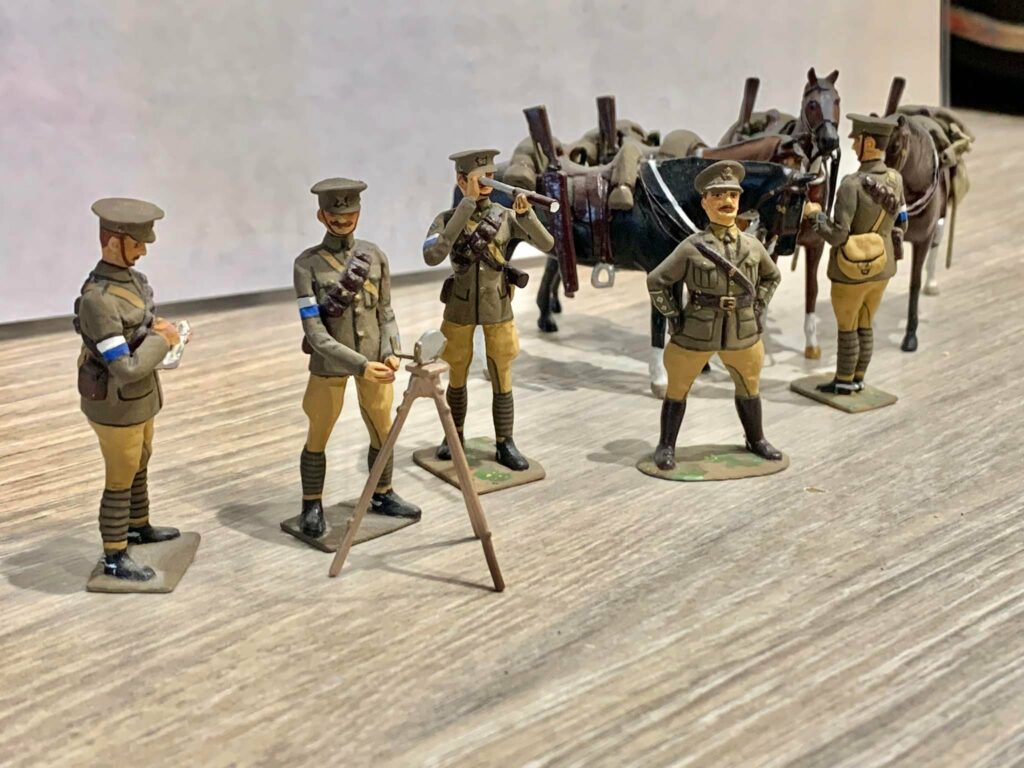 Guess they are the best of the lot.
22 Dec 2021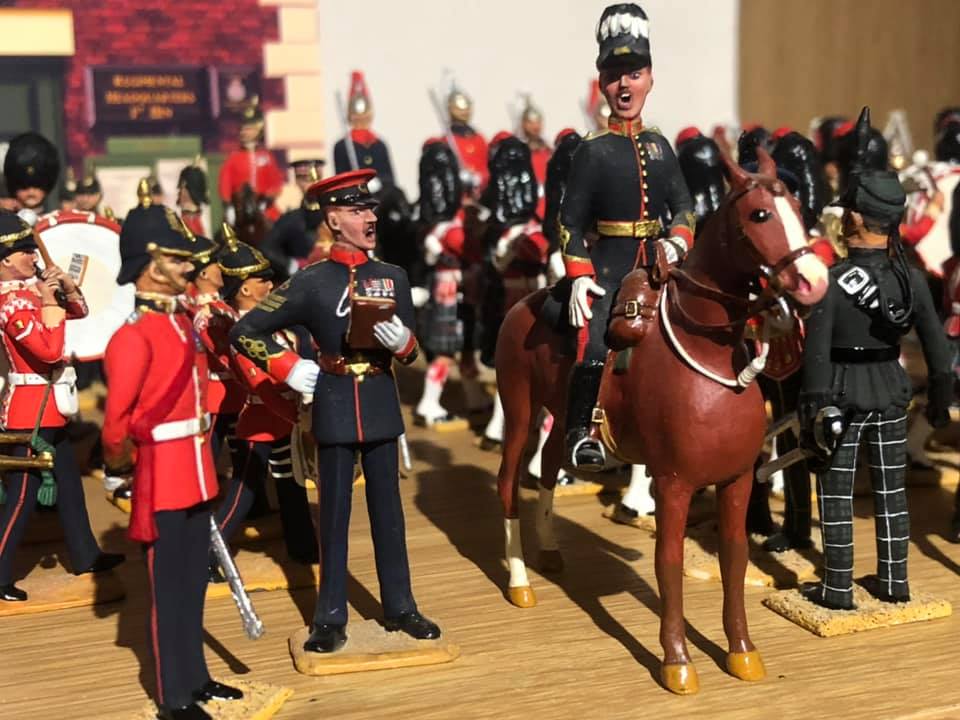 Did some pics yeaterday that I will post in following days… after all this is X'mas Holidays time!
21 Dec 2021
Have a pic of a battery (mine this time) that needs completion (it lacks three figures… at least!).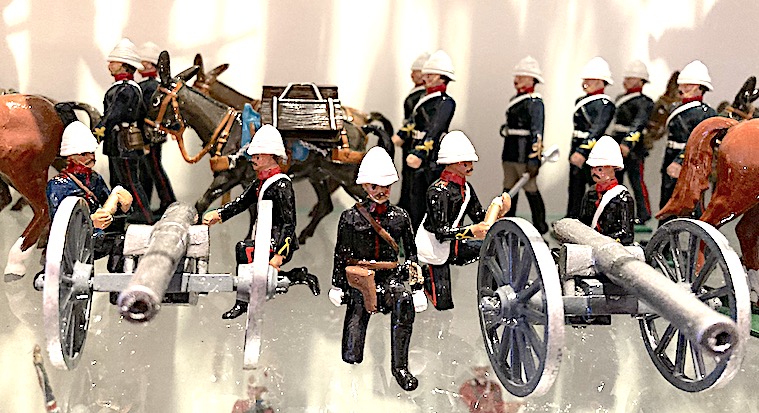 20 Dec 2021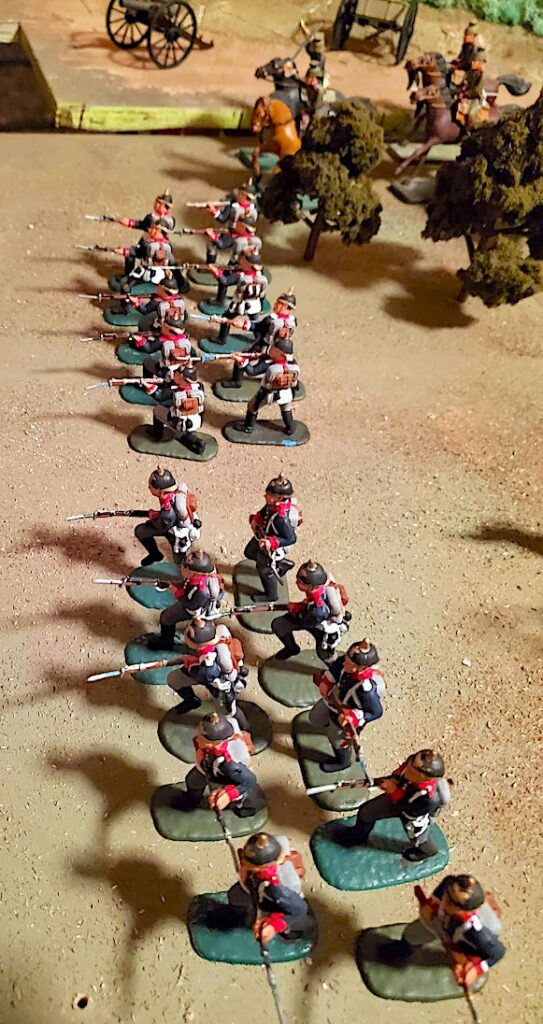 An hectic day yesterday… on the right side I topped 60.000 visitors of this webpage… on the wrong side deal's off with Andrew Stevens (I am nearly 70 years old and can not wait for orders indefinitely… and I mean months!… more than half a year!… oh dear!… love his work but can not wait that long at all…).
If you are younger than me, order from him, his toy soldiers are fantastic!, but be prepared to wait patiently for them.
19 Dec 2021
That's it. Those who betted pessimistic won. Andrew has confirmed NO figures before X'mas… I knew it was "a near run thing"… disappointed doesn't start to describe my feelings.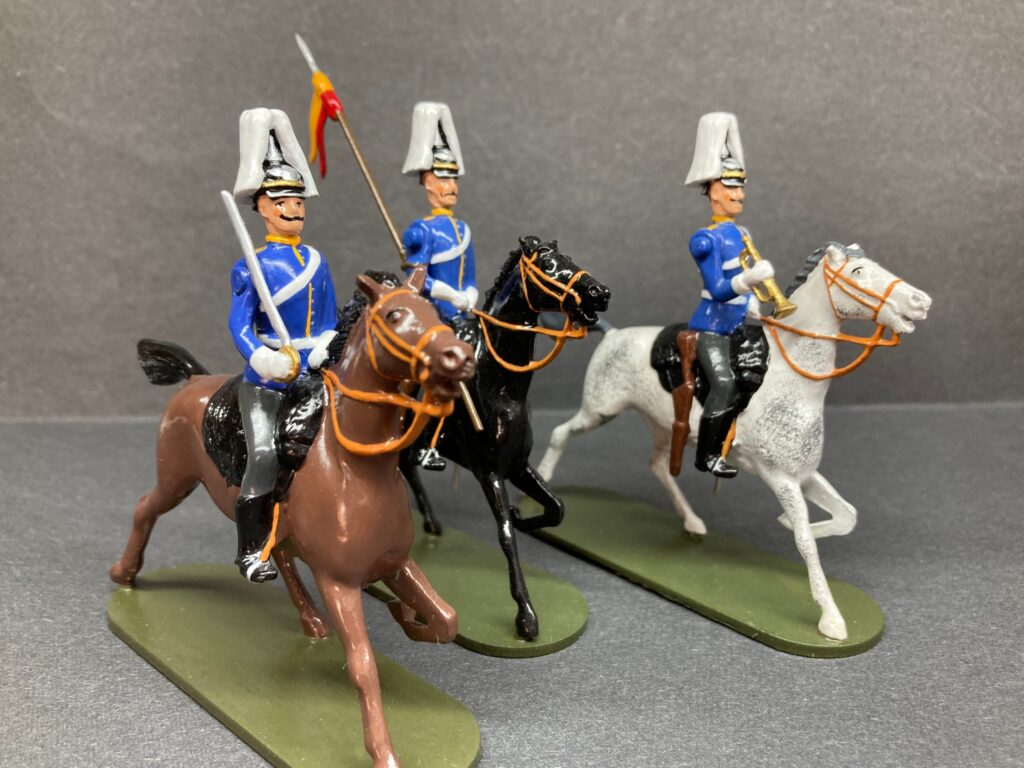 18 Dec 2021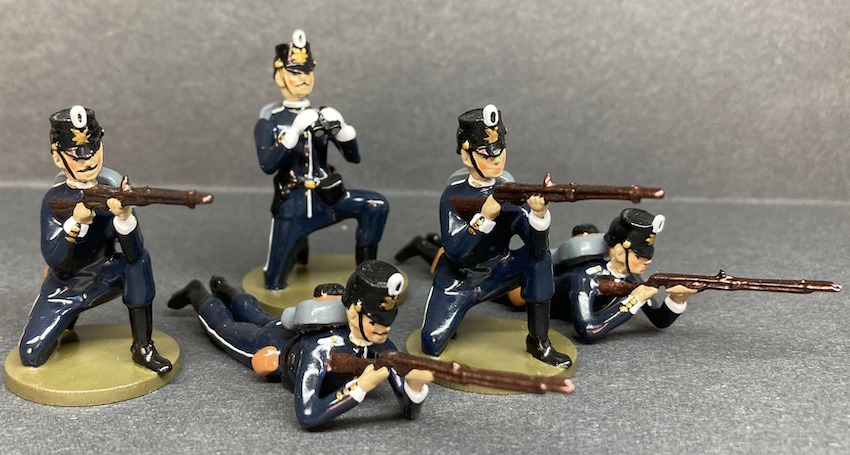 Andrew has said nothing for a week by now… bets still on.
17 Dec 2021
Just a pic today…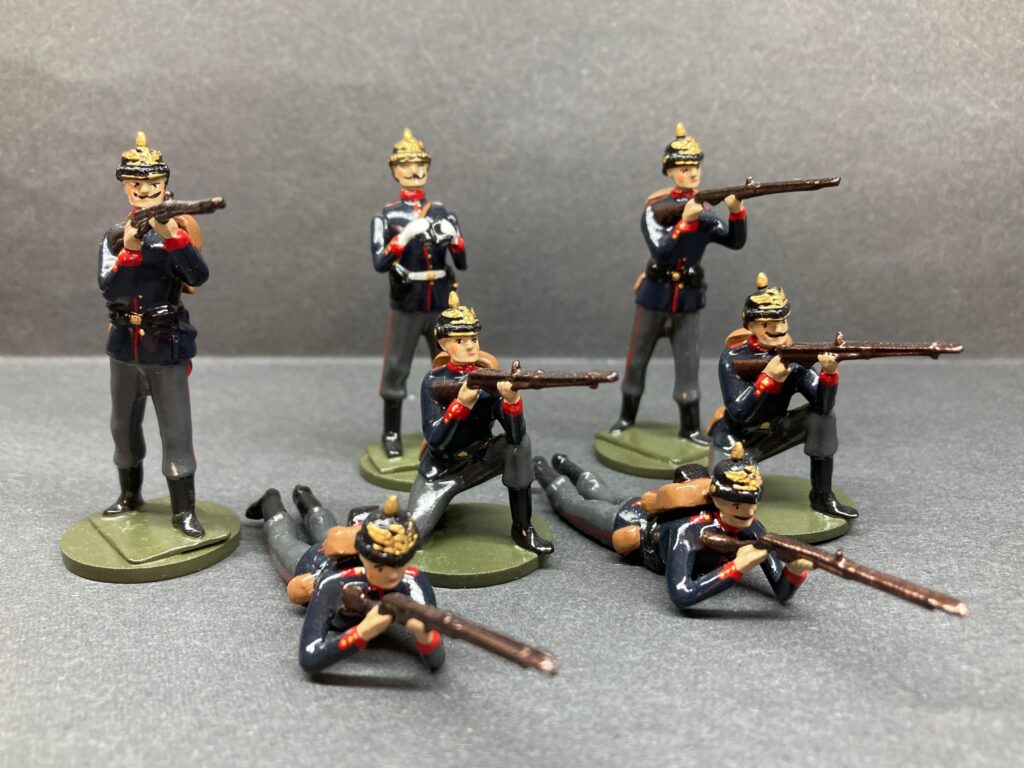 16 Dec 2021
Well, well, well, yesterday I got the small packet with both RPWorld Models inside, carefully wrapped in a box inside the envelope. Fantastic service. They have won a place on my future orders list because they were true to his word.
Check on the entries below and you will follow the whole story. From the 9th of November to the 15th December it is not a bad turnaround at all believe me! A great experience. Of couse if I had ordered 50 soldiers the delay would have been proportionally longer… but this does not matter… excellent communications all the time during the process.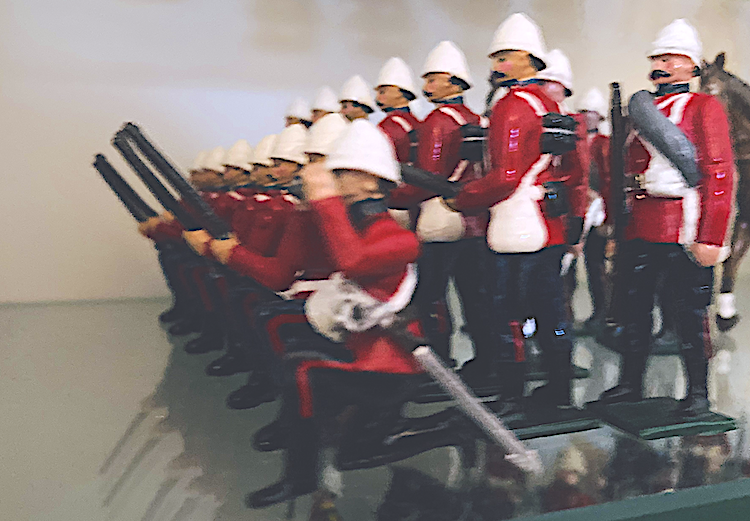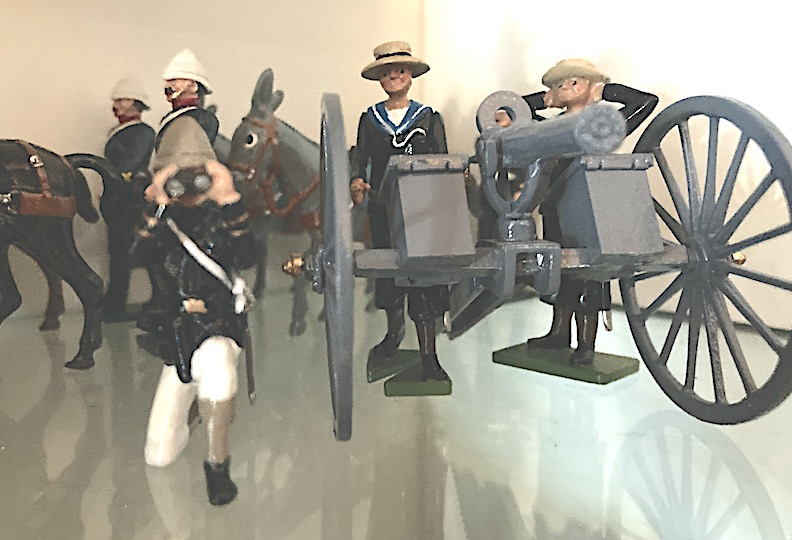 15 Dec 2021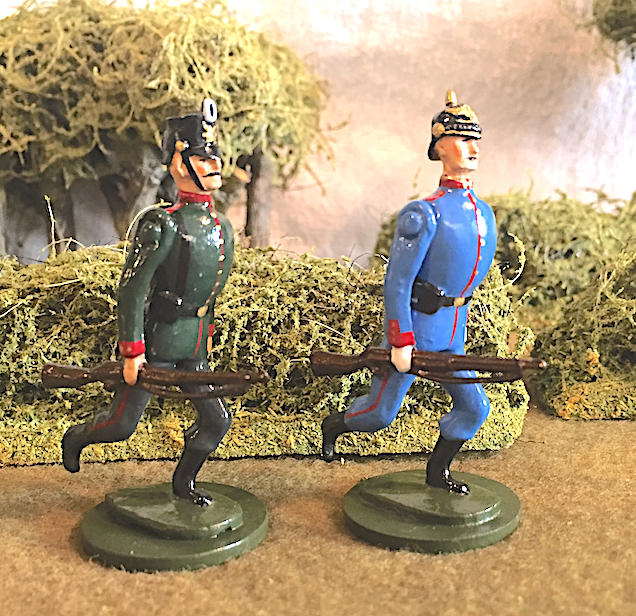 No news from Andrew yet… puzzling… the bets are still on. Royal Mail, The French and the snow are a deadly combination for orders to arrive… Oh Dear!
14 Dec 2021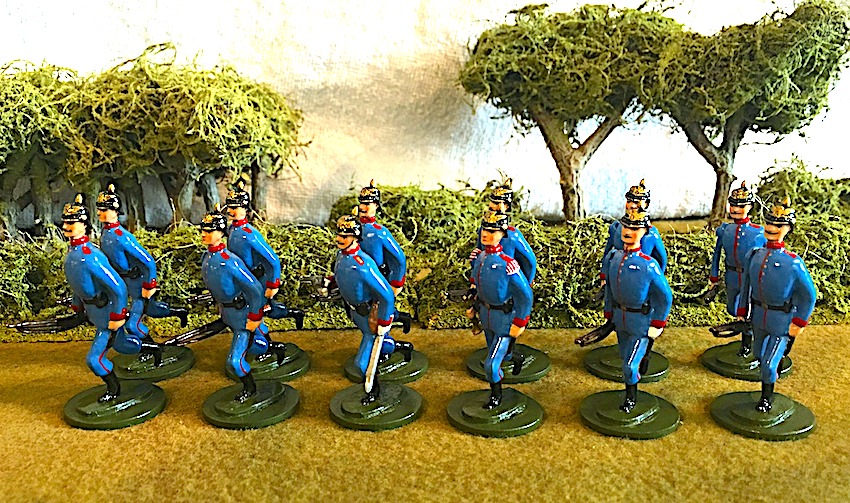 I really love those old toy soldier style "Toy Soldiers"… it makes me feel less lonesome to share the hobby with people like Aj Firth, Paul Watson, Daniel Borris, Andrew Stevens, and the whole lot in the FaceBook group www.mytoysoldiersandme.com which has reached the 150 members mark without any kind of effort from me… Glad you like it!
13 Dec 2021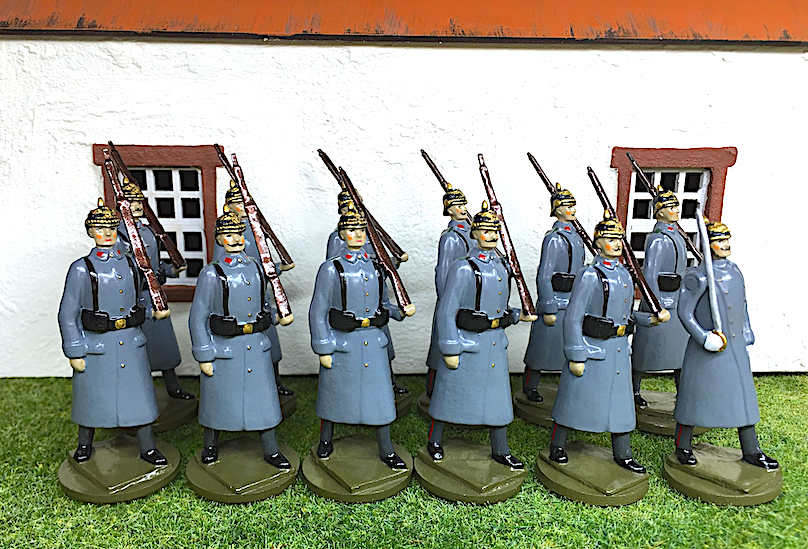 Andrew is active on FaceBook but has not answered yet… which in my convoluted mind can only mean two things: 1.- He is nearly there and waiting to post a finished pic… (the optimistic version)… 2.- He can not send the figures in time for X'mas and does not know how to say this to me… (pessimistic version)… make your bets…
12 Dec 2021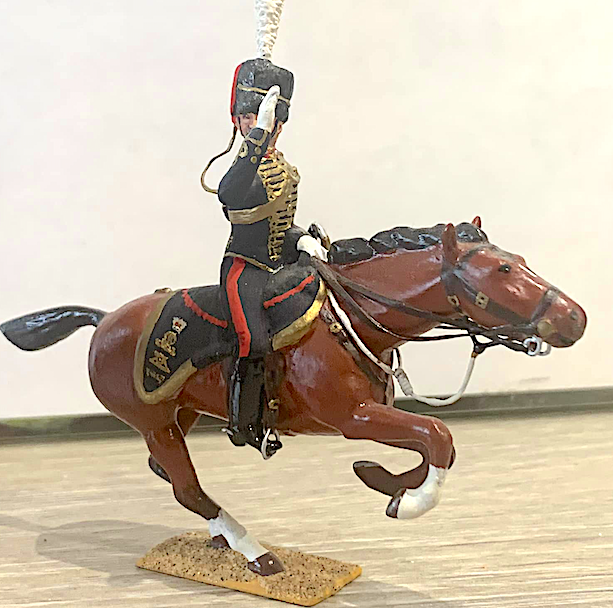 Just this pic today.
11 Dec 2021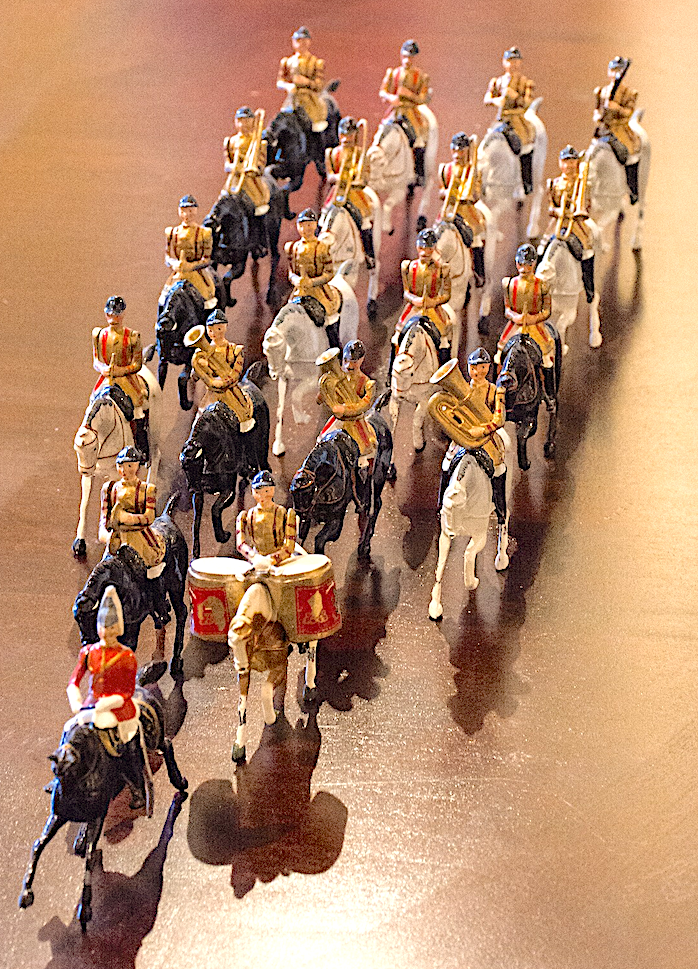 Never could adapt myself to 6mm Napoleonics… have read too much about small tactics (form square etc) the abstraction needed to call a stand a Brigade comes easily enough in the American Civil War period (do not ask me why) but it is impossible for me with Napoleonics. The use of columns versus line and other myths (thank you Bernard Cornwell) are too deep ingrained in my head… and then… how to paint the uniforms detail?… After all 25mm Minifigs was not such a bad choice in the late seventies for detail matters… in 6mm Adler (I had a feud with Adler that ended not been a customer of them after a single order that turned a bad experience… I guess they have hundreds of satisfied customers… the minis look superb even if heads are on the BIG side… but have seen very nice paint jobs of them).
Did send a message to Andrew from REPLICA yesterday… using messenger in FaceBook… no answer yet… deep fears about getting the toy soldiers for X'mas…
10 Dec 2021
Just a pic today… no inspiration to write a coherent (or interesting) entry.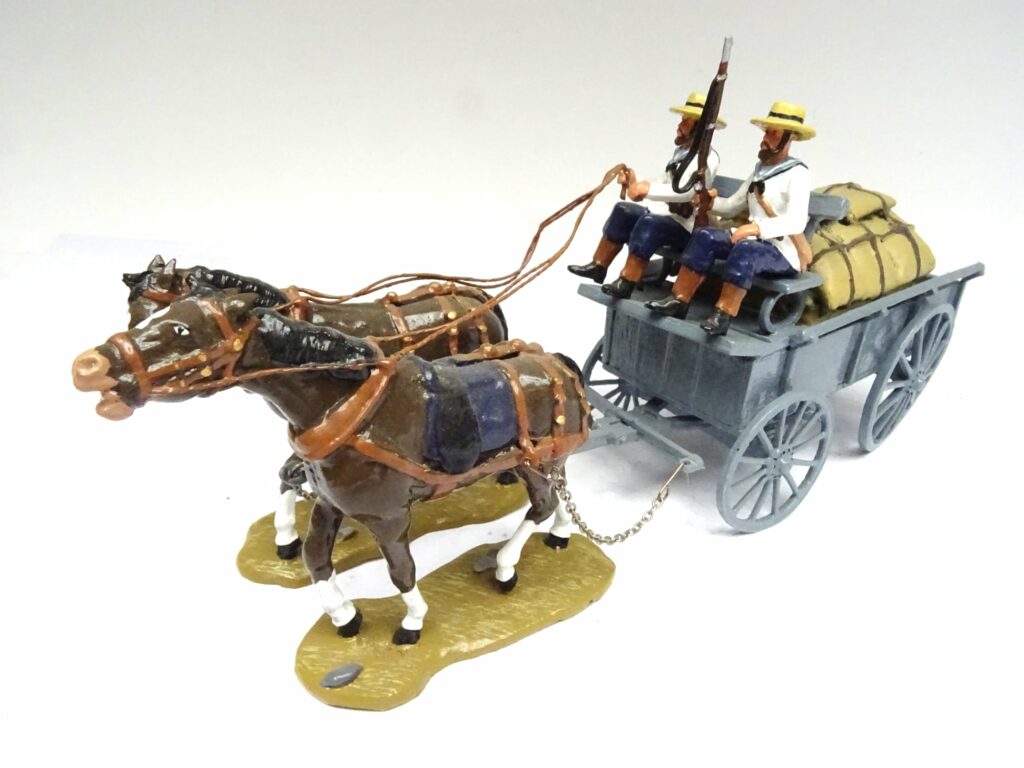 9 Dec 2021
Finished tampering and painting details on the Baccus 6mm mounted minis of the Pony Wars range (mainly the command one's). Next batch would not prove so conflicting (Fort, Stagecoach, Indian Scouts and extra command figures)… it would be 6 or 8 weeks before I get them… so in the meantime I will do some pics to show you my "work" (LOL).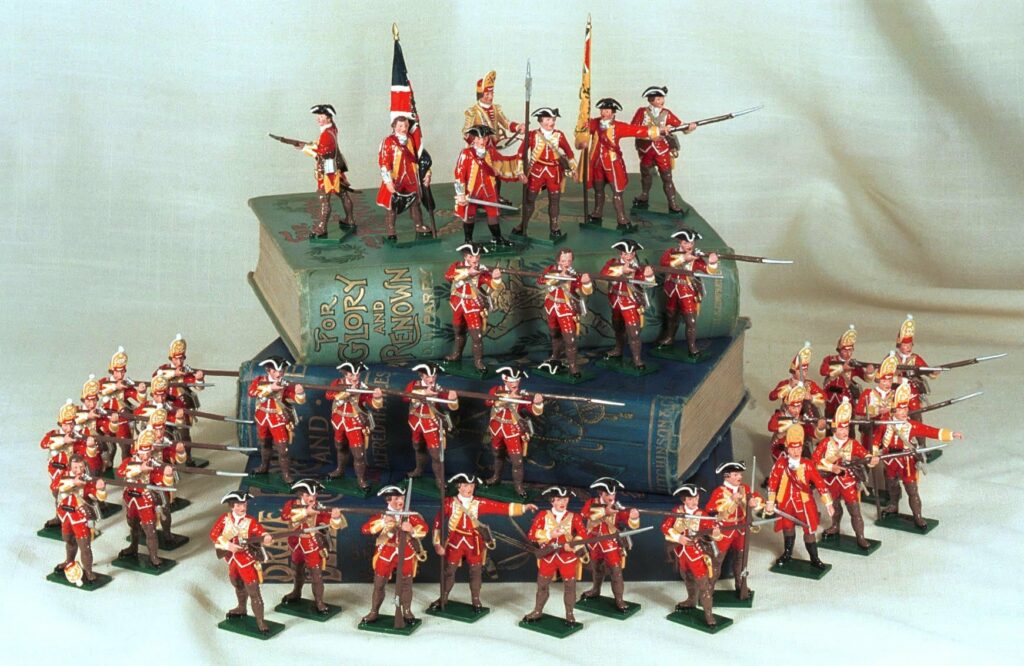 8 Dec 2021
Just thinking a bit more… I used braces on the NCO's and white gloves on a type of officer!… It's a question of method I think… and having the minis on the table with the POSKA markers help a lot…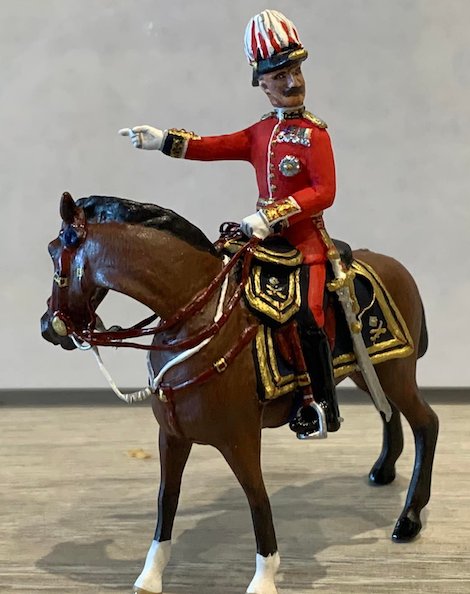 7 Dec 2021
Busy making the markings on officer's and NCO's for my Pony Wars Baccus 6mm range… things quite under control. Sometimes I ask myself why bother at all in 6mm?… I mean I can not see them myself (without a magnifying glass) so in the middle of a big table… those are the mysteries of a wargamers life (I need to know they are there… inexplicable using a rational thought).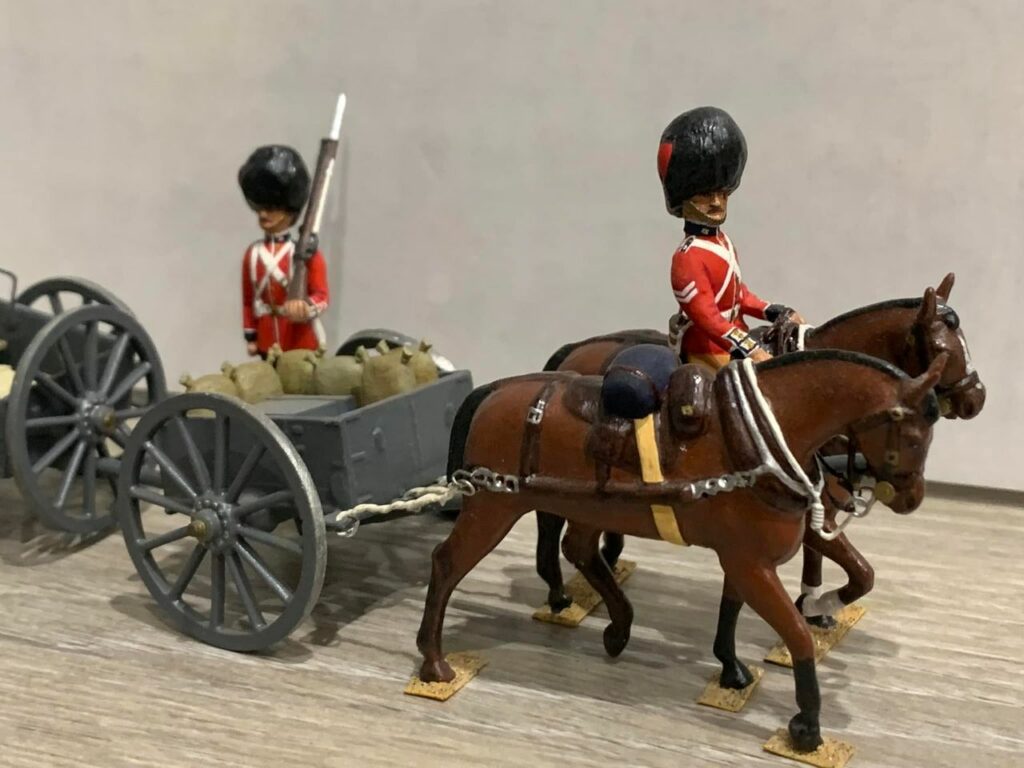 6 Dec 2021
Funny enough!… seen the two figures I ordered finished in FaceBook!… I imagine they would be in the Post somewhere… LOL… Excellent paintjob… exactly what I asked (and payed) for. For once a company that delivers in schedule is also very good news. Here are the pics.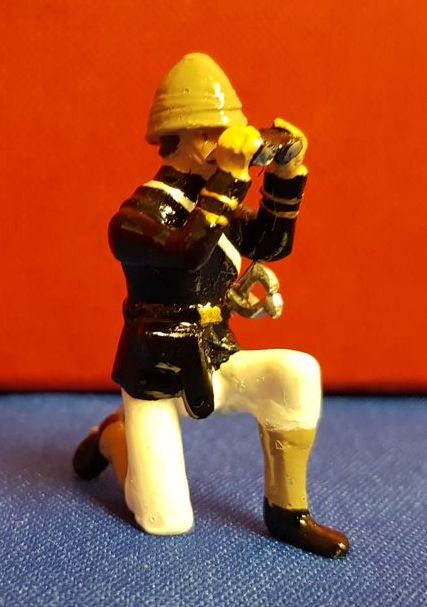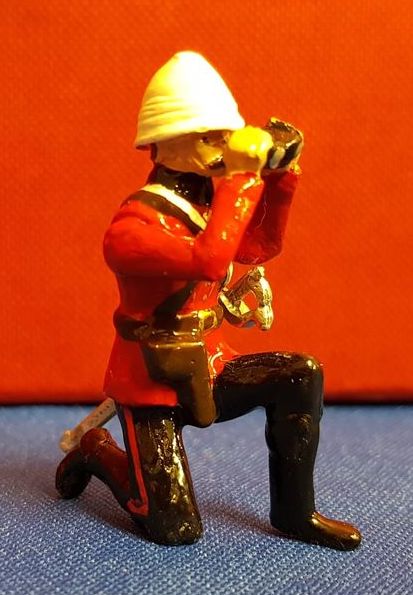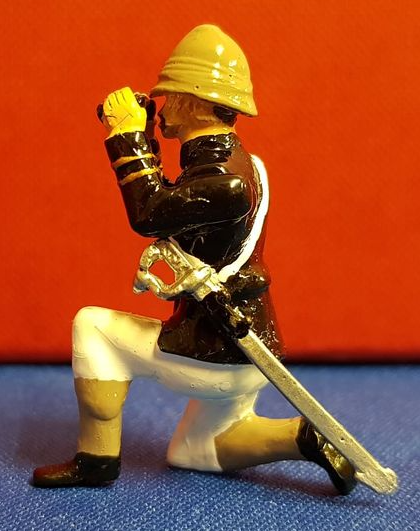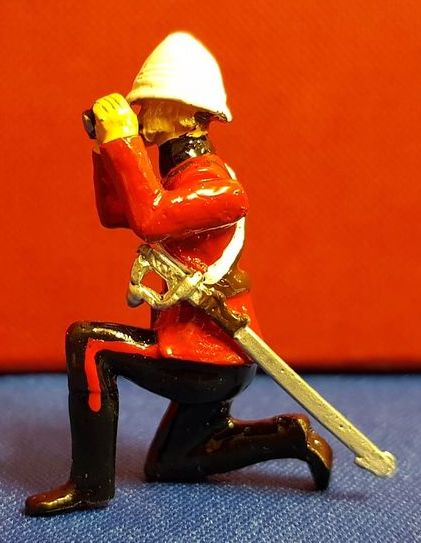 5 Dec 2021
Finally have found a trick to distinguish between officer's ranks on my Baccus 6mm: Captain, First Lieutenant and Second Lieutenant… shoulder bars notwithstanding… I use different markings on the horses (white flash in forehead or either one or two white socks)… easy huh?… simple solutions are the best.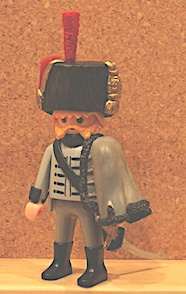 4 Dec 2021
Very good communications with Greg and the new "final 6mm Baccus order" (LOL) is "on".
Guess I am going to paint new marks of rank on the Pony Wars minis, starting with officers and then NCO's… a tricky business in 6mm… but must try to do it to properly structure the command.
No sign of new parcels yet. R.Prati and Andrew Stevens must deliver very soon I hope (even if this weekend is the London Toy Soldier Fair!). Same with books the Russell one is quite delayed.
Will give you an "exotic" pic today.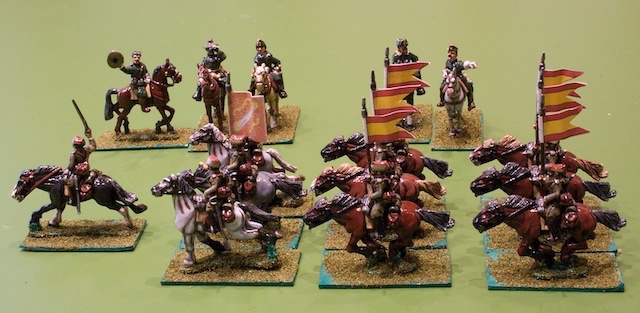 3 Dec 2021
That's it. Finished organizing the 6mm Pony Wars stuff (and repainting the guidons red over white!). Amazed by the lack of many characters in kepi I will be able to field because there are so few kepi minis in the packs!… so back to Greg again pestering for some badly needed additions to my collection… aka The Stagecoach (Saw the film yet again yesterday 's evening), The Fort, The Scouts and some additional Kepi clad officers… the never ending story I guess.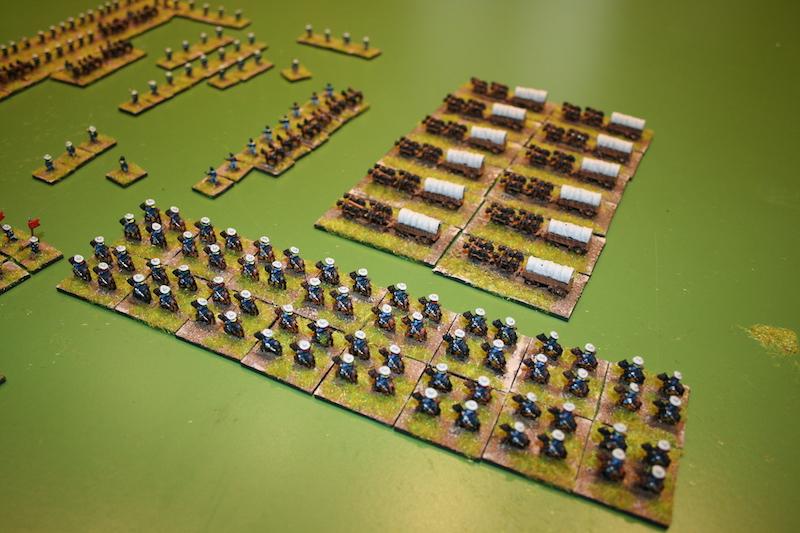 The wagons were initially intended for the ACW (and they will be used there too!).
2 Dec 2021
Once I dwell on memories I can not stop so easily… it was a so important decision back in the late seventies to go 25mm or 15mm… was I wrong?… with perspective you could say YES! I was wrong… if I would have gone 15mm I would probably have stood by them even longer… and I doubt I would have sold them… I would have had double (in fact 4 times more space in my wargames table and my megalomania about commanding Armies rewarded… BUT (and of course it is a big BUT) the aesthetics of the figures (even from the same brand aka MINIFIGS) were not the same… 25mm were more "nice" and easier to paint to a neophyte like me… and mind I have always been an artsy person (I am a retired Architect) and a natural doing arts&crafts… but painting such a small scale as 15mm (or so I thought back then seemed a daunting prospect!)… Anyway I wish I had gone 15mm (because I did not).
The first ever unit (23 minis) I ever painted were the Gordon Highlanders of the Waterloo period (cheeky bastard going for tartan as a first!)… Since then the Gordon's have been a fix on all my collections up to 54mm.
The fact that my only regular oponent and companion was my brother limited a lot my wargaming experiences… excepting Martin Goddard (from Peter's Pig fame) and that trip to SALUTE… so there you have it in a nutshell a mostly lonesome career in wargames but very satisfied by my collecting on all scales… as they say… we are "builders of Armies"…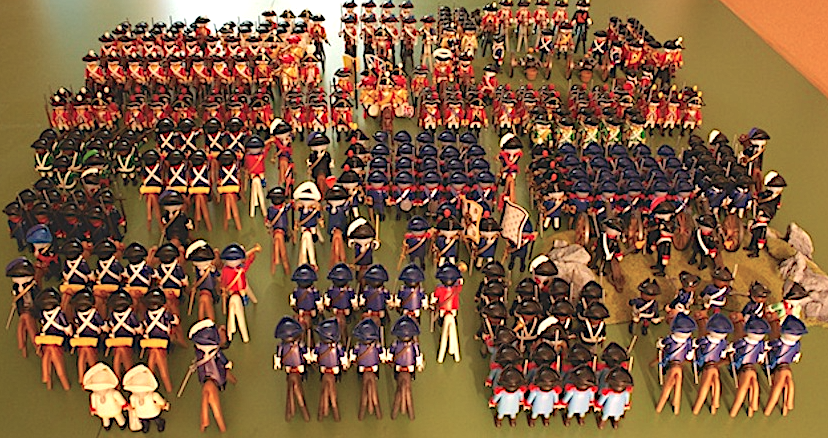 1 Dec 2021
I have messed with so many scales in my toy soldiers' life that I would like to break a lance in favour of the "other" scales (meaning the one's I am not involved with nowadays).
For nearly 30 years I was a fan of 25mm MINIFIGS… and even if I have sold my collection and abandoned the scale… I was happy with them during years and years… so in fact it is up to you!… I can say that for a game involving various Corps or an Army I think 6mm is unbeatable but the joy of painting 25/28mm minis is there to be enjoyed (specially if yo can wargame with friends in a Club with BIG tables)… So here I leave it to you today!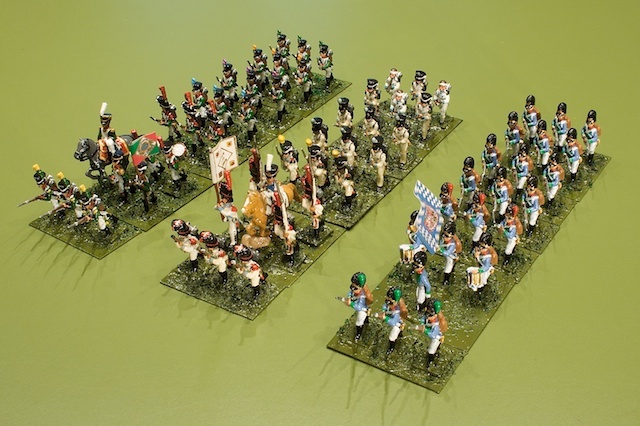 By the Way enjoy reading (again) David Chandler's magna opus THE CAMPAIGNS OF NAPOLEON.
30 Nov 2021
Still in the process of sorting out the 6mm minis of the last batch from Greg… I am doing this off hours and with a quite restricted lapses of time each time… but in no hurry… after all… better safe than sorry!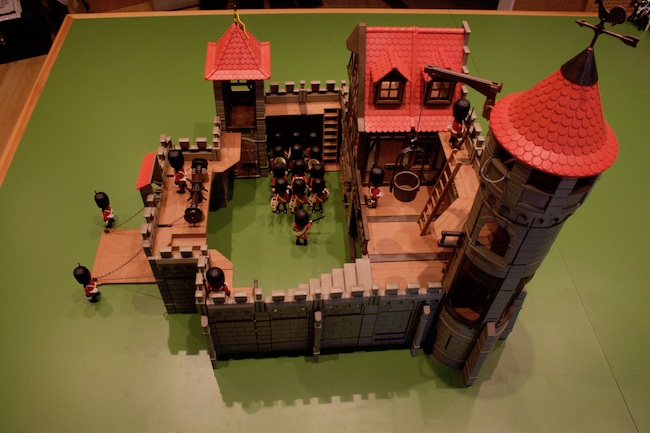 29 Nov 2021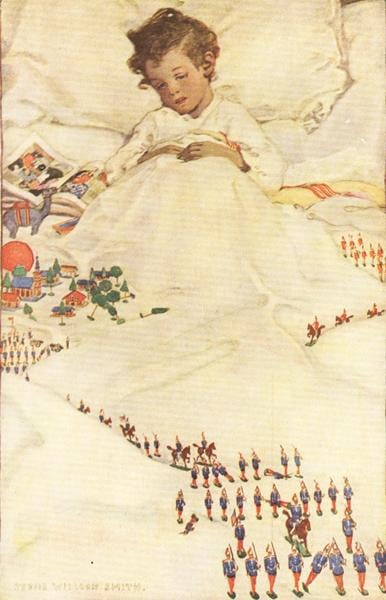 I "stole" this drawing from faceBook… Daniel Hodgson posted it (REVEILLE) and I could not resist the memories it brought back…
December can be a month full of arrivals if all goes well.
28 Nov 2021
Done. I mean… yesterday I sent an email full of enquiries to Greg… no answer yet… He probably needs to contact Peter at Baccus…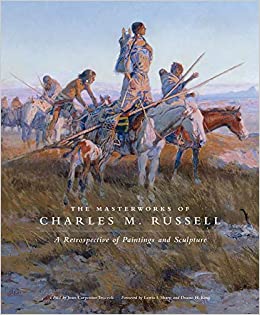 27 Nov 2021
After deep thought I guess I will contact Greg (yet again) with 2022 in mind… the packs of the Pony Wars are alright (quite fantastic) but short of figures in kepis… mmm… thinking how to solve that… Greg is always helpful!… Interested too in the Stagecoach model and the Indian Scouts… So another order is fermenting in my head already…
By the Way look at those excellent communications:
Hi Alejo,
Just to let you know that your 2 figures are almost ready and will be shipped on Monday.
Many thanks,
Jon.
From Roberto Prati (Roberto Prati <rprati@proweb.co.uk>)
Do you remember those two officers (54mm) kneeling with binoculars?… let's see what Royal Mail does… look at the post of 9th November for details.
My quick answer…
Good Comms…Cheers
Alejo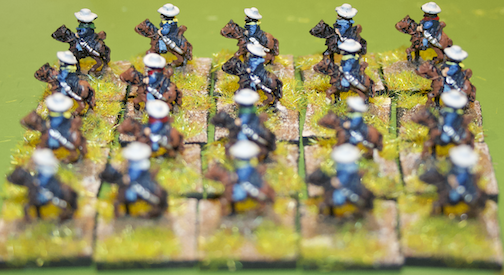 26 Nov 2021
The Life and Art of Charles Schreyvogel, Painter-Historian of the Indian-Fighting Army of the American West (that is the book arriving today I guess…)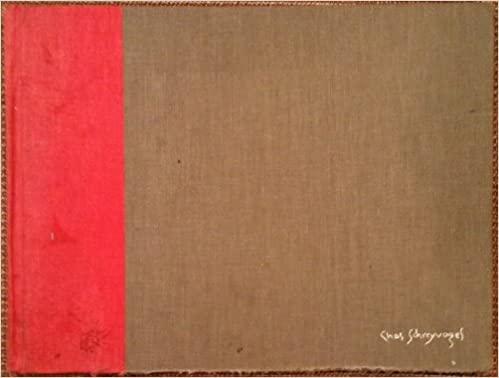 I still have to organize the minis from Baccus that arrived yesterday, meaning decisions about number of officers and NCO's etc etc etc. But at first sight it would not be a problem to create scenarios for the John Ford Cavalry Trilogy.
25 Nov 2021
Finally could go to the office and open the parcel… nothing broken!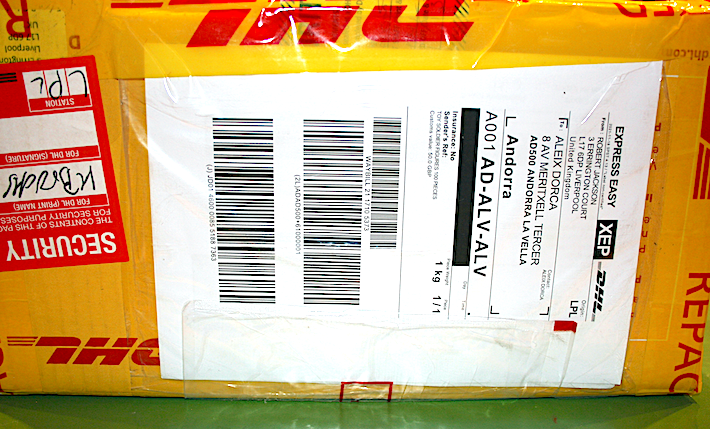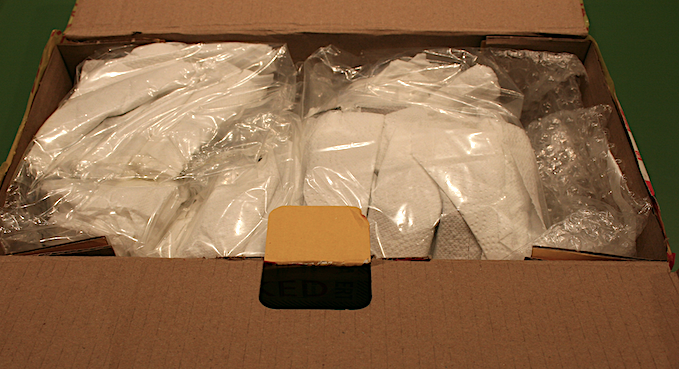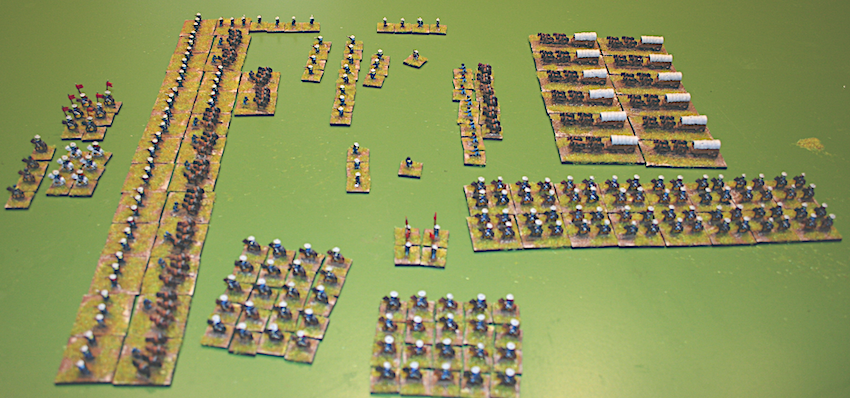 The sharp eyed from you will see guidons all red… that would be rectified… doing a "Miss Olivia Dandridge" would be a challenge but as I have 3 mounted minis with kepi I guess I can try… conversions in 6mm are complicated when it is not a matter of colour or paintjob.

24 Nov 2021
Yesterday afternoon the parcel from Greg arrived!… no time to open yet!… dying to do it… lol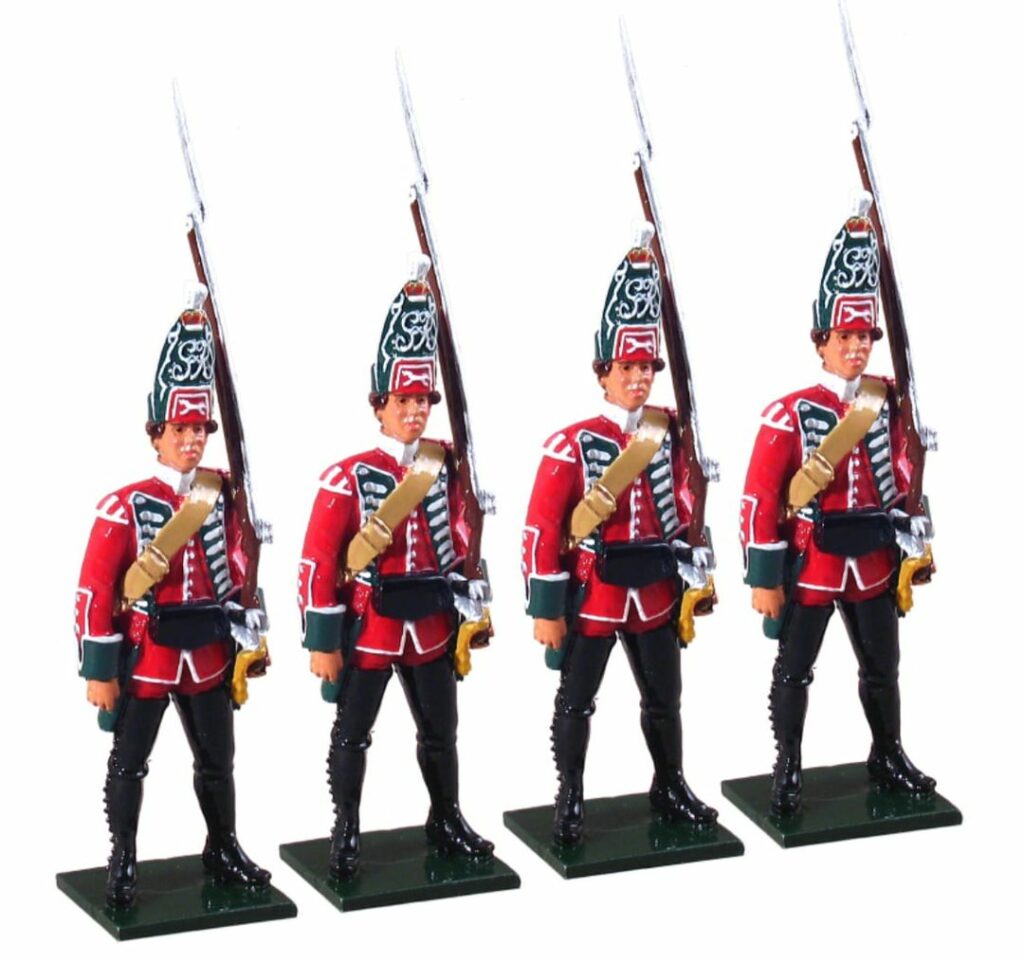 23 Nov 2021
Today just a couple of shots by Andrew REPLICAMETALMODEL SOLDIERS recent production… this is why I am a customer…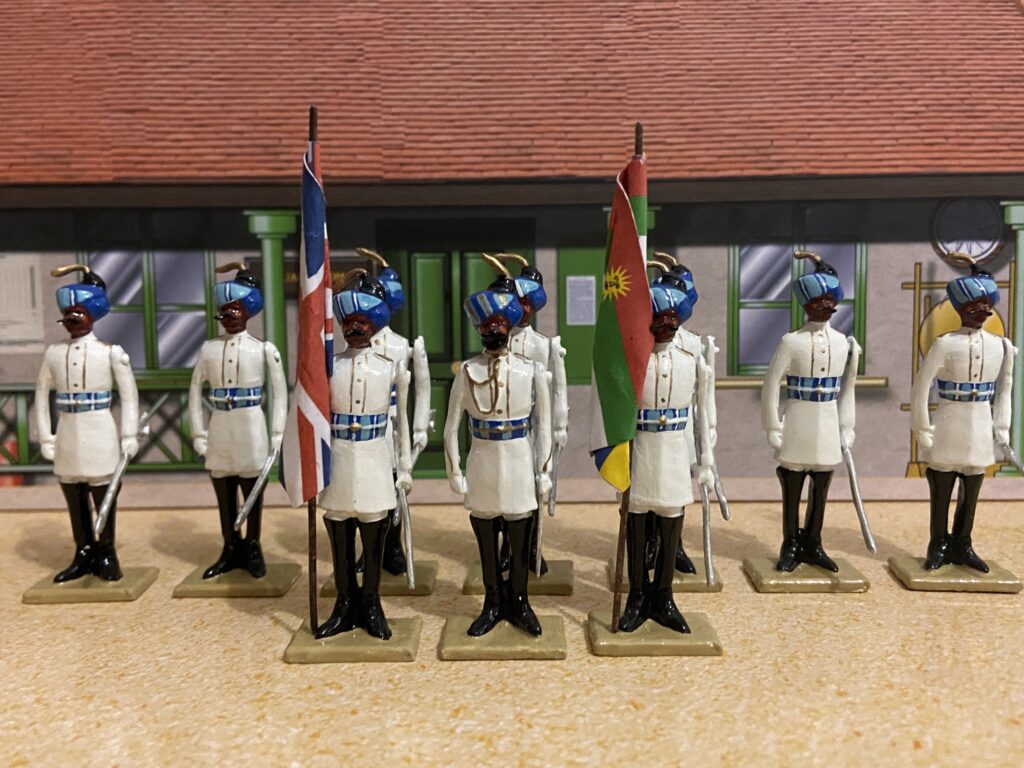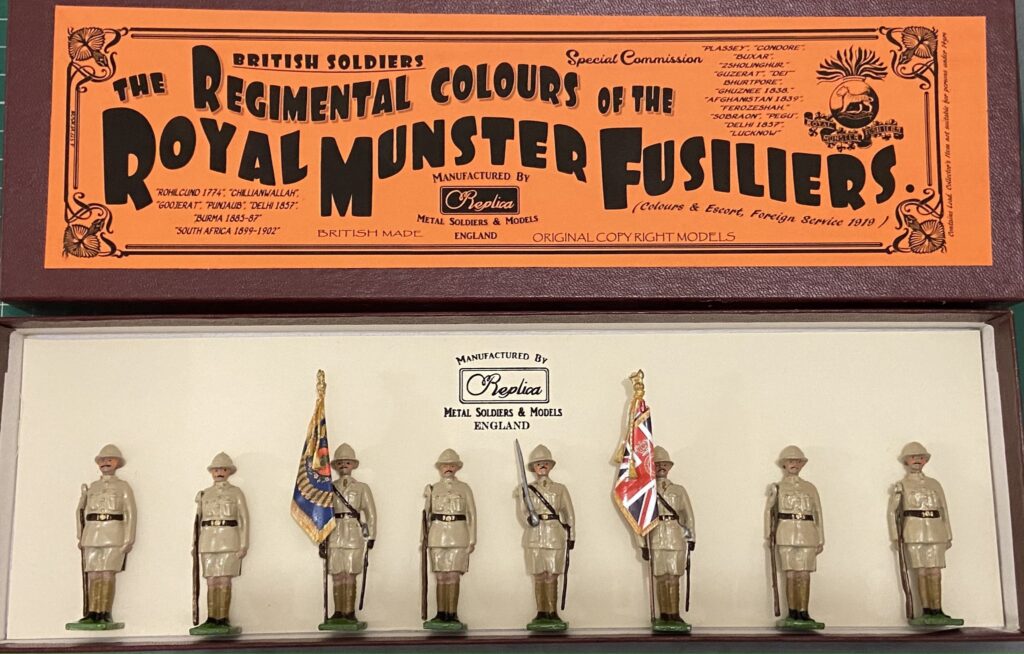 Seems I am going to change the format of the Blog (following wise counsels from my eldest son!).
22 Nov 2021
Angus Konstam delivers… excellent book so far! (JUTLAND 12 hours to win the war).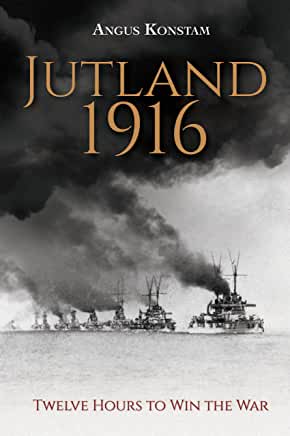 The Elmer Kelton book is also very good!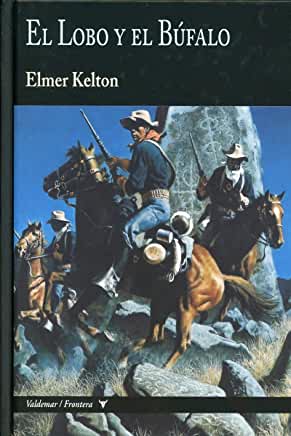 So I read a chapter or two and switch books. Trying to do not rush them because nothing else is coming from the post… I fear already the X'mas rush is ON. Delays & Delays.
21 Nov 2021
Build First… Built Fast… each one better than the Last. (Jackie Fisher about Dreadnoughts in the early XXth Century…) So true in wargames units producing… but a receipt for disaster in the Real World… Arms Races are foolish because the temptations are great… well… I was born after the Atomic Bomb… and the fears of a lifetime has not been realized… Thanks God!
This is why I stop my wargaming at 1900. and have no romantic illusions about real wars (even pre 1900).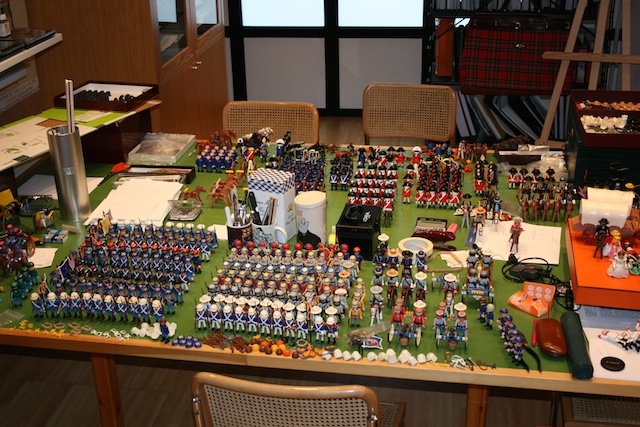 20 Nov 2021
Oh dear!… just realized today is Saturday… so no dispatching of parcels I guess… which means I will get the Baccus minis early next week…. well… shit happens.
On the other hand I am decided to show the process step by step. First I show you today the original order:
Hi Greg,
Here is the detail of the US Cavalry troopers:
Pack PAW01 – Us Cavalry (mounted)
There are 6 guidon command strips (of three minis) in the pack. There are 6 Officer command strips (of three minis) per pack
That makes 36 minis to be based singly in bases 15x15mm (Pendraken?) All with yellow stripes on breeches.
There are 28 line strips (3 minis each) per pack. That makes 84 minis.Based in two files in column 4 minis in base 30×30 Baccus. 16 bases makes for 64 troopers. Let's have the other 20 minis in single 15x15mm bases (based singly).
You know the uniform, but an important point I want off-white hats NO GREY as in Baccus pics.No yellow stripes on the troopers breeches.I know this is 6mm but I will like to have braces on them as per John Ford's films. Off white too.
Pack PAW02 – Us Cavalry (dismounted) There are 4 command strips of 4 minis. 12 (should have said 16!) minis to be based singly in 15x15mm bases. All with yellow stripes on breeches.There are 16 line strips of 4 minis. Group by stance (thre firing – three reloading etc) Bases 30×30 Baccus . Single line centred in base. Three minis per stand. 16 units 30×30 stands. That leaves 16 minis to be based singly in 15x15mm bases. (To remove casualties).
There are 20 strips of 3 horses and 1 horseholder.I want 48 horses in groups of 4 with a horseholder (that makes for 12 minis) and 12 units of 30×30 bases BaccusThe rest 8 horses two per base of 15x15mm. And 4 horses based singly in 15x15mm base.The rest of the horseholders to be based singly i 15x15mm bases. 8 minis singly.
120 mounted Cavalry 100 dismounted minis 60 horses with no rider
Bases as needed.
Guess that makes the count. And will fit in that DHL box. Wrap carefully… lol If in doubt come back to me. Please acknowledge receipt of instructions and give (please an aprox estimate of time of execution… aprox)
Cheers Alejo
By the way: a word on horses shades.
Buglers white horse or very light grey.The rest as you please, but include only a few black horses, and a variety of bay hues, maybe one sorrel or light chestnut would do too in a 4 troopers stand. As mixed as possible once you base them.
Same with colour of neckties 50% can be Hollywood yellow, but the rest: sky blue, white, red and light green… and obviously no stand with 4 troopers with all yellow neckties.
Those instructions included a mental maths horrid mistake 4×4 is 16… not 12 as I assumed hurriedly!.. that mystified Greg a bit but was quickly sorted out!
Next week you will hopefully see the result.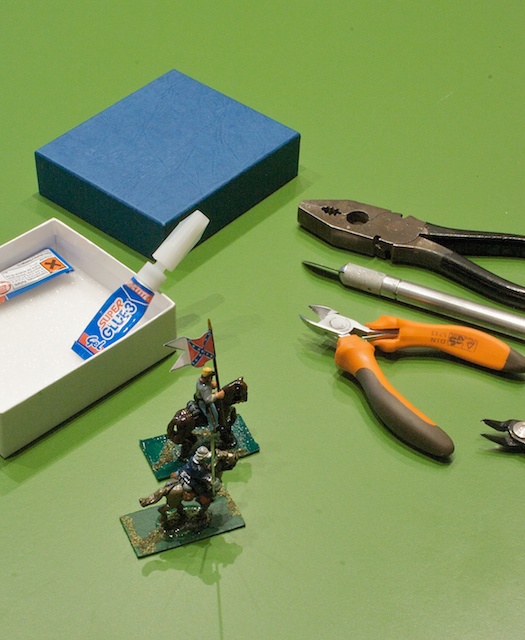 Cheers
19 Nov 2021
Today got a communication that the parcel from Greg is here in ANDORRA!… maybe tomorrow would be delivered home.
Quite late today.
Just a few more words… JUTLAND (book) also arrived today! Hope Angus Konstam delivers…

18 Nov 2021
Yesterday, in another example of Good Communications, got an email from Greg teling me he has got the extra bases from Pendraken… so maybe next week (DHL been so fast!) I will get my Pony Wars (John Ford) stuff here in Andorra. Glueing the already painted minis and adding flocking been so fast too!
It is my intention to show you step by step how it is… getting the parcel, unwrapping, sorting out, and deciding on "variations or not".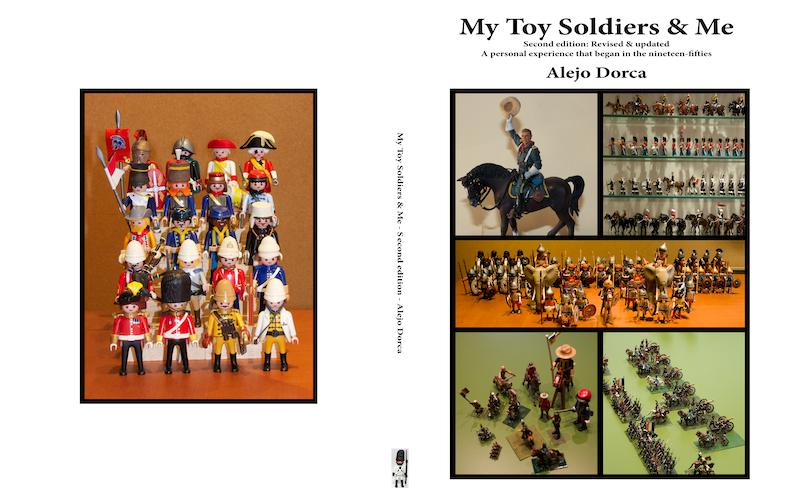 17 Nov 2021
I think it is time to close this particular digression… summing up:
10.- I was drawn to wargames as a colateral love of books… I have always read a lot, since my early childhood, was an early reader, had a nice collection (grandad own) of books at home at my disposal… and never ever once no one at home forbid me any kind of book… So I am first and foremost a compulsive reader, and as such I was exposed to wars (even the Bible has wars on it… and yes I read it cover to cover too). I always was fascinated by the conflicts of "humanity"… films were a later influence (loved movies a lot in my time)… when I was born it was the wireless at home … lol… no TV until much later!
There you have it I collect 54mm Toy Soldiers as a hobby, I am interested in wargaming (to a point) and currently have been collecting wargames minis in 6mm (mainly Baccus and also some Rapier). My evolution in the world of toy soldiers has been explained in detail in this points. If I ever live that long (from THE QUIET MAN) I will be 70 years old next February. I am at the end of the hobby and only add small things to it. IT WAS FUN.
But I will read as long as I can.

16 Nov 2021
7.- There you have it in a nutshell… I adopted MINIFIGS 25mm and was a faithful customer for nearly 30 years!… I had my megalomaniac Waterloo project, ACW, AZW, Colonials, even Ancients!… Of course I finally evolved and started buying other trade marks in the same scale to fill the gaps in the MINIFIGS Catalogue… To the Redoubt, Wargames Foundry, Dixon, Old Glory, Connoiseur (ex Hinchcliffe) etc etc etc.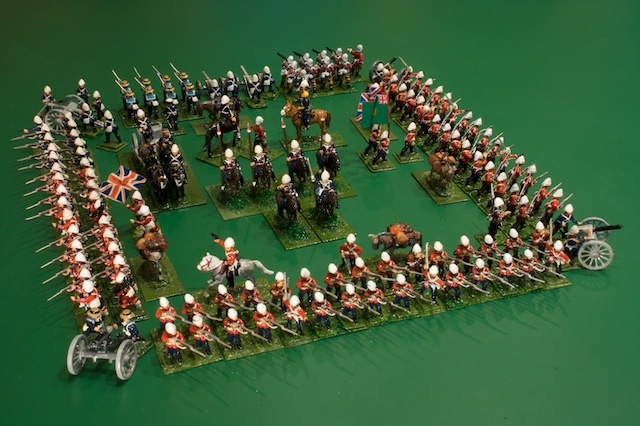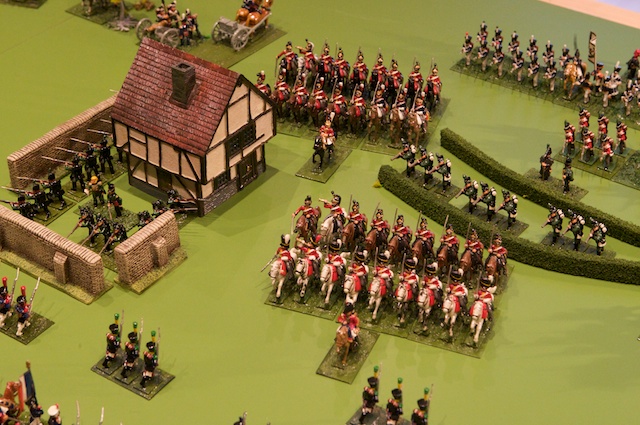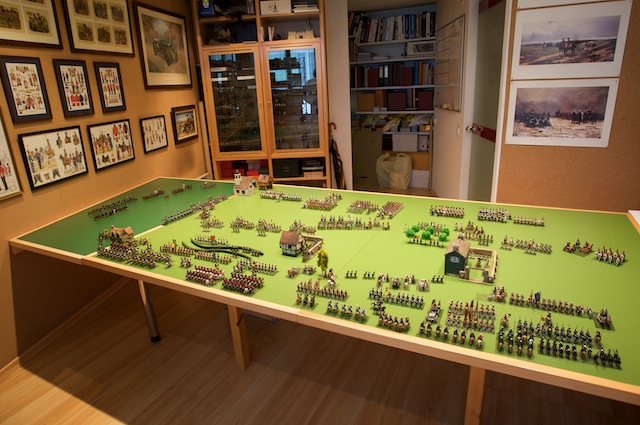 8.- Then I had a very deep crisis with 25mm and wargaming in general… I was fed up (note that I still collected toy soldiers in 54mm on the side), and I sold all (99%) my collection through ebay. A drastic measure. The fact that I could not paint anymore because the smell of paint caused alergia in a familiar too! contributed to it but was not the main reason… suddenly I was concerned that my grandsons will considere me a warmonger!… so I went Playmobil to play with them and no painting involved (well not a lot at the beginning).
9.- Then one day I discovered that 6mm was less detail obsesive (the Kevin Dallimore syndrome affected me too… when people start painting 25mm as if it was Military Modeling you know…) and I liked the more room to maneuvre, the Baccus POLEMOS concept of a BRIGADE been a stand of 60x30mm had a lot of appeal… and it was like counters (tridimensional with flags) in a boardgame… bloodshed in the tabletop was less up and personal… so there you are I did it all again in 6mm. Sold some part of my Playmobils but mainly they departed as gifts to my grandchildren!… and I kept some for fun.
to be continued
15 Nov 2021
"continued"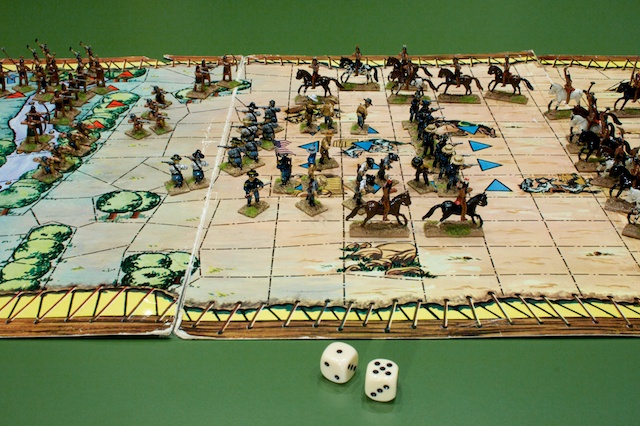 The second game by GREAT BATTLES OF THE WORLD along with the impressive B&W film with Errol Flynn induced a long time fascination with this particular battle, have nearly a hundred books about it and have wargamed it in all scales I have messed with (including Playmobils).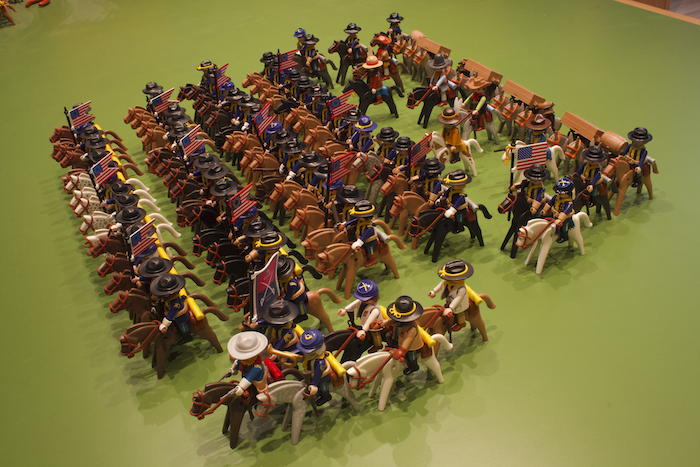 6.- While I wargamed in "plastic" AIRFIX… I started buying the red boxes of 54mm Tradition of London toy soldiers… just for display intentions. In one of the visits at the shop I was informed (quite rudely) that they did not deal with "plastic rubbish" (a bit of a snob the guy at the shop). Then I discovered MINIFIGS 25mm (it was a hard decision between 25mm and 15mm back then… but as I painted them myself and starting with Napoleonics I guessed the detail would be easier in 25mm… lol). Napoleonics was NOT the only period of course I touched almost all periods in the MINIFIGS catalogue!… obviously enough ACW was included matter of fact because I have done it six or seven times in different scales in my long journey… see below (curiously I built only the Union Army and my brother the Confederates… as they were easier to paint and get the basics info about uniforms (having done them in AIRFIX 20mm)… so we wargamed earlier the ACW than Napoleonics (that last one was a megalomaniac project with Waterloo as a final objective!).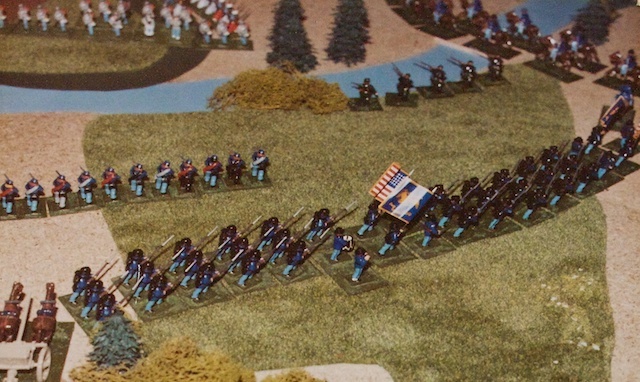 To be continued…
14 Nov 2021
Sunday… today marks the first month of existence of the "real blog" post… it has not been such a chore or complicated thing to do… but I admit it is very difficult to say something "new" or "interesting" every day. Well, I try at least!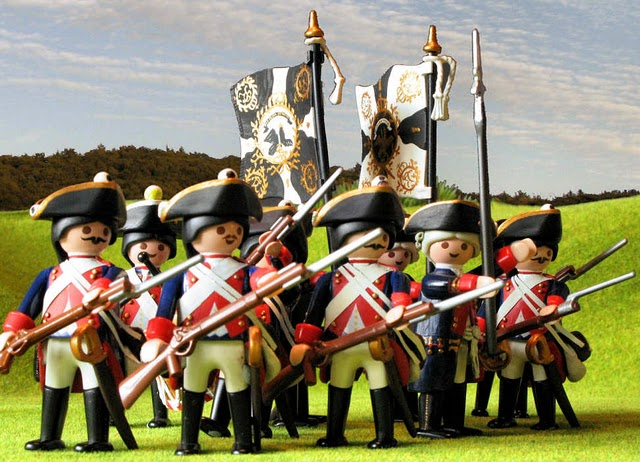 The History of my wargaming life is well known… but I will do a quick resume.
1.- When a small child I was given toy soldiers to play with. Mainly "rubber" or "cautchuc" from Spanish manufacturers. That would go on along the years… ( and nicely accumulating a lot of them) until when I was given an splendid gift from my parents (coming back from London) of a William's Britain set (a double tray magnificent box of Coldstream Guards)… let's see if I found a pic of it in Internet. No luck!… maybe one of these days… say about nearly a hundred toy soldiers and sentry boxes… Colour Party, the Band, Marching, at the Present, you name it it was there… WOW! I played with them (and other generations of children in my family) for such a long time… that I think was the origin of my true collecting addiction.
2.- I got a game of METAURO from the GREAT BATTLES OF THE WORLD series one X'mas… and from it I learned the mechanics of using dice, measuring movement etc. Later we used this knowledge and extrapolated it to other periods. With my small brother (ten years younger than me) we played elementary wargames (we did not know the term yet… battles we called them!) on the dining room table… mainly with Napoleonic 54mm plastic toy soldiers.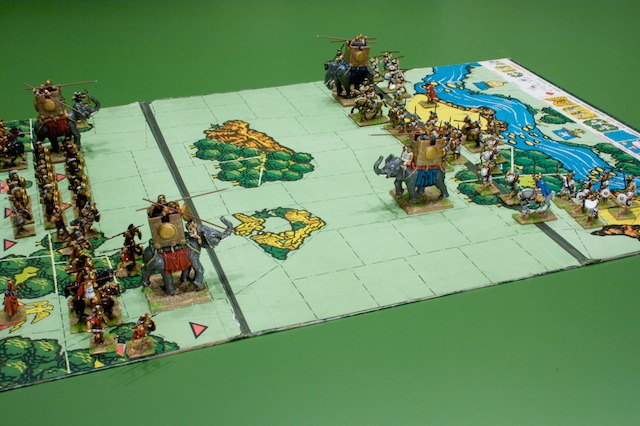 3.- Then I grew up.
4.- I will spare you the details of my adolescent/teenager years.
5.- Then I married. And what I did found in London on our honeymoon? AIRFIX 20mm boxes of the American Civil War!… I had already discovered the magazine BATTLE FOR WARGAMERS… and then my brother and myself collected the minis and staged a proper WARGAME with them… it was a draw… too afraid to lose in both sides I guess… I have pics from it!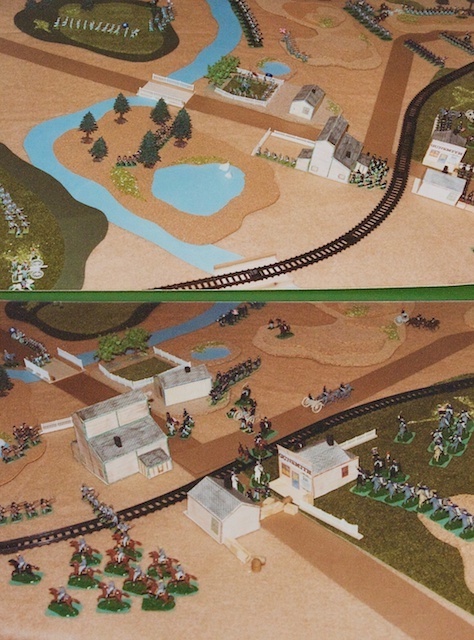 Well enough for today… this is becoming too long… to be continued.
13 Nov 2021
Planning a little trip (after two years -nearly-) but I wish I was at SALUTE! (the only Wargames Convention I ever have been to in my whole life (not true after all I was once TO THE REDOUBT one)… lol (The London from Andorra we did in 4 exhausting days two of them passed in trains crossing France… a fantastic experience -SALUTE… not the trains-). My youngest son was in the 4 people party (the other been my wife and daughter) and we did participate in some of the games… he soundly beat me in all of them!
End of November early December I expect some parcels… at last!… those 6 months delay periods by Andrew Stevens are killing my nerves… lol
And I never seem to learn or stop ordering from him!… not going to write it here but an idea for next year is already looming. I will never learn (repetition).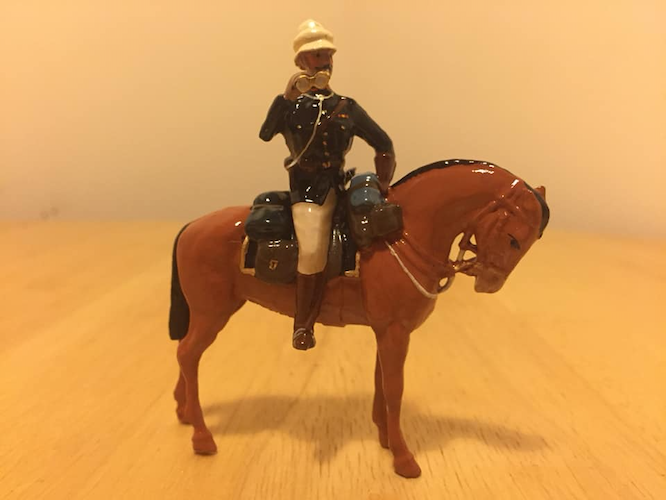 12 Nov 2021
Such a busy day today!
I am sorry to do not have had more time for my blog… so here is a pic from another collector (figures are not mine!) Playmobil 75mm.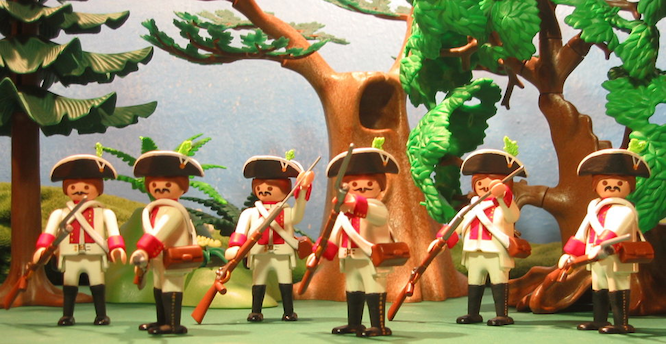 11 Nov 2021
Yesterday I bought a bit of modeling clay for the customization of some minis in 6mm (the batch that has to arrive from Liverpool), you see Miss Olivia Dandridge is a must have in Ford's scenarios… and of course there is no model available. Guess it won't be much difficult… the rest would be easy paint jobs. Would show pics before and after. Be kind with my efforts.
Once I got some 54mm by All the Queen's Men, but with the "Prussian style dress helmet", very nice models (a bit on the small 54mm range) and there included was a "fille du Regiment with kepis" and a small dog, see below the pic included today. Finally sold them to make place for more wanted items.

10 Nov 2021
Greg has emailed me saying he lacks some 15x15mm bases from Pendraken which mean a slight delay. No Problem. Still a good example of extremely well managed communications.
Got a new book from Valdemar Frontera series (in Spanish)… EL LOBO Y EL BUFALO by Elmer Kelton, number 25 already!… eclectic but mainly a good selection of titles and authors. This one of course is about a Buffalo Soldier.

9 Nov 2021
Yesterday the deal was completed.
ME:
Hi Jon,
The Royal West Kent officer is number 0054 of the Tradition of London catalogue (as per your webpage).
The Officer Royal Navy landing party is number 0042 as above.
If using Royal Mail we stick with this two models (REMEMBER TO USE THE KNEELING OFFICER WITH BINOCULARS FOR BOTH OF THEM OF COURSE!)
DO NOT WANT CUTTING OF HEADS THEY BECOME UNGLUED ON TRANSIT (IT HAS HAPPENED TO ME TOO OFTEN ENOUGH… ALAS)
2 weeks OK, Royal Mail Ok
send me total for the two figures painted in gloss and p&p… and paypal adress. Will pay ASAP.
Cheers Alejo
THEM:
Hi Alejo,
The total for the 2 figures will be £30 including postage.
Paypal payment to: rpworldmodels@gmail.com
Cheers,
Jon.
ME (after sending the money through PayPal):
DONE!CheersAlejo
This is how it is suposed to be, a quick honest transaction… will keep you posted when the figures arrive and post pics of them for you to see what all the fuss was about.
Enough for today.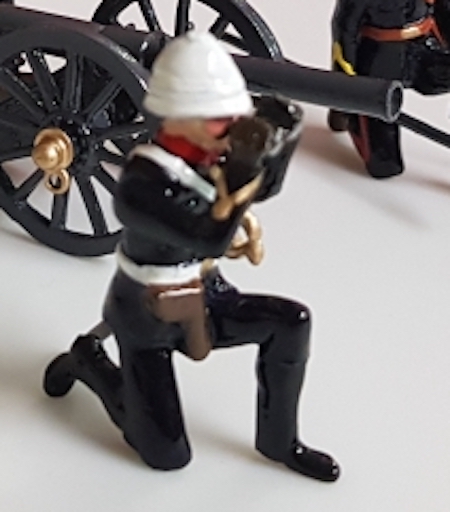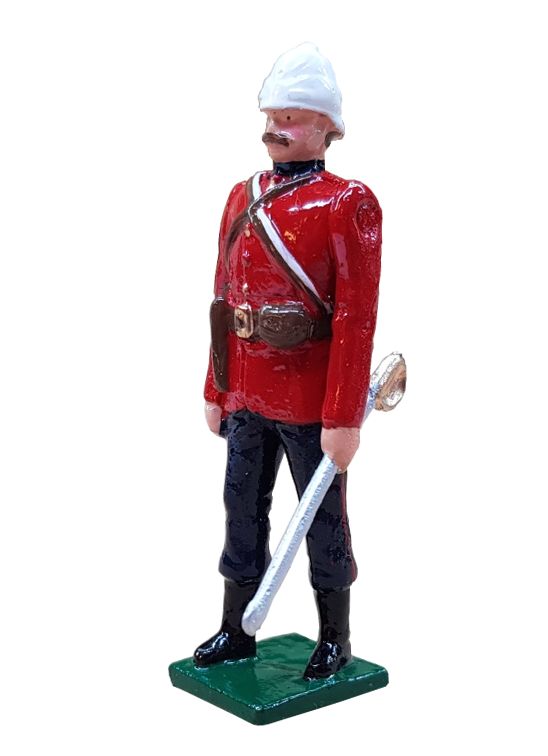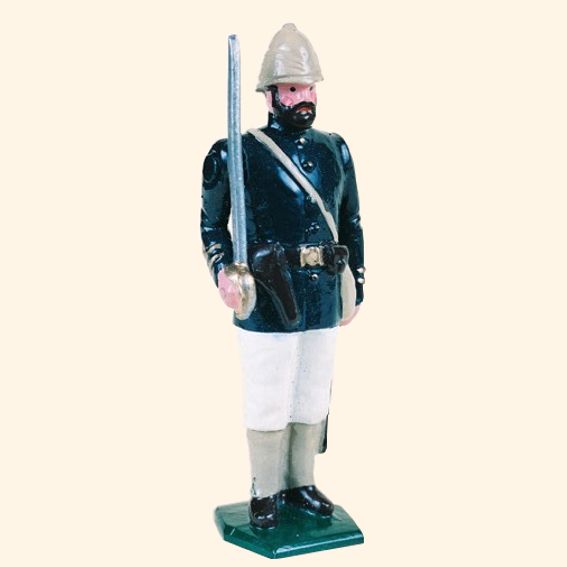 8 Nov 2021
Hopefully after the weekend emails will follow course and order with rprati would be sorted out.
Going very naval minded this days after reading THE GOOD SHEPHERD I did read (again) the short book SINK THE BISMARCK! (short but very good mind), couldn't stop there and bought JUTLAND (12 hours to win the war) by Angus Konstam.
told you!… still hot!
Hi Alejo,
Yes we can do them but can you give me the Tradition set numbers of the figures you need it painting to?
The heads are part of the casting but we can cut and change heads to suit at an extra cost.
As it is just for 4 figures we will ship via Royal mail but I am not sure how long it will be held at customs or not?
The painting and time before it is shipped will be approx. 2 weeks.
We need to get started asap to get it done for Christmas.
Cheers,
Jon
Going to answer ASAP!
Me:
Hi Jon,
The Royal West Kent officer is number 0054 of the Tradition of London catalogue (as per your webpage).
The Officer Royal Navy landing party is number 0042 as above.
If using Royal Mail we stick with this two models (REMEMBER TO USE THE KNEELING OFFICER WITH BINOCULARS FOR BOTH OF THEM OF COURSE!)
DO NOT WANT CUTTING OF HEADS THEY BECOME UNGLUED ON TRANSIT (IT HAS HAPPENED TO ME TOO OFTEN ENOUGH… ALAS)
2 weeks OK, Royal Mail Ok
send me total for the two figures painted in gloss and p&p… and paypal adress. Will pay ASAP.
Cheers Alejo
7 Nov 2021
At last!… I got messages from Andrew Stevens saying I will get the goods for X'mas!… great news…
In the meantime I will show you a model of good comms with Roberto Prati <rprati@proweb.co.uk> :
Me (1):
Hi all,
Here find a pic the figure in the right is yours (a long time ago) can you do the same one kneeling with binoculars? (See pic on last entry 6 Nov 2021)
Cheers
Alejo Dorca
Them (1):
Hi Alejo,
Yes we have just used that figure with binoculars for 2 new artillery sets.
Check below to see if it is the same:
https://toy-soldiers.store/product_info.php?products_id=18031&osCsid=gqouohdb2020fqbfn8d24cnug1
Do you want the figure as painted or castings? Painted will be £11 and castings £5.
How many would you like?
Cheers,
Jon.
Me (2):
Hi Jon,
Just some enquiries left:
1.- A small order would be in time for X'mas? Say 4 painted figures if available as I wish.
.- 1 toy soldier kneeling with binoculars officer Royal West Kent (as in Tradition of London sets)
.- 1 toy soldier kneeling with binoculars officer Royal Navy (as in Tradition of London sets) or similar
.- 1 toy soldier kneeling with binoculars officer Black Watch Tel el Kebir period. (IF THIS ONE IS NOT POSSIBLE CAN YOU DO A FRENCH FOREIGN LEGION OFFICER?)
.- 1 toy soldier kneeling with binoculars constable Royal Canadian Mounted Police (as in Tradition of London single figs. set)
Interested, answer ASAP.Cheers
Alejo
All the above in the same day… and it was a Saturday!
GOOD COMMS!
6 Nov 2021
Sunny and cold (North wind).
A reflection in bad communications: If you ever have dealings with someone who does not answer your messages or emails you would be at least puzzled!… after all long distance ordering for goods NEEDS feedback!… it is an established fact that a good policy in that field has rewards… to be kept up to date makes delays more supportable… sorry excuses must not be used on those comms!… and fundamentally you must expect the truth and nothing but the truth… vagueness like "nearly there"… "working on it"… "on the working table" are NOT much use… specially after more than five (5) months since ordering!
To lose customers because of bad comms is probably one of the silliest ways to manage a business… even if small.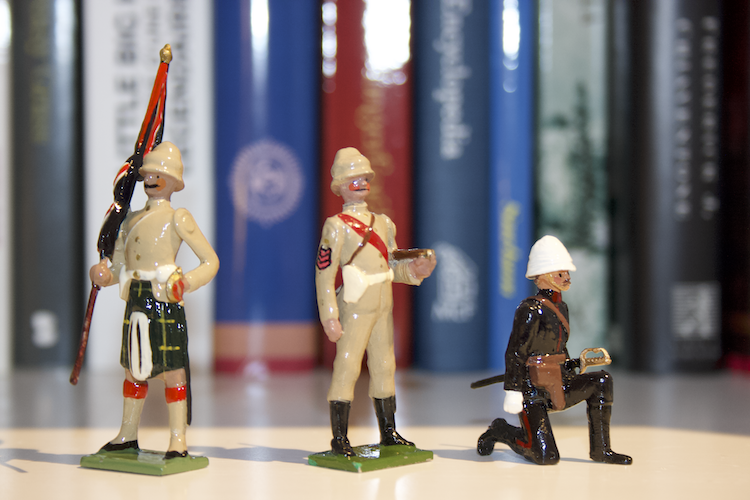 5 Nov 2021
Snow is back. Only on top of the mountains of course! But there you have it… another winter coming. Finished the book THE GOOD SHEPHERD by Forester, a damn good read!, a page turner that has not "aged" a bit, hectic, with rhythm, and the source of inspiration for a lot os posterior writers (including ping! Clancy).
Those Baccus 6mm Pony Wars (and some wagons multipurpose) would probably be my last batch in that scale. Have enough of those little chaps to wargame at leisure… but with collectors you'll never know.
On the contrary what is a definite decision is to end collecting in 54mm, lack of more space and really all subjects finished (that is if Andrew sends one day the last batch!… it would be the last!… no change of seller… just put an end to it and that's that).
Once they have finished works in my office I am going for ANTIETAM in 6mm scale… will profit the reparations of some leaking in the roof to send to the bin (garbage) the rest of my office (furniture and out of dat hardware) that is only accumulating dust… maybe my sons will use the liberated space.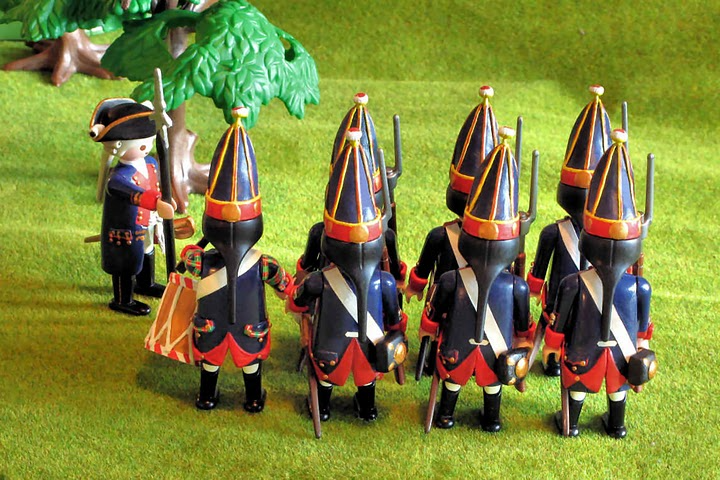 4 Nov 2021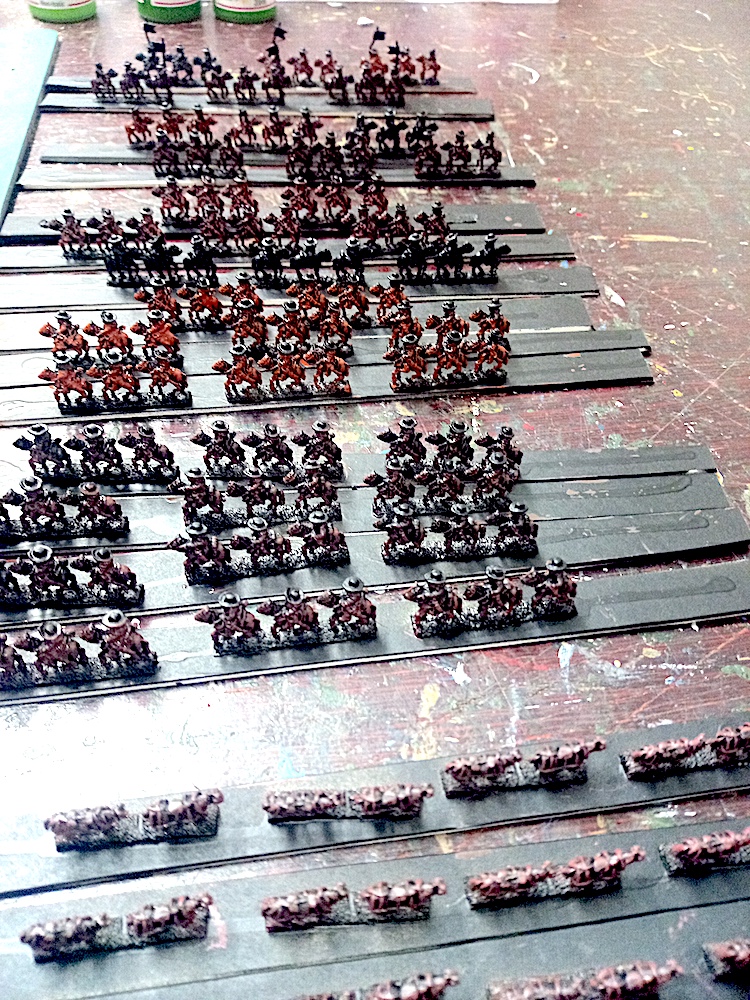 Could not resist droping a word by email to Greg yesterday (after 5 weeks) and he promptly responded with that great pic!… probably on DHL next week!… of course I will show the finished product and if I indulge in minor "touchs".
I love the individuals or small companies who deliver. If on time the better.
On the contrary REPLICA (read Andrew Stevens) is going to left empty my sock this X'mas.. I can read between the lines and the messages are getting very dark for me… I only keep waiting because I am true to my word and would not cancel… but my patience is stretched to hard limits. Fortunately the end product is so nice I forgive him after a couple of weeks!
I first ordered 4 single colonial Brits figures to complete a set… necessary?… if you are a collector you know "necessary" is a relative term. One of them YES because I like to have both colours in a Great Britain Regiment (Gordon Highlanders)… the other three… why not?… once you have filled an order… even me can say they are not absolutely imprescindible… What complicated the thing was when he shoved me his US Cavalryman… I placed an initial order of 12 and added 3 more later on… I can wait for those… something tell me they will come in 2022 (at least before X'mas 2022 -heavy sarcasm there-). Will have to email Andrew and put things in perspective… the problem is that if I say OK send them whenever you wish… they will be further delayed… those are the hardships of collecting (of course hardship is used metaphorically).
3 Nov 2021
C.S.Forester was a good idea… excellent so far!
Nearly everyday I get solicituds by FaceBook members to be admited in my FaceBook group mytoysoldiersandme … lol … quite original I am? … I simply post or share pics of mine and others toy soldiers, quite a simple process. I am getting near 200.000 visits on this present webpage and more than 52.000 visitors in about two years time of existence… but what is really funny is to see there are aficionados all around the world (countries and cities) fascinating really.
First snow (quite little) of the season in ANDORRA… just a touch of white at the tops… but there you have it… it is nice to see the different seasons unfolding.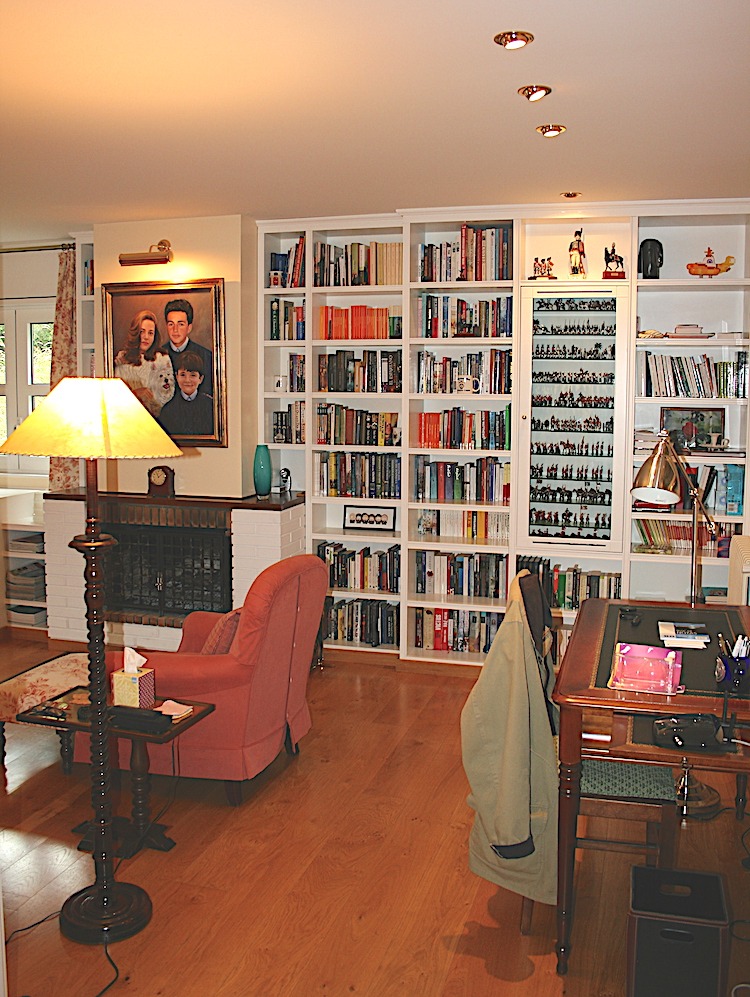 This is an "old" pic… the collection of toy soldiers has suffered drastic changes… lol
2 Nov 2021
Bought in kindle the C.S.Forester novel THE GOOD SHEPHERD… did not knew that one existed at all!… did read THE SHIP eons ago. Do not know about the film… books are always best… THE CRUEL SEA is an example (The film is not bad but the book is much better). Currently finishing NORTHERN SHADOWS… no spoilers but this fifth volume is a bit "unnecessary"… I still think the 4rth volume about the Trevilian Station fight is the best one!.
Finally found a copy of THE LIFE AND ART OF CHARLES SCHREYVOGEL. One missing in my collection…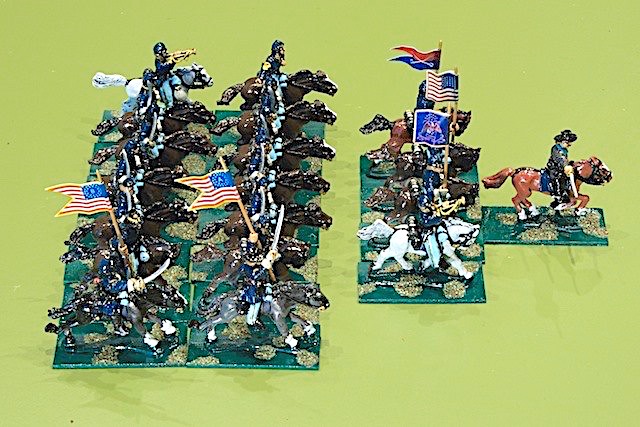 1 Nov 2021
A month full of possibilities!… it is posible that Andrew Stevens from REPLICA finally ends my order (not sure at all but could be)… also the promised date of delivery of Greg about those 6mm Pony Wars minis would be also scheduled… not going to pester them… just see if they contact me with the good news… IF (BIG IF) they do not deliver then we will be headed to the X'mas mail crazy times and unfulfilled promises everywhere (as each other year demonstrated).
The book THE BATTLE OFF WORTHING has not arrived yet, but I guess it would not be a surprise to say that the First Service (aka The Royal Navy) would sink the would be invading foe… quite a fan of literature of the end of the XIXth…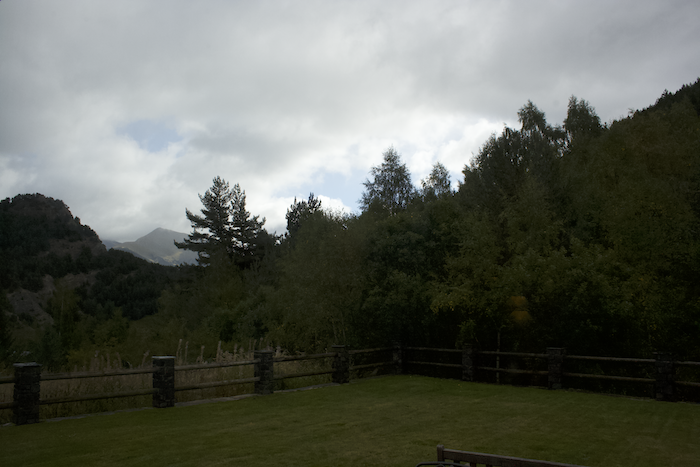 31 Oct 2021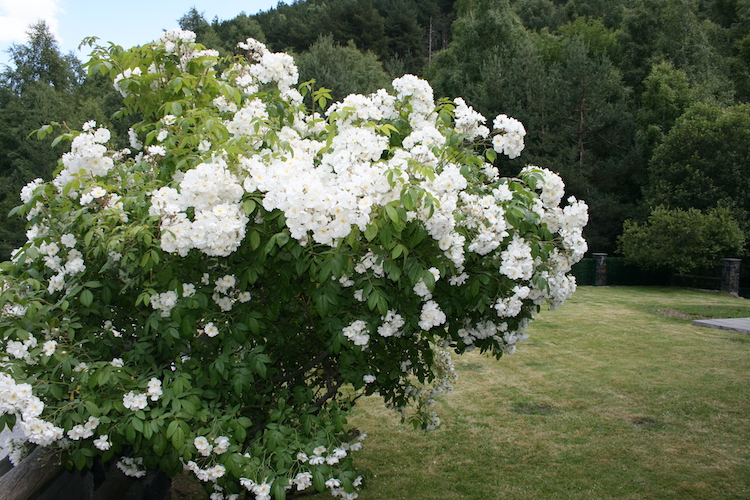 Not much inspiration today… the longest night… in Europe 100.000 UE burocrats/aparatchicks are incapable of deciding what damned hour we have to live on or get by… so every six months they advance or retard the clock to suit their fancies… it causes havoc with my sleep, lunch time and other facts of life, I guess I am a very grumpy old man… but NOT the only one that thinks they are mad!… And they are not going to save the planet (if need be) doing that!
OK, so to the shower and off to that little house in the mountain where my 54mm toy soldier mini collection is. Cheers.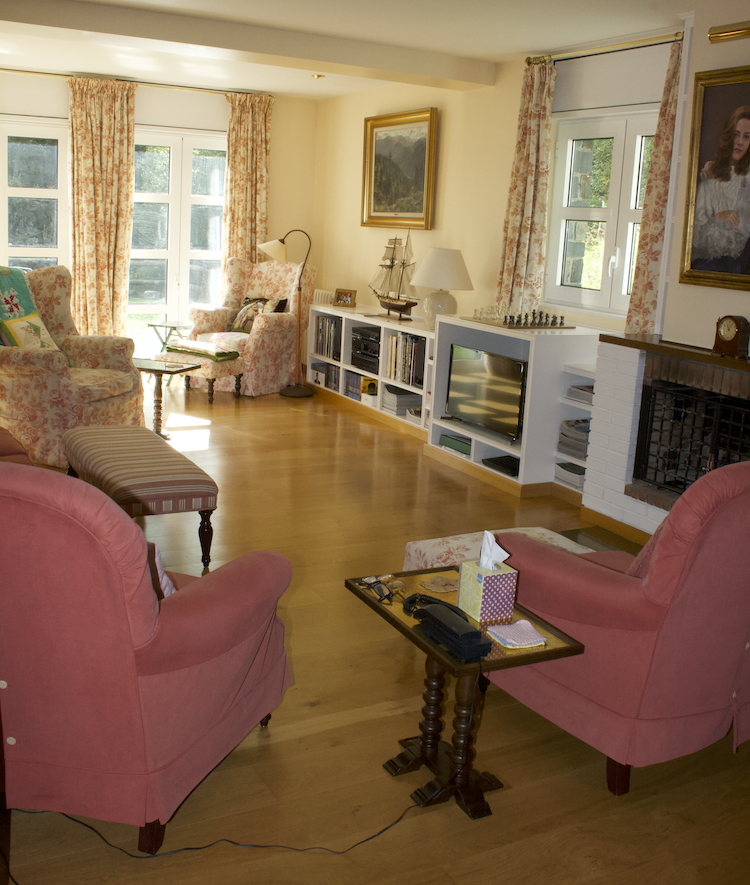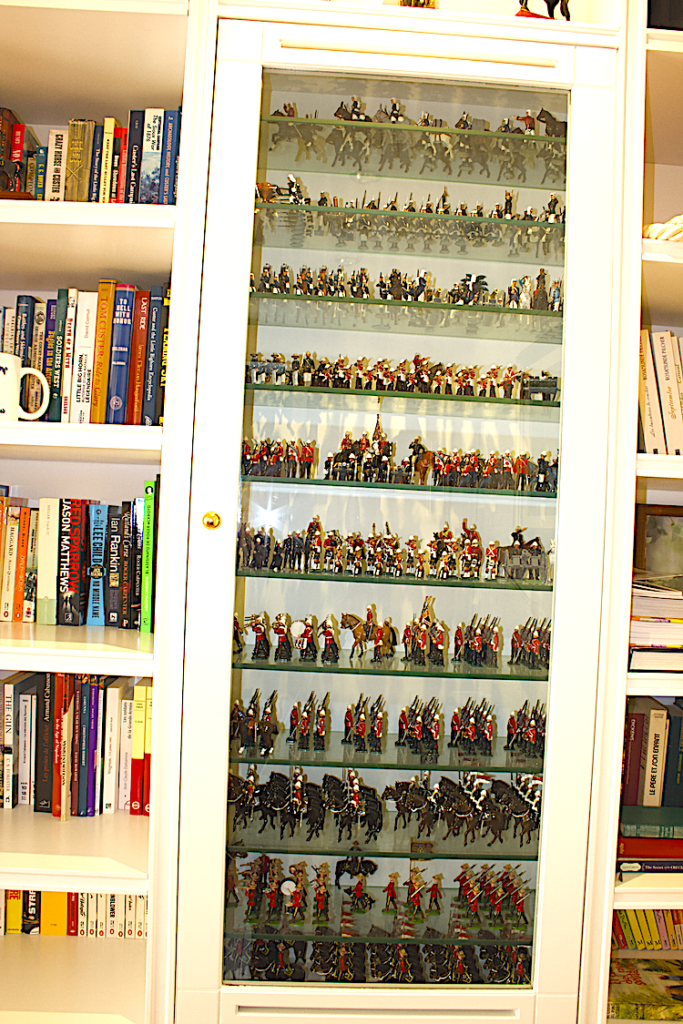 30 Oct 2021
Well, after so much ACW … today I will recommend a little book (really for keeps) I discovered long time ago. You will see it has a setting in time and place but it is easy to extrapolate, probably one very good manual on small infantry units tactics. Hope you enjoy.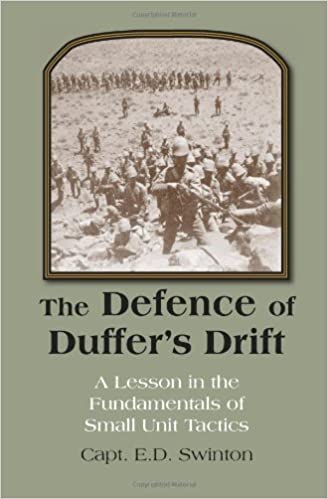 XIXth Century Britons Colonial Little Wars are another of my pet periods.
29 Oct 2021
To recommend books about the ACW is very difficult considering I am not American by birth but the vast majority of followers or lurkers of this website ARE from the USA! Nevertheless as I am not a negative person (and quite optimistic) I will give you the books I have kept after long years of study of this conflict (whatever Moltke said about "two angry mobs chasing themselves in the woods"). There are two main divisions books good for its text and info and those good for MAPS and UNIFORMS.
In the first category you can not go wrong with the classics by Shelby Foote and Bruce Catton, and George W Sears.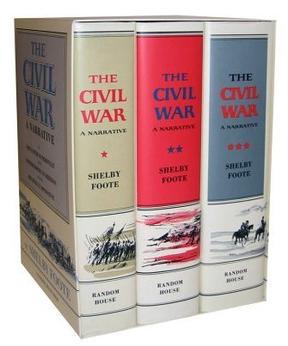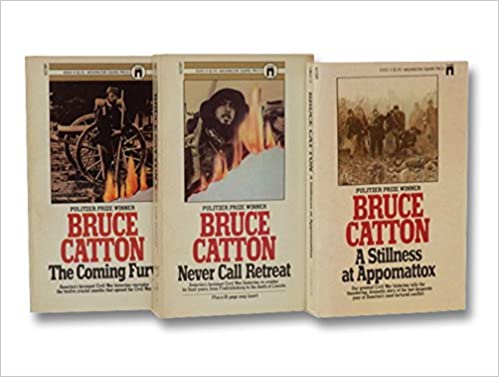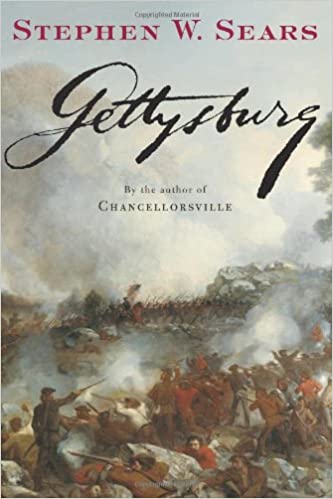 On the second stash of favourites are those with good maps!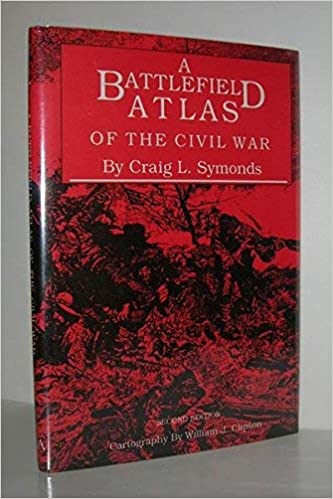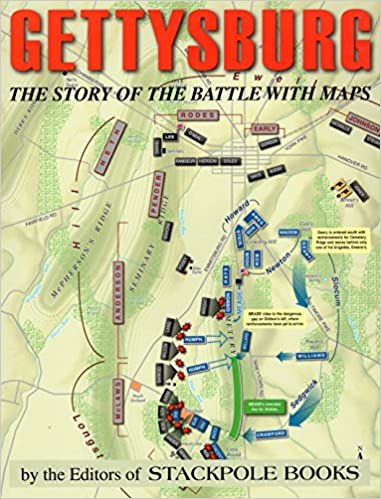 And finally those with info about Uniforms (a subcategory of the second stash).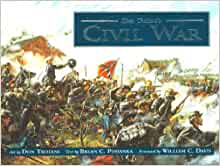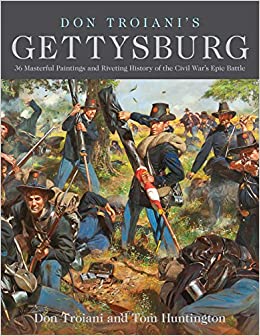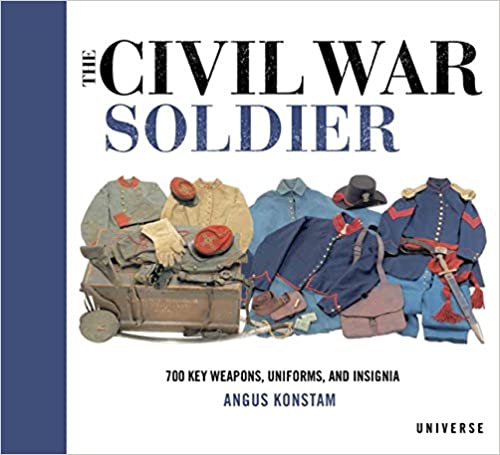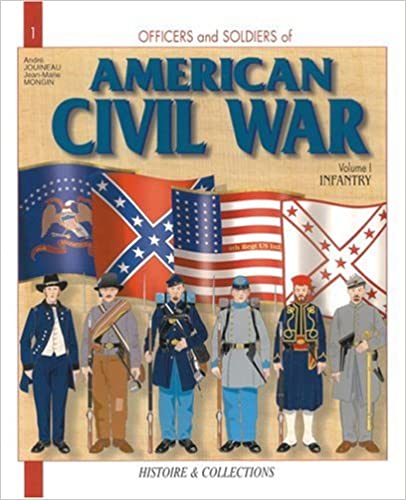 Guess you have the idea of my sources.
28 Oct 2021
Well, the long awaited book arrived and it is not really bad as a whole, but the artwork is very bad (it would have shamed me to produce such drawings myself), info is OK mind, specially in arms and naval chapters. But really the experience of buying hardcore specialized books without checking them in a bookshop has those limitations. I am a fan of bookshops but where I live makes buying English/American books compulsory by mail (amazon or similar). So you have those deceptions from time to time (some editors are guilty of producing books below par). So all in all I would not recommend it at all.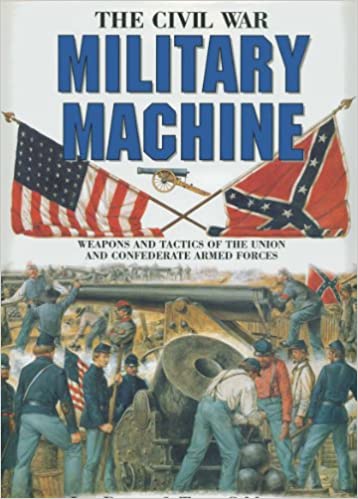 On the contrary there are small books not much talked about that are a real joy to get, to read, to go back to, and with excellent artwork, as an example: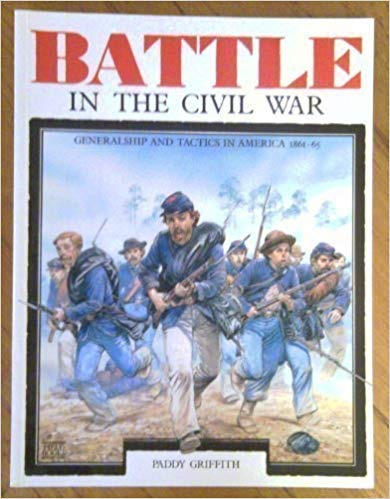 So, there you have it, you pay your money and you take your choice!
27 Oct 2021
To end the subject of Balaklava just a recommendation, the best book in my collection by far is by Mark Adkin's. I will never agree at a 100% with his thesis (I am an skeptical old man after all) but good reasoning all through and fairly recommended, you can read much worse on the subject believe me. The cover is not the edition I have but I imagine the contents have not changed.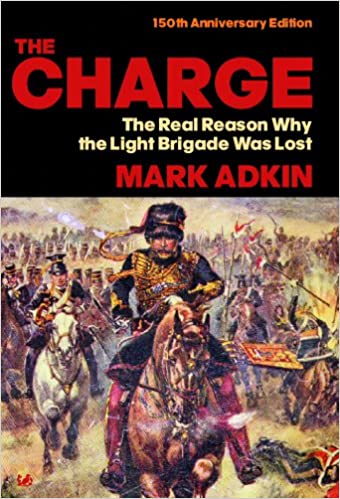 26 Oct 2021
Yesterday was Balaklava day!… forgot to show you the different approaches I did in that long journey in wargaming. Did it in 28mm, 6mm and 75mm. The game in any scale did not include the Russians (firing off the table) the interesting part was the decision making process to see when, where to, how the Light Brigade would advance or charge or whatever… nearly rol-playing wargame.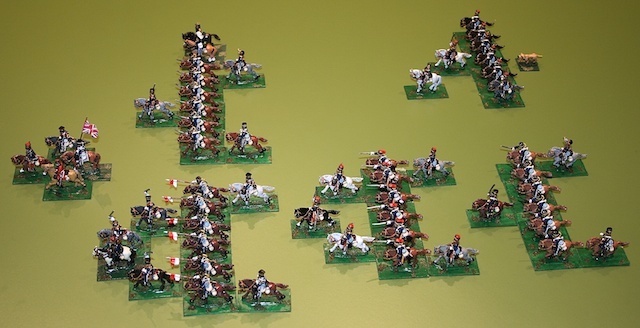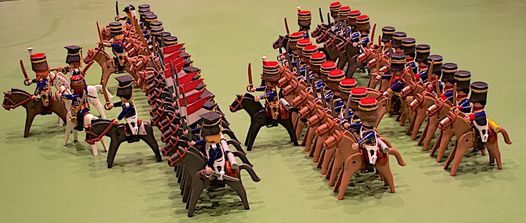 25 Oct 2021
Not much time today. Just a pic of my Maiwand/Kandahar REPLICA collection.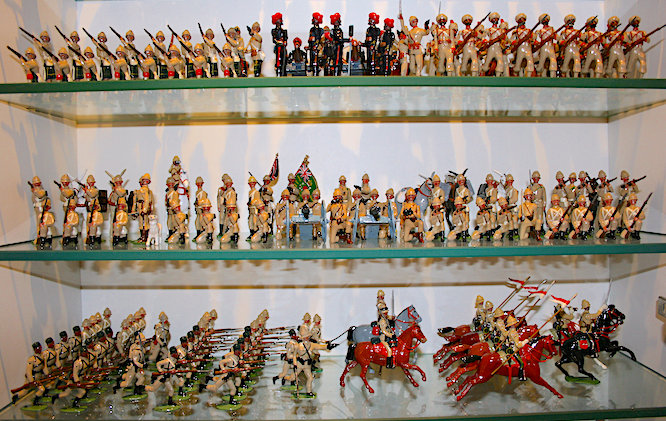 The best pic I guess…
As Murphy really rules today have got confirmation the long lost book has arrived! (at the same time amazon has confirmed the invoice of a second copy!… I do not care better two than none!). It seems that with COVID19 long delays are the norm nowadays.
24 Oct 2021
Sunday, I have ordered again the ACW MILITARY MACHINE book, this time through another channel, the worst that can happen is that both books (copies) arrive!… but I do not think so. Somehow amazon deliveries are getting late more than ever!.

Fall is behaving itself, another sunny day! I do really have to start writing those "Chance Cards" for the ACW solo wargame (somehow I would like them to be multipurpose and not exclusively centered on the ACW… highly general "chances" applied to most periods… as for example YOUR LEFT FLANK IS SLOW TO REACT THEY DO NOT MOVE THIS TURN or similar… guess I will do a preliminary list, polish it, and then write them down on the blank cards i bought eons ago from amazon.com (BYCICLE STANDARD). Will keep you posted with that list!
23 Oct 2021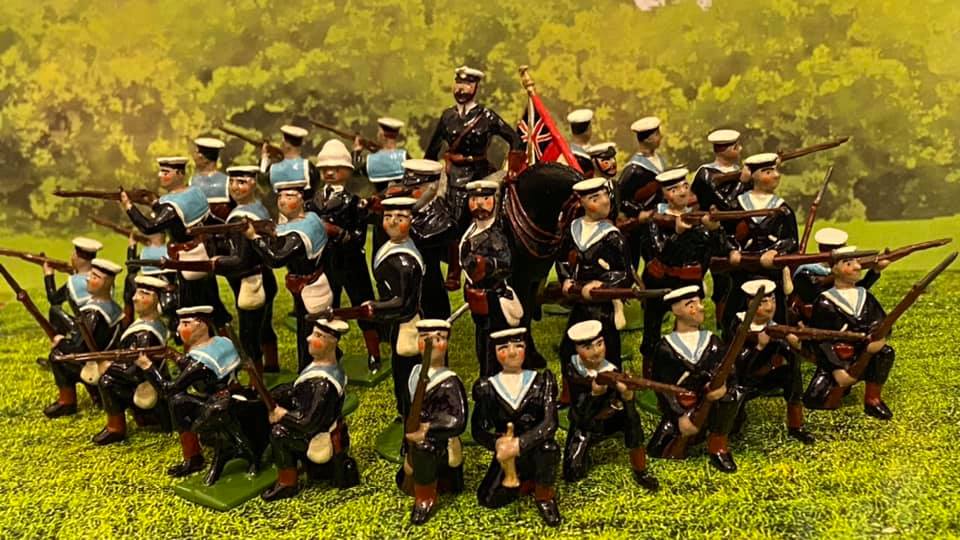 Decided to start with a pic from FaceBook today to lift the spirits. My own Sailors are from Tradition of London but found those irresistible.
Those Naval Landing parties are really great stuff. He recently did a double tray box for a customer (a lucky chap!) and that means months of work in those. A gun, the Band, Royal Marines wow! That is the perfect gift! Enjoy…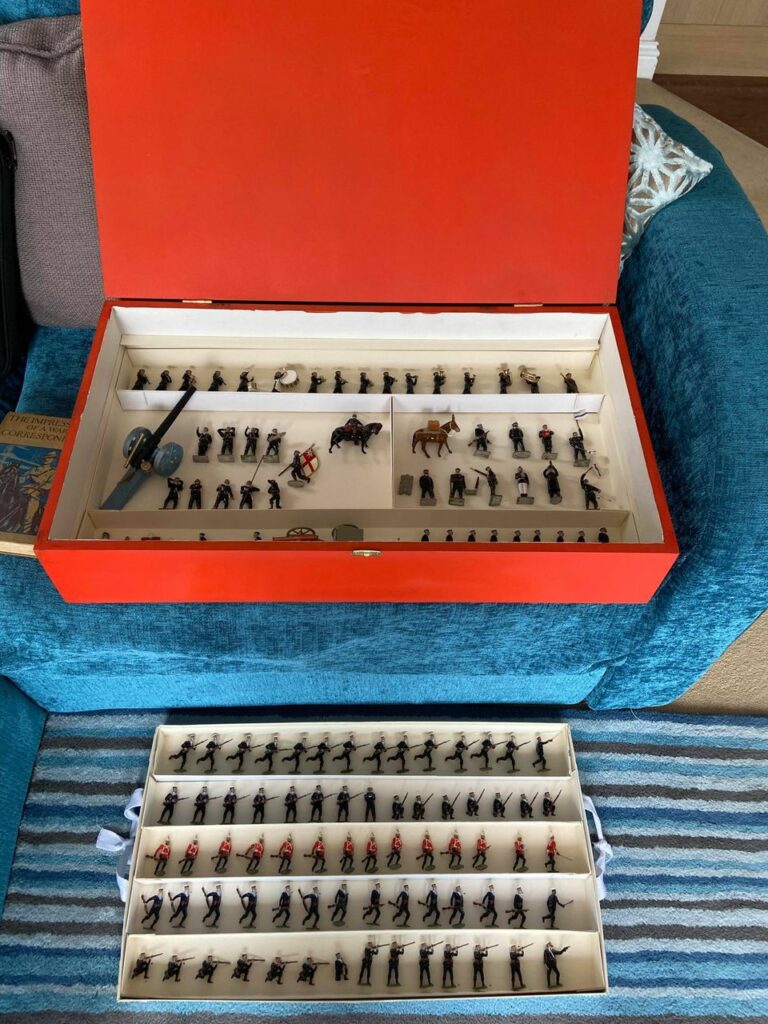 22 Oct 2021
Yesterday was Trafalgar day… the glorious 21st!… Not much of a naval wargamer am I… have read the complete Aubrey-Maturin saga… and accounts of the battle but the main thing is Napoleon's was NO sailor, and luck and pluck has been in the Royal Navy for years… of course it is a "moral" thing and much ado with resiliance. So not negative at all about the oceans but Naval Warfare is not my thing. There is an excellent example in YouTube of a Trafalgar Wargame by those American chaps across the pond… excellent idea the visual effects with leds to simulate broadsides!… here have a link for once: https://www.youtube.com/watch?v=F-wb3Akqqz4
and a tutorial: https://www.youtube.com/watch?v=DtZG5QFJqb8
At a time I indulged in naval warfare in 75mm! splendid ships!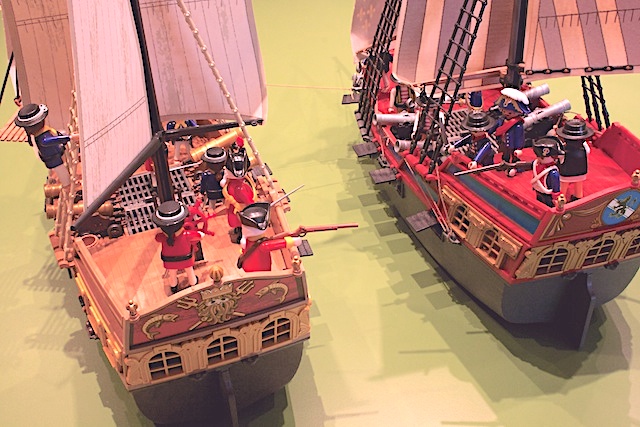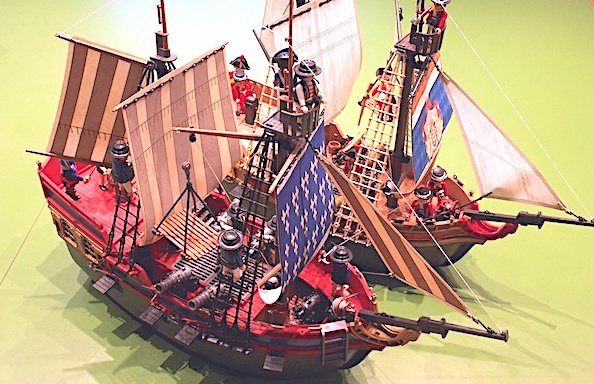 21 Oct 2021
Not much to say, halfway through THE BATTLE OF DORKING (interesting in context), and no spoilers from me! Will give you another pic with the Rebs this time (have also been complemented nowadays).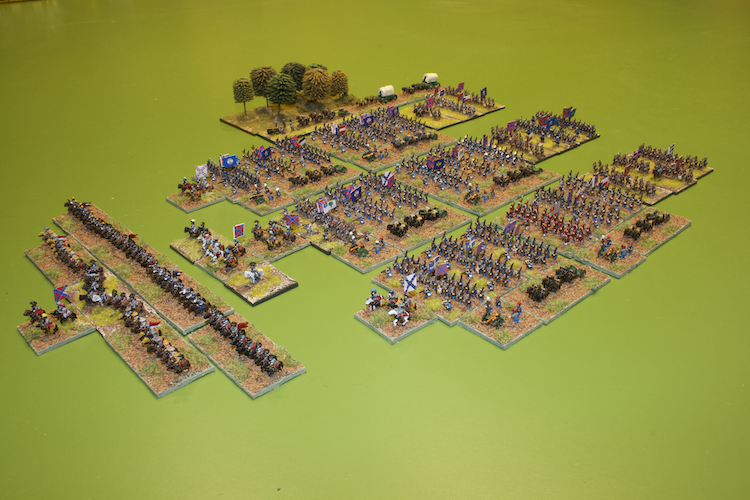 20 Oct 2021
This winter I have to manage a solo battle of Antietam in 6mm. Everything is there… the Armies, the table, the scenery, the info… (too much info in fact). Only thing to streamline are the "chance cards" I use to simulate chaos and incertitude. Basic rules will be a mix of POLEMOS/ALTAR OF FREEDOM/MY OWN… just have to plan at what time would I go to the ancient office and do a move/sequence of play per day. That will not disturb my everyday life and at the same time achieve a long process of preparing for it! Hopefully I will keep you posted through here…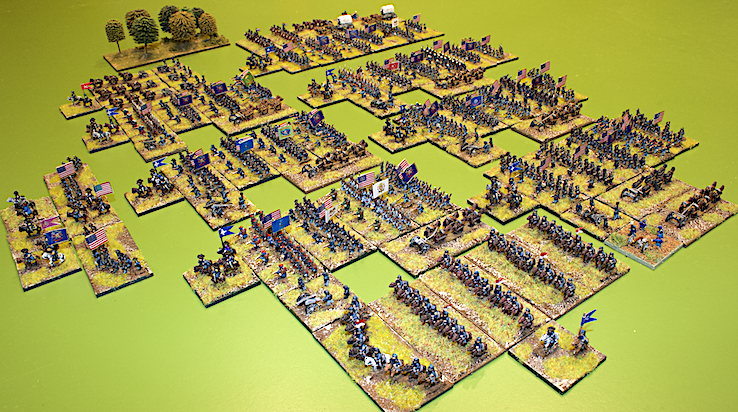 19 Oct 2021
Just bought THE BATTLE OF DORKING and THE BATTLE OFF WORTHING, they should be here in the next couple of weeks. Currently reading "Le Precis de l'Art de la Guerre" by Jomini and ON WAR by Clausewitz (in fact re-reading the last), both with the selected writings of Moltke are the fathers of logistics in my humble opinion. It is not enough to get there "fastest with the mostest" if you run out of ammunition or food… such an understatement! Also have been waiting for weeks for the book "The ACW Military Machine", a lot delayed this one!
I love reading, wargaming come as a result of reading too much!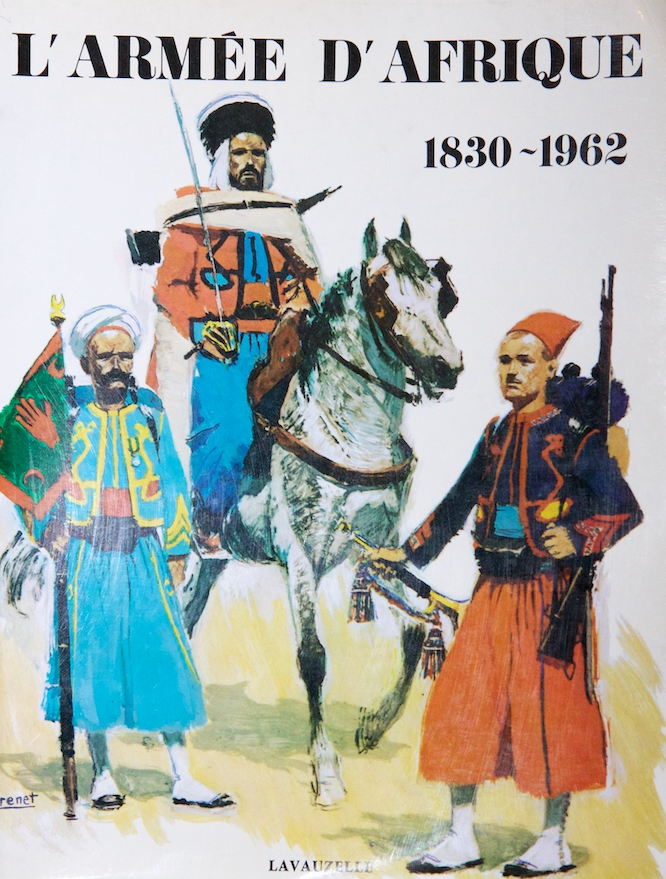 18 Oct 2021
Nice day. Not much new on the pipeline. It is still to early for the 6mm to be finished by Greg (imponderable too is the fact that there is no way to know how long will be to him to get the packs from Baccus)… on the other hand Andrew must be finishing the 54mm by now (or not)… his timing is at best "irregular"… only compensated by the sheer quality of the final product.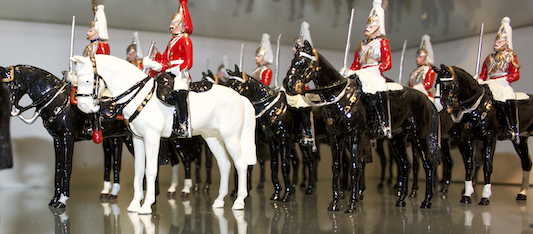 17 Oct 2021
Sunday, and a very nice autumn weather here in Andorra, will give you a pic of my new repainted Black Watch (It was originally bought as The Gordon Highlanders but the painter evidently enough used some Black Watch already painted figures!… I did have to paint the yellow stripes on the tartan myself!)… years later after buying the Gordon's in khaki version I decided to restore those to his Black Watch origin… and done so in the last week (two different afternoons).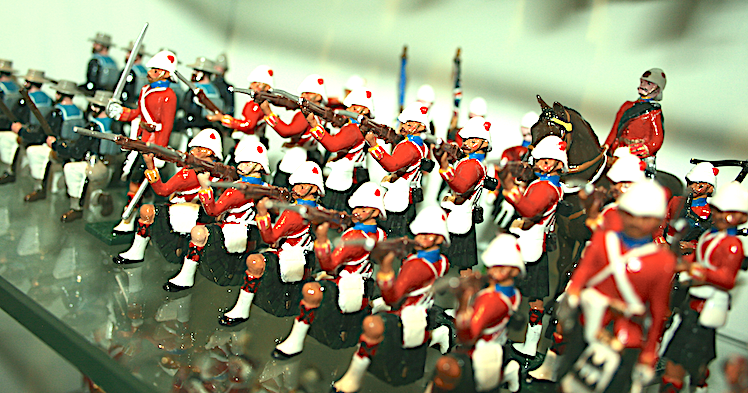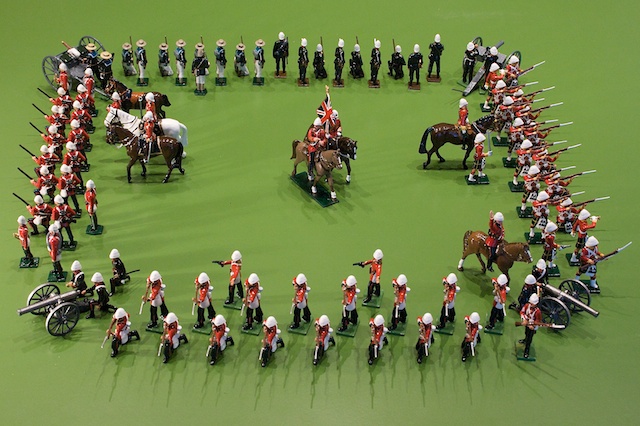 As a matter of fact I can show you an old pic of them to see the differences.
That would be all for today, just to show you how established patterns vary with the passing of time (once you overcome laziness).
16 Oct 2021
Well, yesterday I did finish a really interesting book: The Wars of German Unification by Dennis Showalter, I am a big fan of the ACW period and the whole XIXth Century as a matter of fact… curiously I had always neglected the Wars in Europe from 1859 onwards (that includes Magenta and Solferino), but what it really was a must read was the Seven Weeks War (I even have another book dealing exclusively with it: THE AUSTRO-PRUSSIAN WAR by Geoffrey Wavro)… The Austro-Prussian War of 1866 was a discovery to me!, I already had read a lot about the Franco-Prussian War (Michael Howard book is a must read about it) but also have books about uniforms and artwork (great painters of the period). Not going to wargame the period at all but reading History is fascinating… In a way the First Reich was Frederick the Great (who was great because Catalina of Russia died before smashing him), but the Second Reich is fascinating… (Moltke-Roone-Bismarck)… as you know (if you have read other posts about my fancies) I can not stand the III Reich or the XXth Century truly horrid times I am afraid… I put my foot down at 1900 and that's that!.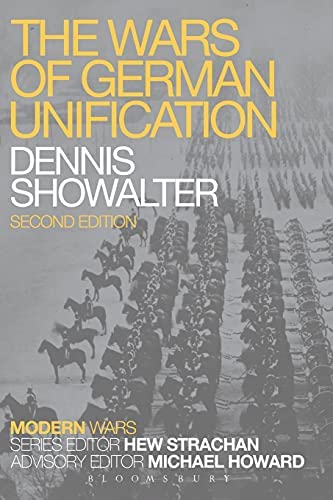 15 Oct 2021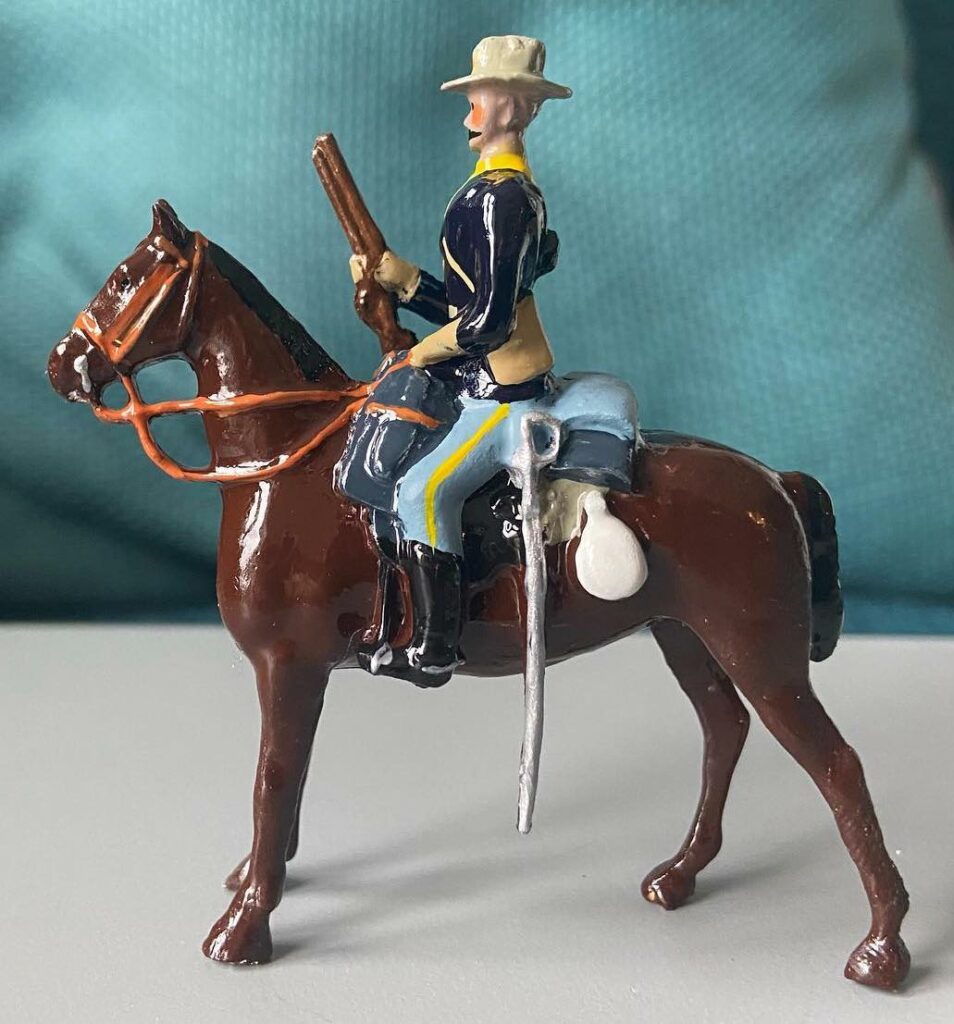 Here is a pic of the 54mm REPLICA Toy Soldier I have ordered from Andrew (a box full of them)… in fact mine hopefully would come without weapon in hand… just riding on patrol.
By The Way I guess that from now on I will buy castings unpainted and do it myself … I am getting too old for those long long long months of waiting for orders to arrive. I am not complaining mind, the art of Andrew is impecable… but I guess I can achieve the same result a lot faster… and even customize a bit.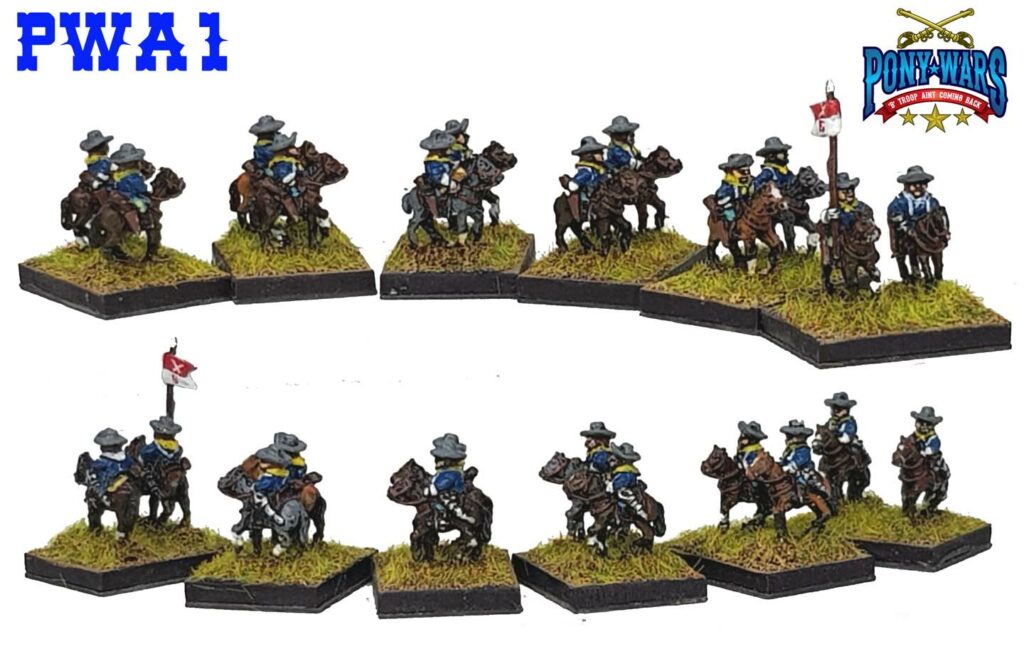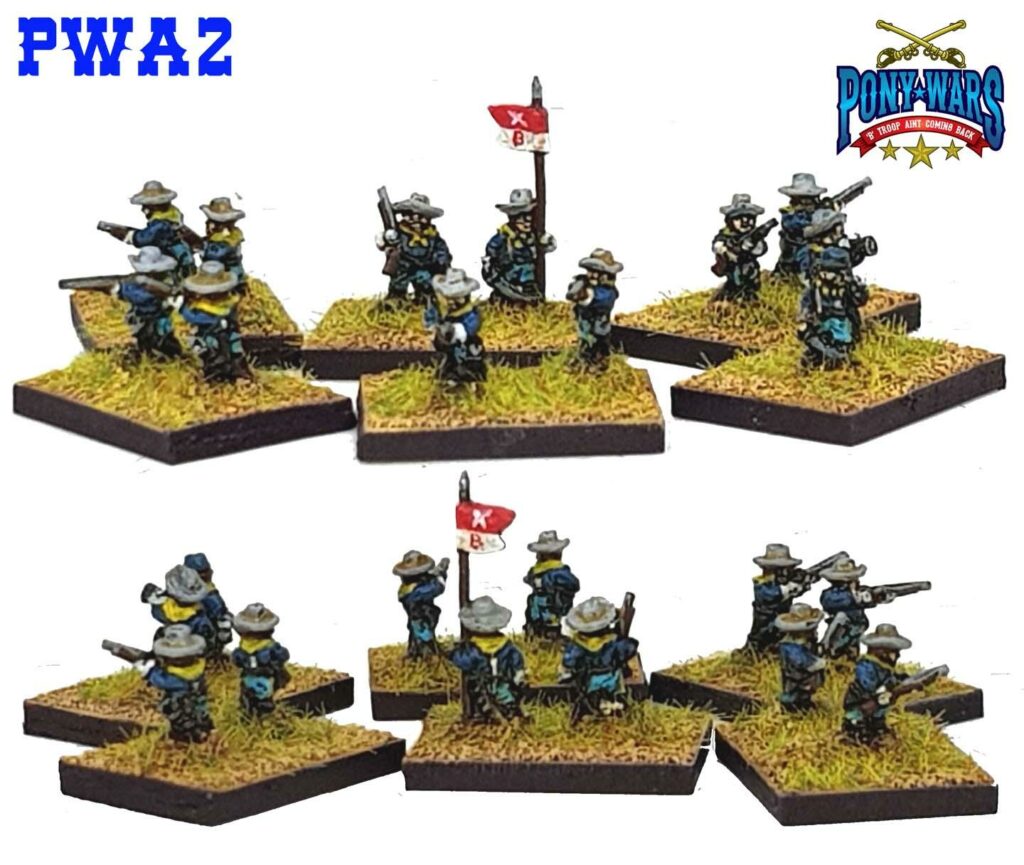 Straight from the Baccus Catalogue the packs I have bought and sent to the painters (Greg), only alteration I prefer my hats to be Off-White. Baccus are 6mm wargame minis (Ten times smaller than 54mm Traditional Toy Soldiers!) and great for wargaming (I did all my wargaming in 25/28mm in the past…).
14 Oct 2021
Today is the 14th October 2021, my Blog as it is is getting close to 50.000 visitors and 200.000 visits. I know some visitors are coming more than once and also some of the so called "visits" are robots and even hackers who try to break in (do not ask me why… it really puzzles me).
But let's go to the matter at hand, I will try to be useful with a proper Blog and if I can do an entry a day. It took me four days to realize that I was doing it the wrong way, quick lurkers or visitors want to see the "last" entry first… so OK I have proceed to reorder the entries on the Blog!
I am currently waiting for two orders of toy soldiers, one from Greg (6mm Baccus stuff… Plains Wars US Cavalry to play John Ford's movies), and the other from ANDREW REPLICA METAL MODEL SOLDIERS 54mm "proper" toy soldiers collecting. Will post pics when they arrive.
After two years of existence my Blog is still interesting people all round the world… visitors from 155 different countries so far!… (THAT really puzzles me!).