Hits: 26
25 Oct 2021
Not much time today. Just a pic of my Maiwand/Kandahar REPLICA collection.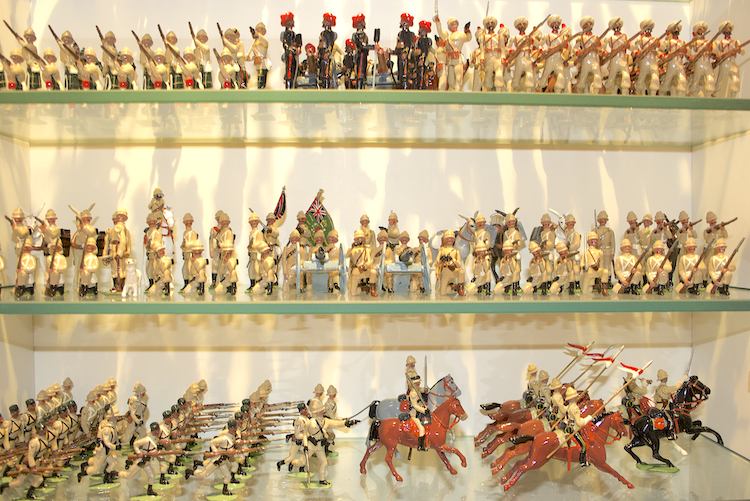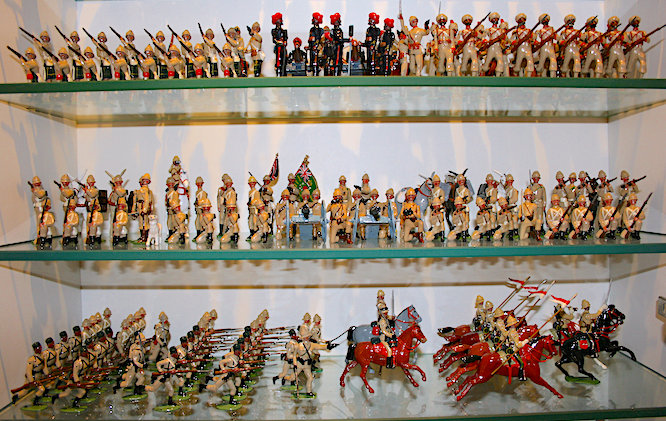 24 Oct 2021
Sunday, I have ordered again the ACW MILITARY MACHINE book, this time through another channel, the worst that can happen is that both books (copies) arrive!… but I do not think so. Somehow amazon deliveries are getting late more than ever!.

Fall is behaving itself, another sunny day! I do really have to start writing those "Chance Cards" for the ACW solo wargame (somehow I would like them to be multipurpose and not exclusively centered on the ACW… highly general "chances" applied to most periods… as for example YOUR LEFT FLANK IS SLOW TO REACT THEY DO NOT MOVE THIS TURN or similar… guess I will do a preliminary list, polish it, and then write them down on the blank cards i bought eons ago from amazon.com (BYCICLE STANDARD). Will keep you posted with that list!
23 Oct 2021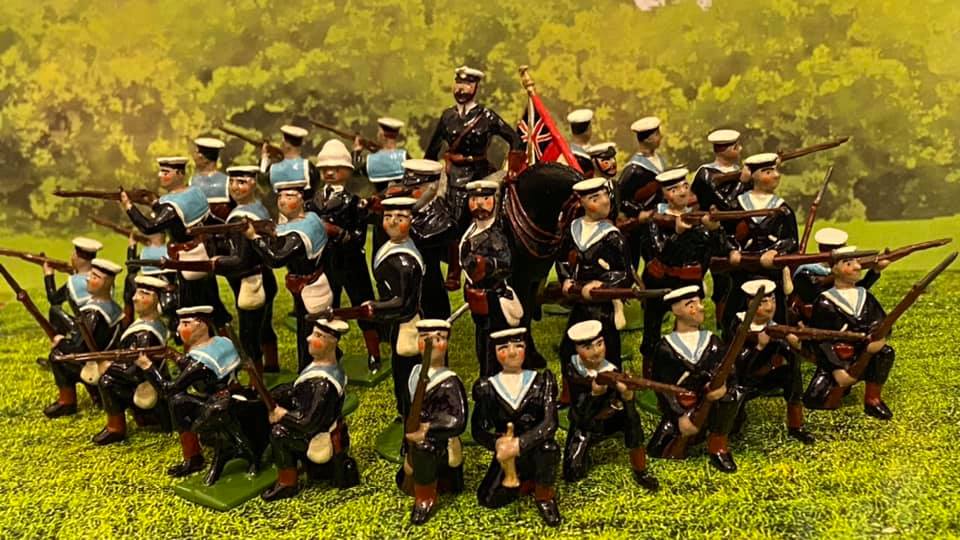 Decided to start with a pic from FaceBook today to lift the spirits. My own Sailors are from Tradition of London but found those irresistible.
Those Naval Landing parties are really great stuff. He recently did a double tray box for a customer (a lucky chap!) and that means months of work in those. A gun, the Band, Royal Marines wow! That is the perfect gift! Enjoy…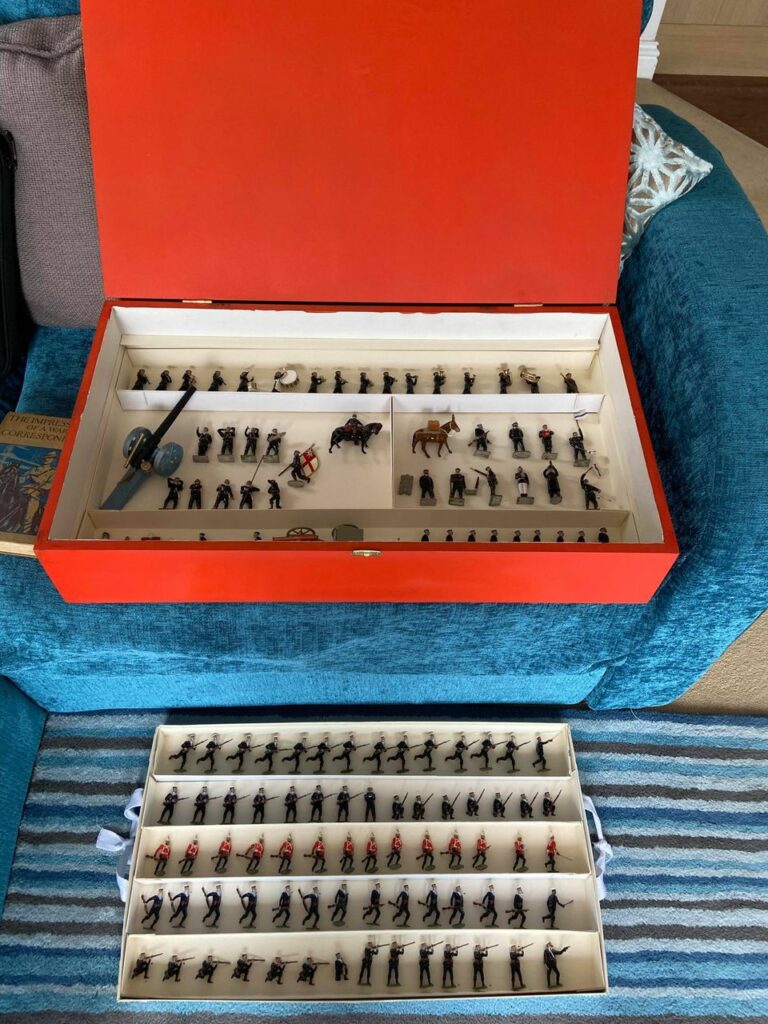 22 Oct 2021
Yesterday was Trafalgar day… the glorious 21st!… Not much of a naval wargamer am I… have read the complete Aubrey-Maturin saga… and accounts of the battle but the main thing is Napoleon's was NO sailor, and luck and pluck has been in the Royal Navy for years… of course it is a "moral" thing and much ado with resiliance. So not negative at all about the oceans but Naval Warfare is not my thing. There is an excellent example in YouTube of a Trafalgar Wargame by those American chaps across the pond… excellent idea the visual effects with leds to simulate broadsides!… here have a link for once: https://www.youtube.com/watch?v=F-wb3Akqqz4
and a tutorial: https://www.youtube.com/watch?v=DtZG5QFJqb8
At a time I indulged in naval warfare in 75mm! splendid ships!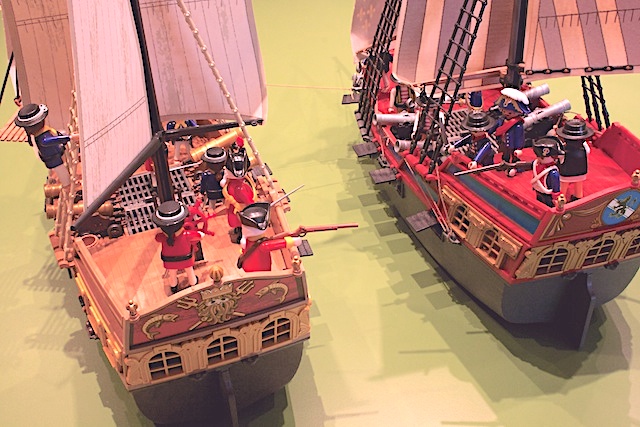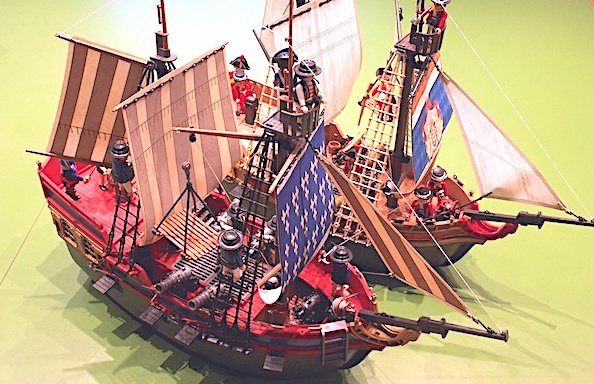 21 Oct 2021
Not much to say, halfway through THE BATTLE OF DORKING (interesting in context), and no spoilers from me! Will give you another pic with the Rebs this time (have also been complemented nowadays).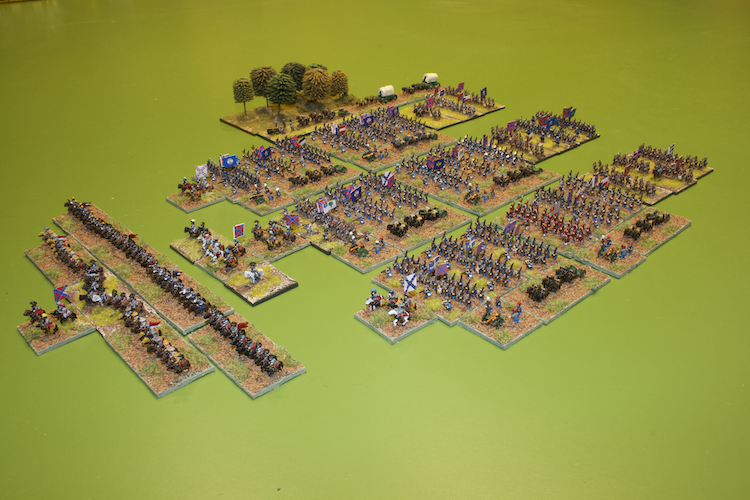 20 Oct 2021
This winter I have to manage a solo battle of Antietam in 6mm. Everything is there… the Armies, the table, the scenery, the info… (too much info in fact). Only thing to streamline are the "chance cards" I use to simulate chaos and incertitude. Basic rules will be a mix of POLEMOS/ALTAR OF FREEDOM/MY OWN… just have to plan at what time would I go to the ancient office and do a move/sequence of play per day. That will not disturb my everyday life and at the same time achieve a long process of preparing for it! Hopefully I will keep you posted through here…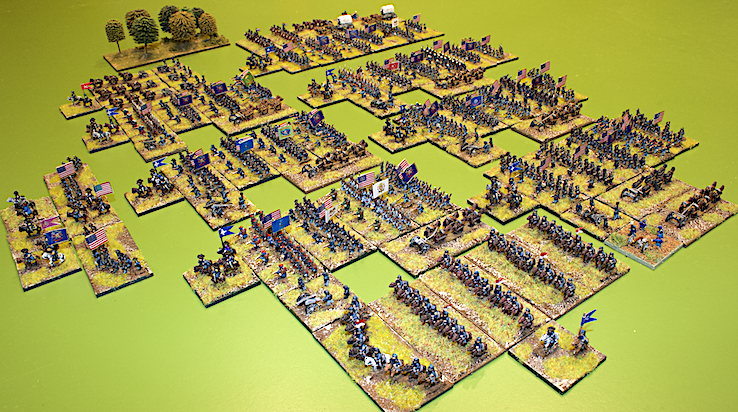 19 Oct 2021
Just bought THE BATTLE OF DORKING and THE BATTLE OFF WORTHING, they should be here in the next couple of weeks. Currently reading "Le Precis de l'Art de la Guerre" by Jomini and ON WAR by Clausewitz (in fact re-reading the last), both with the selected writings of Moltke are the fathers of logistics in my humble opinion. It is not enough to get there "fastest with the mostest" if you run out of ammunition or food… such an understatement! Also have been waiting for weeks for the book "The ACW Military Machine", a lot delayed this one!
I love reading, wargaming come as a result of reading too much!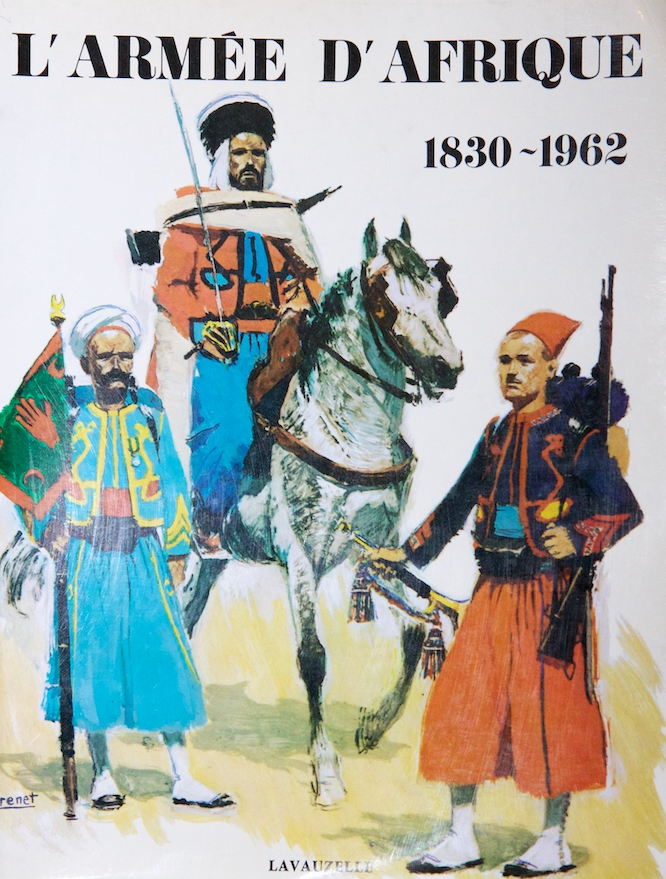 18 Oct 2021
Nice day. Not much new on the pipeline. It is still to early for the 6mm to be finished by Greg (imponderable too is the fact that there is no way to know how long will be to him to get the packs from Baccus)… on the other hand Andrew must be finishing the 54mm by now (or not)… his timing is at best "irregular"… only compensated by the sheer quality of the final product.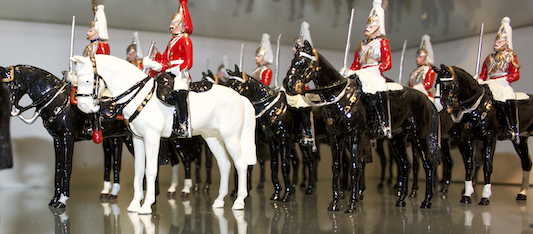 17 Oct 2021
Sunday, and a very nice autumn weather here in Andorra, will give you a pic of my new repainted Black Watch (It was originally bought as The Gordon Highlanders but the painter evidently enough used some Black Watch already painted figures!… I did have to paint the yellow stripes on the tartan myself!)… years later after buying the Gordon's in khaki version I decided to restore those to his Black Watch origin… and done so in the last week (two different afternoons).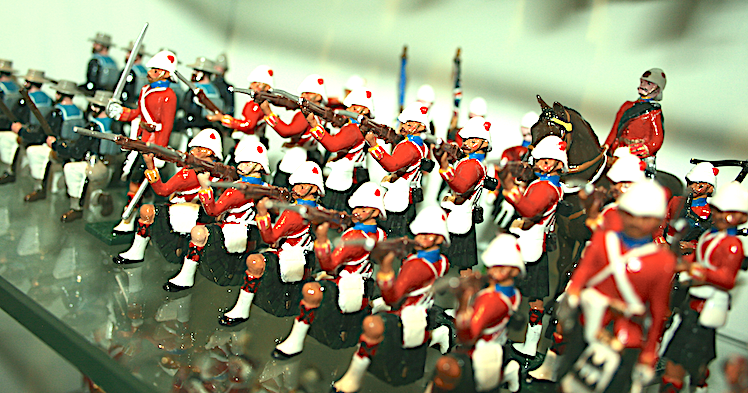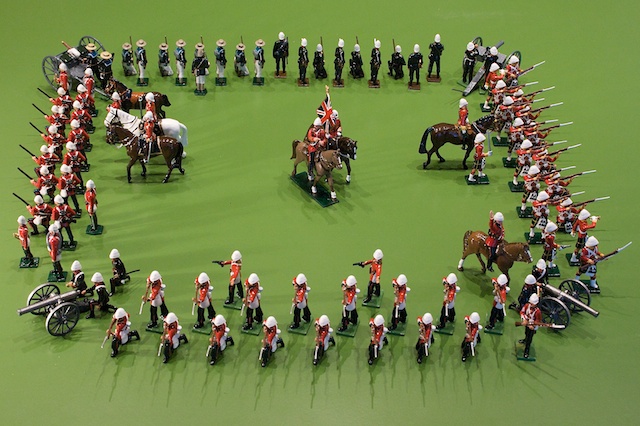 As a matter of fact I can show you an old pic of them to see the differences.
That would be all for today, just to show you how established patterns vary with the passing of time (once you overcome laziness).
16 Oct 2021
Well, yesterday I did finish a really interesting book: The Wars of German Unification by Dennis Showalter, I am a big fan of the ACW period and the whole XIXth Century as a matter of fact… curiously I had always neglected the Wars in Europe from 1859 onwards (that includes Magenta and Solferino), but what it really was a must read was the Seven Weeks War (I even have another book dealing exclusively with it: THE AUSTRO-PRUSSIAN WAR by Geoffrey Wavro)… The Austro-Prussian War of 1866 was a discovery to me!, I already had read a lot about the Franco-Prussian War (Michael Howard book is a must read about it) but also have books about uniforms and artwork (great painters of the period). Not going to wargame the period at all but reading History is fascinating… In a way the First Reich was Frederick the Great (who was great because Catalina of Russia died before smashing him), but the Second Reich is fascinating… (Moltke-Roone-Bismarck)… as you know (if you have read other posts about my fancies) I can not stand the III Reich or the XXth Century truly horrid times I am afraid… I put my foot down at 1900 and that's that!.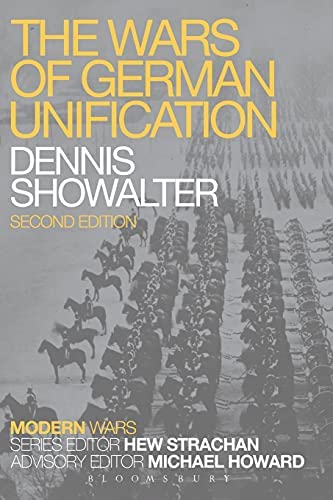 15 Oct 2021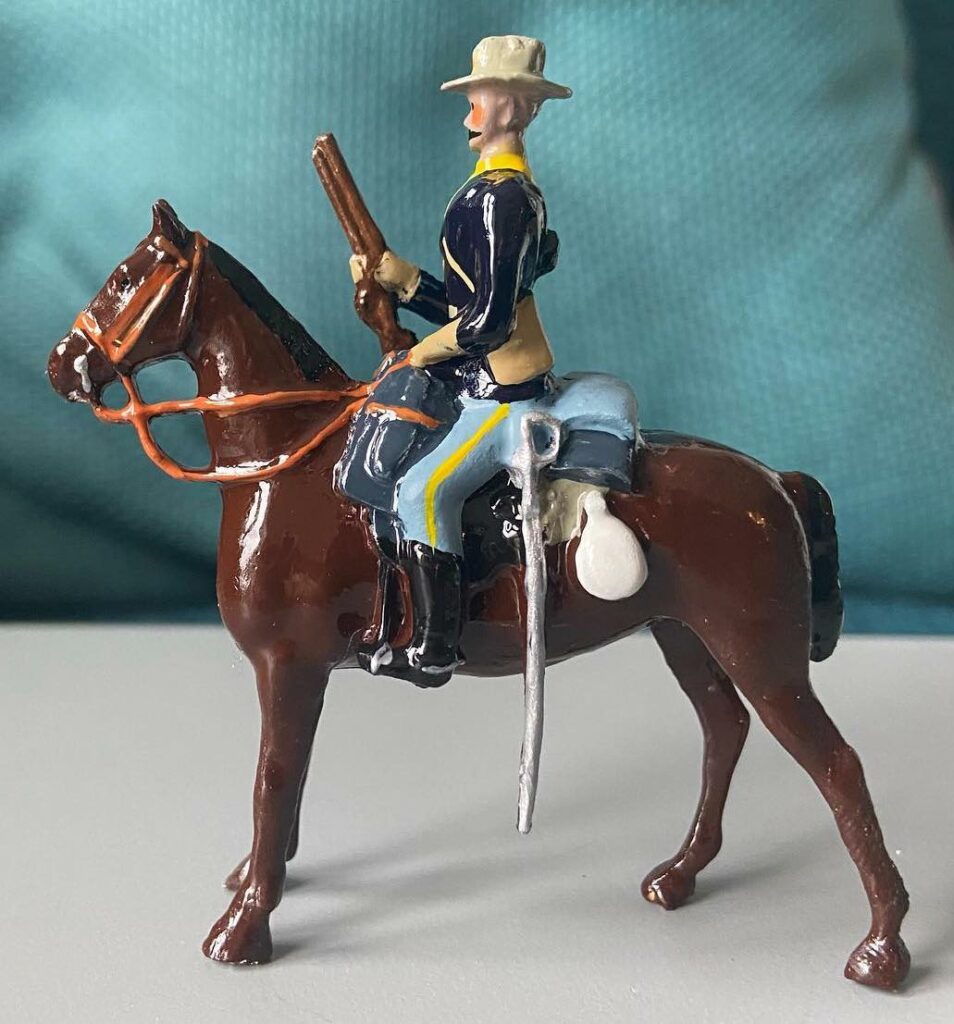 Here is a pic of the 54mm REPLICA Toy Soldier I have ordered from Andrew (a box full of them)… in fact mine hopefully would come without weapon in hand… just riding on patrol.
By The Way I guess that from now on I will buy castings unpainted and do it myself … I am getting too old for those long long long months of waiting for orders to arrive. I am not complaining mind, the art of Andrew is impecable… but I guess I can achieve the same result a lot faster… and even customize a bit.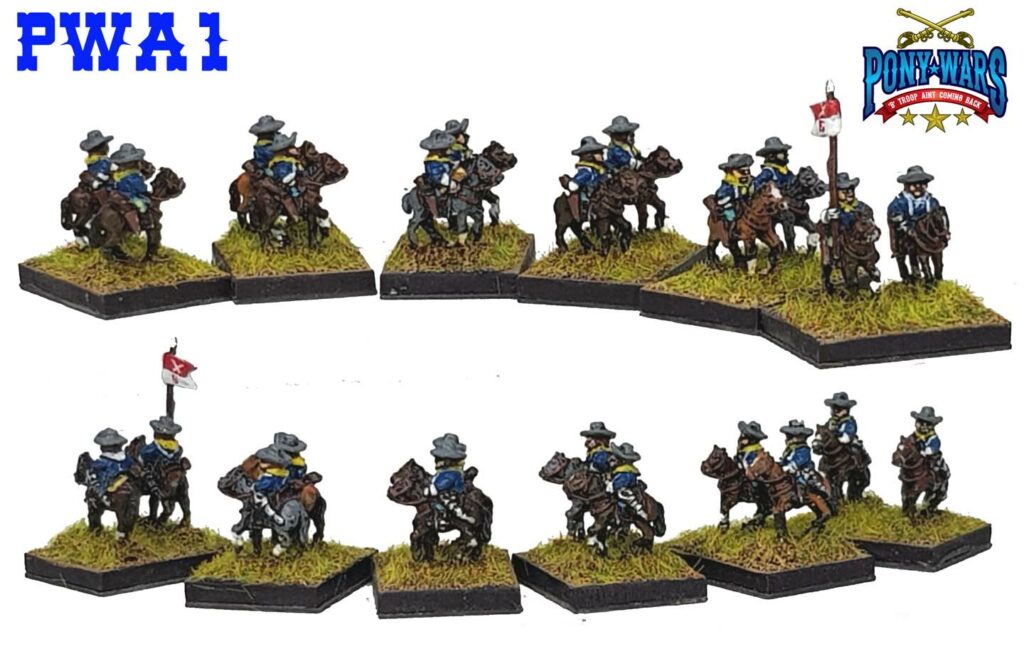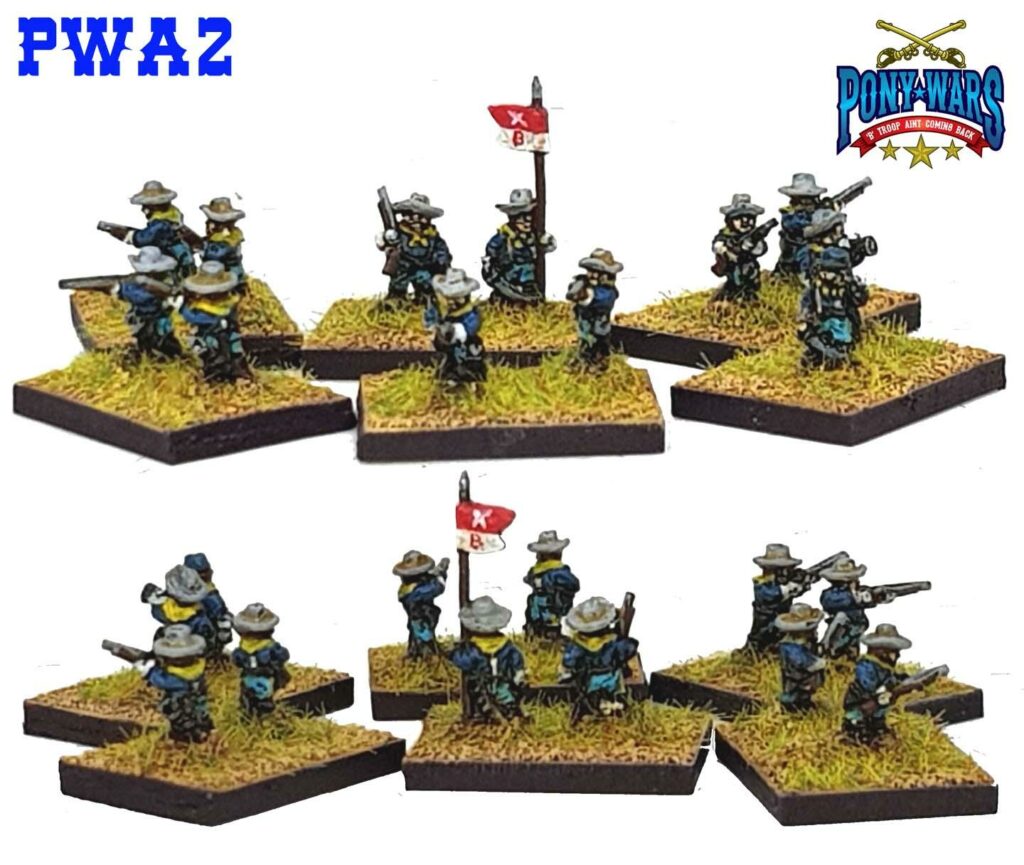 Straight from the Baccus Catalogue the packs I have bought and sent to the painters (Greg), only alteration I prefer my hats to be Off-White. Baccus are 6mm wargame minis (Ten times smaller than 54mm Traditional Toy Soldiers!) and great for wargaming (I did all my wargaming in 25/28mm in the past…).
14 Oct 2021
Today is the 14th October 2021, my Blog as it is is getting close to 50.000 visitors and 200.000 visits. I know some visitors are coming more than once and also some of the so called "visits" are robots and even hackers who try to break in (do not ask me why… it really puzzles me).
But let's go to the matter at hand, I will try to be useful with a proper Blog and if I can do an entry a day. It took me four days to realize that I was doing it the wrong way, quick lurkers or visitors want to see the "last" entry first… so OK I have proceed to reorder the entries on the Blog!
I am currently waiting for two orders of toy soldiers, one from Greg (6mm Baccus stuff… Plains Wars US Cavalry to play John Ford's movies), and the other from ANDREW REPLICA METAL MODEL SOLDIERS 54mm "proper" toy soldiers collecting. Will post pics when they arrive.
After two years of existence my Blog is still interesting people all round the world… visitors from 154 different countries so far!… (THAT really puzzles me!).